SPOTLIGHTS
411 Fact or Fiction Movies/TV 4.25.14: Week 430
Posted by Ben Piper on 04.25.2014

Are we interested in a Mrs. Doubtfire sequel? Is Baz Luhrmann a bad choice to direct Fung Fu? Should Pumpkinhead be rebooted? 411's Steve Cook and Jeffrey Harris debate this and more in the latest Fact or Fiction!




The 2014 NFL schedule was announced. The way ESPN and NFL treated this as important news was laughable, with each of them devoting chunks of airtime to this subject only. What's the big deal? As soon as the news came out I googled it and saved myself the effort of having to watch talking heads blather on about the Monday night line-up and what else have you. *Rolls eyes*

So let's move on to the business at hand; Fact or Fiction! This week finds Steve Cook and Jeffrey Harris in the hot seats…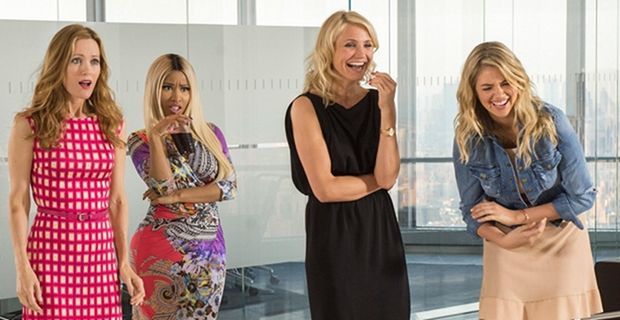 1. The Other Woman will not be very good.

Jeffrey Harris: Fact. Honestly it almost looks like the female version of an Adam Sandler comedy, just without Adam Sandler. I'm fine with seeing more female-centric perspectives from comedies, but Bridesmaids and Pitch Perfect looks like does not this. Honestly, watching the trailers, the film it reminds me the most of is the 2007 version of The Heartbreak Kid from the Farrelly brothers and starring Ben Stiller. I mean I love Kate Upton and all, but you don't need to pay a full price movie ticket to see her romping about in a bikini.

Steve Cook: Fiction. As a movie, it won't be good. As something that gives me Kate Upton in slow motion?




That's a step up from most things presented by Hollywood these days. I won't buy a ticket for it, but I'll sure as heck check it (or at least the Kate Upton slow motion scene) out when it hits cable/Internet.

Score: 1 for 1

2. Baz Luhrmann is a poor choice to direct a big screen adaption of Kung Fu.

Jeffrey Harris: Fact. Now to Luhrmann's credit, I can't think of too many directors who would be a great choice for a big screen reboot of Kung Fu. Honestly, I can see on one hand why Luhrmann would want to do this. It's something different than his usual fare. However, I with his style, I just think he is a bad fit for his material. And honestly, at the risk of sounding snobby, Kung Fu is not material or subject matter worth his time. And I have nothing against the Kung Fu show. I think it was an OK show. But the idea of turning it into a film is pablum. I know everything is getting rebooted now, but if you want to do something with Kung Fu again, it should probably be a TV reboot instead of a movie. Also, the mere idea of Luhrmann doing big screen version of a martial arts/western mash-up series just sounds akin to a crack shipping pairing in fanfic.

Steve Cook: Fiction. I wouldn't say Luhrmann is a poor choice. I would say he is an interesting choice. As previously pointed out, Kung Fu is quite different from Moulin Rouge, Romeo + Juliet & Luhrmann's other critically acclaimed work to this point. I do think that Kung Fu is interesting material with potential to produce a quality movie, and I'm curious to see Luhrmann's take on it.

Score: 1 for 2

3. A reboot of the Pumpkinhead franchise is an idea you can get behind.

Jeffrey Harris: Fiction. I get that the creature design for Pumpkinhead is memorable. It's iconic and all that. But I got to be honest, I've never watched a single Pumpkinhead movie all the way through. So it's not really an idea I can get behind because it's yet ANOTHER movie reboot I have absolutely nothing invested in. Its flabbergasting to me that studios and corporations are so desperate for pre-established or existing brands they will scrape at the bottom of the barrel for just about anything. I don't see anyone begging or starving for some new reboot of Pumpkinhead. Why not just make a new iconic creature? By the time Predator came along, we'd already gotten classics like Alien and The Thing. Predator didn't need to be an Alien reboot in order to be successful.

Steve Cook: Fiction. I'll do Mr. Harris one better...I've never seen a minute of a Pumpkinhead movie. I'm sure there are plenty of people that like deranged pumpkins, but it's not something that interests me at all. They should switch it up a bit for originality's sake. How about a deranged banana? I don't think people have seen that since Bananas in Pajamas.

Score: 2 for 3



Switch!!!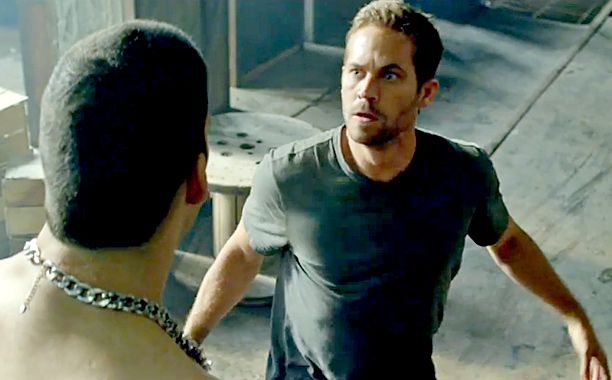 4. Brick Mansions will be a better than average action flick.

Steve Cook: Fiction. A movie starring Paul Walker that's about an undercover cop sent into the mob to befriend a criminal with a heart of gold that's been described as the parkour version of Fast & Furious sounds just like an average action flick. I'm sure it'll be a perfectly fun time and have some cool action scenes, but I can't see it being anything that stands out from the pack. Walker's name value went up after his death and I imagine they'll make some extra coin off of that, but it won't rank with your top money-grossing movies of 2014.

Jeffrey Harris: Fiction. Now this movie is actually an American remake of the French action movie District B13. It was the directorial debut for Pierre Morel, the director of Taken. It was produced and written by Luc Besson. It was actually a really fun, well above average action movie. And it actually proceeded the most popular entries in the Fast & Furious franchise. Now that aside, well it looks like another dull remake. Luc Besson is still involved, and it looks like a scene for scene remake of the first film. David Belle, who starred in the first film, has also come back to play a similar role as his character of Leito from the original. However, the first film had the attraction of all its stunts being done live by experienced stuntmen and parkour practitioners such as Belle and Cyril Raffaelli. From the looks of what I've seen of the clips and trailers, it does not look like they've maintained that same all live stunt style of the original. Despite where it originated, the new film Brick Mansions looks like more run of the mill fare.

Score: 3 for 4

5. You'd be interested in a sequel to Mrs. Doubtfire.

Steve Cook: Fiction. Now, I must say that I enjoyed the original movie quite a bit as a kid and sitcom episodes where the main characters end up dressing in drag are usually pretty amusing. Robin Williams was great in his role. That being said, Doubtfire wasn't really a movie that lent itself well to sequels. I haven't been sitting around for the past twenty years wondering whatever happened to the Hillard family. Good for them if they can get another movie out of it, and I might catch it on basic cable at some point, but it's nothing I'd get overly excited about.

Jeffrey Harris: Fiction. I have to agree with the venerable Mr. Cook here. I also enjoyed the movie as a kid and Robin Williams. But the movie came out 20 years ago. It's not a movie that really needs a sequel. What's really the point? Williams' career has been generally declining as of late. That coupled with studios and corporations desperate to use pre-existing brands, and you get tripe like this. I mean what is going to happen in a sequel? His children are all adults and out of college by now. They've likely started their own families. At the end of the movie, he used the Mrs. Doubtfire persona to become a TV host. So obviously the jig is up. He's not really going to fool anybody, especially with Google around. It just doesn't make sense, and it would only be done as a cheap cash-in. And that does not interest me.

Score: 4 for 5

6. You'd tune in to a TV series based on The Truman Show.

Steve Cook: Fiction. The genius of The Truman Show was how it accurately forecasted the future of television by showing us exactly what reality TV would be like. I'm not sure how that would translate to weekly television, as it would likely come off as just another reality show at the beginning until the curtain began to be drawn back. Would people have the patience for that? Would I have the patience for that? Not sure.

Jeffrey Harris: Fiction. Looks like Steve Cook and I are on almost the exact same wavelength. I think The Truman Show was a great vehicle for Jim Carrey, but I just don't see the potential in adapting it into a TV show. Since its The Truman Show, you know where it ultimately ends and has to go already. But how can you put up with Truman being stuck in his own reality show without being aware of it for however many years? It just doesn't seem feasible.

Final Score: 5 for 6

Steve and Jeffrey are almost in complete agreement. Thanks to them both for helping out, and see you all again next week!
-BP



TWITTER

http://www.twitter.com/411s_Ben_Piper
http://www.twitter.com/411mania
http://www.twitter.com/411wrestling
http://www.twitter.com/411moviestv
http://www.twitter.com/411music
http://www.twitter.com/411games
http://www.twitter.com/411mma




comments powered by