SPOTLIGHTS
411 Movies Roundtable 5.03.13: May 2014
Posted by Chad Webb on 05.02.2014

Are we all looking forward to X-Men: Days of Future Past? Will Blended be another dud for Adam Sandler? Was Captain America: The Winter Soldier the biggest winner for April? The 411 Movie-Zone staff takes a look!










































It is the beginning of May in the year 2014 and that means the 411 Movie-Zone Roundtable is upon us. All of us are hoping that Godzilla and X-Men: Days of Future Past live up to the trailer. We are understandably skeptical about Blended, and we're not too keen on Legends of Oz: Dorothy's Return. Check out the rest of our thoughts!

For the May 2014 edition, the following staffers have contributed:

Bryan Kristopowitz: Creator of The Gratuitous B-Movie Column
Terry Lewis: Reviewer - The Quiet Ones
Jeremy Thomas: Host/Writer of multiple columns. The 8 Ball
Chad Webb: Columnist/Reviewer of Ask 411 Movies: The Ultimate Guide to Spider-Man



THE MONTH THAT WAS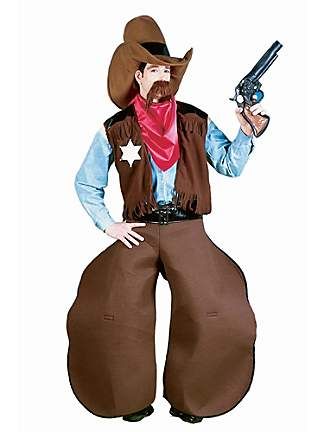 TERRY LEWIS





Biggest Winner of the Month: Not only is it nicely tearing up the box office like Godzilla through Tokyo, but it's nice to see Captain America: The Winter Soldier having a nice little critical love-in from fans. I feel it's worth noting how Marvel's Cinematic Universe usually sets itself quite high standards in terms of superhero action setpieces but throw in a genuinely shocking twist which changes everything we know so far and Agents Of SHIELD on top of some of the best hero character development I feel for so many characters so far and it gives a lovely warm feeling inside for a film I feel is due some genuine praise.

Biggest Loser of the Month: In a month filled with contenders with Z Nation sounding like SyFy's lame duck attempt to rival The Walking Dead and Pierce Brosnan admitting he was "never good enough" as James Bond, I'm going to pour some scorn on The MTV Movie Awards List. Headed by having a big love-in on the kinda disappointing follow up to the original Hunger Games in Catching Fire, it seems stuck in a weird position of saluting high quality Oscar contenders whilst trying to cater for popular popcorn flick moviegoers. Bit of a weird mishmash to see Catching Fire win a Best Film list over 12 Years A Slave and The Wolf Of Wall St., in an attempt to seem legitimate, but then throw in a Best Shirtless Performance award 5 minutes later. The thing is, I do want to see MTV go the whole hog and salute the deserving unashamed blockbusters and their triumphs since there's nowhere else that eyes them really. Just don't try and fool me that you're pretending to be a legit source of rewarding quality film making.

Biggest Movie News of the Month: Well I was going to talk about how we've finally seen a glimpse of the Michael Bay produced Teenage Mutant Ninja Turtles (and it's as you were) but at the last minute the news that Fox are considering an X-Men TV show is much bigger. TV execs are starting to take notice of how well the Marvel Cinematic Universe is interlinking itself with Agents of SHIELD and those announce Netflix shows with street characters, and Fox has a potential ratings goldmine staring back at it with the X-Men rights. Away from the big crisis solving films, a TV show at a slower pace focusing more on the actual students of Xavier's school would be great focusing on the beloved characters that have had little to no screentime. My bugbear is I barely trust Fox as it is to produce a competent TV show and it'll have to go some way to match the quality of Arrow.

Your Most Anticipated Movie of the Month: I simply can't decide between Godzilla and X-Men: Days Of Future Past. Two massive blockbusters in two weeks that I'm both a fan of.

Recommended DVD Release of the Month: Is Her not out yet? Shame. Let's a bunch of Oscar contenders and winners being released to home video but I'm definitely picking up Anchorman 2 when that drops. Hysterically funny comedy and Will Ferrell is back at his best.

Classic Movie of the Month: Just remind me and you, for better or worse, that Adam Sandler films weren't always treated about the same as the announcement you have genital warts, I've picked out Little Nicky. Sure it's not the most clever but it's a damn fun comedy with some serious mark out moments. Nicky summoning Ozzy Osbourne to defeat his brother at the end is still insanely awesome, even today.

Movie Quote of the Month: Wolverine, fresh from a battle enters a room, stumbles across Cyclops & Jean Grey.
Wolverine: Hey, hey! It's Me
Cyclops, presumes shapeshifter Mystique is copying Logan: Prove it
Wolverine: You're a dick
Cyclops: ...okay
X-Men





BRYAN KRISTOPOWITZ



Biggest Winner of the Month: Marvel Studios and Disney, as Captain America: The Winter Soldier rocked the box office for three straight weeks and made a ton of money overseas. At the moment Marvel can't be stopped.

Biggest Loser of the Month: Johnny Depp, as Transcendence tanked massively at the box office. It probably wasn't going to be a big hit in the wake of The Winter Soldier but you'd think with Depp and Morgan Freeman in the cast that someone would have wanted to go see it. The producers will have to try to make some money on home video. Good luck with that.

Biggest Movie News of the Month: Star Wars Episode VII has finally started production and Mark Hamill, Carrie Fisher, Harrison Ford, Peter Mayhew, and Kenny Baker are all coming back in some capacity. Yes, we all sort of knew that the original cast would be coming back, but nothing was ever all that officially confirmed. It's confirmed now. This is really happening.

Your Most Anticipated Movie of the Month: Godzilla is a must see. The new X-Men movie looks pretty good, too. And A Million Ways to Die in the West looks funny.

Recommended DVD Release of the Month: I, Frankenstein, Rookie Blue Season 4, Art of the Steal (Kurt Russell), The Zombinator, 3 Days to Kill, and Raze (Zoe Bell).

Classic Movie of the Month: Twister (1996): This big budget disaster movie took the box office by storm back in 1996, and with good reason; the special effects were freaking amazing. No one had been able to create realistic tornado effects in a movie before. The story came off as a little far fetched (storm chasers who want to dump little sensors into the middle of a tornado? Who the hell would be dumb enough to try to do that?) but it was engaging. And the cast was excellent. Bill Paxton gave a brilliant performance, and Helen Hunt wasn't annoying. Cary Elwes did douchebags proud. And who could ever forget Philip Seymour Hoffman's Dusty? Once you see the movie you won't. Still a blast eighteen years later.

Movie Quote of the Month: "I gotta go, Julia, we've got cows!"- Melissa (Jami Gertz)- Twister (1996)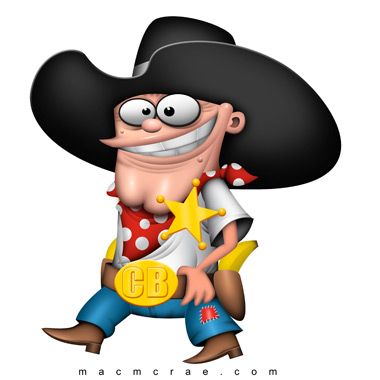 JEREMY THOMAS



Biggest Winner of the Month: It's really hard not to go with Captain America: The Winter Soldier here. Marvel's latest entry has not only made a boatload of money in the US, but it's also surprised by doing unbelievably well overseas. The film's tally stands at $227 million here domestically and $647 million worldwide. Now compare that to the first film, which split pretty evenly between foreign and domestic at $176 million in the states and $370 million worldwide. Let's add in the fact that it is a huge critical success and even allowed Marvel's Agents of S.H.I.E.L.D. to cut loose with its storytelling, redeeming that show in a lot of people's eyes, and you have the clear winner in my book.

Biggest Loser of the Month: Johnny Depp and Wally Pfister, as Transcendence is the biggest bomb of the year so far. The sci-fi film didn't go over well with even those relatively few moviegoers who went and saw it. Even internationally, where Depp can bring in the bucks on obvious turds like The Lone Ranger, it's in the pits and we're now looking at a film that probably won't even get near its production budget in gross, much less net. It's a bitter pill for Depp, who's been able to get by on star value, and on Pfister, who has a major bomb in his first directorial effort.

Biggest Movie News of the Month: The last-minute-for-April reveal of the Star Wars: Episode VII cast is the big one. All the big names are confirmed and we have an exceptional cast of newcomers that includes John Boyega, Max von Sydow, Andy Serkis and more. It's definitely a great start for Disney's Episode VII information dissemination.

Your Most Anticipated Movie of the Month: It's gotta be X-Men: Days of Future Past for me. There are a lot of big films coming out this month and I'm excited to see quite a few of them but the mutant film is the one I have the most invested in and is most likely to go either way. Please be good...

Recommended DVD Release of the Month: Season one of True Detective, which was the best new show of the year without questions. I could listen to Rust wax philosophically about nihilist forever. It was a fantastic show and I'm definitely looking forward to owning it.

Classic Movie of the Month: With Legends of Oz coming out, I'm going to take a look at an underappreciated gem from 1985. Return to Oz had no chance, really. Being a follow-up to one of the most beloved films of all-time, it was doomed but I loved what they did with it. The Walter Murch-directed film is creepy as hell and is better than a lot of people give it credit for. I always encourage people to give it a watch when I get the chance.

Movie Quote of the Month:

"If his brain's ran down, how can he talk?"
"It happens to people all the time, Jack."

- Jack Pumpkinhead (Brian Henson) and Dorothy (Fairuza Balk), Return to Oz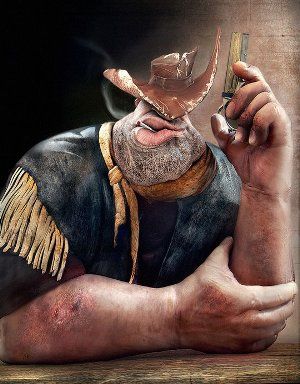 CHAD WEBB



Biggest Winner of the Month: I would say Captain America: The Winter Soldier, but I suppose Marvel in general would be the better pick. Not only is the aforementioned a critical and financial hit, but the series Agents of S.H.I.E.L.D. (which has been a bit of a turd until now) has finally picked up steam in light of the aftermath from events in Captain America 2. Add on to that the divisive announcement that Zack Snyder is directing a Justice League film for DC/Warner bros. and you can see why hardcore fans of Marvel are as giddy as school girls right now because all if right in that world.

Biggest Loser of the Month: I'm tempted to say fans of CBS late night since both David Letterman and Craig Ferguson announced the conclusion of their shows, in Dave's case retirement. The late night playing field will experience a hearty shake up in the future, especially at that network. Losing two unique voices will not be easy. But we also have Transcendence, and anybody involved with it. Depp is not the bankable star the studio thought he was, and it's for Wally Pfister as it was his directorial debut. Although I dug it, and even though it came out at the end of March, Sabotage had the bulk of its tanking in April.

Biggest Movie News of the Month: Joe Dirt 2 might be on the way! Seriously though, we have both bad and good news to report, all of pretty big. The allegations of sex abuse on Bryan Singer took us all by surprise. He has removed himself from the X-Men: Days of Future Past promotional campaign, but who knows where this case will go. You also have the passing of Bob Hoskins recently, a fabulous actor. Leaning toward the positive side of things we have rumors of two sequels: The Goonies 2 and Mrs. Doubtfire 2. The former has been talked about for years, but Richard Donner says Spielberg is on board, so we'll see. The latter is unnecessary, but that never stopped Hollywood before. And lastly Star Wars Episode VII is moving forward finally, so that is likely the biggest news of the month.

Your Most Anticipated Movie of the Month: I am eagerly awaiting the release of Godzilla and X-Men: Days of Future Past as far as the blockbusters go. I hope they deliver as the trailers have. On the limited release schedule, God's Pocket starring Philip Seymour Hoffman hits theaters, as well as James Gray's The Immigrant.

Recommended DVD Release of the Month: The only title I plan on purchasing is Spike Jonze's Her, so that is my primary recommendation. Elsewhere we do have a shit-ton of Godzilla Blu-Rays, not to mention Howard Hawks' Red River from Criterion.

Classic Movie of the Month: Since we have not Pixar flick this summer, a fact I'm still not happy about, I'll cover Finding Nemo, which I actually just revisited. I had honestly seen the movie in parts, but never properly the entire way through. It still holds up wonderfully. The voice casting is flawless from top to bottom. The highlight is Ellen Degeneres as Dory, who is hilarious, specifically when she tries to speak whale. The story is moving and engaging of course, but what struck me most seeing the film a second time was Pixar's depiction of sea life. The characters are funny and unique, but the manner in which they showcase the ocean and all of its complex inhabitants comes off as more authentic (not to mention educational) than we might acknowledge. We really get a great sense of this world. Say what you will about all the sequels Pixar is launching lately, but I am excited to see Finding Dory, if only to have another adventure with these characters.

Movie Quote of the Month: Wayne Campbell: "A gun rack... a gun rack. I don't even own *a* gun, let alone many guns that would necessitate an entire rack. What am I gonna do with a gun rack?"



COMING ATTRACTIONS



May 2nd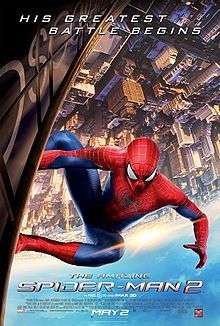 The Amazing Spider-Man 2





Rated PG-13
Plot: Peter Parker runs the gauntlet as the mysterious company Oscorp sends up a slew of supervillains against him, impacting on his life.
Director: Marc Webb
Stars: Andrew Garfield, Emma Stone, Jamie Foxx, Paul Giamatti



Terry Lewis: Seen it already. I don't want to spoil too much, but I guess comparing it to the comic version of The Rhino as big, fun and dumb is a suitable tease.

Bryan Kristopowitz: The recent trailers for this sequel have managed to quell some of my fear that this is going to be another Spider-Man 3 disaster. As we all remember with that movie, it had way too many bad guys in it and, as a result, the story suffered. But Marc Webb seems like he's learned from that movie, and I doubt that Sony would want to talk up the possibility of spin-offs in the Spider-Man universe if this was set up to be a disaster. So this will probably be good.

Jeremy Thomas: The first film in the new continuity was not beloved by everyone but I appreciated it. Andrew Garfield and Emma Stone were the highlights of course and it had its cheesy moments but I thought it did some interesting things and I was intrigued to see where they would take it next. The buzz on this one is about as "meh" as the first, which neither hurts or helps my opinion considering my thoughts on the first one. The cast is phenomenal and Marc Webb is likely to be more confident; as long as they can properly juggle the amount of villains I think this will be one I like.

Chad Webb: I will be seeing this, for one because I've seen all the other Spidey flicks, and two because I'm excited for blockbuster season. However, I'm not optimistic about it. From what I have seen this series has still refused to establish its own identity, though I do like the "Honest Trailer" descript of this as the hipster reboot. The cast looks excellent, but the villains strike me as among the lower half of Spider-Man's rogues gallery. I hope I'm wrong, but from what I've heard, this isn't anything special.

May 9th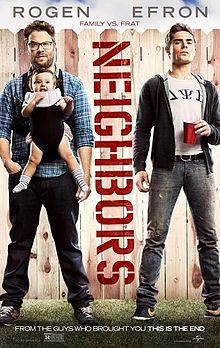 Neighbors





Rated R
Plot: A couple with a newborn baby face unexpected difficulties after they are forced to live next to a fraternity house.
Director: Nicholas Stoller
Stars: Seth Rogen, Rose Byrne, Zac Efron, Lisa Kudrow



Terry Lewis: The third of three raunchy adult comedies out this summer but with far and away the most interesting. The neighborhood war is barely explored in cinema and I want to see how Efron does in an adult humor setting, going up against Rogen. Opening nighter for me.

Bryan Kristopowitz: The idea is solid, the cast is outstanding, and the trailers have been funny (the bit in the chair where Rogen launches up into the ceiling makes me laugh every time I see it). But am I the only one who thinks that this movie is going to be yet another comedy that just goes on too long? That's the vibe I'm getting from it.

Jeremy Thomas: Gods help me, I don't want to like this one but the trailer looks really funny to me. Has Zac Efron finally found a role I will like him in? It can't be much worse than This Awkward Moment, at the very least. Nicholas Stoller actually has a decent track record as far as I'm concerned; I liked Forgetting Sarah Marshall and Get Him to the Greek wasn't as bad as I was afraid it would be, while The Muppets was great. If this one really embraces its rating and goes all out like the trailers suggest, it could be a big success.

Chad Webb: I am fairly excited for this. I don't like Efron, but he should be spot-on as a douche frat boy. Nicholas Stoller is a terrific comedy director, and since I loved Forgetting Sarah Marshall and The Five-Year Engagement, I have high hopes for this. My only worry is that it drifts too heavily into insanely outlandish gag territory ala Get Him to the Greek (another Stoller effort), which was ok but middling.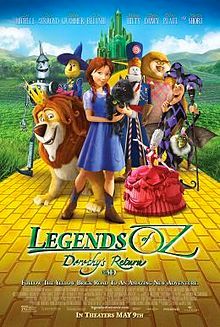 Legends of Oz: Dorothy's Return





Rated PG
Plot: Dorothy wakes up in post-tornado Kansas, only to be whisked back to Oz to try to save her old friends the Scarecrow, the Lion, the Tin Man and Glinda from a devious new villain, the Jester. Wiser the owl, Marshal Mallow, China Princess and Tugg the tugboat join Dorothy on her latest magical journey through the colorful landscape of Oz to restore order and happiness to Emerald City.
Directors: Will Finn & Dan St. Pierre
Stars: Lea Michele, Kelsey Grammer, Dan Aykroyd, James Belushi



Terry Lewis: Umm, I usually give out about the monthly CGI kids films, but this I'm not going to be so harsh on. It doesn't look great or anything but I'm curious more than anything else in what they do with a Wizard of Oz sequel.

Bryan Kristopowitz: This movie has a pretty decent voice cast and the animation looks okay. I do wonder, though, if the lack of a big studio behind it will keep families away. That tends to happen to smaller animated movies. If it ain't Disney no one pays attention.

Jeremy Thomas: I like the voice cast for this, but it just looks bad to me. Maybe we've been spoiled by the relative renaissance of family films over the last several years but I just don't see this one working. Everyone seems to have the best intentions, but the trailers have done nothing to excite me and while the animation is okay, it sure doesn't look like something that cost $70 million. I'm hoping I'm wrong, but I think this will bomb.

Chad Webb: Does anyone actually care about this? The Oz stories are public domain, this any studio can make a cash grab and release some idiotic version. It sucks because the one film we all want to see, Wicked, didn't strike while the iron was hot and now, even if it does eventually come out, it will not be the smash it could have been. This just looks haphazardly thrown together in hopes that it makes a decent amount. Pass.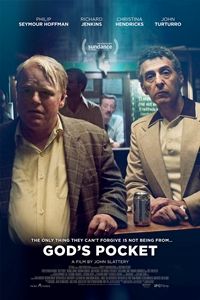 God's Pocket





Rated R
Plot: When Mickey's crazy stepson Leon is killed in a construction 'accident', nobody in the working class neighborhood of God's Pocket is sorry he's gone. Mickey tries to bury the bad news with the body, but when the boy's mother demands the truth, Mickey finds himself stuck in a life and death struggle between a body he can't bury, a wife he can't please and a debt he can't pay.
Director: John Slattery
Stars: Philip Seymour Hoffman, Christina Hendricks, Richard Jenkins, John Turturro



Terry Lewis: Philip Seymour Hoffman's last fully recorded film I believe and this appears to be a brilliant modern crime thriller. Nice little cast and a moody set piece, I'll be on the look out for this.

Bryan Kristopowitz: Based on the cast alone it's worth seeing. However, I doubt it will play outside of the big cities so I guess I'll have to wait for it to hit home video in order to see it. I'm not paying ten bucks for a movie on Video On Demand.

Jeremy Thomas: I have a feeling that Philip Seymour Hoffman's final film will suffer the curse of so many other great actors' final pieces (Raul Julia, for example). This looks fantastic, the cast is amazing and I'm really curious to see how John Slattery does in his directorial debut, but from all accounts so far this one is a dog. Much like Legends of Oz I hope that the sinking feeling I'm getting is unfounded, but we'll see.

Chad Webb: I'm not enthused by early buzz for this, but if Philip Seymour Hoffman is in it, I will check it out no matter what. I'm also curiosu because this is the feature debut of Mad Men's John Slattery, who did stand at the helm for 5 episodes of the shows, but this is obviously a different animal. The cast looks sensational and that alone is enough for me to watch it. Also, Christina Hendricks is in it, and it's rated R. I know, she's likely fully clothed, but let me dream!

May 16th





Godzilla (2014)





Rated PG-13
Plot: The world's most famous monster is pitted against malevolent creatures who, bolstered by humanity's scientific arrogance, threaten our very existence.
Director: Gareth Edwards
Stars: Aaron Taylor-Johnson, Elizabeth Olsen, Bryan Cranston, Ken Watanabe



Terry Lewis: I am super pumped for this. The demand for a GOOD Western 'Zilla movie has never been satisfied but I actually have alot of faith for this. I mean, from the trailers, they've gotten Godzilla as an actual force of nature and I've heard he does actions like walk into buildings in his way and they fall apart, compared to standard monster films where they feel like they're randomly destroying buildings just cause.

Bryan Kristopowitz: I wasn't sold on this movie until I saw that first trailer. Once I saw it I instantly couldn't wait. And each new TV commercial makes me want to see it more. I'm also happy that Warner Bros hasn't kept the new Godzilla design under wraps. That strategy never works, and with the bad reputation of the last reboot (I like that movie but I know that I'm one of the few) there's no reason to make people hesitant to see it.

Jeremy Thomas: I'm all about this one. The only way it could be better is if it was also the movie follow-up to Breaking Bad where Heisenberg somehow survived and is now facing off with Godzilla. (Yes, I'm kidding.) If you've seen Monsters, you know that Gareth Edwards is the perfect guy for this film and I have full confidence that it won't go the way of 1998's Zilla film. Great cast, amazing trailers, strong marketing; this one's going to be big. (Pun intended.)

Chad Webb: This is one of two movies opening in may which have been marketed brilliantly. I was skeptical when this was initially announced, but since seeing footage I am pretty pumped. There is a lot of pressure on this to deliver after Emmerich's disaster. I've been a Godzilla fan since I was little, so I am crossing my fingers that this is good. A monster movie like this will be the perfect thing to see on the big screen. I can't wait. On a side note, I swear sites have been getting director Gareth Edwards confused with The Raid director Gareth Evans, but I digress.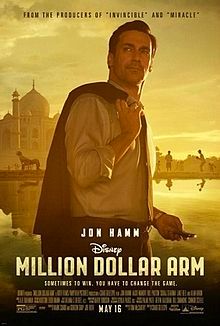 Million Dollar Arm





Rated PG
Plot: A sports agent stages an unconventional recruitment strategy to get talented Asian cricket players to play Major League Baseball.
Director: Craig Gillespie
Stars: Jon Hamm, Aasif Mandvi, Alan Arkin, Suraj Sharma



Terry Lewis: I like the cast alot but forgive me for being a cynical Cricket fan and seeing how American cinema, Disney especially, tries to depict someone from another sport and completely different way of life and expect them to adapt over a 90 minute runtime is not my cup of tea. The humour is pretty standard, touching on 'fish out of water' tropes. I don't know - down the road for me.

Bryan Kristopowitz: I'm not much of a Jon Hamm guy, but this looks like a pretty okay family movie. Hollywood, for whatever reason, doesn't seem all that interested in making that kind of movie outside of a cartoon so if you like that kind of movie you should probably see it. I'm mildly interested in it.

Jeremy Thomas: I love me some Jon Hamm, but I just can't seem to get into this one from any of the promotional marketing. Not saying that it won't be enjoyable, but it's probably not going to hit my eyeballs until DVD or so.

Chad Webb: Sorry sports fans, we are now in "scraping the bottom of the barrel" territory for sports movies. Either all the stories studios care to adapt have been done, or they will take their chances with original screenplays. Either way, Draft Day looked boring and whereas this is based on true events, it's still screams "catch on DVD" at most. My family includes a bunch of baseball followers, so I already know how this ends, so color me uninterested.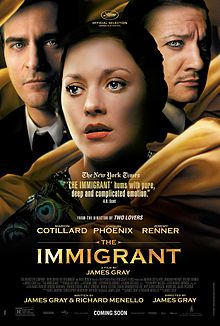 The Immigrant



Rated R
Plot: On the mean streets of Manhattan, Ewa falls prey to Bruno, a charming but wicked man who takes her in and forces her into prostitution.
Director: James Gray
Stars: Marion Cotillard, Joaquin Phoenix, Jeremy Renner



Terry Lewis: An emotionally charged set piece based round Immigration era NYC with that cast? Yeah count me in.

Bryan Kristopowitz: Good God this movie looks depressing. The period detail looks spot on and you can't go wrong with the cast, but, again, this movie looks depressing.

Jeremy Thomas: Great cast, interesting story, period piece...I'm all for it.

Chad Webb: I wonder what a James Gray movie would look like without Joaquin Phoenix? We may never know. Ok, Little Odessa counts, but that was a long time ago. Gray is a strange filmmaker. His movies have never been unanimously praised, nor box office hits. We Own the Night was ok, but far from spotless, as was The Yards, but Two Lovers was, to date, his finest offerings. I'm anxious to see where this falls. I agree with Bryan in that the story and look comes across as somber, but I'm still intrigued enough to see it, if only based on the cast.

May 23rd





X-Men: Days of Future Past





Rated PG-13
Plot: The X-Men send Wolverine to the past in a desperate effort to change history and prevent an event that results in doom for both humans and mutants.
Director: Bryan Singer
Stars: Patrick Stewart, Ian McKellen, Hugh Jackman, James McAvoy



Terry Lewis: I am hesitantly excited for this. The X-Men in general mean a lot to me because this was the comic and TV show in the 90's that got me in superheroes and I feel since X-2 it's never quite lived him up to expectations. Bryan Singer's back but boy has he picked an ambitious task for this comeback. I feel throwing in time travel on top of a superhero film is taking away from it's core rather than doing something like the Marvel Cinematic Universe and having Thor as the fantasy guy, Cap as the spy genre films etc. Whilst the elements of 'Days Of Future Past' are generally intriguing, I'm not really sure a full sci-fi plunge is the way to go with a series on rocky terrain as it is. Regardless, a must see.

Bryan Kristopowitz: I still need to see X-Men: First Class, so I'll have to see that before I see this. Days of Future Past looks great, though, so I'll definitely make an effort to see it.

Jeremy Thomas: The final steps of redemption or ultimate fall of the X-Men franchise depends on this film. I'm not hyperbolizing here. The franchise had great success with the first two films and then went completely sideways with The Last Stand and X-Men Origins: Wolverine. The last two films have gone a long way to fixing that, so we're at an equilibrium point for the franchise now. Days of Future Past appears to potentially be making the same mistake as Last Stand with so many characters, but I have confidence in Bryan Singer to make this work. I'm certainly psyched to see how it does play out and if Singer can finally erase The Last Stand from existence in every way.

Chad Webb: I've already written quite a lot about this. The marketing campaign has been nothing short of masterful. Did that heighten our expectations too much? I hope not. And Bryan Singer's sex abuse scandal doesn't help this release either. But still what we have seen has been epic and this is one of my top anticipated films of the year, let alone the summer. Singer needs a hit though. His previous three features have been disappointments. We've all been waiting for him to return to this franchise. Let's hope it was worth the wait.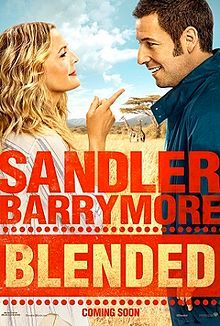 Blended





Rated PG-13
Plot: After a bad blind date, a man and woman find themselves stuck together at a resort for families, where their attraction grows as their respective kids benefit from the burgeoning relationship.
Director: Frank Coraci
Stars: Adam Sandler, Drew Barrymore, Wendi McLendon-Covey, Kevin Nealon



Terry Lewis: How does Adam Sandler keep doing it?! Honestly, it's like he woke up one day and though "Y'know... I've always fancied a trip to Africa... Agent! Get me a script where I can douche off and bounce off a formerly famous actress before we fall in love!" It doesn't look as offensive as garbage like Jack & Jill but it's on it's way.

Bryan Kristopowitz: I sort of like the idea of the movie, but I'm not a fan of Adam Sandler so I'll probably just skip this. Or wait until it's on TV.

Jeremy Thomas: Adam Sandler and Drew Barrymore are always gold together. 50 First Dates and The Wedding Singer are both great movies. This one...doesn't look to be in those entries' league. On the plus side, it's almost guaranteed to not be as terrible as his last several films so maybe it's just the first step back toward being funny again. Fingers crossed!

Chad Webb: Adam Sandler has been churning out some of the worst pieces of dung imaginable for years and years now. He has clearly stopped caring, but now he begs Drew Barrymore to join him for a third time. It's no secret that Barrymore has been his best co-star. The Wedding Singer and 50 First Dates were both watchable because of their chemistry. But this strikes me as too little, too late. And how can we not view the Africa theme as Sandler's excuse to take a vacation there? I don't expect this to be AS bad as his recent efforts, but I get the feeling like the magic is gone when it comes to he and Barrymore. Sandler does have talent, but if he is going to continue releasing trash, he should just retire. Do us all a favor.

May 30th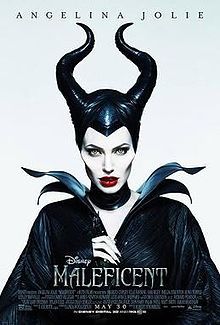 Maleficent





Rated PG
Plot: The untold story of the villain from "Sleeping Beauty" reveals the events that hardened Maleficent's heart and drove her to curse the baby, Aurora, only to later realize that the child may hold the key to peace in the land.
Director: Robert Stromberg
Stars: Angelina Jolie, Elle Fanning, Sharlto Copley, Imelda Staunton



Terry Lewis: I was keen on this but on seeing the trailers... I don't really see the point of adding to an iconic character like Maleficent apart from baggage. A fantasy anti-hero, giving her meaning to her purpose to her evil when needed? Jolie looks to make the role her own and it'll be enough to get me through the door but it feels Disney is doing a fantasy film since it's the in-thing at the moment.

Bryan Kristopowitz: It'll be interesting to see if the bad buzz surrounding this movie actually matters and family audiences stay away. I know that it's been marketed more towards the tween/teen audience, but I'm sure little kids will want to see it regardless (it's a Disney movie!). I have very little interest in seeing it. It looks beautiful, yes, but I'm just not excited about it.

Jeremy Thomas: I've had a cringe vibe about this for a long time, but I'm also not saying it's doomed. The concept is strong enough: take one of Disney's greatest villain characters and give her the Wicked treatment. And Angelina Jolie looks right for the role. The trailers alternate between awesome-looking and flinchingly bad so I honestly don't know what to think. It'll be interesting to see how it does and how the media reacts to it as a result.

Chad Webb: I'm partial to the original Disney classic, Sleeping Beauty, so the idea of this live-action version focusing on the villain is stupid in my view. This project also comes off as being just as much about Angelina Jolie as it is about Maleficent. Live-action re-tellings of classic animated tales are customarily worthless. Yes, I'm sure the CGI will be cool and all, but this can't come close to matching the power and poignancy of the 1959 film. I also am not keen on Elle Fanning as Aurora. Just. Not Feeling. This.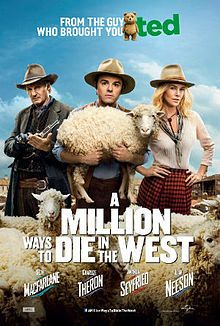 A Million Ways to Die in the West





Rated R
Plot: As a cowardly farmer begins to fall for the mysterious new woman in town, he must put his new-found courage to the test when her husband, a notorious gun-slinger, announces his arrival.
Director: Seth MacFarlane
Stars: Seth MacFarlane, Charlize Theron, Liam Neeson, Amanda Seyfried



Terry Lewis: Consider me on the fence. Seth MacFarlane is a love-him-or-hate-him kinda guy and whilst I enjoyed Ted and early Family Guy & American Dad, the humour has worn rather thin. I want to see this just to see how he can do way from a non-referential/topical humour setting, only basing jokes on the wild west time period, but I don't hold out for much.

Bryan Kristopowitz: As a Seth MacFarlane nerd this is a must see for me. I have no idea if it will be as good/successful as his last cinematic effort Ted but I'm willing to give it a shot. I do wonder, though, if it was a good idea on MacFarlane's part to actually star in the movie. Why not find an established actor to lead the movie?


Jeremy Thomas: Look, I like Seth MacFarlane but let's be honest: Family Guy hasn't been funny for a while, Cleveland was terrible and American Dad is suffering a bit as of late. That's why I'm all for MacFarlane getting into films; he's a solid comedian who just needs to get out of his rut. Ted was great and this looks really fantastic. I'm less enamored of MacFarlane in the lead role, but I can accept that especially with the badass cast around him. I'm definitely looking forward to it.

Chad Webb: Darnit, we can use a solid western comedy. They don't make enough of them. I doubt this will be Blazing Saddles but Seth MacFarlane is a funny dude and this should be reliable for more than a few laughs. I enjoyed the trailer anyway.

Thanks for reading! Check back with us next month for the June Roundtable as we dive into the blockbusters and discuss Edge of Tomorrow, 22 Jump Street, Transformers: Age of Extinction, and How to Train Your Dragon 2.

comments powered by