SPOTLIGHTS
Comics 411 5.07.14: Greatest Comic Book Rivalries Edition
Posted by Steve Gustafson on 05.07.2014

Is Batman vs. the Joker the greatest rivalry in comic books? Plus news and thoughts on Free Comic Book Day, previews for Guardians of the Galaxy and Earth 2, a review of Amazing Spider-Man #1 and more!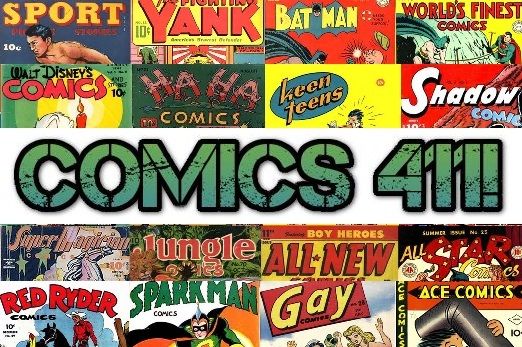 Welcome back to the Comics 411! My name is Steve Gustafson and this is a corner of 411mania reserved for those interested in talking comics! As always, I want to thank everyone who took a few minutes to read and comment last week. Check out my Hollywood gossip (and anything else!) Hollywood 5 & 1 and my weekend movie recap The Big Screen Bulletin!

Hey! I interviewed Playboy's Miss May, Dani Mathers!


How was your Free Comic Book Day? Mine was pretty awesome! We went to Comics & Gaming Fairfax and I have to give major props to them. Nice, approachable and a welcome example of what to do right for Free Comic Book Day. If you're in Northern Virginia, make your way there and support them! www.cgoffx.com They went out of their way to welcome a new fan:






What did you think of Free Comic Book Day? Overall the selection was pretty solid. I do have to call out DC Comics. The purpose of Free Comic Book Day is to celebrate comics, bring new faces into stores, and interest them in your product. DC offered two selections. One was a reprint of Teen Titans Go! that they offered last year and the other was The New 52: Future's End. If I'm a new fan or a kid going into the store, I want to see the heroic adventures of Superman, Batman, and Wonder Woman. If I'm a parent (I am), I want my kids to grab a fun comic of a superhero that I grew up with. Maybe this kid has seen a Superman movie or Batman cartoon.

DC didn't think that was a good idea. They gave us a comic filled with superheroes getting killed. It wasn't fun. It didn't make me want to read more. In fact, it made me like DC even less. Poor showing, DC.

My favorite comic selection? Transformers VS G.I. Joe! Quirky art, unconventional storytelling, and a lot of fun. What was your favorite pick up on Free Comic Book Day?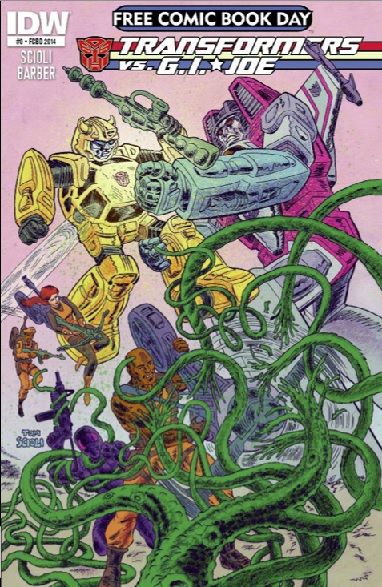 COVER VS COVER!

It's real simple, each week I'll take two covers and you vote on your favorite. Some weeks the covers will be random, some will be themed, some will be classic, and some will be ones you've never seem. Have fun with it.

Last week we two silhouette covers. One from Rai and the other with Daredevil.

The results came down to this:

Daredevil 57.35%
Rai 42.65%

Another closely fought contest that had Daredevil come out on top! This week is a random meeting between Ghost Rider and Dr. Strange. With one is wackier to you? Ghost Rider fighting that shark or Dr. Strange fighting Juggernaut?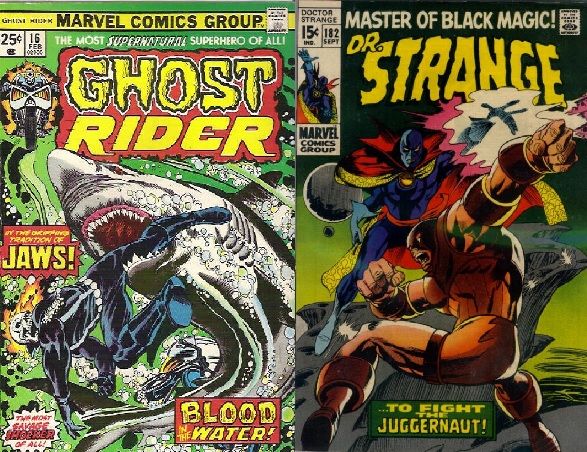 READER ROUNDTABLE

Which X-Men team was the best? I asked you and this is how you responded:

Walrus 23.79%
Kangaroo 23.27%
Big Wheel 12.02%
Spidercide 11.51%
The Fly 10%
Mindworm 6.65%
The Iguana 3.84%
Styx & Stone 3.07%
Fusion 3.07%
Stegron 2.56%

A nice round of voting last week! Walrus took the top spot but Kangaroo was bouncing close behind. You can't go wrong with this kind of poll. Let's see what you said:

Darth Kai: "After this weekend it will be Electro and Rhino."

W. Ryne Hall: "Spidercide wins by being one of the worst parts of the Clone Saga, the second worst thing that ever happened to Spider-Man."

Shadow: "Man it's funny but I've long had a soft spot for Styx and Stone. I think the powers were weird and Styx was pretty much Carrion with pants. I still liked their dynamic, I liked that Stone was an ok dude that really wanted to help his jerkass friend. So I sort of just liked how the two played off each other with Styx as the textbook psycho and Stone as the text boom pro. That and Silver Sable was in a few of their arcs and she was my second favorite Spidey females. I do love seeing what others list as their least favorites I for one dug Puma. Even crap villains can have their times to shine. One of my favorite Spidey stories is an Electro one called "Light the Night" I won't get into it but it was a good look t a villains pov.

I voted for Walrus not because I really think hes that bad but he really offered a hilarious moment based precisely on how pathetic he is. You know the scene he explains his powers to Spidey, who in turn laughs for like a full page and then Walrus punches him across the street. White rabbit was there too and she dressed like a playboy bunny with an umbrella and an ugly jacket. That's all can say about her."

Kyatollah: "Question... where the hell are Typeface, Hypno Hustler and Rocket Racer?"

Captain Mcgloo: "Stegron is awesome."

Craig L: "After what Daniel Way did to him I'd have to say Kangaroo. That said there are some crappy Spidey villains out there. Most of them introduced during the brand new day period:

Paper doll
Menace
Freak
Mr Negative

Im glad Hypno Huster didnt make the list"

lorddarias: "With the options above I voted for The Walrus but for others I think that were omitted are,
White Rabbit
Puma
The Ringer"

SFH: "The Kangaroo was the first character I thought of when I saw the headline. Mindworm is definitely a close second!"

Shark: "Walrus sounds like a parody of Killer Croc"

KipSmithers: "The Gibbon?"

Alex Crowder: "Rocket Racer is also one of my least favorites along with Mindworm, Styx and Stone, Kangaroo, and Big Wheel. I will admit, I do like some on the list despite them being campy notably Stergon and Iguana. Another one whose look alone I hate is Will-O-Wisp; however, he does not have the worst story. Walrus honestly looks pretty bad too."


Great comments! I'll have to revisit this subject with another hero or team in the future. This week we turn our attention to the Great Comic Book Rivalries. The relationship between a hero and villain can make or break a book. The books that develop characters and make interactions meaningful achieve a level of iconic presence. A great comic book rivalry has the characters have a history together. It gives them a reason to hate, and maybe even respect each other. Rivalries matter in comics when you have them on an equal playing field, just on the opposite end of the spectrum. I've put together some of the bigger ones to stand out. Vote and comment below. As always, if I missed one, let me know!

Captain American and Red Skull
Captain America is the ideal solider and patriot. He represents freedom and the best of America. His archenemy is a Nazi super-soldier and Hitler's successor.

Reed Richards and Dr. Doom
Both are geniuses. Went to college together and the seeds for becoming rivals were born. Both have an ego but while ones uses that to go good, Dr. Doom chooses...himself. I like Doom because while most see him as evil, his subjects view him as good.

Wolverine and Sabretooth
Raw and primal. Very little separates these two.

Batman and The Joker
If you think about it, these two shouldn't be rivals. Is the Joker truly Batman's opposite? We can thanks years and years of masterful storytellers for building a legacy that has spanned many media offerings.

Spider-Man and Green Goblin
I'm sure some of you will say Venom would have been a better choice but Green Goblin gets the nod because of the history they've had together.

Superman and Lex Luthor
What Luther lacks in physical strength, he more than makes up for it in brains.

Green Lantern and Sinestro
A Green Lantern's power comes from his will. These two have the strongest will of them all.

Professor X and Magneto
Professor X and Magneto are two sides of the same coin.

Thor and Loki
What better rivalry exists outside the bonds of brothers?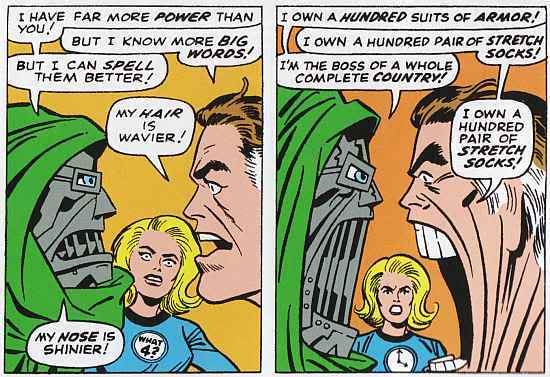 REVIEWS!

Do YOU want to be a reviewer for COMICS 411? Send me an email at stevethegoose@gmail.com to find out how! If we can get enough people doing a weekly review on a consistent basis, I would love to spin it off into it's own column. One step closer to getting a Comic Book section back at 411mania! Take it away, RobF and Rob Bonnette!


Amazing Spider-Man #1

By RobF

Peter Parker, the one true Spider-Man is back. The Oct-led Spidey finally relinquished control, admitting that he was not the Superior one. Now Spidey is left to deal with the calamity that was left behind, as well as some new issues. Dan Slott and Humberto Ramos have high expectations to meet and so far they are off to a great start.

Peter has a lot of catching up to do: He has to repair his reputation with the public, his peers, his company, and his girlfriend Anna Maria Marconi. Yikes. Maybe it's not too late to switch back. Slott handles it all with the humor and skill he has employed during his whole Spidey run.

For those concerned about the $5.99 price tag, you definitely get your money's worth. The main story is a regular 20-page story. You also get several stories that further set the stage for the stories to come in this series. There's a 5-page Electro story, a 5-page of a (ticked off) Black Cat story, 3 pages on how Spider-Man's "stuff" works, five pages of Spider-Man 2099 (Peter David writing), five pages on Kaine, eight pages on a new upcoming hero (possibly) and a two-page letter column. Then of course there's the special bonus of INHUMAN #1.

I have never been a fan of Ramos' artwork and I'm still not. I feel he has toned his work down some as to not be so cartoony but I can't say I love it.

This issue has a lot riding on it and it delivered. The transition was seamless, wrapping up old plotlines while enacting some new ones. Slott's writing of Spider-Man is Amazing and may be Superior to any other Spider-writer. (Sorry, I had to do it.)





Blackest Night

By Rob Bonnette

Blackest Night is one of the many cataclysmic, universe changing 'event' series that take place every couple of years in the comic book world and has all the prerequisite elements:

* An enemy that is more dangerous than anything faced before
* Characters plagued with self doubt who grow into their jobs
* Deaths and resurrections
* Confrontation with events and choices made in the past
* New alliances of convenience
* A new beginning for some, and the end for others

The story revolves around a trio of evil forces combining to try and bring about the Blackest Night, an event foretold in the book of Oa, the sacred text of the Guardians of the universe. Blackest Night is a literal extinguishing of all life energy in the universe leaving nothing behind but darkness and death. The Guardians are the being who harnessed the energy of willpower into the Green Light that powers the power rings of the Green Lantern Corps. Over the years, the other forms of energy in the emotional spectrum (Red for Rage, Orange for Greed, Yellow for Fear, Blue for Hope, Indigo for Compassion, and Violet for Love) were harnessed by various entities and forged into power rings used by a Lantern Corp representing each color. The Blackest Night is an extinguishing of all these and a takeover by the Black Light of Death. Things start when a corrupted member of the Guardians, Scar, joins forces with Nekron, the spiritual essence of Death, to create a Black Power Battery (each Lantern Corps centers around a central power battery that serves as the primary source of that color's energy and a forge for its rings) and send thousands of Black Power Rings across the universe to Oa (in order to subdue the Green Lantern Corps because they are the highest in number and best organized) and Earth (because….there's no point in making this an all-encompassing event without Earth involved). On Earth, the third member of the dark trio, William Hand (also known as the Black Hand) is chosen to be the Earthly vessel of the black energy and kills himself to embrace death and be found suitable for a Black Ring. Once that's been established the rings find their way to various deceased members of the DC Universe, both heroes and villains, along with regular everyday people. The rings attach themselves to hosts who are dead but whose spirits are not at rest.

What comes next is basically a giant sized Zombie Apocalypse. Every major front in the DC universe becomes a battleground, and virtually every member of the DC universe gets involved. Several previously deceased characters are reanimated, Zombie style, to fight against their former friends and foes in an effort to spread the Black Light of Death across the world and the universe. The various conflicts that take place get very personal as nearly everyone in the DC Universe ends up face to face with a lost loved one or a permanently vanquished enemy, and has to relive the loss that they endured or caused. And those who had once been deceased and brought back find themselves vulnerable to possession by the Black Rings because of their previous passing. Some living characters also fall in battle, and subsequently are claimed by a Black Ring to join the evil side of the fight. The various Lantern Corps, at odds with one another in often violent fashion, are forced to try and come together to face a common enemy. As the struggle to find a way to combat and defeat the Black Lanterns rages on, and solutions are eventually found, the Guardians are exposed as being a less than noble agent of order in the Universe. And that's putting it nicely. They are in a close race with the Jedi Council from Star Wars for incompetence, selective truth telling (and some outright lies), and ridiculously rigid rules for its agents. And like the Jedi Council their shortsightedness almost results in the complete destruction of the universe. As the story concludes a new light, the White Light of Life, is discovered and resurrects many of the deceased, both hero and villain.

This might be the best 'Event' series that DC has ever done. It successfully includes everyone in the present day DC universe and gives over 100 characters real purpose and significance. Everyone who gets so much as one panel in an issue gets meaningful dialogue and gets to contribute to the battle. Each subplot gets a good solid run and connects perfectly to the larger story. There are no wasted tie-ins or crossover issues that leave you wishing you hadn't bothered to spend your money (I'm looking at you, Marvel: Infinity). The downside, if you're looking for one, is that is doing all that right meant a lot of story spread out over a lot of different series. Blackest Night is a lot to read; it takes up seven collected editions and they're all necessary. I was fortunate enough to be able to get them all at my public library; if you're looking to buy them you're talking over 100 bucks easy for the collected editions and don't even bother trying to get individual issues. But it's worth it, even if you have to jettison your comic book budget for a month or two. Another thing, neither good nor bad, about the series is that (at least to me) made it clear that there wasn't much else left to do in the existing DC continuity. Nearly every major character in the DC universe had been killed and resurrected with the exception of Bruce Wayne, who was presumed dead as this story took place but would soon return. Romantic issues had been resolved one way or the other for pretty much everyone we cared about, and some heroes were fighting alongside their adult children. I challenge anyone to come up with anything else that could have been done outside of aging everyone out to their natural deaths and creating entirely new characters. Which we know wasn't going to happen. But anyway, enough editorializing. This is an all-time great comic series and a must read.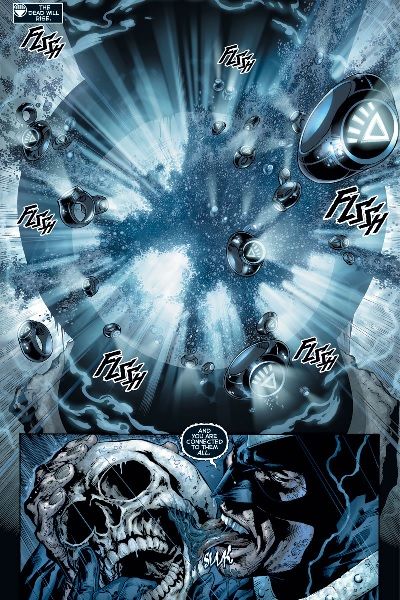 NEWS
(This week I'm trying out an ALL PREVIEW edition)

Original Sin! Here's a look at an Original Sin tie-in issue, Avengers #30.

AVENGERS #30
Written by JONATHAN HICKMAN
Penciled by LEINIL FRANCIS YU
Cover by LEINIL FRANCIS YU
- ORIGINAL SIN tie-in!
INFINITE AVENGERS Part 2: The Time Gem has reappeared, ushering the Avengers into a peril-filled journey into days-to-come!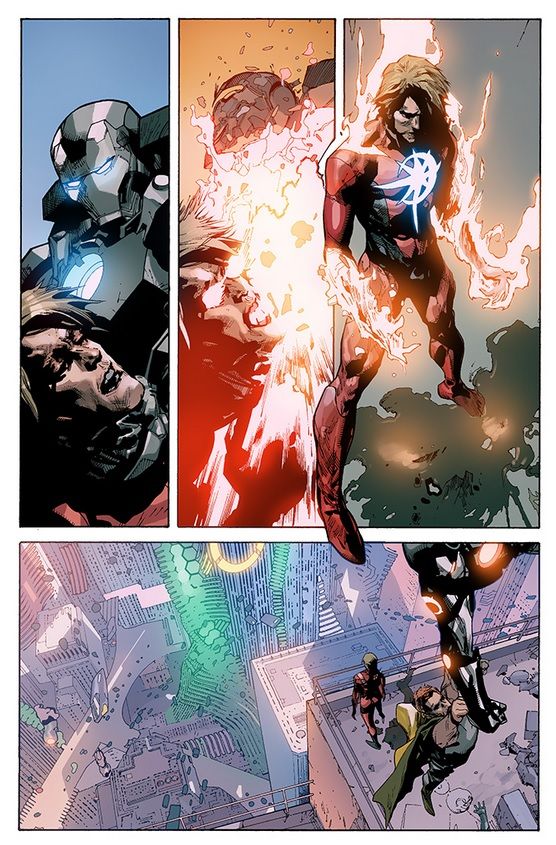 Earth 2! Superman learns Lois is alive (sort of) for the first time in next week's Earth 2 #23.

EARTH 2 #23
Written by TOM TAYLOR
Art by NICOLA SCOTT and TREVOR SCOTT
Cover by GENE HA

With Green Lantern resurrected, the heroes of Earth 2 go on the offensive against the forces of Darkseid and Apokolips! As the heroes prepare an all-out assault, plans are put into motion for the Red Tornado to make one last, desperate attempt to stop Superman.





Guardians! Take a look at new recruit Captain Marvel in Guardians of the Galaxy #15 from artist Nick Bradshaw.

GUARDIANS OF THE GALAXY #15
Brian Michael Bendis (W), Nick Bradshaw (A/C)
With the entire galaxy gunning for the Guardians and Peter Quill missing, its time to bring in a little help. Captain Marvel JOINS the Guardians of the Galaxy! But where in the universe is Star-Lord? And what does his disappearance mean for the safety of earth?!





Batman/Superman!
BATMAN SUPERMAN #10
Written by JEFF LEMIRE
Art by KARL KERSCHL and SCOTT HEPBURN
Cover by CAMERON STEWART

In this stand-alone story, a microscopic threat invades the body of The Dark Knight, and it's up to The Man of Steel and Dr. Ray Palmer to shrink down and eliminate the danger. But what they find will shock you! Get ready for big sci-fi thrills and high-adventure fun as only Batman/Superman can present!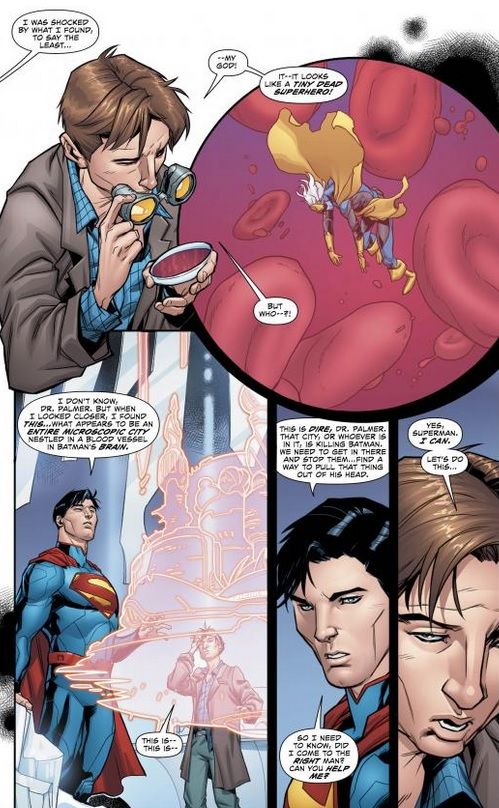 Before I say GOODBYE!
Follow me on Twitter for random bits, news RT's, and updates! Only at http://www.twitter.com/stevethegoose!

Are you a fan of 411mania on Facebook? Keep up-to-date on news and contests!

Are you following 411mania on Twitter?
http://www.twitter.com/411mania
http://www.twitter.com/411wrestling
http://www.twitter.com/411moviestv
http://www.twitter.com/411music
http://www.twitter.com/411games
http://www.twitter.com/411mma

If you have some down time and are looking for a great place for great fun, check out Tiger Flash Games!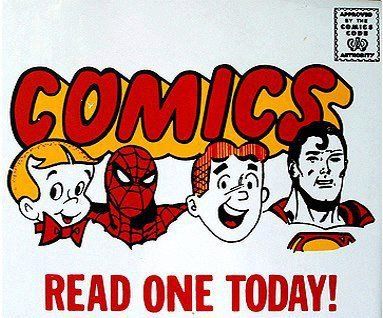 That's all the time I have. See you next week!

comments powered by