SPOTLIGHTS
411 Fact or Fiction Movies/TV 05.09.14: Week 432
Posted by Ben Piper on 05.09.2014

Do we like the Star Wars casting? Will Neighbors be one of the funniest movies of the year? Should a sequel to Joe Dirt be made? 411's Paul Lapointe and Arnold Furious debate this and more in the latest Fact or Fiction!




By the time you read this, the biggest sporting event that isn't really a sporting event will be well underway; the NFL draft. Each year the draft brings with it heightened anticipation for the start of the season and the prospect that your team will improve upon the previous year's achievements. Dear God I certainly hope so, seeing as I'm a die-hard Raiders fan.

But enough with my sports kvetching, we've got some Fact or Fiction to deal with. This time out we've got Paul Lapointe and Arnold Furious (whom would like me to advise you to check out his books here.) helping us out. Let's see what they have to say.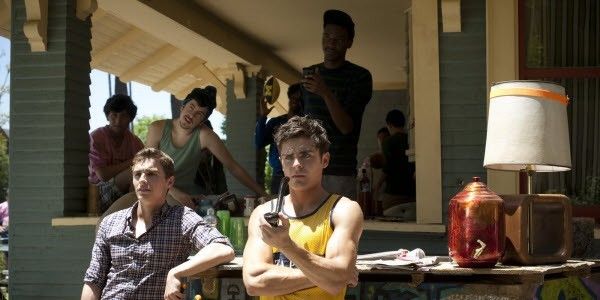 1. Neighbors will be one of the funniest movies of the year.

Arnold Furious: Fiction. Although early reviews and feedback from people I trust seems quite positive, glowing for the most part, I have a number of issues with the film. Largely the people involved in the film's production, which consists almost entirely of people I hate. I've loathed Seth Rogen since Green Hornet. I've always loathed Zac Efron. I can't stand any of Nicholas Stoller's movies (Forgetting Sarah Marshall, Get Him to the Greek and the appallingly dull Five Year Engagement). It's written by Andrew Cohen, who's basically Judd Apatow's gofer. If you think Seth Rogen is funny and Zac Efron is charming and Apatow's movies are good then you'll be onto a winner here. No doubt about it. But I happen to think Rogen is an asshole, Efron is a Muppet and Apatow is entirely deluded. Like I said at the top, it depends on how you feel about those involved and generally the reaction from people who've seen it has been very positive. If you've seen the trailer and you didn't consider the faces on show a turn-off then it'll work for you. But not for me.

Paul Lapointe: Fact. From word of mouth alone I do see this at least being pretty funny. Plus with the state of comedy this day and age slowly diminishing in quality I will take what at least looks amusing enough. When all is said and done I can see this being in the top three by the end of the calendar for laughs. And Arnold, wowza...you dearly loath the Apatow crew and for some pretty valid reasons but I work on a case by case basis. The case of Green Hornet I can attest is a foul one but Rogen is making good with his valiant effort to bring Preacher to AMC. And Zac, well I do regard the HSM trilogy as anything but trite fluff, Efron was adequate in January's That Awkward Moment so he's at least trying. Not for everybody but it wound up being in my wheelhouse.

Score: 0 for 1

2. You have no interest in a rumored sequel to Joe Dirt.

Arnold Furious: Fact. I only watched the first one because Christopher Walken was in it. I will watch literally anything with Walken in and he generally makes movies better with his presence and makes the world a better place by being in it. This includes but is not limited to, Wild Side, Around the Bend, Balls of Fury, $5 A Day, Homeboy, the Maiden Heist, McBain and Joe Dirt. Apparently Joe Dirt has an enormous cult market and has become an underground sensation although I don't think any of my friends have ever mentioned it and I don't really remember much about the film. So I guess that 'sensation' has rather passed me by. I dig that underground movements get films made because we all wanted to see another Anchorman and now there is one. Whether that's a good or bad thing depends on your POV on the quality of the sequel. Those clambering for a Dirt 2 might to well to remember that long-anticipated sequels, *coughIndycough*, Blues Brothers 2000, Odd Couple II, Wall Street II, etc, don't always work out how the fans would like. At least David Spade is still getting work. Good for him.

Paul Lapointe: Fact. Joe Dirt was a mildly amusing if slightly successful comedy film from days long past. Given the statute of limitations on sequels in Hollywood these days it seems everything is fair game. Me and Arnold outside of agreeing on this question also share a man crush and mad respect for the holy Walken. So if somehow, someway he becomes involved odds are I will watch it but thats a big "if". Until that point though I reserve judgement on caring about this venture.

Score: 1 for 2

3. You plan on checking out 24: Live Another Day.

Arnold Furious: Fact. I was totally on the fence with this one. Mainly because I don't watch much TV. I just don't. I find adverts intrusive and I find waiting a week for the next episode is excruciatingly annoying. It's just not for me. But I've been keeping up to date with my Game of Thrones and it seems I am capable of watching a weekly show, as long as I stream it instead of watching it on TV. And the last show I watched religiously on a weekly basis? 24. Now, I've not seen 24 in ages. Tony Almeida was still at CTU the last time I watched 24. But I'm pleased to see Mary Lynn Rajskub is still there and my recent plea, following the conclusion of both Chuck AND Dexter, was for Yvonne Strahovski to be on every single TV show. So this helps towards my fix of Strahovski. And I missed Jack Bauer. Does he still shoot a lot of terrorists?

Paul Lapointe: Fact. Jack Fn' Bauer!!! Love him or hate him you just do not want to be questioned by him as he is one bad mofo. Seriously he is as close to a badass as you can get on TV really and even if the show waned in quality the last few seasons it existed you could for the most part always count on Jack to breath life into it. Also after contributing to this little bitty I will be checking out the very episode for myself so I better make my point and quick. So without further adieu, unlike my fellow contributor Mr. Furious I do tend to watch a lot of TV especially over the last few years in this proclaimed "Golden Age" and 24 will stand along with my current schedule. And lastly, though I found the last season of Dexter a little lacking though I do agree about Yvonne Strahovski and given that this is a limited event a not a full blown season I am hoping for more bang for my buck.

Score: 2 for 3



Switch!!!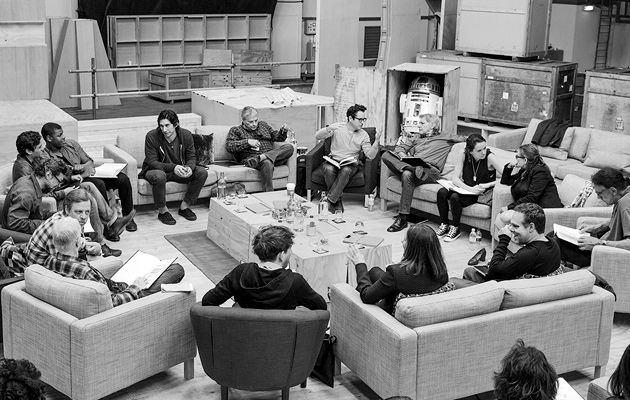 4. You like the casting of Star Wars Episode VII.

Paul Lapointe: Fact. At least on paper I believe the cast has potential to be pretty darn good. The real question should really be whether or not the material they inevitably have to work with is any kind of good honestly. I would love it if by any stretch that these next few installments do not turn out to be anything close to the crapfest(s) that were episodes 1-3, fingers crossed. Alternatively in regards to the cast some of the crew are little on new side in Hollywood and some can't make heads or tails out of them. Given that I would say check out Attack The Block for John Boyega. Domhall Gleeson was upstanding in About Time and Andy Serkis is a mo-cap genius. Oscar Isaac was snubbed for his work in the Coens Inside Llewlyn Davis this past year and even the old gang is back. All that in mind colour me cautiously optimistic for J.J Abrams and company but tread lightly as there is still oh so long to clamour.

Arnold Furious: Fact. Like any self respecting Star Wars nerd, I was more than a little concerned about what would happen to the series with Disney and JJ Abrams taking over. On one hand I was glad there was no more George Lucas directed Star Wars films, as those prequel bad boys get worse with every repeat viewing, but on the other hand; was it 'better the devil you know?' JJ has done an upstanding job on the Star Trek reboot, even if Trekkers don't much care for those movies, and if anything it showed how great Abrams would be at directing…Star Wars. Of course there's a tonne of expectations but mine were lowered by Lucas' prequel trilogy so I'm probably the right amount of excited about Star Wars VII. If it sucks, I won't be devastated but if it's good I'll be super-happy. What was the question again? Oh yeah, casting! Downhall Gleeson is used to big budget settings given his turn as Bill Weasley in the Harry Potter films but has a reputation for being talented too. Never Let Me Go springs to mind. Adam Driver struck me as a really good choice for looks alone. He's a very distinctive actor but he's also very good. He has J. Edgar and Lincoln on his books. I agree with Paul about John Boyega in Attack the Block too. I thought he'd break out big but I didn't think it'd be this big. I think ultimately the casting has been smart as they've avoided big names, other than the ones they've already got from the original trilogy, as they could detract from the storyline. It's a slight worry that the experience will overpower the actors (Hayden Christiansen springs to mind) and yet Abrams history has involved getting the best out of the story, the effects and young actors. Just cut down on lens flares and we should be cool.

Score: 3 for 4

5. You'd be down for a big screen Farscape movie.

Paul Lapointe: Fact. Sure why not. To be fair in regards to this question though I was never a fan of Farscape in general. That is in no way related to the quality of the show as I just never watched it when it aired and since its cancellation. But not unlike alot of Sci-Fi shows it has carried on with a pretty dedicated group of cult fans and I attribute that to be because it was a good to great geek squad program that fit its mold after Star Trek ended. But with other shows like the Stargate Series and Andromeda also having their place for Sci-Fi I was more inclined to follow Battlestar Galactica and Firefly for my fix. Anyhow J. Michael Straczynski is a great writer and should I ever check it out I am sure I would dig it but for now I am solid knowing I can fall back on his contributions to the Marvel Universe with Thor. In conclusion to all the hubbub though I say any geek show that can generate more content for its fans is A O.K by me as it breeds hope for other programs gone too soon.

Arnold Furious: Fiction. I only say fiction because I didn't see Farscape at all. I keep being recommended it though and a lot of very sensible sci-fi nerds that I'm friends with think very highly of Farscape. I've no idea why it's stayed off my radar. One of my friends, just days ago, compared it to the Last Starfighter and kinda sold me on it. Maybe I'll watch the movie and see if the characters and scenarios interest me enough to then go back and check out the show.

Score: 3 for 5

6. Mom's Night Out and Legends Of Oz: Dorothy's Return will both tank at the box office.

Paul Lapointe: Fact. Yes. Yes they will. This now concludes my participation in regards to this question. Carry on kind folk, carry on.

Arnold Furious: Fact. Both films don't have a lot going for them. Mom's Night Out is one of those 'Christian' movies. It even has a country and western star in it. The director's last work came out on Five & Two Pictures, a Christian movie company, but this one has the backing of TriStar so should immediately be better marketed. It is showing in 1,000 theaters so you have to assume it'd do ok. I'd say maybe $4M or so? Not sure what the budget is so whether that's a success depends on what they spent. Legends of Oz has different issues. It looks low-rent. It's being marketed by Clarius Entertainment and I'm not convinced they know what they're doing. They've booked it in a lot of theaters (over 2,000) and are hoping kids will want to go to the movies and won't care what they watch. I think parental quality control will shush it into third place, or lower. Moms' Night Out has a shot at being successful but the lack of famous cast members could hinder it. Unless you're a really big Sean Astin fan. Then you'll be all over it.

Final Score: 4 for 6

And there you have it. Paul and Arnold are in agreement more often than not. Thanks to them both for stopping by, and see you all again next week!
-BP



TWITTER

http://www.twitter.com/411s_Ben_Piper
http://www.twitter.com/411mania
http://www.twitter.com/411wrestling
http://www.twitter.com/411moviestv
http://www.twitter.com/411music
http://www.twitter.com/411games
http://www.twitter.com/411mma





comments powered by