SPOTLIGHTS
411 Fact or Fiction Movies/TV 5.23.14: Week 434
Posted by Ben Piper on 05.23.2014

Was Godzilla's box office success a surprise? Will X-Men: Days Of Future Past live up to the hype? Will Adam Sandler and Drew Barrymore elevate Blended? 411's Michael Weyer and Jeremy Wilson debate these topics and more!




I went and saw Godzilla last night. It was downright Spielbergian (in a good way). There were elements of Close Encounters,Jaws, and yes, Jurassic Park. End result? I liked it very much. Good stuff all around.

This week on the Fact or Fiction front we've got Michael Weyer and Jeremy Wilson to kick around. Let's see what they have to say….




1. X-Men: Days Of Future Past will live up to the hype and be another worthwhile addition to the franchise.

Jeremy Wilson: Fact. I was a big First Class fan and I find it hard to believe that having Bryan Singer back behind the camera for Days will lead to an inferior follow-up. There's no doubt that there hasn't been this much hype for an X-Men film since The Last Stand, but Singer was certainly a part of what made First Class work so well and help wash out some of the bad stench left behind from Last Stand and Origins. With fantastic looking trailers and clips, a cast – new and returning alike – that is about as talented and deep as any Hollywood blockbuster has ever assembled and a storyline that by all accounts is one of the most significant and epic in all of X-Men lore (or so I'm told), I would be genuinely surprised if Days of Future Past didn't deliver.

Michael Weyer: Fact. It's a comic book lover's dream in so many ways. Singer returning to direct a take on one of the greatest X-Men tales ever, mixing the originals with the First Class team, this cannot possibly be a fail. The early buzz is good and the mix of time travel and retro action promise to pull in fans of the previous films. It looks to redeem the franchise after Last Stand (which I personally didn't hate as much as others) and put things back on track, especially with the Apocalpyse movie already planned for 2016. Unlike Amazing Spider-Man 2, this looks like it will deliver for fanboys and regular audiences alike and be a great film on its own.

Score: 1 for 1

2. Adam McKay, Will Ferrell, & John C. Reilly reuniting for a new comedy is a prospect you can get behind.

Jeremy Wilson: Fiction. I hate Step Brothers. HATE it. I like Talladega Nights okay, but when that's because I think Will Ferrell can be funny (in a hit and miss kind of way). John C. Reilly, however, is not funny and Step Brothers remains one of the most unfunny, cringe-inducing mainstream comedies of my lifetime, at least in my opinion. I prefer Reilly – and think he's better suited – as a character actor in dramatic roles, ones in which he has a proven track record. The prospect of these three teaming up again for a Step Brothers-style comedy holds almost no appeal for me.

Michael Weyer: Fiction. I don't loathe Step Brothers like Jeremy does but not quite sold as Ferrell's act is getting pretty tired. I do think Reilly can be funny given the right material but worry this won't be it as it just sounds like a bad idea. We saw last year that reteaming Owen Wilson and Vince Vaughn didn't make The Internship a success, you need a proper story, not just an excuse to get guys together but it looks like this might be it so not really looking to this as a must-see.

Score: 2 for 2

3. Spring Breakers 2 should not be made without the involvement of Harmony Korine.

Jeremy Wilson: Fiction. Now, if you had written this as "Spring Breakers 2 should not be made," I would have said Fact. As one of a number of 411 staff members who really liked the first Spring Breakers (and got excoriated for it by some of you), I definitely don't think the original needs any sort of sequel/prequel treatment. That said, I pretty much figured that Korine would have no interest in helming a sequel and it makes almost no sense to bring back any of the girls from the first. In fact, I suspect that if Korine were at the helm again, he'd go out of his way to deliver something far from what the producers might be looking for, if for no other reason than to keep his provocateur reputation intact. Whatever we may think of him, I'm pretty sure Harmony Korine isn't interested in selling out. So if they really want to make a second Spring Breakers, terrible idea that it may be, they might as well make a clean break from almost everyone involved with the first, since there's little chance it'll be any good or have anything to do with what the first was about.

Michael Weyer: Fiction. I've seen it so many times before, a fair movie that becomes a cult success that gets a horrible follow-up. Showgirls, Wild Things, the list goes on. This is going to be made but will lack the skill of the first film and become a simple excuse for hot girls and dumb action. But it'll happen one way or the other and best for Harmony to get away and find new projects rather than get sucked into a terrible idea to franchise a movie that was perfectly okay on its own.

Score: 3 for 3



Switch!!!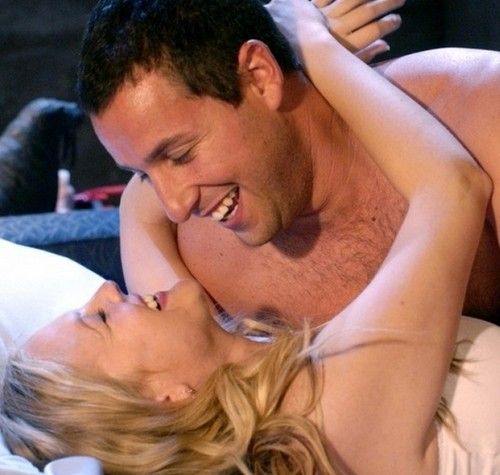 4. The re-teaming of Drew Barrymore and Adam Sandler will elevate Blended above any of the latter's recent efforts.

Michael Weyer: Fiction. Adam Sandler was funny once but sadly, that time has passed. His latest efforts (especially the horrors of Jack and Jill and That's my Boy) show that he's relying too much on the shtick of being this annoying cool guy folks are supposed to love. Yeah, family man type and teaming with Barrymore may make it less painful but the trailers emphasize stupid physical comedy over any real heart so while it may be a success at the box office, I don't see it being anywhere as funny as anything else either have tried in the last few years.

Jeremy Wilson: Fiction. I've never been more sure about a Fact or Fiction question. The trailers and commercials are terrible and Adam Sandler has, after a few years where he tried his hand at good roles in very good movies, gone back to making sophomoric, unfunny and nauseatingly cloying comedies where we're all supposed to like and root for him and be moved by his journey or whatever but in really hate his guts since he's a scumbag. I like Drew Barrymore fine, but this has another Happy Madison disaster written all over it.

Score: 4 for 4

5. A Peeps movie is a horrendous idea.

Michael Weyer: Fiction. Yeah, it sounds terrible, a movie based on those chicken-shaped marshmallows and such. But then, the idea of a Lego movie sounded crazy too and that worked out. A kid audience would work well for this and never underestimate the appeal of CGI critters getting into antics. Bad, perhaps, but I wouldn't go as far as to say horrendous as one never knows what can hit or not nowadays, especially with the youth audience and shows how Hollywood is trying most anything to connect nowadays.

Jeremy Wilson: Fiction. Honestly, I've given up fretting over this sort of stuff. Maybe a number of years ago I would have had the strength, but it's been too long and we've seen too many cross-promotional concepts from mega-corporations. Michael is right; if we can get a LEGO movie that turned out as good as it did, anything is possible. Also, with these types of things, I've learned that lower, sometimes zero, expectations are needed. Better to simply sit back and either allow yourself to be surprised by something decent that you expected to suck or be proven right, instead of getting in a huff over a marketing and accounting department's idea based around marshmallow candies.

Score: 5 for 5

6. You were surprised by the massive box office success of Godzilla.

Michael Weyer: Fiction. Godzilla is a major cultural icon, a character so many know even if they've never seen one of his movies. That meant instant name recognition but making it a lush CGI spectacular was also good, the trailers and ads doing a great job selling the destruction and action of it all. Smartly, they avoided the mistake of the 1998 movie by not going overboard, willing to show the monster in ads as a showcase of how powerful he was. The fact the movie had some good reviews and had been growing in buzz for a while also helped and coming between ASM 2 and X-Men gave it a clearer field to make its mark. So I'm not surprised it did as well as it did and great to see the most famous movie monster get his due from American audiences at long last.

Jeremy Wilson: Fiction. Honestly, the opening weekend number might be a bit surprising, if only because of how a comparable monster movie – in this case last year's similarly buzzed about Pacific Rim – fared. Granted, Godzilla has way more name recognition than Jaegers and Kaiju, but it was still slightly disconcerting (as I'm sure it must have been for WB and Legendary execs) to see that movie pull in $37 million its opening weekend and managing to barely gross more than $100 million domestically. I think they learned some lessons from how they rolled that film out and stronger reviews helped as well. At the end of the day though, I really think people just wanted to see a really good updated version of Godzilla, something to wash away the bad taste of Roland Emmerich's 1998 abomination.

Final Score: 6 for 6

And will you look and that? Michael and Jeremy are in complete agreement across the board. Thanks to them both for helping out, and see you again in seven!
-BP



TWITTER

http://www.twitter.com/411s_Ben_Piper
http://www.twitter.com/411mania
http://www.twitter.com/411wrestling
http://www.twitter.com/411moviestv
http://www.twitter.com/411music
http://www.twitter.com/411games
http://www.twitter.com/411mma




comments powered by