SPOTLIGHTS
411 Fact or Fiction Movies/TV 05.30.14: Week 435
Posted by Ben Piper on 05.30.2014

Is David Goyer a bad choice to write the screenplay of Batman v Superman: Dawn Of Justice? Would Gareth Edwards be a great choice to direct a Star Wars spin-off? 411's Sean Garmer and Daniel Wilcox debate this and more!




It is just a typical day, like any other. The difference being that on this one I have to put together another Fact or Fiction column and try to figure out something clever and intelligent to say at the top as a cold open. That, or I could just type incessantly the first thing that comes into my head at the moment and just go with that. I wonder which choice I will go with…

This week we've got Sean Garmer and Daniel Wilcox helping us out. Let's see what's on their minds…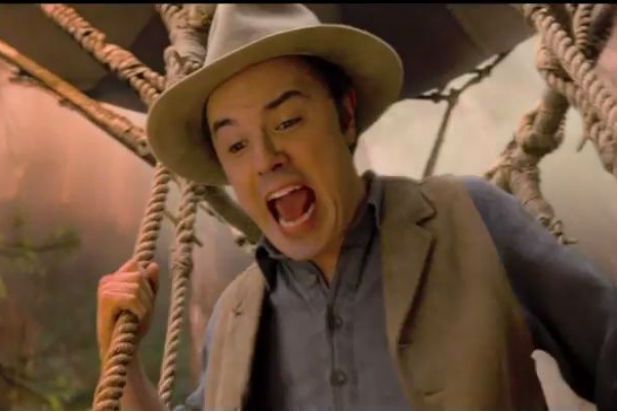 1. A Million Ways To Die In The West will turn out to be a very funny comedy.

Sean Garmer: Fact. I think to the people that loved Ted and most Seth McFarlane stuff I'm sure it will be hilarious. I know I'll watch it on Blu-Ray and laugh my butt off, but there are those that just don't find his stuff funny and I don't know that A Million Ways to Die in the West is going to change that. I love westerns, Hell on Wheels, and I'm huge fan of stuff like Blazing Saddles that makes fun of stuff like this, so this movie is right up my alley. I've laughed quite a few times at the trailer, so I can only imagine the whole film will be even better.

Daniel Wilcox: Fiction. Certainly not if early reviews are any indication. I know McFarlane struck gold with Ted a couple of years ago, and the guy has a big enough following that I think the film will end up being a financial success, I just can't see this film hitting all the right notes. Certainly if the trailers are any indication, then we're looking at a middle of the road film with maybe one or two genuinely funny moments but with little else to show. It does have a strong cast with the likes of Sarah Silverman, Neil Patrick Harris and Liam Neeson involved, but I'm not convinced that'll be enough to make this one "very funny."

Score: 0 for 1

2. Quentin Tarantino expanding Django Unchained into a TV miniseries is a prospect you can get behind.

Sean Garmer: Fact. I really enjoyed Django Unchained. So, I would be intrigued to see what Tarantino would be able to do with a mini-series, but it would have to be on something like Showtime or HBO to be able to even get close to what we saw in the film. Possibly, FX or History Channel, could get some leeway but we are still talking about cable. Everything Tarantino touches seems to be golden and I'm sure if he gets to do this, it will be awesome sauce.

Daniel Wilcox: Fact. I went back and forth on this one quite a bit. Here's the thing. Django Unchained was another incredible addition to Tarantino's already legendary repertoire. The performances from Fox, DiCaprio, Waltz and Jackson were all absolutely fantastic and I really think it's one of Tarantino's best works. So of course I'd be intrigued by any expansion of Django's world whether that be on the big screen or the little screen. Of course, the major issue is whether anything would be able to live up to the film, especially if you can't get all of the original main cast back. That said, researching the question, it's all seems somewhat redundant as I can only find Tarantino suggesting that the film itself could have been a four-hour, four-night cable series – not that there are plans to develop new material in that form. Regardless, anything Tarantino's involved with, I'm going to show an interest.

Score: 1 for 2

3. Gareth Edwards is a great choice to direct a Star Wars spin-off movie.

Sean Garmer: Fiction. I think Edwards is a good choice, but I'm sure there are other directors out there that would make this a "great" choice. I haven't seen Godzilla or Monsters, but whatever this Star Wars project winds up being is going to be a much different proposition than anything he has done in his filmography. That being said, Edwards says he's always wanted to work on something relating to Star Wars and because of that he will have reverence and take great care with the subject matter. I don't know that it is fair to judge how good or bad Edwards will be for this project until we at least know what Star Wars character is going to be the subject of this spinoff film. Until then, we should

Daniel Wilcox: Fiction. Sean hits the nail on the head when he talks about taking a wait and see approach with this one. Much like Sean, I've yet to see the new Godzilla film. I saw Monsters and didn't think very much of it in all honesty, but I'd have to re-watch it before passing judgment on the direction in any sort of meaningful way. The guy is quickly making a name for himself, and when he talks about Star Wars and his influences the guy comes across as very passionate, so that is always a good sign. Whether that translates to the guy making a good Star Wars film is yet to be seen and it's almost impossible to make that call at this point.

Score: 2 for 3



Switch!!!






4. Malificent will be an interesting and entertaining re-imagining of the classic story.

Daniel Wilcox: Fact. I'm completely up in the air in regards to this question but I've opted to take a more optimistic approach and say "fact." There trailers that I have seen are engaging if not mind-blowing, but they certainly do not put me off the film. You have an unproven director in Robert Stromberg, who has an extensive resume in terms of the blockbusters he has worked on, but this is his first time at the helm and there's no real way of knowing how his direction will effect the film, negatively or positively. Then you have Angelina Jolie as the the star and titular character. I like a lot of Jolie's work, but I also dislike a fair amount. From the marketing I've seen/read/heard she seems really keen on this project as a whole so one would assume she'll be bringing her A-game. Early reviews seem to praise her performance significantly. There are a lot of other great actors in the film, not least Juno Temple who was phenomenal in Killer Joe and has turned in wildly entertaining performances in a number of other great films in recent years (Mr. Nobody, Kaboom). She only has a fairly minor role in this film, but she's a reason to be excited about a movie. The wording of the question means I don't have to be too sure that this film will be great, but "interesting and entertaining" doesn't set the bar too high so I'm happy to have a positive outlook for this one.

Sean Garmer: Fact. Angelina Jolie seems to have embraced this role and it looks like she's having fun doing it. I almost relate this to her doing the Tomb Raider films, where she was probably the best actress for this role. I love Disney animated films and Sleeping Beauty is probably one of the Princess films I like because it is rather dark. Maleficent is certainly the best princess villain Disney has. This looks very interesting to see Maleficent's side of the story and how she came to be and how Aurora was involved with her. Kudos to Disney for deciding to do this, instead of just doing a live action version of Sleeping Beauty. This will make lots of money and as Daniel noted, this says "interesting and entertaining," which usually meets the criteria for Disney films.

Score: 3 for 4

5. David Goyer's recent statements regarding comic book characters proves he's a bad choice to write the screenplay of Batman v Superman: Dawn Of Justice.

Daniel Wilcox: Fiction. Presumably we're referring to the allegedly sexist remarks made during a Podcast regarding the She-Hulk character and as such the answer to this question is most definitely "fiction." Whether you're a fan of Goyer's work or not, the number of films the man has had major successes with cannot be ignored, and that includes a number of highly successful, both commercially and critically, comic book adaptions. Sure, the nature of some of the comments he's come out with has raised a significant number of eyebrows but it's not that clear an indication of the man's talents or his ability to cobble together a decent script for a comic movie. I've stated previously in this column that I'm not into the comic book thing like I know many of our readers are, and that's partly to do with being British and not having that culture – but I do know that fans of the genre can get a little over-sensitive when it comes to this sort of thing and I think that's the case here. There may be plenty of other reasons why Goyer is not the right man for the job, in some people's opinions, but this really isn't one of them.

Sean Garmer: Fiction. He has done a fantastic job writing live action Batman, why wouldn't he do the same for a movie starring both of DC's biggest super heroes. I am not a comic book guy, I watch all the comic book movies I can though. However, I'm not a Hulk fanatic that was super offended by what Goyer had to say about She-Hulk. Albeit, knowing Stan Lee, he never has characters in his works just for simple reasons. I figured he was completely wrong once I read those statements. To be honest though, if you are just a casual follower of comic book stuff, I'm sure anyone probably sees a She-Hulk and says "oh that's Hulk's girlfriend." Goyer is just ignorant to the matters of She-Hulk. That doesn't mean he is ignorant toward everything else involving comic book related material. Superman vs. Batman will be better with Goyer involved than without him, end of story.

Score: 4 for 5

6. You'd be interested in a big-screen animated Flintstones movie.

Daniel Wilcox: Fiction. No, not really. I don't recall watching much Flintstones as a kid, which is unusual considering my enjoyment of most things produced by Hanna-Barbera, including but not restricted to, Wacky Races, Top Cat and Dexter's Laboratory for a more recent example. Obviously the franchise is legendary but I never really enjoyed the show all that much personally. The two live-actions films, the one starring John Goodman and the prequel set in Las Vegas, were total and utter garbage and an embarrassment for all involved. Furthermore, the theory is that Will Ferrell and his frequent-collaborator Adam McKay will be at the helm and that's an immediate turn off for me, as someone who just doesn't "get" Ferrell. I appreciate that at this point I'm beginning to sound like someone who doesn't really enjoy a whole lot. On the flip side, WWE Studios is releasing a straight-to-DVD Flintstones film early next year featuring voice work from Rey Mysterio, John Cena and Vince McMahon, and that may be worth a look for comedy purposes. Of course, my interest in that project also dropped when CM Punk was dropped from the project, but such is life.

Sean Garmer: Fiction. I watched Flintstones as a kid, but that wasn't my favorite cartoon or anything. I mean everyone knows who the Flintstones are, but it doesn't mean they need to head to the big screen. They were great for their time, but I just don't see a huge appeal for this, especially when we get new CG films all the time that kids and adults latch onto.

Final Score: 5 for 6

And there you go. Sean and Daniel are in almost complete agreement. Thanks to them both for stopping by, and see you all again next week!
-BP



TWITTER

http://www.twitter.com/411s_Ben_Piper
http://www.twitter.com/411mania
http://www.twitter.com/411wrestling
http://www.twitter.com/411moviestv
http://www.twitter.com/411music
http://www.twitter.com/411games
http://www.twitter.com/411mma




comments powered by