SPOTLIGHTS
Ask 411 Movies for 06.02.14: Tom and the Cruisers
Posted by Chad Webb on 06.02.2014

Is Lord of the Rings a trilogy that you must watch from start to finish? Did Almost Human deserve more than one season? Why didn't Michael Pare become a bigger star? All that and more covered this week in Ask 411 Movies!







































An "Ask 411 Movies" column would be nothing without questions, so please toss them my way. Why should you ask me instead of using Google? Well, perhaps I'll tell you something you can't find there, or maybe you just like my conversation and soothing words. You can post any questions or thoughts below in the comments section, email me at cthomaswebb@gmail.com, or send me a tweet using the links below:













---




What I Watched This Week



I finally finished Ken Burns' Baseball documentary. I loved it, and through the first 6-7 "Innings," it is perfect, but after that the one complaint I had was that it didn't cover enough of the important players. I also watched The Protector 2, which was disappointing, much like its predecessor. I also got a chance to catch Enemy with Jake Gyllenhaal. I'm torn on it. I liked certain aspects and disliked others. I also saw WWE's NXT Takeover, which was outstanding.

If want to know more about my movie tastes, check out my page on Letterboxd by clicking right here. Also, make sure to look at all the great articles and writers at 411, particularly in the Movie-zone because that's where I predominantly am, but all of the zones.






Deaths



In case I forgot to mention a notable death this week, you can always peruse the list yourself by clicking here.



The Questions





Q:

Hey Chad,
Hope you had a great Memorial Day. Michael Pare started on the Greatest American Hero (loved that show) and seemingly was thrust into lead roles in movies such as Eddie and the Cruisers and the Philadelphia Experiment. Did someone in Hollywood think he was the next star in the making? Both movies were great but then he seemed to fall back into B movies after that. I presume they were not as commercially successful as the studio hoped?
--Paul



A:



Michael Pare is an actor whose first starring role was (as you said) as Tony Villicana on the TV series The Greatest American Hero. This was followed by some of his best known film roles: Eddie and the Cruisers (1983),Streets of Fire (1984), and The Philadelphia Experiment.



Like many actors, the success of a show led to starring roles on the big screen. Someone evidently saw potential in Pare, which is why he landed significant parts in the aforementioned movies. Whether or not it was someone specific at a Hollywood studio who pushed him into the limelight is anyone's guess, but his rise to feature roles was a natural progression from the popularity of The Greatest American Hero.



Despite the fact that Eddie and the Cruisers (1983),Streets of Fire (1984), and The Philadelphia Experiment have gained a cult following, all were box office flops. Eddie and the Cruisers had a scheduling error that resulted in a change from summer to September, which meant the majority of the target audience, kids who would have seen it, were then in school. The film was released into theaters on September 23, 1983 and grossed USD $1.4 million on its opening weekend. It would go on to make a paltry $4.7 million in North America. The film was pulled from theaters after three weeks and all of the promotional ads pulled after one week. Eddie and the Cruisers was re-discovered by audiences when it aired on HBO. Embassy Pictures re-released the film for one week based on successful summer cable screenings and a popular radio single, but it once again failed to perform at the box office. Director Martin Davidson said, "that picture should have been a theatrical success. There was an audience for it. People still watch it and still tell me about it". Davidson declined the opportunity to direct the sequel. It was eventually released as Eddie and the Cruisers II: Eddie Lives! in 1989.



Streets of Fire also did poorly at the box office, opening in 1,150 theaters on June 1, 1984, and grossing $2.4 million. The film went on to make $8 million in North America, compared to a production budget of $14.5 million. Because of all this, not to mention that all three pictures received extremely negative reviews from critics, his career became relegated to B-movies, but since then he does occasionally pop up in mainstream fare: Village of the Damned (1995), Bad Moon (1996), Hope Floats (1998), and The Virgin Suicides (1999).



Q:

Your comment on Back To The Future made me wonder; what trilogies do you feel compelled to watch completely? What trilogies are you content to watch just the first (or maybe even just the second or third movie)? I can't imagine many people watch any one of The Lord of The Rings movies on their own. I'm that way with the Matrix films. On the other side of the coin, I'll watch Karate Kid 2 without rewatching the first, and definitely skipping the third.
Regards,
--Brad



A:



After thinking about this question, I realized there were plenty of trilogies where I can watch only two out of the three installments. The Karate Kid and The Karate Kid Part II certainly qualify, since Part III is a steaming pile of cow dung. The first two rock. As far as The Matrix trilogy goes, I tend to stick to the first two. The Matrix Revolutions is my least favorite, thus I usually don't have the desire to watch it. The same could be said for The Godfather and The Godfather Part II. I don't mind Part III of the Coppola trilogy (some people I know loathe it), but I will say it doesn't mesh as well with the first two masterpieces. And with a series like Robocop, I'm content to watch only the first one.

The Lords of the Rings trilogy is definitely a series of films where I must watch all three. Christopher Nolan's Batman trilogy is also like that for me. In many cases with a superb trilogy, if I see a middle or third installment randomly, I will have to revisit the other two even if I'm doing so out of order. Other trilogies I normally watch from start to finish include: Star Wars Episodes IV-VI, Back to the Future, Three Colors (Kieslowski), and even The Mighty Ducks. Don't judge me.



As for franchises larger than 3 installments, most of the time, if I see any of the Rocky movies on TV, I have to watch all of the rest. I love the series so much, and because it's on TV all the time, I try to change the channel. I apparently have no will power. I could say the same for the Harry Potter franchise. It is popular in my house thanks to my wife. With Stallone's Rambo, I can watch all of them except for Rambo III. It's hilarious, awful, and kind of awesome, but I usually skip it. I also like watching the first 3 Scream movies. Now, I enjoyed Scream 4, but don't own it yet because I bought the other three well before it was released, so I just tend to forget about it. With Indiana Jones, it should be obvious, but I have not watched Kingdom of the Crystal Skull since it was initially released. I don't hate it with a fiery passion or anything, but I recognize its flaws and just have not had a crazy hankering to see it again.



Q:

Good evening Chad,

Quick question about two of my guilty pleasure shows: Do you have any info on the possibility of either Celebrity Apprentice or Whodunnit returning at some point?

And speaking of Whodunnit, what are some shows that were on for one "season" that you wish returned for another run?

Thanks,
--Stromi



A:



*Stromi sent me some other questions as well, which I will get to next week.

1) In a previous issue of Ask 411 Movies from January 20, 2014, I was asked about Celebrity Apprentice but at the time there was little information available aside from the fact that it was renewed. Based on that, and the premiere dates for past seasons, I guessed that it would return in February or March of 2014. It didn't, but you can see this on the NBC webpage. But I did find the following: The Celebrity Apprentice 7 finished filming in the spring of 2014. On May 12, 2014, NBC announced that the show will most likely air in the summer of 2014.

This season's cast is composed of eight men and eight women: Gilbert Gottfried, Geraldo Rivera, Leeza Gibbons, Kevin Jonas, Kate Gosselin, Keshia Knight Pulliam, Kenya Moore, Lorenzo Lamas, Brandi Glanville, Shawn Johnson, Jamie Anderson, Terrell Owens, Ian Ziering, Sig Hansen, Johnny Damon, and Vivica A. Fox.

For more info on Celebrity Apprentice, click here for my older issue of Ask 411 Movies.



Whodunnit? is a murder mystery reality competition television series broadcast on ABC. The series premiered on June 23, 2013, and concluded its first season on August 18, 2013. The series is hosted by Gildart Jackson, who plays the mansion's butler, Giles. The format for the show is rather long, but you can look at by clicking here.

As for Whodunnit?, information is more scarce. As of now, ABC has not announced if there will be a second season. Ratings weren't that great. It premiered to a 1.3 rating in the Adults 18-49 demographic and 4.05 million viewers. This was perceived as "soft, but decent." In week two though, it fell 23% to a 1.0 rating and stayed there until the end of the season, where it concluded with a high of 1.4.

Executive Producer of the show, Anthony Zuiker did give an interview following the season finale in August of 2013, where he discussed preparing for a season 2 regardless of the fact that it has not been officially renewed. Click here for that article. I also dug up a casting call, which you can view here. So, we know the crew is preparing for a season 2, but the network has not given the go-ahead yet. I suppose it will not be too long before we hear something. Stay tuned.



2) As for shows that deserved more than one season, I can certainly rattle off a list (in no particular order of course). By the way, these are shows limited to one season. If I were to include shows overall that deserved a second life, the list might look a bit different.



Shows That Deserved More Than One Season




*My So-Called Life is an American teen drama television series created by Winnie Holzman and produced by Edward Zwick and Marshall Herskovitz. It originally aired on ABC from August 25, 1994, to January 26, 1995 and was distributed by The Bedford Falls Company with ABC Productions. Set at the fictional Liberty High School in Pittsburgh, Pennsylvania, it follows the emotional travails of several teenagers who are all in the social circle of main character Angela Chase, played by Claire Danes. The critically acclaimed but short-lived show ended in a cliffhanger with the expectation that it would be picked up for an additional season, but it was officially canceled on May 15, 1995.

--The show was heavily praised for its portrayal of teenagers, and critics generally loved it, but ratings were low. I ended up catching it years later on MTV. At the time, when the show was in danger of being cancelled, fans started the first online petition to help save it. Rumors were swirling at the time as to what caused the eventual cancellation, but we now know it was a combination of low ratings and Claire Danes not wishing to return. Her parents allegedly met with the show's creators regarding the difficulties of balancing rehearsal time and schoolwork. I love this series and even reviewed a huge box set for 411mania. The heartbreaking fact is that it concluded on a huge cliffhanger. My DVD Review



*Almost Human is an American science fiction/crime drama that aired from November 17, 2013, through March 3, 2014, on Fox. The series was created by J. H. Wyman for Frequency Films, Bad Robot Productions and Warner Bros. Television. Wyman, Bryan Burk and J. J. Abrams are executive producers. After one season, Fox canceled the series on April 29, 2014. The premise: "In 2048, the uncontrollable evolution of science and technology has caused crime rates to rise an astounding 400%. To combat this, the overwhelmed police force has implemented a new policy: every human police officer is paired with a lifelike combat-model android."

--As for recent shows, this is at the top of my list. Like Fringe and Person of Interest, both shows in which Abrams is attached, they begin as procedurals, but slowly evolve into something brilliant. Almost Human absolutely would have followed the same path, but was not given the chance. It sucks because I still have unwatched episodes of it on my DVR, and it showcases flourishes of characters and plot threads that could have grown. "Unbound," the episode with Gina Carano and John Larroquette was my favorite (of the ones I've seen at this point). I really like the CGI and portrayal of future technology, not to mention the chemistry between Michael Ealy and Karl Urban. The plot is not novel or anything. We've seen this in movies, but the acting and the way the universe was laid out caused me to develop an increasing fondness for it.



*Freaks and Geeks is an American teen comedy-drama television series, created by Paul Feig with Judd Apatow as executive producer, that aired on NBC during the 1999–2000 television season. Eighteen episodes were completed, but the series was canceled after only twelve had aired. A fan-led campaign persuaded NBC to broadcast three more episodes in July 2000; the three remaining unaired episodes were not seen until September of that year, when the cable network Fox Family Channel aired them in syndication. The complete series was later released on DVD, and is available on Netflix. It has a devoted cult following.

--As much as I like My So-Called Life, when it comes to the portrayal of young people, there is The Wonder Years and Freaks and Geeks at the top of the mountain. This series was so damn great and it is criminal that it did not last longer. It had a total of 18 episodes. Knowing how it ended, it makes me somewhat crazy to imagine what would have happened to various characters in a season 2. It is on TV all the time these days. I own the DVD box set, but my wife and I always get sucked into episodes when they air on the weekends. Looking at the cast, so many of them went on to stardom: Jason Segel, James Franco, Seth Rogen, Martin Starr, and so forth. Freaks and Geeks, not to mention Grandma's Boy, also caused me to fall in love with Linda Cardinelli. Apatow would go on to make Undeclared, which is good, but not as good.



*Firefly is an American space western drama television series created by writer and director Joss Whedon, under his Mutant Enemy Productions label. Whedon served as an executive producer, along with Tim Minear. The series is set in the year 2517, after the arrival of humans in a new star system, and follows the adventures of the renegade crew of Serenity, a "Firefly-class" spaceship. The ensemble cast portrays the nine characters who live on Serenity.

--This one speaks for itself as most of 411's staff and readers are familiar with it and love it as much, if not moreso, than I do. Obviously we received the feature film Serenity in 2005, along with a few comic books, but I think most of us would have preferred that the show lasted longer than one season and only 14 episodes. I don't have to elaborate here. Nathan Fillion and the rest of the cast were terrific, and even though the series was heavily praised when I first started writing at 411mania, it was still addicting and fulfilling when I finally got a chance to see it for myself.




* Terriers is an American crime comedy-drama television series created by Ted Griffin that aired on FX from September 8 to December 1, 2010. The show was canceled by FX on December 6, 2010 after the first season. The premise: Ex-cop and recovering alcoholic Hank Dolworth (Donal Logue) partners with his best friend, former criminal Britt Pollack (Michael Raymond-James), in an unlicensed private investigation business. The series is set in Ocean Beach, San Diego, California, although it is portrayed as a distinct town, with Dolworth having once been a member of the fictional Ocean Beach Police Department.

--Admittedly, I have not seen this series, yet, but it is on every list of shows that deserve a second chance, so I put it here for that reason. I had been meaning to watch it and I discovered that awesomely, it is on Netflix Watch Instant.





Quick Shot: Tom Cruise



This week we see Edge of Tomorrow arrive in theaters starring Emily Blunt and Tom Cruise. And so here are 5 Cruise performances that you absolutely must familiarize yourself with before checking out the upcoming film. Footnote: I tried not to think too hard about this one and concentrate on roles that accentuate Cruise's skills as an actor and not just my favorites of his resume, which would have resulted in a different list.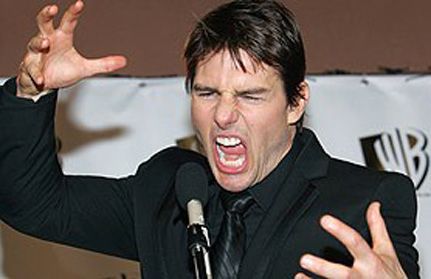 1) Minority Report
2) Jerry Maguire
3) Top Gun
4) Magnolia/Eyes Wide Shut
5) The Last Samurai



--Thanks to Misty for my banner.

"The plural of Chad is Chad?"
--From the movie Recount

comments powered by