SPOTLIGHTS
411 Fact or Fiction Movies/TV 06.13.14: Week 437
Posted by Ben Piper on 06.13.2014

Is Marvel making a mistake by letting Edgar Wright depart Ant-Man? Will How To Train Your Dragon 2 be better than the original? 411's Chad Webb and Wyatt Beougher debate these topics and more!




Another week, another batch of new movie and TV rumors, fresh speculation over what all of it may mean, and then you have us, trying to make sense of it all. Welcome to another case of Fact or Fiction, and how wonderful it is for you to be able to join us. This week we've got Chad Webb and Wyatt Beougher kicking around the new releases and their thoughts on the day. Let's see what's up with themů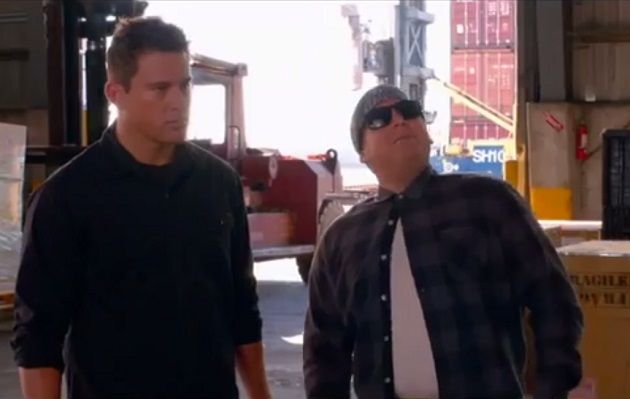 1. 22 Jump Street will measure up and be just as good and funny as the original.

Chad Webb: Fiction. But that doesn't mean it's going to be bad. I enjoyed the first film a great deal. It was a funny take on the cheesy 80's TV series and showcased the untapped comedic potential of Channing Tatum. Jonah Hill rocked too of course. Based on the trailers I have seen for the sequel, it will have some laugh out loud moments and I do plan on seeing it. However, I also get the feeling like they have amped up the outrageous gags for this outing to the point of being way over the top. Look no further than the octopus inking scene for proof of that. 21 Jump Street had those types of sequences too, but knew when to pull back. I also detect a "more of the same" vibe from the plot. If those two points are true, this cannot be as good or as funny as the original. Additionally, the concept was fresh and exciting before. With any sequel, the tough task lies ahead in riding that wave of momentum and building that universe through future installments. I think 22 Jump Street will deliver more than a few laughs, but I doubt it will be as new and interesting as it was previously and I don't see the humor landing as much either. But I certainly hope I'm wrong, and I am also hoping they have more cameos of actors from the show, other than the two who already appeared of course.

Wyatt Beougher: Fact. I didn't expect much from the first film and ended up loving it, so I'm willing to give this sequel the benefit of the doubt. Chad raises some valid points regarding the inherent problem with sequels trying to outdo the first movie, but I'm hopeful that by retaining the directing team and head writer from the first film that 22 Jump Street will retain its predecessor's tone and relative restraint. It's certainly a fine line to walk, trying to build upon the original without going too far in an attempt to outdo it, but here's hoping that moving Schmidt and Jenko to college gives them enough fresh scenarios that we don't end up with an overwrought, unfunny mess. I can certainly see where Chad is coming from, but I'm just coming back from my honeymoon, so I don't want to start my return to 411 off on a negative note, so I'm going to go Fact here.

Score: 0 for 1

2. Sigourney Weaver wants to make another Alien movie. You think that would be a bad idea.

Chad Webb: Fact. Assuming we are not talking about the Prometheus sequel or a reboot of any kind, then yes, I think the Alien franchise has run its course. But then, I'm not as attached to it as other people are. I like the first two installments, nothing more. Alien 3 was a misfire, Alien Resurrection was bad for numerous reasons, and the Alien vs. Predator flicks were forgettable. Sigourney Weaver talked about wanting to bring resolution to the series, but at this point, is there really a need for that? I feel like she goes back and forth on wanting to return to the franchise all the time, maybe I'm wrong. It doesn't especially surprise me that she wants to return to it now since she isn't doing a whole hell of a lot of high-profile stuff these days aside from whatever her contribution will be in the Avatar sequels. She's been apart of several films that haven't made much of a splash, but that's neither here nor there. Prometheus 2 is in the works and I'm up for that because I liked the first one. Same universe, different tales. Follow that path. Another Alien movie seems unwise unless it is solely for a desperate money grab. If the studio must keep the property afloat, wait awhile and reboot the series. James Cameron is tied up, so is Ridley Scott, and unless one of them is planning on returning to direct Weaver again, I don't care for any more Alien installments for the foreseeable future.

Wyatt Beougher: Fiction. Again, Chad makes some excellent points regarding the current state of the Alien franchise; however, I think Sigourney Weaver returning to the franchise has the potential to be similar to when Jamie Lee Curtis returned to the Halloween franchise. Were Halloween H20: 20 Years Later and Halloween: Resurrection ground-breaking sequels that re-ignited the franchise? In the case of the latter movie, no. But H20 was still a decent movie and arguably the best sequel of the bunch. While I doubt a new sequel could top Aliens, with Ripley back in the saddle and the proper director on board (I don't necessarily think it has to be Cameron or Ridley Scott, as I'd like to see what Gavin Hood or Neil Blomkamp could do, among others). Hell, get Paul W.S. Anderson on board (with the caveat that Milla Jovovich cannot be involved) and see if he can recapture some of the Event Horizon magic. Basically, I don't think the Alien franchise is dead, and with the right director, Sigourney Weaver's return to the franchise could actually be the correct next step to take to build on the momentum from Prometheus.

Score: 0 for 2

3. Josh Trank is a good choice to direct a standalone Star Wars movie.

Chad Webb: Fact. Maybe? I would have picked "Abstain" for this if I could, but I feel like we have to pick Fact or Fiction. Here's the thing, we don't know that much about Josh Trank yet. He has directed one film thus far, Chronicle. That was solid overall, but of the found footage genre which in my opinion does not often lend itself to repeated viewings. He is standing at the helm for The Fantastic Four reboot and whether or not he can handle a huge franchise with studio pressure and high profile actors will depend on how The Fantastic Four turns out. But I will lean more towards the optimistic side since based on Chronicle Trank knows how to handle special effects and understands how to pace a motion picture, build suspense, etc. Having the weight of a franchise on you can cause any filmmaker to stumble, even a standalone film like this, so it truly is up in the air. Look at Lee Tamahori (Once Were Warriors) or Gavid Hood (Tsotsi). Both directed terrific, smaller films, moved up to big budget studio projects and faltered, the former with Die Another Day and the latter with X-Men Origins: Wolverine. I realize these standalone pics won't be as big as Episode VII, but they're still important. Furthermore, we don't know what Trank's standalone film will be focusing on. There again, this question is hard to answer. I hope he does well, but at this point he is a wild card.

Wyatt Beougher: Fact. Like Chad, I'm not entirely sure based on Trank's body of work if he'll be a good choice or not, but, in the continued spirit of optimism, I'm going to give him the benefit of the doubt. I really enjoyed Chronicle, and I'm hopeful that Trank can finally give us a decent Fantastic Four film, the myriad casting complaints be damned. If he can pull that off, I don't think the weight of the Star Wars franchise is going to bother him too much, because, quite frankly, in 2014, the Marvel Universe (even the bastardized Sony and Fox franchises) is a much bigger entity with a lot more pressure than the Star Wars universe. I'm wondering if Trank's Star Wars film will focus on Mace Windu's early life, so that he can bring Michael B. Jordan along with him. If you take away the flying in Chronicle, you've basically got the Force, so it's really not a stretch for him to direct a Jedi movie.

Score: 1 for 3



Switch!!!






4. How To Train Your Dragon 2 will be better than the original.

Wyatt Beougher: Fiction. I'm disappointed in myself that this is my first truly negative answer this week, because I really, REALLY want How to Train Your Dragon 2 to be better than the original. Unfortunately, the original is one of my favorite animated movies of the past five years, and those are some pretty big Viking boots to fill. How to Train Your Dragon was a wonderful coming of age story that also perfectly captured the relationship between man and man's best friend (in this case, dragons), and I'm just not sure what direction the sequel is going to go in that's going to top that. Obviously, we've got newer, bigger dragons, a more experienced evil Hiccup counterpart as the big bad, and the return of Hiccup's mother (who doesn't seem like she'd fill the breastplates that Stoick and Hiccup wear for helmets), but I'm not sure if all of that is going to be able to top the storyline of the first film. I'm sure everything will happen on a larger scale (and, in the case of a Viking movie, I think the term "epic" is appropriate), but I'm afraid that going in that direction will lose out on a lot of the magic that made the first film so great. This is definitely one instance where I'd gladly be proven wrong, though.

Chad Webb: Fiction. Some of my comments about 22 Jump Street could be copied and pasted here too. There is always more pressure on a sequel to meet and exceed expectations. Not only must it keep the franchise fresh and exciting, but it must further develop the characters, establish a story arc, and expand upon the universe. If history is any indication, the sequels DreamWorks pumps out customarily take a dip in quality each time. The possible exception is Shrek 2, but then that series got really bad after that. I wouldn't call How to Train Your Dragon one of my favorite animated films of the last 5 years, but I did enjoy it. After all, that one was closest to the book. I don't think they are worrying about the books now. You never know what to expect when an adaptation goes off on its own direction. Usually the first DreamWorks sequel, assuming the original was excellent, is merely average. That's what I see happening here. From the trailer, I don't think How to Train Your Dragon 2 looks bad, but it doesn't exactly outstanding either, and certainly not on a level to surpass the original. Comparing to say, Pixar, DreamWorks rushes their sequels a bit and so the chances of equaling its predecessor are increasingly slim. It could happen though. On the plus side, Dean DeBlois is still the director. The story for this one seems fun, but strikes me as lacking the heart that the original possessed. We shall see.

Score: 2 for 4

5. Bill Condon directing a live action version of Beauty And The Beast is an idea you can get behind.

Wyatt Beougher: Fact. Confession 1 - I took my wife to see Maleficent while on our honeymoon last week, and while I didn't enjoy it nearly as much as she did, I did enjoy it. Confession 2 - My sister watched Beauty and the Beast nearly every day when we were younger, and having only one television in the house at the time, I can still probably recite almost every word from it today, over twenty years later. Confession 3 - Neither Dreamgirls nor Chicago were particularly my cup of tea, but I can appreciate that they were competently written (and, in the case of Dreamgirls, competently directed) and enjoyable to their target audience. And that's pretty much all Disney is looking for here - I very much doubt they're going to try to rewrite the entire Beauty and the Beast storyline like they did Sleeping Beauty in Maleficent, so they needed someone to helm a musical drama, and I think Condon will do a perfectly acceptable job. I don't think Beauty and the Beast is going to redefine the way we look at Disney's live action adaptations, but I don't think that's what Disney's going for either, so while this is a safe choice, it's certainly not a bad one.

Chad Webb: Fiction. What's funny to me is the idea that a live-action Beauty and the Beast is somehow novel. There are far more live-action adaptations of the fairy-tale than animated ones, dating back to Jean Coctaeu's 1946 classic. Here's the thing. I like the Disney 1991 animated feature. It's terrific. But I loathe this new trend of theirs to remake their hand-drawn classics in live-action. This is solely a money grab. These titles already have built-in audiences, so they know people will bring the kiddies to the theater. From a business perspective, this makes perfect sense, but the quality of Disney's live-action remakes has not given us hope for the future or reason to care. There is minimal heart or passion to these productions. They cast a big star and water down one of your childhood favorites with CGI. I don't get the appeal. Also, I'm a bit sick of Beauty and the Beast adaptations at this point. In 2011 we had the atrocious film Beastly, followed by the terrible CW series (a re-working of the 80's series). It was also incorporated into an episode of Once Upon a Time and of course it has been put on Broadway. Do we really need ANOTHER version of this? No. And though the news has been vague, I'm assuming this is to be a musical, similar to the '91 film, with possibly the same songs? Again, unnecessary. Yes, Condon knows his way around a musical, but a live-action Beauty and the Beast is hard to pull off without making the beast look silly. I simply don't see the justification for this project. If they were drastically changing it and aiming for a new visions of some sort, I would say "Cool, go nuts." But that's not what they're doing. The end result will be something that is forgettable because nothing will top the 1991 picture, so why bother?

Score: 2 for 5

6. Edgar Wright leaving Ant-Man will eventually prove to be a huge mistake on Marvel's part.

Wyatt Beougher: Fiction. Without going into my confessions again, let me first state I'm in the "love" camp when it comes to Edgar Wright. The "Blood and Cornetto" trilogy is comprised of three of my favorite films, and I actually quite enjoyed Scott Pilgrim vs the World. And while I can appreciate that there wouldn't even be an Ant-Man movie coming out if not for Edgar Wright's eight-year investment in the property, I think Marvel's earned enough goodwill at this point that I can't commit to calling it a "huge mistake" on their part. I've seen a lot of debate over this topic in the past few days, and the most reasonable take that I've seen (and one that I've decided to adopt myself) is that while Wright's particular vision of Ant-Man likely would've fit into the nascent Marvel Cinematic Universe eight years ago, that same version might not be what the MCU needs in 2014. And while neither of Wright's replacements at writer and director (Adam McKay and Peyton Reed, respectively) give me hope that the film will retain much of Wright's initial vision and unique humor, I'll also admit that I wasn't wowed when Marvel hired the directors of You, Me, and Dupree to helm the Captain America sequel. Considering The Winter Soldier was, in my opinion, the best Marvel film to date, I'm willing to give them the benefit of the doubt at this point. If rumors are true and Wright's initial storyline of Scott Lang stealing Hank Pym's Ant-Man suit to keep his daughter safe have been scrapped in favor of Lang and Pym planning the theft of the suit to keep the technology safe, then I'm a little disappointed that they opted to make Lang more of a clear-cut hero than his actual comics origin portrayed him to be. Of course, those are just rumors, which is why I'm calling this one Fiction.

Chad Webb: Fiction. As far as I can tell, we really don't know the specifics of why he left and why a compromise could not be reached. As competent a filmmaker as Edgar Wright is, we can't say who is in the wrong here until the film is released. But I agree that Marvel has made enough smart decisions when it comes to how the MCU is conveyed that accusing them of committing a "huge mistake" would be presumptuous and likely misguided. Marvel has a specific idea of what their universe is to be and I'm sure Wright's vision clashed with that. Marvel seems to know what they're doing, so I'll give them the benefit of the doubt. The issue is that what could have been a classic might now just be "a decent film." I have faith that Marvel will be able to hone a director to their desired approach, but now that director has shoes to fill. Now the production problems are out there for everyone to read about. It will be a tall mountain to climb. Could they have met Wright half-way? Marvel isn't perfect though, so this very well might be a mistake, but we don't have a lot of bad choices to use as evidence of a pattern at this juncture. They have been consistent and sharp with unraveling their films, so I'll assume they can get back on track in some form. Edgar Wright is fantastic, but without a new director hired we can't call whatever the future holds a mistake. Are we saying that only Wright could have done Ant-Man? That's absurd. He spent a long time developing it, but there are loads of directors. All we can do is sit back and see how this progresses.

Final Score: 3 for 6

Chad and Wyatt split the difference this week. Thanks to them both for helping out, and see you in seven!
-BP



TWITTER

http://www.twitter.com/411s_Ben_Piper
http://www.twitter.com/411mania
http://www.twitter.com/411wrestling
http://www.twitter.com/411moviestv
http://www.twitter.com/411music
http://www.twitter.com/411games
http://www.twitter.com/411mma




comments powered by