SPOTLIGHTS
Comics 411 06.25.14: Greatest Marvel/DC Team-Ups Edition
Posted by Steve Gustafson on 06.25.2014

Is Batman/Daredevil: King of New York the greatest Marvel/DC team-up ever? Plus news and thoughts on Ultimate FF being cancelled, Geoff Johns taking over Superman, a review of Original Sin #4 and more!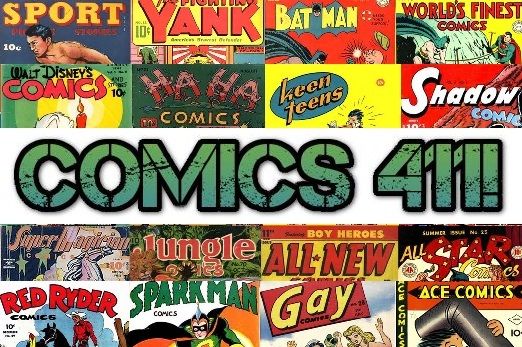 Welcome back to the Comics 411! My name is Steve Gustafson and this is a corner of 411mania reserved for those interested in talking comics! As always, I want to thank everyone who took a few minutes to read and comment last week. Check out my Hollywood gossip (and anything else!) Hollywood 5 & 1 and my weekend movie recap The Big Screen Bulletin!

Click and read my interview with Playboy's Miss June, Jessica Ashley! While you're at it, check out my interview with Playboy's 2014 Playmate of the Year, Kennedy Summers!


I'm really digging the new trailer for the Flash TV series.

I love reading the comments and people complaining, thinking this is a movie.







COVER VS COVER!

Last week we had a Preacher cover and a Swamp Thing cover. Both carried that creepy, sly grin style. Which did it better?





The results:

Preacher 61.86%
Swamp Thing 38.14%

Preacher takes it with ease! This week we look at Superman. Comics history is filled with instances where Superman has shown to be a jerk. Looking at these two covers, which one shows Superman to be more insufferable?



READER ROUNDTABLE

Last week the poll centered on The Greatest Avengers Lineup! Who took it?

THE NEW AVENGERS 29%
CAPTAIN AMERICA JOINS THE TEAM 20.09%
KREE/SKRULL WAR TEAM 9.71%
HEROES RETURN TEAM 9.71%
THE KORVAC SAGA TEAM 9.03%
THE WEST COAST AVENGERS 7.45%
THE FOUNDING TEAM 7.45%
MID/LATE '80S ROSTER 5.64%
CAP'S QUARTET 1.81%

Can't say I'm surprised that The New Avengers took it even if I don't agree with it. Cap joining the crew was a strong second and then everyone was grouped pretty evenly EXCEPT for Cap's Quartet. Seems that team doesn't have many fans. Let's read your comments:

Moody: "West Coast Avengers hold a weird/special place in my heart, I gotta go with them."

Nuke Dukem: "A lot of great lineups no doubt, but I am partial to the Kree/Skrull War lineup. What a badass team!"

Jonathan Harnois: "He missed putting on the best Avengers line up ever,early 90's
Black Widow
Black Knight
Crystal
Hercules
Sersi
Vision"

Kyatollah: "I have to go with the "New Avengers" lineup. Since that book debuted, the dynamic of the team has been more interesting than any time since the 80's. But to me, the big thing is that Spider-man was finally put on the team. To me, it always bugged as a child that he wasn't part of a team that claimed to be Earth's Mightiest Heroes, especially since not being a mutant meant he couldn't/had no reason to join the X-Men. With "New" you got a roster that included him, Cap, Iron Man AND Wolverine. That is crazy cool. This run is half the reason everyone is clamoring for Sony and Fox to work with Marvel Studios. That can't be underestimated. (Btw, very surprised to not see the Ultimates roster listed, since it was a lot of the basis for the movie lineup.)"

redhotrash: "They were short lived but I really loved the original Dark Avengers. Moonstone, Bullseye, Daken, and Scorpion all filling in for classic characters. Characters that were either dreadfully boring (Ms. Marvel) or grossly overexposed (Wolverine) had fresh spins put on them. Add in a fantastic loose cannon in Ares and I really wish this team had more time to shine."

Earl Chatterton: "I gotta go with the 80s lineup, mainly because that book kept on turning out awesome, lengthy storylines that gave the whole cast great stuff....the classic Masters Of Evil taking over the Avengers mansion, our heroes vs the Gods of Olympus, the Heavy Metal team. I think the glory run really started with the final chapters of Secret Wars II (especially the issue where Silver Surfer and Molecule save Earth) to # 299, where the team breaks up. With #300, things just weren't the same."

Craig L2: "I'd have to go with the original line up plus cap but done in the Ultimates style. Also I'm a sucker for the original New Avengers line up."

Benjamin J: " went with Heroes Return Avengers, among other reasons, for the bad-assery of the final assault on Ultron's lair. Seriously, if Thor doesn't get that line in Avengers 2, Joss Whedon done fucked up."

stenney: "my favorite lineup and storyline is the Master of Evil, with the original West Coast Avengers a close second. but i am extremely surprised that not on mention of a lineup with the Black Panther is included, and he is not even mentioned anywhere."

Donald R. Maust: "I voted for the mid/late 80's roster, largely because that's when I got into comics. I'm just disappointed that there was no option for the Great Lakes Avengers."

CyberVenom: "This an awesome list, even if you admitted to cheating. Lol! I was wondering if you were going to add in the Kooky Quartet. Here's my top 10, with some cheating:

10. Heroes Return
9. West Coast Avengers
8. Dark Avengers
7. Mid-late 80s
6. Kree/Skull Team
5. Original Line-Up (minus Hulk, plus Cap)
4. Korvac Saga Team
3. The Ultimates (vol. 1)
2. Cap's Kooky Quartet
1. The original New Avengers"


Donald R. Maust brought up a good point. Black Panther. While he's been a stellar member over the years, he hasn't been a part of many memorable storylines. His first major battle with the groups was with the Man-Ape. He also helped the Avengers defeat the second Sons of the Serpent. He's popped in from time to time but never making the impact that would garner a mention.

Also, I didn't include the Great Lakes Avengers because it would have caused an uproar over other teams not included! Thanks again for the comments everyone.

This week we take a look at...



Greatest Marvel/DC Team-Ups



DC vs. Marvel. It's a battle that we hear about pretty consistently. They've put aside the swords from time to time and given us some pretty cool stories. They even gave us an entirely separate publisher called Amalgam comics. But which team-up was the best? That's up to you to vote on and comment below!

And yes, I didn't put the DC vs. Marvel series on here to keep things balanced.

Superman vs. The Amazing Spider-Man: The Battle Of The Century
The one that started them all! Yes, the very first DC/Marvel crossover, Battle of the Century was written by Gerry Conway, drawn by Ross Andru. It came out in 1976 after a literary agent, as the story goes, suggested to Marvel and DC bosses Stan Lee and Carmine Infantino that they should make a movie featuring their most popular superheroes. A great idea ahead of its time, they settled on doing a comic book instead.

The book sees Superman and Spider-Man joining forces against Doctor Octopus and Lex Luthor in a pretty awesome story.

Batman/Spider-Man: Disordered Minds
In Disordered Minds, writer J.M. DeMatteis and artist Mark Bagley present a balanced story that manages to keep the two believable in a mismatched scenario.

The story revolves around a new piece of technology that promises to tame the most psychotic of super villains. Of course they test it on Cletus Kasaday (Aka Carnage) and when it looks all good they take it to Gotham City to try it on the Joker. Batman and Spidey team-up and there you go!

Batman vs. The Incredible Hulk
Writer Len Wein and artist Jose Luis Garcia-Lopez took a crossover that could have gone horribly wrong and make it work with a story in which Bruce Banner is working for WayneTech on a "gamma-gun" that will, he hopes, cure him of being the Hulk. Joker steals it and Batman follows. After using the gun on the Shaper of Worlds (Who shapeshifts into a whole host of villains from Batman's and Banner's Rogues Gallery), the Joker convinces the Hulk that Batman is his enemy. A fun read from a thin plot.

Darkseid vs Galactus: The Hunger
The Hunger gives us Darkseid as the hero as he prepares to defend his home planet Apokolips from Galactus! In a cool turn, Silver Surfer aids Galactus and Darkseid gets his mortal enemy Orion to help in a cosmically epic tale. All credit to writer/artist John Byrne for giving this weight.

Batman/Daredevil: King of New York
Alan Grant and Eduardo Barreto have Bruce Wayne in New York City. Seems the Scarecrow has teamed up with the Kingpin and the city is in trouble. What's this? The Scarecrow double-crosses Wilson Fisk and the Kingpin turns to Daredevil for help. Together, with Batman, they take on the Scarecrow AND their own fears.

Batman/Punisher: Deadly Knights
Batman is a popular guy! In 1994, Batman and the Punisher teamed up in two special one-offs. First was Batman/Punisher: Lake of Fire, in which Bruce and Frank had to get along so they could stop Jigsaw.

Next we had the superior Deadly Knights, written by Chuck Dixon with art by John Romita Jr.. Jigsaw is the baddie once again and he returns to Gotham to team up with the Joker and Batman and Punisher reform their rocky alliance.

The Uncanny X-Men And The New Teen Titans
Written by Chris Claremont and illustrated by Walt Simonson, this one-off book paired up two of the most popular books at the time. Everything clicked and readers got to enjoy a thrilling tale of Darkseid resurrecting Dark Phoenix in an attempt to attain the unlimited power of "The Source".

JLA/Avengers
The one that was a quarter century in the making! DC and Marvel's two flagship superteams was brought to life by George Perez with a script by Kurt Busiek. We got pretty much every every Avenger and every member of the Justice League of America PLUS just about every villain from both teams.

The story sees both teams meeting with a Secret Wars-ish game in which they must find objects of power in the others' universe before turning on the being responsible for the 'game' and having both worlds merged with one another, making for an alternate history in which Captain America, Superman, Iron Man and Batman had always been fast friends.


There's your choices? Did I miss your favorite? Vote and comment below!


REVIEWS!

Do YOU want to be a reviewer for COMICS 411? Send me an email at stevethegoose@gmail.com to find out how! If we can get enough people doing a weekly review on a consistent basis, I would love to spin it off into it's own column. One step closer to getting a Comic Book section back at 411mania! Take it away, RobF, and Rob Bonnette!

Original Sin #4

By RobF

Death and destruction. Strange bedfellows. Murder and mystery. This one has it all. Jason Aaron and Co. have lead us half-way through this series and we are no closer to unraveling the mystery of who killed the Watcher. This issue progresses the story, but does it progress it enough?

Original Sin is a murder mystery. And everyone knows in murder mysteries, nothing is what it seems. So when Fury met his demise I was naturally skeptical, for a surprise this early in the series can only be appetizer to an upcoming main course. What comes next? Jason Aaron and Co. have raised the level of unpredictability to where the reader doesn't have a clue.

What makes this series work is the character combinations. Punisher and Doctor Strange step into the spotlight finally, alongside Aaron's other grouping - Ant-Man, Emma Frost, and Black Panther on one hand and Gamora, Moon Knight, and Bucky on the other. Throw in the Avengers, Wolverine and the Hulk and you have the most eclectic cast that I can remember. The Orb and Dr. Midas as major players? Wow, who would have thought?

Mike Deodato's art is best in an action setting, which means in this dialogue-driven issue it suffers. Deodato's heavy shadows create a nice sense of tension and foreboding, but his figures lack a variety of facial expressions.

Just as this series was stalling Aaron has suddenly kicked it into high gear. With no clear antagonist and 4 issues to go I'm sure there are more surprises coming our way.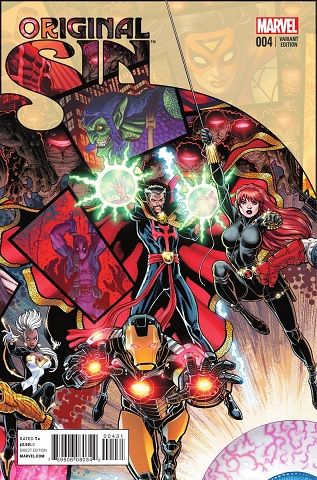 Gotham Central Vol. 1

By Rob Bonnette (robsagenius.blogspot.com)

Gotham Central was a miniseries that ran about 10 years, focused on the Gotham City Police Department and their everyday struggle to fight crime in a city where costumed vigilantes operated. It is a tough, gritty series of stories that gets really personal about the people that are out there cleaning the streets and how they cope with getting little credit when things go well but all of the blame when they don't. Volume 1 contained three story arcs, each focusing on a different aspect of life on the police force. Batman makes a brief appearance here and there, but he is not the focus of the story here.

The first arc opens up with two policemen at the end of their shift, checking on a tip they got about a missing girl. They knock on a door, and when they go in they find themselves face to face with Mr. Freeze. One of the officers gets killed and the other one is badly injured. What goes on next is a gripping picture of survivors guilt and the conflicting feelings that go on in the hearts of the GCPD. They both despise Batman for stealing their thunder and making them look incompetent, but at the same time they have to begrudgingly accept that certain villains like Mr. Freeze are beyond their capacity to deal with. Their professional relationship with Batman is also complicated. No one from the police force is allowed to turn on the Bat signal; instead, a civilian employee who works at the station has to go turn it on so there are no legal implications to using a vigilante to do police work. The officers try their best to solve what Freeze's scheme without any assistance, but eventually give in and call the Bat. When he shows up and deals with Freeze in short order, the cops aren't ecstatic at all. Yes, a bad guy was captured but they had to call in Batman to seal the deal. And the girl the cops were looking for at the beginning was found dead.

Next up is the search for the killer of the missing girl. The surviving cop from the first scene is back with a new partner, and they're tracing all the clues to find out what happened to the missing girl. They talk to her parents, the couple she babysat for, and eventually end up encountering a homeless man that the girl often talked to. He's brought to the station and questioned before the police figure out what really happened, and how it's connected to another crime spree they were looking to foil. This time around the cops do it on their own, without any help from the shadows. We get more exploration of survivors guilt and moving forward

The final arc is about Det. Montoya, the only officer in these stories that's well known among Bat fans. Montoya has forced to go through a terrible ordeal when she is outed as a lesbian by a perp she arrested who got off and sent a PI to dig up dirt on her so he cold sue. We see Montoya have to deal with mean spirited ribbing from her co-workers and anguish from her devout Catholic family; when her antagonist turns up dead she then has to go through a criminal investigation and face the loss of her career and possibly her freedom.

I thoroughly enjoyed this. It's a different take on the Gotham City stories, from the eyes of the people who are normally supporting characters and extras in the overall story. It's an exploration of how it feels to deal with the presence of someone who can exceed all the boundaries you have on your job, and in doing so is able to accomplish things that you can't. Dealing with that while you go about the dangerous everyday work of law enforcement and try to maintain some level of a personal life is a pretty dramatic exercise, and affects different people in different ways. This book is a good look at that.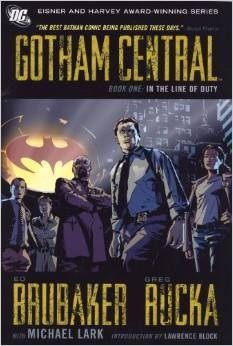 NEWS


Ultimate FF Canceled! Marvel is ending the just-launched comic series Ultimate FF according to its writer, Joshua Hale Fialkov. The series, which debuted in April as part of the "All-New Marvel Now" relaunch of the entire Ultimate, will end with August's #6 issue – although Fialkov says he won't be writing it. "Sad to say that UFF is finished with issue 6," Fialkov posted on Twitter. "[A]nd due to my illness last month, my last issue is 5. Heartbroken but extremely grateful."

Marvel has confirmed the cancellation.

Of all of the "All-New Marvel Now" relaunches of the Ultimate line, Ultimate FF garnered the lowest sales according to Diamond, trailing significantly behind both All-New Ultimates and the line's flagship, Miles Morales: Ultimate Spider-Man.

This begs the question: What's going on with the Ultimate Universe? With only two titles, will this pocket universe be put to rest soon or can Marvel re-energize things again? Do you even care about the Ultimate line at this point?





Dazzler? The cover for Uncanny X-Men #24 was kept a secret. Turns out that's because of recent story developments in the book that they held back for fear of spoilers.

After finally discovering that Dazzler was being impersonated by Mystique on the S.H.I.E.L.D. Helicarrier, Magneto, of all people, rescued the former X-Man, and brought her back to her friends for recovery. She had been kept in an induced coma so her blood could be extracted and used to make Mutant Growth Hormone, a drug that temporarily activates a latent X-gene in non-mutants.

Writer Brian Michael Bendis took to Tumblr and revealed the cover, by Kris Anka, over the weekend that shows Dazzler has a new look to reflect her less-than-happy attitude as she seeks revenge on Mystique, possibly on S.H.I.E.L.D., and anyone else who gets in her way. The look takes away her longer blonde tresses in favor of a short spiky black look to her hair, with the back and sides shaved. her signature butterfly eye bursts have been widdled down to one, and her costume has gone from her most recent S.H.I.E.L.D. white body suit to a black long-sleeved dress, which is inexplicably torn in several places, and includes multiple belts and leather/metal arm straps.

What do you think of the new look for Dazzler?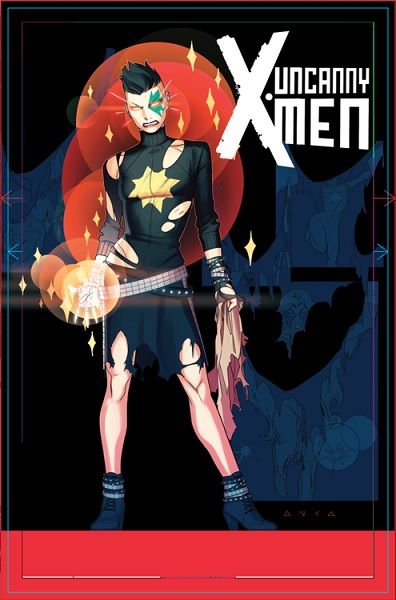 Red Lanterns! Supergirl volunteers for the mission even though it's not personal in this preview of next week's Red Lanterns #32.

RED LANTERNS #32
Written by CHARLES SOULE
Art by J. CALAFIORE
Cover by ANDREA SORRENTINO
On sale JUNE 25 • 32 pg, FC, $2.99 US • RATED T+
Guy Gardner has a difficult decision to make: deciding if the newest Red Lantern, Supergirl, is fit for battle…especially when that battle is against Atrocitus himself! The war between the two factions of Red Lanterns is on, and there will be blood!





Superman! THE MAN OF TOMORROW chapter 1! A new era for Superman begins as Geoff Johns takes the reigns and he's joined by the legendary John Romita, Jr. in his first-ever work for DC Comics as they introduce Ulysses, the Man of Tomorrow, into the Man of Steel's life. This strange visitor shares many of Kal-El's experiences, including having been rocketed from a world with no future. Prepare yourself for a run full of new heroes, new villains and new mysteries! Plus, Perry White offers Clark a chance to return to The Daily Planet!





Before I say GOODBYE!
Follow me on Twitter for random bits, news RT's, and updates! Only at http://www.twitter.com/stevethegoose!

Are you a fan of 411mania on Facebook? Keep up-to-date on news and contests!

Are you following 411mania on Twitter?
http://www.twitter.com/411mania
http://www.twitter.com/411wrestling
http://www.twitter.com/411moviestv
http://www.twitter.com/411music
http://www.twitter.com/411games
http://www.twitter.com/411mma

If you have some down time and are looking for a great place for great fun, check out Tiger Flash Games!


That's all the time I have. See you next week!
comments powered by