SPOTLIGHTS
411 Fact or Fiction Movies/TV 06.27.14: Week 439
Posted by Ben Piper on 06.27.2014

Will Transformers: Age Of Extinction be an over-the-top mess? Should a musical of True Blood be made? Will Snowpiercer be a great sci-fi movie? 411's Joseph Lee and Mike Gorman debate these topics and more!




I've got a dilemma. My computer uses Windows XP. Xp has since gone out of date so I have to uprade my operating system. So I went out and bought a version of Windows 7. Problem is, I have no freaking clue how to install it. I don't want to take it to the shop because they'll charge me out the wazoo. So I'm basically stuck between a rock and a hard place. Color me irritated.

But enough with my complaining. This week on the Fact or Fiction front we've got Joseph Lee and Mike Gorman here to kick around. Let's see what they have to say.




1. Transformers: Age Of Extinction will be yet another over the top Michael Bay relentless mess of a movie that will still light up the box office.

Mike Gorman: Fiction. I am going to start this one off with some controversy and say that I am actually really looking forward to this movie. I feel like the first two films in the series were incredibly bad but the last film showed some real promise and actually felt like a Transformers movie with more understandable action sequences and better robot personalities. Transformers: Age Of Extinction will hopefully continue this upward growth of the franchise and from what I have seen in trailers and clips, seems to be on the right path. These films will never be about stories that teach or encourage the audience to grow, but they can evolve into fun blockbusters that provide enough new growth while retaining some of the original TV series' charm. Plus, honestly, the Dinobots look to be pretty kick ass. I walked into a theater this weekend and saw a giant cut out of Optimus Prime riding Grimlock with a sword in the air. That image alone gives me hope.

Joseph Lee:: Fact. I'm so beyond tired of Transformers at this point. I wasn't even a huge fan of the cartoon. The first movie was okay but the second was horrible and the third, while not as bad as Revenge of the Fallen, still managed to kill what little interest I had left. I don't care if it's suddenly the first entry to get 100% critical praise, I'm done. Three strikes, you're out...you know? That said, it doesn't matter what I think because the people who love Transformers will go see it anyway and it'll make a crap ton of money.

Score: 0 for 1

2. Rian Johnson is an excellent choice to direct Star Wars: Episode VIII.

Mike Gorman: Fact. I firmly believe that Johnson is a smart choice for the second film in Disney's new Star Wars trilogy. The second film in a trilogy is a unique beast in that it is not the explosive return to the world of the franchise and it is not the focused conclusion. It sits in a limbo that requires incredible attention to story detail and character development in order to keep the audience entertained and interested. A glance at Rian Johnson's directorial resume shows me that this falls directly into his wheelhouse, and not just because he directed one of my favorite films, Brick. Johnson is a master at making characters come to life in mundane settings and also making them stand out when they are laid against a backdrop of the fantastical, ie. Looper. I am looking forward to JJ Abrams introducing us to a new set of characters and then Johnson making us truly care about them.

Joseph Lee: Fact. I think he's the best choice to direct out of all the directors picked so far. Like Mike, Brick is one of my favorite films and Looper is pretty great. I actually think The Brothers Bloom is underrated. I really like the producers of the new Star Wars series choosing these younger, talented directors for their movies, with one experienced director kicking things off. It sort of handles the "passing of the torch" better with JJ Abrams working as an intermediary between George Lucas and that set of films and the next generation.

Score: 1 for 2

3. A Broadway musical of True Blood is a horrible idea.

Mike Gorman: Fact. I am possibly one of the biggest True Blood fans out there, and not just literally, but I think that this has disaster written all over it. True Blood the series walks a fine line between horror and romance, and over the years has shown that it is not easy to do this successfully. In fact if we did an episode by episode review we'd probably see the great successes are outnumbered by the dismal schmaltz the show sometimes wallows in. Striking this balance would be even more difficult in a musical theater setting as the producers would probably find the romance more "sell-able" in their minds than the darker elements, which would be a huge mistake. My mind immediately goes to the godawful productions of Carrie and Dracula that have graced the White Way in the past. Horror is not an easy sell in musical form. True Blood is a blood sucking soap opera that already does not take itself seriously enough; trying to make it musical would create more jokes than hit singles in my opinion. Yes, Buffy the Vampire Slayer was able to pull off a musical episode pretty successfully but I feel like that was due to the fact that the show made fun of itself and doing so, utilizing its characteristic ironic tone to its benefit. This is something True Blood just doesn't have.

Joseph Lee: Fact. Good question, as I really don't like True Blood. It's trashy TV that isn't funny, entertaining or scary. Beyond that, I don't think this is a story that lends itself well to a Broadway musical. Sure, you can make a musical of anything but that doesn't mean it's going to work. They tried to make an opera out of The Fly and a musical out of Carrie. They failed dramatically. I'm sure that this would get some hype but...do you really think anyone wants to see these people sing?

Score: 2 for 3



Switch!!!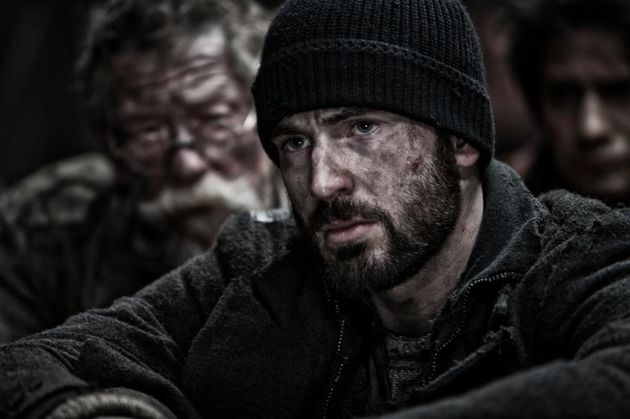 4. Snowpiercer will be a great science fiction film.

Joseph Lee: Fiction. I'm not saying it won't be good, but I don't think it'll be great. I really don't have an opinion on it. I do like Chris Evans and think he will once again anchor thing with a solid performance but I've also heard about studio meddling. I think I'll just wait and see with this one.

Mike Gorman: Fact. I do have some faith in this "little engine that could." All train jokes aside I think that Snowpiercer, if it reaches enough people in its limited release, has a good chance of being great. The film features a director, Bong Joon-ho, with a varied and eclectic resume that has shown he can handle unusual material, it is adapting a very interesting story, and has a solid cast that has proven themselves in films outside the mainstream arena.

Score: 2 for 4

5. Starship Troopers should not be rebooted.

Joseph Lee: Fiction. Starship Troopers was fun, but at this point in Hollywood reboot is just a general term for getting a franchise up and running again. It doesn't mean they're going to remake it, it doesn't mean all previous continuity will be ignored. Even if that is the case here, what does it matter? The original is still around and if the sequels didn't ruin its good name then a remake sure won't.

Mike Gorman: Fact. I have two reasons for this belief. First, "reboots" are clearly getting out of hand. I actually was behind many of them when the trend began as I saw them as new takes or homages on properties that had more stories to tell and more angles to explore. Which brings me to my second point, I sincerely do not feel like there is anything else to mine from Starship Troopers that would provide audiences with something new or unique. I think that the original film pretty much strip-mined its concept, and there is no need to go back. Put the money behind something new.

Score: 2 for 5

6. You'd be interested in a behind the scenes Saved By The Bell TV movie.

Joseph Lee: Fiction. I just know I'm going to get hate for this one. I don't like Saved by the Bell. I think it's stupid and I was never a fan. There, I said it. Since I don't care about the TV show, I naturally don't care about what happened behind the scenes. Not only that, but it's a Lifetime movie. Lifetime never makes anything resembling quality television.

Mike Gorman: Fiction. I have to agree with Joseph on this one, though I was a fan of the original series. I don't think this seems better suited for a one hour behind the scenes special that could feature the original actors telling their stories. A movie featuring reenactments seems like a set up for pure cheese, especially with Lifetime involved. If I am in the mood for over the top, scene chewing acting all I need to do is turn to one of the "very special episodes" of the original series, like when poor Jessie becomes a pill head.

Final Score: 3 for 6

And there you have it. Joseph and Mike split the difference. Thanks to them both for taking part, and see you all again next week!
-BP



TWITTER

http://www.twitter.com/411s_Ben_Piper
http://www.twitter.com/411mania
http://www.twitter.com/411wrestling
http://www.twitter.com/411moviestv
http://www.twitter.com/411music
http://www.twitter.com/411games
http://www.twitter.com/411mma




comments powered by