SPOTLIGHTS
Comics 411 07.02.14: Defunct Marvel & DC Publishing Lines Edition
Posted by Steve Gustafson on 07.02.2014

Is Marvel Knights the best defunct Marvel or DC publishing line? Plus news and thoughts on two new Batman series, what the Fantastic Four will look like in the year 2061, reviews for Superman #32 and more!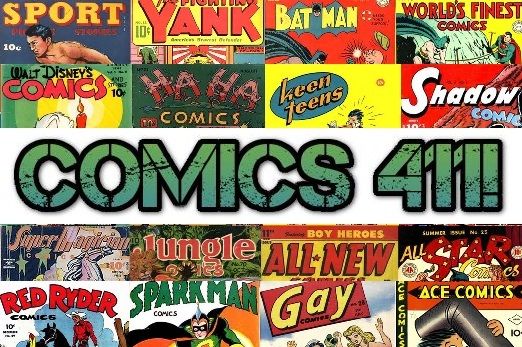 Welcome back to the Comics 411! My name is Steve Gustafson and this is a corner of 411mania reserved for those interested in talking comics! As always, I want to thank everyone who took a few minutes to read and comment last week. Check out my Hollywood gossip (and anything else!) Hollywood 5 & 1 and my weekend movie recap The Big Screen Bulletin!

Click and read my interview with Playboy'sMiss June, Jessica Ashley! While you're at it, check out my interview with Playboy's 2014 Playmate of the Year, Kennedy Summers!


I've been toying with adding a small cosplay section at the end. It would cover comic book themed costumes and feature interviews with the cosplayers. It seems that's the one segment of fandom that's not getting enough love. Any thoughts?







COVER VS COVER!

Last week we had a Superman revealing his true nature: He's a big jerk! Which cover was her jerk-ier? Here's what you said:

Are you thirsty? (BOTTOM) 71.73%
Get married Lois! (TOP) 28.27%

Looks like you have a soft spot for Aquaman. Superman withholding water from a very thirsty King of the Sea and Jimmy Olsen got a whopping 71%!

This week I put Daredevil on the menu. Which cover is cooler? The "Go get im" or "Born Again"?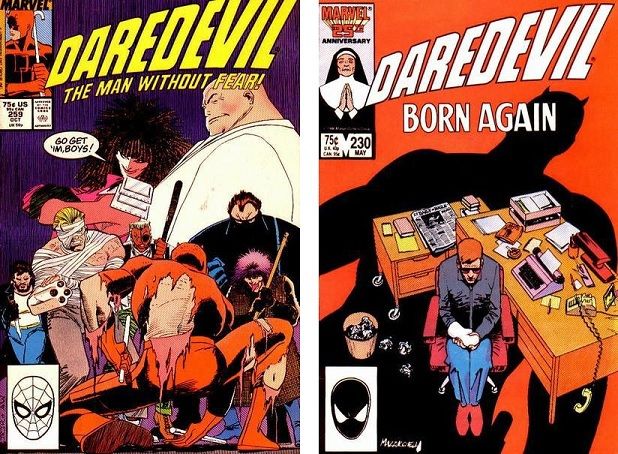 READER ROUNDTABLE

Last week the poll centered on The Greatest Marvel/DC Team Up! Who took it?

JLA/Avengers 39.58%
The Uncanny X-Men And The New Teen Titans 13.11%
Batman/Punisher: Deadly Knights 10.77%
Superman vs. The Amazing Spider-Man: The Battle Of The Century 9.84%
Batman/Spider-Man: Disordered Minds 9.37%
Batman/Daredevil: King of New York 8.2%
Darkseid vs Galactus: The Hunger 6.32%
Batman vs. The Incredible Hulk 2.81%

No surprise here! The heavy hitting teams took the top spot even though I feel the older titles on the list should have gotten a little more love. Batman/Hulk is a great read. Here's what you had to say:

Michael Weyer: "You left off the fantastic "Batman/Captain America" 1996 special by John Byrne, set in an Elseworlds WWII. Great work replicating the feel of 1940's comics as they join together to stop the Joker from stealing "The Gotham Project" and the priceless moment when Joker discovers he's been working for the Red Skull. "I may be a criminal lunatic but I'm an AMERICAN criminal lunatic!""

Dougie2876: "JLA/Avengers easily wins for the Cap/Batman scene alone."

Cactus: "I know it was a huge convoluted mess, but I really liked Marvel vs DC/Amalgam. They are some of the few comics from when I was growing up that I have managed to hang on to. I also agree with the Batman/Captain America special being a rather large omission to the list of great DC/Marvel team-ups."


Thanks again for the comments! OK, every week the Ultimate Universe has been getting mentions in the Comment section. Things look grim for the line and got me thinking. This week we flip things around and take a look at...




Defunct Marvel & DC Publishing Lines




You might not recognize the names Razorline, Tsunami, or the Marvel Mangaverse. You might vaguely recall Zuda, Focus, Piranha, Minx, and CMX. Don't beat yourself up over it. These are all names of long gone publishing lines from Marvel and DC. Some were pretty cool, a few produced a gem or two, but they all got the axe at some point. I pulled together some of my favorites and put them in a poll to ask you which one do you miss the most?

Our entries are:

STAR COMICS (Marvel)
In the 80s, the Star Comics line was aimed at younger readers and mixed books based on cartoons and toys with all-original properties like Planet Terry, Royal Roy, Wally The Wizard and Peter Porker, The Spectacular Spider-Ham. Personally, I LOVED Spider-Ham! I thought it was a fun twist to Spider-Man and wouldn't mind them bringing that back for another run.

EPIC COMICS (Marvel)
I was talking to a friend about the Epic line the other day and it inspired this subject. Epic was Vertigo before Vertigo. The line offered creator-owned and mature reader titles under the eye of editor Archie Goodwin. Epic lasted from 1982 to 1994 and was revived for a brief, forgettable period in 2003. In its heyday, Jim Starlin's Dreadstar, Marshall Law, and Elektra Assassin were standouts. Also, this line gave us our first American editions of Akira/The Airtight Garage.

MC2 (Marvel)
What a fun line this was. MC2 started out as a one-off What If? that surprised everyone with its popularity and gave us Spider-Girl and a handful of books that gave us a look at a possible future Marvel Universe. The quality of Spider-Girl is the sole reason this line made the list.

2099 (Marvel)
This line answered the question: "What would the Marvel Universe look like 107 years in the future?" The answer gave us this 1992 line that took a peek into Marvel's world of tomorrow, mixing sci-fi with the traditional super heroics. 2099 lasted six years, and has since undergone a couple of revivals and reappearances in other titles. Peter David and Rick Leonardi's Spider-Man 2099 was the biggest hit (seeing a pattern here?) and the character has popped up recently in Marvel proper.

MARVEL KNIGHTS (Marvel)
This line is a little twisted because it started as a specific line led by Joe Quesada and Jimmy Palmiotti with the goal of attracting top creators to lesser-known properties. They were free to do what they liked with reduced continuity and increased production quality. It was such a hit, Quesada got the editor-in-chief position and the ideals that formed Marvel Knights poured over the whole universe. The line hasn't ever been officially ended but it doesn't have a point anymore.

NEW UNIVERSE (Marvel)
Judge me all you want but I enjoyed the New Universe stuff. The New Universe was intended to be an all-new line and an all-new fictional universe updating Stan Lee's ideals of amazing adventures in the real world. Editor-in-chief Jim Shooter's Star Brand introduced a more mature style of superhero storytelling but the line was hampered with a low budget, a confused audience, and poor sales. Mark Gruenwald ingrained the New Universe into Marvel continuity in 1994's Starblast event.

ULTRAVERSE (Marvel)
While this line wasn't created by Marvel, the Ultraverse was bought from Malibu Comics and featured characters like Prime, Hardcase and Rune. Sadly, things didn't go well, sales dropped and the line shuttered away due to "legal reasons". Sadly, Gerard Jones and Norm Breyfogle's Prime never found an audience. Their take was a cool update on the Captain Marvel/Shazam! idea and should have been more popular.

WILDSTORM (DC)
Wildstorm is in the same boat as Ultraverse. It started at Image and ended up as an imprint of DC Comics. Wildstorm is a bit different as it was a place that offered creators a chance to own their work and create works wouldn't fit in Vertigo. The best example was Alan Moore's America's Best Comics line. Most of the line has been swallowed into DC's New 52 but for years books like WildCATs and The Authority were consistently providing top quality stories.

IMPACT! (DC)
This line was a guilty pleasure of mine. In 1991, comics were in a serious grim-and-gritty phase. Like today, there wasn't much material that was aimed at kids. The goal of Impact! Comics was to present a superhero line aimed at younger readers that used the licensed Red Circle characters from Archie Comics. Again, sales were never stellar and the line was done away with after the Crucible even storyline. The Comet was Impact!'s longest-running series but the whole line was a pretty fun, simple read. In 2008, DC tried to bring new life to the Red Circle characters but the characters found a home as part of Archie's New Crusaders series.

HELIX (DC)
This was DC's attempt to do for science-fiction what Vertigo had done for horror. Helix lasted two years but the line featured new work by Garth Ennis, Howard Chaykin, Warren Ellis, Walt Simonson, and Chris Weston among many others. Quite a lineup of names. The line never found it's rhythm and was folded into Vertigo, with Ellis' and Darick Robertson's Transmetropolitan being the biggest title of note.

ALL-STAR (DC)
Marvel had the Ultimate line and DC responded with All-Star. It offered big-name creators out-of-continuity opportunities with A-list characters. Only two of the four announced series actually saw print, and of those two, only one actually managed to reach completion, with the second being promised new branding. What did we get? Frank Miller and Jim Lee's All-Star Batman and Robin The Boy Wonder. A title that never really clicked and is known more for it's awkward craziness than its quality. All-Star Superman from Grant Morrison and Frank Quitely's was the real standout and has earned classic status.

MILESTONE (DC)
While this wasn't an imprint in the traditional sense, this line was published through DC Comics and that works for me. Milestone's initial run of titles lasted from 1993 through 1996 and crossed over with the DC Universe during the Worlds Collide event. Milestone was groundbreaking in a number of ways and introduced a number of new talent. Static/Static Shock, proved popular enough to headline his own cartoon series. Hardware, Icon, and Blood Syndicate provided an urban view and some pretty entertaining stories.


Which one do you miss the most? What did I miss? Vote and comment below!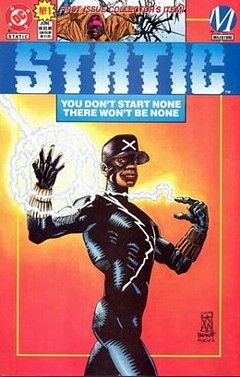 REVIEWS!

Do YOU want to be a reviewer for COMICS 411? Send me an email at stevethegoose@gmail.com to find out how! If we can get enough people doing a weekly review on a consistent basis, I would love to spin it off into it's own column. One step closer to getting a Comic Book section back at 411mania! Take it away, RobF, and Rob Bonnette!

Superman #32

By RobF

When it was announced that John Romita was taking over the art duties with Superman 32 I instantly added it to my pull list. After years at Marvel drawing such characters as Iron Man, Spider-Man and others I was instantly curious about what he could bring to the Man of Steel. DC, with Geoff Johns writing and Klaus Jansen inking, have made a bold statement. They want to make Superman an A-lister once again. And they are off to a promising start.

The story starts with a bang, setting up future events while allowing Romita to flex his artistic muscles. It quickly shifts from action to characterization, where Johns clearly has a vision of where Superman should be. He is telling the story at the appropriate pace and not letting any sort of hype make him rush through it. Johns also has the elements and hints of Clark returning to the Planet possibly and restoring some good old fashioned status quo.

The new character, Ulysses, shares some similarities to Superman's. His origin is similar: He was jettisoned from his planet by his parents who were seeking sanctuary from destruction. He is super strong, he can fly. But his home planet is Earth, and obviously it was not destroyed. He is not the last survivor and it will be interesting to see how that knowledge will affect him.

Superman 32 is an enjoyable opening chapter of what will probably be a much-talked about superhero story. Both Johns and Romita are known quantities, and their fans shouldn't be disappointed by what they deliver in this issue. This is exactly what I expected, with more to come.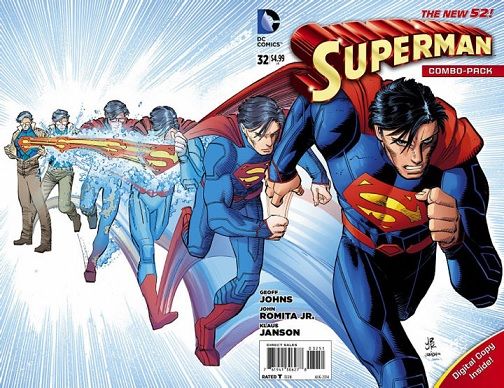 Supergirl #32

By Rob Bonnette (robsagenius.blogspot.com)

This is the latest installment in the Red Daughter story arc. For those who haven't been reading it (shame on you!), Supergirl became a Red Lantern after she was chosen by a newly formed ring that had been forged by Atrocitus, the founder of the Red Lantern corps. The Reds have split into two factions, one run by Atrocitus and the other kinda sorta run by former Green Lantern Guy Gardner. After getting her red ring Supergirl was captured by some Green Lanterns and brought to Guy and his faction to look after. Over the last few months, Guy and his teammates have tried to incorporate her while at the same time being very afraid of what somebody with Superman's powers could do with a power ring should they go completely off the reservation. Guy, having made the decision to lead his group into battle against Atrocitus, told Supergirl that this wasn't her fight and it was time for her to move on and figure out where she wants to go from here. And that's where we start off this issue.

Guy gave Supergirl instructions to go to Mogo, the Green Lantern that is also a living planet, so that she can calm down a bit and get some clarity and figure things out. She starts off in that direction, but decides to ditch that plan and head back to Earth. And that's when she runs into a group that she and her fellow Lanterns stopped from destroying a world a few issues back. And they immediately attack her. As she fights them off, the leader reveals himself as one of the Worldkillers. The Worldkillers are a group she fought before becoming a Red Lantern, and she believed that she'd taken care of them all. But this one was separate from that group, and tells her during their fight that he and the other Worldkillers were from Krypton like her. And that drives her over the edge. She pummels him, thinking that she's beaten him down and then he sheds the body he'd been occupying. He sinks his tentacles into Supergirl, starting to take her body over. As the issue ends she feels her Kryptonian self begin to slip away and the Red Lantern rage start to take over.

This issue is a bridge to final parts of the Red Daughter arc. She's obviously not going to be Red forever, and this begins the series of events that will ultimately result in Kara going back to her normal self. Unlike the previous Red Daughter issues this is more like a Supergirl comic than a Red Lantern one. I've gotten like the back and forth between Guy's Red faction, so I missed it here. But other than that this was a pretty good way to start the move away from Daughter and back to Supergirl.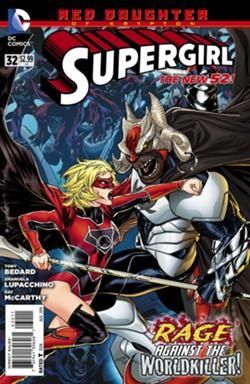 NEWS


Original Sin! The latest first look preview for Original Sins, the anthology tie-in features Dr. Doom, the Young Avengers, and a censored panel. As Marvel says in their press release:

"First, superstar writer James Robinson and legendary artist Alex Maleev shine a revealing light on the sins and secrets of the egomaniacal Doctor Doom! The secrets the Watcher held contain the key to dismantling Victor Von Doom and everything he's built! What lengths will he go to protect his legacy?

Then Eisner-award winning writer Ryan North and artist Ramon Villalobos continue their five-part Young Avengers story running through each issue of Original Sins! As Hulkling, Prodigy and Marvel Boy rush headlong into their final confrontation with The Hood – one of the Young Avengers falls!

Finally, internet sensations Pablo Durá and David Abadía team with artist Erica Henderson for a story you won't believe about what really happened the day Captain America's frozen body was discovered!"

What are your thoughts about Original Sin so far?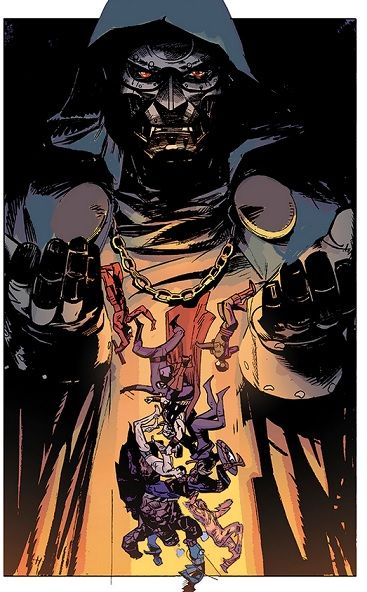 Aquaman, No More? Here's an preview of next week's Aquaman and the Others #4.

AQUAMAN AND THE OTHERS #4
Written by DAN JURGENS
Art by LAN MEDINA and ALLEN MARTINEZ
Cover by IVAN REIS and JOE PRADO
On sale JULY 2 • 32 pg, FC, $2.99 US • RATED T
Who is the mysterious armored figure that wants Aquaman's trident and the Others' Atlantean relics? And more important, why?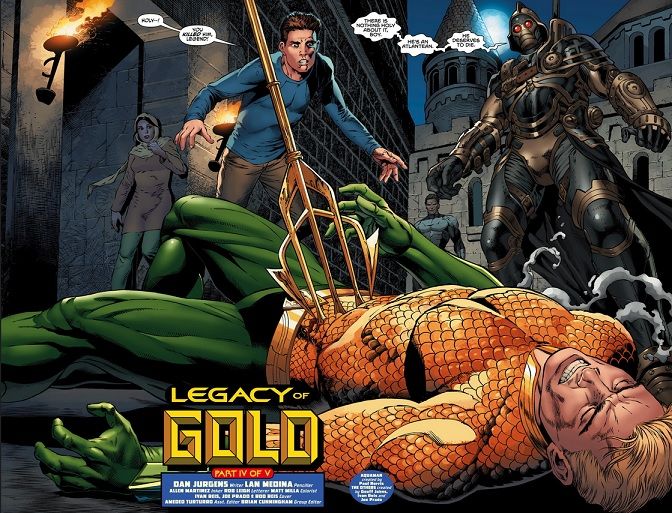 Fantastic Four! What will the Fantastic Four look like in the year 2061? Marvel Entertainment released their 100th Anniversary Special – Fantastic Four #1, the first in a series of one-shots providing a glimpse at what Marvel's top heroes will look like in the year 2061 – 100 years since the beginning of the "Marvel Age" marked by the debut of Fantastic Four #1 in 1961.

Written by Jen Van Meter and drawn by Joanna Estep, 100th Anniversary Special – Fantastic Four #1 looks to the future and sees a world where Reed and Johnny are departed and presumed dead, the FF are disgraced in the eyes of the public, and it's up to the children of the FF (and their foes) to unite to prove to themselves and the world just what the Fantastic Four was and could be once more. Van Meter spoke more about the title and here are the highlights:

On examining the modern Fantastic Four to begin to extrapolate how they'd be in the year 2061: "I did it entirely backwards. When I first got the invitation to do this, I didn't think, "what's happening to the Fantastic Four in 47 years?" My first thoughts were about all the technological, editorial and creative changes that would necessarily occur over 47 years, and--along with that--all the line-wide events, massive overhauls, re-numberings, continuity shifts -- it was a fun game all its own just imagining all kinds of stuff that could happen between now and the 2061 date on the cover of this one issue of this one title. I invented imaginary editors who had mandated killing off all the characters we know now, events that had destroyed Earth, restored it again, marriages, invasions, wars, changing trends in popular story-telling and demographics--on and on. Our editor, Emily Shaw, will testify that I sent her way more crazy "background" material than could ever possibly fit into a single issue--when I realized there were absolutely no limits on this imaginary future continuity, I kind of went to town.

From there I thought, what do you do if you're writing the Fantastic Four in 46 years and you know you get to write the 100th Anniversary issue? My answer was, you try to build to something spectacular, something that's going to delight your readers, something that's going to honor a century's worth of this book. You're going to re-unite the original Fantastic Four! Which means they had to have been separated, so, how and why? What should that reunion feel like? If they haven't been together, but the book's been getting published all this time, who has the book been about? In that sense, it was less about what the Four are like right now or recently, and more about trying to convey the core things that I think people have always valued about these characters and will continue to. That would be the job on such a momentous occasion, wouldn't it?"

On what the Fantastic Four like in 2061: "The teenagers wearing the 4 in 2061 are legacy characters, children descended from relationships, character introductions and events we've hypothesized could happen over the next thirty years. For imaginary 2061 readers, they'll have been the Fantastic Four for around the last fifteen years.

The four kids basically work as an investigation team for an intergalactic governing body that has strictly prohibited time travel and other disruptive hi-jinx. They are science-adventurers operating under the auspices of a pretty oppressive governing body. They don't love the Intergalactic Union, but they do their best to do good within the confines of existing law."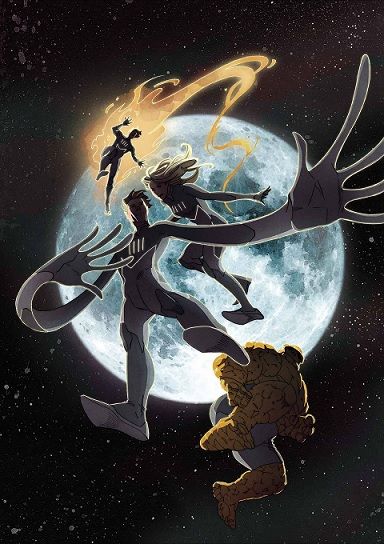 Batman! Two new Batman series are launching in October, as announced by DC Comics on EW.com. Both series are being listed as ongoing, and both are well outside the box of your standard Batman comic book. The first, Arkham Manor by Gerry Duggan and Shawn Crystal, is described as "stately Wayne manor [getting] made over into the local psycho dungeon" by EW, without any other explanation behind the change.

The other is Gotham Academy, written by Becky Cloonan and Brendan Fletcher with art by Karl Kerschl. The series is a "monthly teen drama set at Gotham City's most prestigious prep school." Bruce Wayne is one of the school's chief benefactors.

These are "considered New 52 in-continuity". In a press release from DC Comics, Gotham Academy mentions three characters by name, "Olive Silverlock," "MAPS," and "Kyle." It also says there's a "ghost in the North Hall," and features both oddball teachers and "nothing as strange as the students!" The series promises to feature "new characters and old plus a secret tie to Gotham's past," as well.

Meanwhile, there is something happening to the current Arkham Asylum soon. "When catastrophe strikes Arkham Asylum, where will Gotham City house the world's most dangerous criminals? And when inmates are found murdered, what is Batman prepared to do in search of justice?" the press release asks.

Thoughts on these new titles?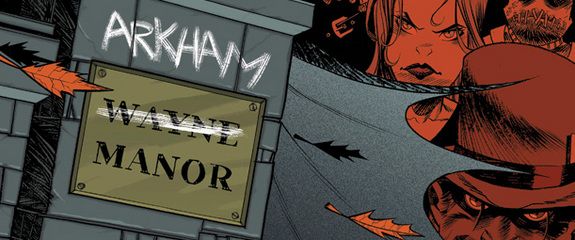 Before I say GOODBYE!
Follow me on Twitter for random bits, news RT's, and updates! Only at http://www.twitter.com/stevethegoose!

Are you a fan of 411mania on Facebook? Keep up-to-date on news and contests!

Are you following 411mania on Twitter?
http://www.twitter.com/411mania
http://www.twitter.com/411wrestling
http://www.twitter.com/411moviestv
http://www.twitter.com/411music
http://www.twitter.com/411games
http://www.twitter.com/411mma

If you have some down time and are looking for a great place for great fun, check out Tiger Flash Games!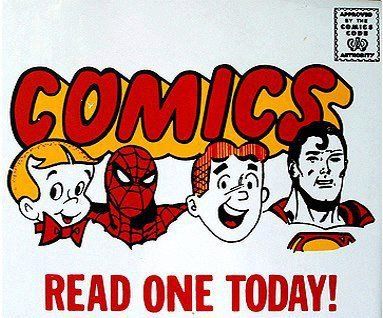 That's all the time I have. See you next week!
comments powered by