SPOTLIGHTS
Ask 411 Movies 07.14.14: Buried Alive and Loving It!
Posted by Chad Webb on 07.14.2014

Were ratings or merchandise sales more important to the survival of kid's shows like Transformers? Is Knocked Up Jason Segal's best role? All this and more covered this week in Ask 411 Movies!







































An "Ask 411 Movies" column would be nothing without questions, so please toss them my way. Why should you ask me instead of using Google? Well, perhaps I'll tell you something you can't find there, or maybe you just like my conversation and soothing words. You can post any questions or thoughts below in the comments section, email me at cthomaswebb@gmail.com, or send me a tweet using the links below:













---




What I Watched This Week



After doing this column for a little over a year straight, I was absent last week. Not only did I have 4th of July plans, but my life has been pretty crazy (and will continue to be) as I am preparing for the arrival of my kids. Yes, plural. So I had lots of work on the babies room and without any questions, I couldn't get to the column. My wife is getting closer to popping out our xenomorph children. When they are born, I plan on feeding them after midnight and pouring water on them to hasten their gremlin state. Yes I'm mixing references, oh well. So, if you do not see the column for a few weeks suddenly, now you know why. So much is going on right now and this column was difficult to finish. I urge all of the readers to keep the questions coming. I can't guarantee when I will answer them, but they will be answered I promise.

Since I've been gone, I burned through orange is the New Black. I enjoyed the second season more than the first. The series doesn't blow me away, but it has some stellar acting and well written characters. The love stories are the worst parts in my opinion. I finally finished season 1 of 24, which was excellent. By the time I'm 60, I'll be ready for Live Another Day. I also saw Snowpiercer, which was terrific. Recently I checked out A Winter's Tale, which was dog poop.

If want to know more about my movie tastes, check out my page on Letterboxd by clicking right here. Also, make sure to look at all the great articles and writers at 411, particularly in the Movie-zone because that's where I predominantly am, but all of the zones.






Deaths



In case I forgot to mention a notable death this week, you can always peruse the list yourself by clicking here.



The Questions





Q:

Hi Chad,
I hope you had a great 4th. I was kind of shocked when watching a show called Special Agent Oso with my daughter that they actually had a conclusion to the story of Oso becoming an agent. Each episode just seemed like it was teaching lessons on how to solve problems as most pre-school shows do. Do the creators of shows aimed at children now and even back in the days of the Transformers and G.I.Joe write the shows open ended not knowing cancellation could loom any day or do they, in their wildest dreams, have an end point they hope to reach to close out the show?

What is more important to a network regarding children's shows: The ratings that the show pulls in for the demographic they are aiming at or the merchandise they actually sell based upon the show to said demographic? I know the answer w/ Young Justice, which I was about to start watching until news of its cancellation. Thanks again, take care.
--Paul



A:



1) Certainly there have been shows that probably began with an end point in mind, but by and large the majority of children's shows want to keep producing episodes as long as they can. If the goal is to make money, then the creators and the network will want the series to stay afloat for as long as possible. I'm sure many shows had a beginning and end arc in mind, but the episodes in between would continue to be churned out as long as viewers kept tuning in. Conan the Adventurer is one example. The journey is that show was fairly straightforward, but it took a long time because new episodes needed to be made.



2) Ratings are definitely the most important factor in children's shows. Toys will always be important to an extent, even today, but I feel like there aren't as many shows that rely on toy sales or the toy sales aren't as integral to the series' longevity as was the case in the 1980's. For instance, He-Man and the Masters of the Universe was a series created because of the toy line. The episodes were basically full-length commercials for the actions figures, etc. And by the way, that's not a criticism because I loved all of these shows and owned all the toys. So in those situations, the toy line was just as important as the ratings, if not moreso. It was similar for Transformers and G.I. Joe. Granted, I do not watch as many children's/cartoon shows as I once did, but those collaborations between network and toy company do not occur as often today. It is all about ratings and selling ad space.





Nether Regions







MISSING:
BURIED ALIVE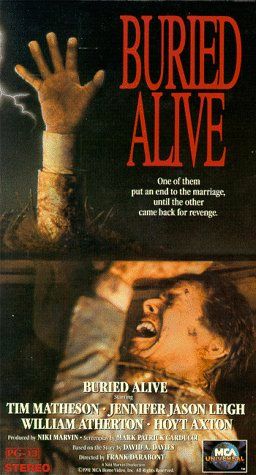 Starring: Tim Matheson, Jennifer Jason Leigh, William Atherton
Directed By: Frank Darabont
Written By: David A. Davies & Mark Patrick Carducci
Original Air Date: May 9, 1990
Running Time: 93 minutes
Missing Since: August 11, 1993
Existing Formats: Out of Print VHS & Bootleg DVDs
Netflix Status: Not Available
Availability: Extremely Rare – Bootlegs and Random Stream Sites






In the 1980's, Frank Darabont was known mostly for his screenwriting in the horror genre. He had directed a short based on a Stephen King short story called The Woman in the Room in 1983. By the time that was finished, he and King would have a close association and a handshake deal was made for Darabont to adapt Rita Hayworth and Shawshank Redemption. It wouldn't happen for over a decade. Darabont made some money until then helping to write scripts for A Nightmare on Elm Street 3: Dream Warriors, The Blob, and The Fly II. And in 1990, he finally landed another job at the helm, this time a made-for-TV movie Buried Alive.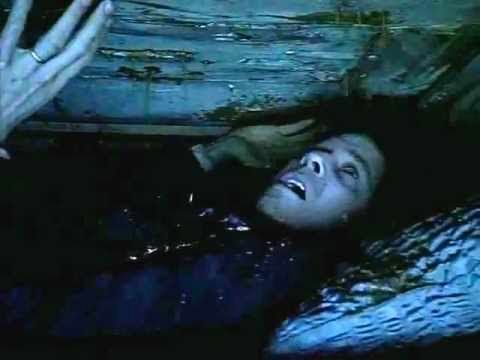 Clint Goodman has had
better days.

The story follows nice guy Clint Goodman, a hard-working contractor who moved his wife Joanna out of the city and to his hometown where he has built a brand-spanking new house. The ball-and-chain does not like this small community, so she resents her husband and begins having an affair with local doctor Cortland van Owen. Clint is loving life, aside from the fact that he and Joanna are unsuccessfully trying to have a baby. His best friend is Sheriff Sam Eberly and together they fish often. Meanwhile, Cortland fills Joanna's head with plans of starting a clinic in Hollywood so they can frolic around the stars. Starting this clinic is so important, he convinces Joanna to poison her husband's drink using a fish toxin.

She agrees to do so, but Cort stresses that she must use the entire bottle of toxin. Unfortunately, some of it leaks out, so when Joanna drops the poison into Clint's wine, he is declared dead, but well, he's not. This is where the goofiness sets in. A lot of circumstances need to go Clint's way so he can be buried alive as the title says and return for his revenge. Joanna is such a cheap-skate bitch that there is no wake, thus the funeral home does not waste money with embalming fluid or a good casket. They put Clint in one with rotting wood. It also appears that they bury him much less than six-feet under, but oh well. So apparently Clint looked dead enough that he was dropped into the dirt, no saw him breathe, and so he pulls a Bride in Kill Bill and hits the surface where his loyal dog is waiting. The dog hates Joanna by the way.

I won't spoil the entire plot. This is a fairly pedestrian movie that is more of a thriller than it is horror, but that's ok. It combines the trappings of a revenge tale and a slasher well. The script is reminiscent of The Premature Burial (both the Poe short story and the 1962 Corman adaptation) and Diabolique. Darabont was still finding his footing as a filmmaker, but his inventiveness was on display during Buried Alive, particularly the homemade rat maze at the end, which is outstandingly shot. His style is slick and the pacing is brisk, so regardless of a few gaps in logic and an obvious plot structure, this is a fun ride.

Darabont also benefits from garnering a solid lead performance from Tim Matheson who transitions wonderfully from affable local to vengeful carpenter. Jennifer Jason Leigh was still in over the top, melodramatic 80's mode at this point so her acting is pretty bad, though hilarious due to her crazy wardrobe as Joanna. As for the man porking her on the side? It is none other than William m'fn Atherton. Yes, Peck, the same dude who shut down the protection grid and let the ghosts out. Seriously, who better as a slimy villain? The cast as a whole is augmented by country-singer and presenter of Gremlins, Hoyt Axton, who is effortlessly sharp as Sheriff Sam Eberly.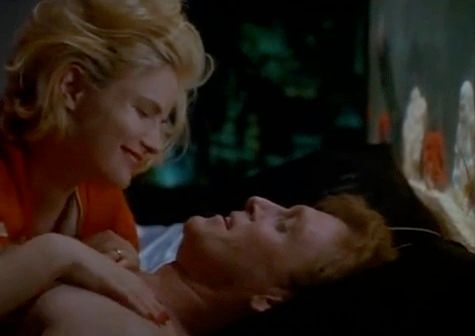 J.J. Leigh & William Atherton
GETTING. IT. ON!

Buried Alive aired on the USA network with the following cheestastic taglines: "She planned on her husband's death. But not on his coming back for revenge." and "One of them put an end to the marriage, until the other came back for revenge." Oddly enough, 1990 gave a second movie called Buried Alive Sadly this has been out-of-print for quite some time. It was released on VHS, and has been lumped in as a double feature DVDs in a couple countries, but has still not hit stores in the USA and most of the world. It is not uncommon that made-for-TV movies do not receive a DVD release because how much financial sense would that make? However, this is a Darabont film and it's horror, which leads me to think that this title could move some units if given the chance. There was a sequel as well, Buried Alive II, where Matheson reprises his role (and directs), but that too is out-of-print. Why not just stick them together for a DVD or Blu-Ray? At the very least, make it available via DVD-on-demand, like Warner Archive. This is a Universal effort and they have jumped on that bandwagon, so get to it people! Of course in a perfect world we would have extras with Darabont himself, but that's not likely.

As a feature debut, this was a satisfactory little offering. We don't have as long of a stint with that claustrophobic feeling as the Ryan Reynolds film Buried offered, but the fear of that happening and the emotions involved are still on hand. Side note, the fear of being buried alive is called taphophobia. It's not gory, it does purport an inventive storyline, and the acting is far from Emmy or Oscar worthy, but it still manages to be engaging, visually arresting, and rather entertaining despite itself. Where can you find this? If you no how to track down DVD bootlegs, that is one option. Otherwise I would scour the Internet for a stream available. They are few and far between, let me tell you.



For a list of all the previous installments of Nether Regions, click here!



Quick Shot: Jason Segel



This week we see the arrival of Sex Tape in theaters starring Cameron Diaz and Jason Segel. And so here are 5 Segel performances that you absolutely must familiarize yourself with before checking out the upcoming film.




1) Freaks and Geeks
2) I Love You, Man
3) How I Met Your Mother
4) Forgetting Sarah Marshall
5) Knocked Up



--Thanks to Misty for my banner.

"The plural of Chad is Chad?"
--From the movie Recount

comments powered by