SPOTLIGHTS
Comics 411 7.16.14: Best Graphic Novels for Non-Comic Book Readers Edition
Posted by Steve Gustafson on 07.16.2014

Is The Walking Dead the best graphic novel for a non-comic book fan to read? Plus news and thoughts on a new female Thor, the announced slate for Comic-Con, reviews of New Suicide Squad #1 & Original Sin - Thor & Loki and more!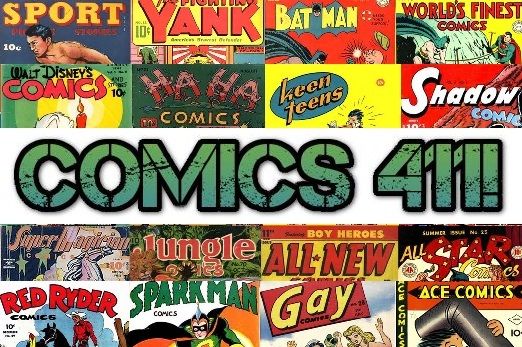 Welcome back to the Comics 411! My name is Steve Gustafson and this is a corner of 411mania reserved for those interested in talking comics! As always, I want to thank everyone who took a few minutes to read and comment last week. Check out my Hollywood gossip (and anything else!) Hollywood 5 & 1 and my weekend movie recap The Big Screen Bulletin!

Click and read my interview with Playboy'sMiss June, Jessica Ashley! While you're at it, check out my interview with Playboy's 2014 Playmate of the Year, Kennedy Summers!


CONTEST ALERT! My friends over at Vivid sent me an email the other day telling me about X-Men XXX: An Axel Braun Parody. This soon-to-be-classic will debut from Vivid Entertainment online at www.vivid.com online on July 15 and in stores across the country on July 29. I think we all knew that it was just a matter of time until the comic world's most famous mutants got the porn parody treatment, courtesy of adult movie powerhouse Vivid and legendary director Axel Braun.

Wolverine, Rogue, Cyclops, Jean Grey, Storm, Colossus, Kitty Pryde and Polaris all join forces with Professor X to defeat the villains lead by Magneto in yet another Braun masterpiece for Vivid SuperXXXHeroes. The movie features an incredible ensemble of marvelously erotic mutants, awesome costumes, and mainstream-quality visual FX, along of course with Braun's legendary attention to detail. "I'm really proud of this one," says Braun. "When you have so many great characters all in one movie, it's not easy to construct a parody that doesn't feel preposterous, but I think that we really managed to craft a solid storyline that is as exciting as it is arousing. Allie Haze is outstanding as Rogue, a character that Bryan Singer notoriously omitted in the otherwise highly entertaining DOFP, and Tommy Gunn is funny as hell as the short, gruff Wolverine, a portrayal totally more faithful to the comic book than the one made famous by Hugh Jackman!" The all-star cast also includes Skin Diamond as Storm, Andy San Dimas as Phoenix, Chanel Preston as Polaris, Jeannie Marie as Emma Frost, J. Jay as Cyclops, Mike Moz as Professor X, Tom Byron as Magneto and the late Billy Glide in his final role as Colossus.

Vivid was kind enough to do a giveaway for this gem. To enter, simply email me at stevethegoose@gmail.com with your favorite X-Men in the subject line. Winning emails will be chosen at random and you MUST be 18 to enter and be able to provide proof of age. Void where prohibited.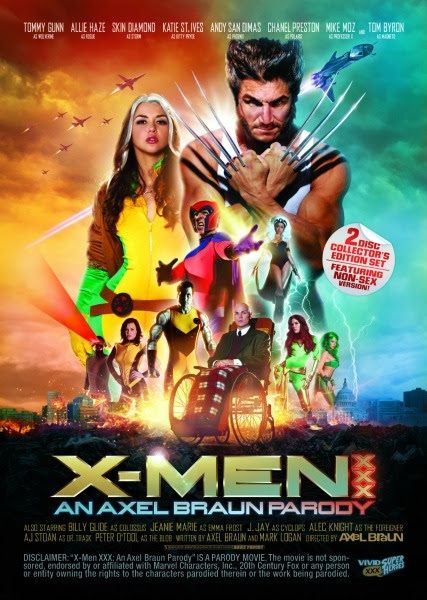 COVER VS COVER!

Last week we had a cool looking New Defenders cover and a cover from Astro City. I've always been a fan of the cover art for Astro. Which one stood out more for you?

The New Defenders 53.04%
Astro City 46.96%

Another close one! The New Defenders inched out the win but this went back and forth. Nice. This week we delve back into the weird. On top we have a Ren & Stimpy cover that features Spider-Man taking on Powdered Toast-Man. On the bottom is a strange "What if?" that features Spider-Man as...Sheep-Boy. Which is more WTF to you?



READER ROUNDTABLE

Last week we discussed the legacy of Stan Lee. Genius? Thief? Somewhere in the middle? What did you vote?

Somewhere in the middle. 49.75%
Genius creator of Marvel! 48.23%
Thief who used others for his own good. 2.02%

Wow. I knew Stan is beloved but thought we'd have more naysayers. Didn't have too many comments on this but the two we did have summed it up well:

TheR: "Im sure if Stan Lee gave a candid interview he will be the first to admit the mistakes and enemies he made as a young man, most people have them. Im also sure that he regrets them and at this point of his life he would and doesn't take sole credit for anything. What he did is what all other great innovators do and thats put themselves in a position to not only bring about innovation but to be in control of it."

CyberVenom: "First off, let me mention that I thoroughly enjoyed "Just Imagine". I have Striperella on DVD, not as thoroughly enjoyed.

To me, Stan is indeed "the Man". He has NEVER taken sole credit, even if his name was larger in the credits. And I think that the reason he gets treated in the broader media as "the creator" of Marvel instead of "co-creator" is due to the media not getting enough info about the origins. Something also has to said concerning publicity. As much as I love me some King Kirby and Steve Ditko (to name a few), Stan was the one making media appearances and bringing attention to Marvel by being the hammy Stan we all know and love.

Stan did NOT solely create Marvel. He created a lot of it, with help. And he gives credit. Personally, I think he's become an unfortunate scapegoat for a real jerk in his friend Bob Kane, who isn't around anymore to try to take credit for Batman lore away from Bill Finger and many others."


OK, this week will be a little different. It's Summer and that means Summertime reading! Comic book love is at a high with all the mainstream attention they're garnering thanks to movies, toys, and cartoons. Hardened vets have their favorites and are usually quick with recommendations to friends. This week we'll be talking about...




Best Graphic Novels for Non-Comic Book Readers




Yes, there's a poll but I'm more interested in your comments on this one. I've read a number of other lists that give suggestions on what graphic novel is ideal of first timers and I'll include the 5 I see mentioned most:

Sandman Series
Neil Gaiman's dark and twisted tale follows Morpheus, also known as Dream, as he attempts to regain his lost powers. Gaiman masterfully balances mythology and fairytales that leaves the reader captivated throughout.

The Walking Dead
Chances are that you know someone that LOVES this AMC show. This is a great ride for zombie fans and those who enjoy suspense at every turn

Fables
This fantasy series follows characters such as Snow White and the Big Bad Wolf in a dark fairytale world. The story sucks you in and you'll love (almost) every second.

V for Vendetta
Alan Moore's take on an alternative reality 1990s Britain centers on the vigilante, V, who takes on the totalitarian government on Guy Fawkes Day. This is one that makes you think and most put it down better for the experience.

Y: The Last Man
Do they like the apocalypse but not a zombie fan? Hand them this one. Great characterization and filled with drama.


"But Steve, what about Spider-Man? Superman? Batman? What about (Insert Title)?" Like I said above, I want this to be more about what graphic novel YOU would suggest? Have you shared a recommendation with a friend in the past? How did it go? Vote and let me know in the comments below!


REVIEWS!

Do YOU want to be a reviewer for COMICS 411? Send me an email at stevethegoose@gmail.com to find out how! If we can get enough people doing a weekly review on a consistent basis, I would love to spin it off into it's own column. One step closer to getting a Comic Book section back at 411mania! Take it away, RobF, and Rob Bonnette!

Original Sin 5.1- Thor & Loki

By RobF

Original Sin has splintered off focusing on a secret concerning the Mighty Thor. Apparently he has a sister that he has never met. Jason Aaron and Al Ewing team up to tell the tale of Odin and Freyja's secret daughter and a realm that no one knew existed.

The big revelation of this issue is that Angela (formally of Spawn fame) is actually the secret sister of Thor and Loki. This seems to have annoyed many people. I have mixed feelings: On one hand it easily explains and justifies her existence in the Marvel U but part of me feels like the author took the path of least resistance in order to fit her in. I guess we will have to wait and see if this integration works or will it turn out to be just a failed gimmick.

This series starts off a bit slow. Thor finds out what actually happened to Angela but it's only at the end of the issue do he and Loki actually get to the Tenth Realm. If anything, more time is spent on Loki and his secrets. (Since I am not reading Loki: Agent of Asgard I was a little lost). Some feel Marvel spoiled this story as part of their marketing but I disagree. As this series goes on it will no doubt become more exciting and I get the feeling there will be more revelations.

I like the fact that the artwork shifts from Lee Garbet to Simone Bianchi to illustrate the shift from the "old" realms to the "new" realm. I do appreciate the use of different art to convey the extreme change of setting as a storytelling tool, it really works here. Kudos to the team.

It will be interesting to see how Angela reacts to her new-found family and that her upbringing was a lie. You definitely want to keep reading to see where it goes. Aaron and Co. have gotten off to an interesting start with more to come.





New Suicide Squad #1

By Rob Bonnette (robsagenius.blogspot.com)

This is the post-Forever Evil relaunch of the Suicide Squad, and picks up shortly after where issue #30 of the initial New 52 version ended. The first few panels show each member of the team in action, while in narration we get the beginning of a conversation the Secretary of Defense and the new man in charge of the Suicide Squad operation, Mr. Sage. Sage is given the green light to make changes to the operation, and while Amanda Waller is still involved with the program she is no longer in charge. It seems that the events of Forever Evil have left Washington with a lot less confidence in Ms. Waller, and she's been effectively demoted. Mr. Sage wants to turn the apple cart over in a major way, and wants to add some new members while phasing others out. He mentions Black Manta as a new member, and targets Harley Quinn and Deadshot for replacement. We then flash forward to what may be a temporary grouping of Quinn, Manta, Deadshot, Deathstroke, and Joker's Daughter. Quinn and Joker's Daughter are fighting it out over who's the rightful 'assistant' to the Joker when Deathstroke ends the conflict by point his gun at Harley's face. With everyone calmed down, Deathstroke runs down the assignment they've been given and everyone's role. Deadshot, having similar talents to Deathstroke, does the inevitable and questions why two guys with the same MO are on the same team and how that's redundant. The answer he gets isn't reassuring. It's clear we're going to get an undercurrent of fear of replacement and disposal running over the next several issues.

We move ahead to Sage and Waller in a full throated debate while the Squad carries out its mission. Waller hates Sage's new choices, and harps on the duplication of roles/talents brought on by adding Deathstroke and Joker's Daughter in. Sage sees this as adding some competitive tension to the environment, which in his mind is only good for things. Waller takes issue with the fact that the new members are not prisoners and are not injected with the nanobombs that will kill them if they go off the reservation during a mission. Sage thinks this is no big deal, that Deathstroke being in it for the money will keep him on the right path and that having Joker's Daughter able to go out into the weeds a little could help recruit.....wait for it....the Joker. And of course, Waller asks him if he has any idea who the Joker really is. When he shoots back that Waller was using his number one fan, she makes it clear that having a bomb inside her and the other members are what keeps them in line and that Sage should respect the lunacy that the members of the Squad are capable of. Back to the mission we go, and it seems to be going fine until a group of Russians in what looks to be Iron-Man style armored suits arrive and stop them in their tracks.

So we get a new beginning of what is likely to be tumultuous run. There's tension within the team and their management. The new boss has some ideas that are bound to lead to disaster, and Amanda Waller will almost definitely be there to take advantage of the situation. I wasn't a Squad reader before but I'm giving it a shot starting with this issue.


NEWS


San Diego Comic Con Looking for a breakdown on THE Comic Con? Right now people are expecting to see major showings from Batman v Superman: Dawn of Justice, TMNT, Star Wars Episode VII, Avengers: Age of Ultron, Jurassic World, The Fantastic Four, Terminator, Mad Max: Fury Road, Fast and Furious 7, The Hunger Games: Mockingjay Part 1, Tomorrowland, Big Hero 6, and Dumb and Dumber To.

BUT WAIT! The full schedule just came out and only TWO of the above films are confirmed to appear.

Avengers: Age of Ultron and Mad Max.

What's going on? Is Hollywood out of love with Comic Con? Of course we'll get some surprises. But the lack of big names confirmed is very telling.

What's the breakdown? Here's what's announced so far:

Paramount has a panel on Thursday afternoon in Hall H and they have yet to reveal exactly what'll be shown.

20th Century Fox has a panel Friday afternoon but no specific details have been revealed. Fox, however, has emailed press about interview opportunities for The Maze Runner, Let's Be Cops, Agent 47: Hitman, The Book of Life, and Kingsman: The Secret Service. What about The Fantastic Four?

Sony Pictures has a panel, but it's in the Indigo Ballroom and not Hall H. That's one of the first times in years a major movie studio has presented outside the biggest room. They're focusing on Goosebumps and Pixels.

Warner Bros. will be showcasing The Hobbit: The Battle of the Five Armies, Mad Man: Fury Road and Jupiter Ascending, along with the casts and crews. No Batman v Superman: Dawn of Justice?

Universal Studios doesn't have a panel. No where on the schedule is Lionsgate/Summit. Or Disney. What's going on? Yes, Marvel Studios will be there but it doesn't give any new hope to see something cool for Star Wars Episode VII.

Yes, most of the major movies filming and aren't ready. But is it so hard to throw something together to let the fans know that they care? Of course, what it really comes down to is money. Simply put, the San Diego Comic Con has grown so large, it's too expensive for studios. We're talking major money and time. I've heard that it can be in the millions and the logistics are mind boggling. Of course, maybe Hollywood is over the Con and is looking to do more marketing elsewhere. I remember the days of going there and only having COMIC BOOKS. It's gotten out of hand and I think it's a good thing for it to get some balance.

Anyone out there going to Comic Con? Have you been before? Share your thoughts below!





THOR! The internet exploded when the announcement hit that there will be a new, female-led Thor title and that there was a major status quo change in the offing for the current Thor. Thor will be disgraced and judged unworthy to wield Mjolnir. Stripped of the hammer and his ceremonial costume, he's been shown wielding Jarnbjorn, the Dwarven forged battle axe wielded by Thor in his "unworthy" years in Thor: God of Thunder. Oh, and it looks like he lost an arm and had it replaced.

The announcement was made on ABC's The View and is a major shift in Marvel's continuity, since Thor is one of the oldest superheroes in the Marvel universe. The new storyline will launch this October, penned by series writer Jason Aaron.

This isn't the first time another character has taken up Mjolnir and therefore wielded Thor's powers. Beta-Ray Bill, Captain America, and even Superman have at one point managed to prove themselves worthy. Check out the Press Release:

"Marvel is excited to announce an all-new era for the God of Thunder in brand new series, THOR, written by Jason Aaron (Thor: God of Thunder, Original Sin) complimented with art from Russell Dauterman (Cyclops).

This October, Marvel Comics evolves once again in one of the most shocking and exciting changes ever to shake one of Marvel's "big three" – Captain American, Iron Man and Thor – Marvel Comics will be introducing an all-new THOR, GOD OF THUNDER. No longer is the classic male hero able to hold the mighty hammer, Mjölnir, a brand new female hero will emerge will who will be worthy of the name THOR. Who is she? Where did she come from and what is her connection to Asgard and the Marvel Universe?

"The inscription on Thor's hammer reads 'Whosoever holds this hammer, if HE be worthy, shall possess the power of Thor.' Well it's time to update that inscription," says Marvel editor Wil Moss. "The new Thor continues Marvel's proud tradition of strong female characters like Captain Marvel, Storm, Black Widow and more. And this new Thor isn't a temporary female substitute – she's now the one and only Thor, and she is worthy!"

Series writer Jason Aaron emphasizes, "This is not She-Thor. This is not Lady Thor. This is not Thorita. This is THOR. This is the THOR of the Marvel Universe. But it's unlike any Thor we've ever seen before."

THOR is the latest in the ever-growing and long list of female-centric titles that continues to invite new readers into the Marvel Universe. This female THOR is the 8th title to feature a lead female protagonist and aims to speak directly to an audience that long was not the target for Super Hero comic books in America: women and girls."






Grayson! Former Nightwing Dick Grayson started his spy career with Grayson #1. Co-written by Tom King and Tim Seeley with Mikel Janín on art, Grayson #1 gave readers more insight into the comic's style, as well as establishing the New 52 version of Helena Bertinelli as Grayson's partner. Also, the issue had a surprise appearance from Midnighter (from Stormwatch) not only showed up in issue #1, but the writers told Newsarama he'll be a recurring character, as they incorporate some of Warren Ellis' work with the former WildStorm character into the spy mythology.

In an interview filled with spoilers, Newsarama talked to King and Seeley about this week's introduction of Dick Grayson, super spy, and what's coming up next for the character. Here are the highlights:

On the connection between the blond wig and the "Happy Batsgiving" teaser: King: "Dick Grayson, for this series, is a spy undercover. He's undercover as an undercover agent. And so he's going to wear a number of disguises. He's a super spy, so he's going to use all the tools a spy would use, and one of those tools is disguise. So you'll see Dick Grayson looking a lot of different ways."

Seeley: "Plus the blond wig, specifically, was one of those things that, when we started writing the series, we knew that the first five pages would go out as a preview, so we thought, you know, this would be a perfect opportunity to go, like, "whaaaaat??" And just have it start out with that. He clearly came in from some other mission. To get here, he was on some other case. We kind of catch him in mid-adventure. And then eventually, he's like, I don't need thisanymore, and you get to see good old former-Robin, former-Nightwing Dick Grayson in action."

On the look of the book: Seeley: "Yeah, the Spyral organization appeared previously in Batman Incorporated, and that was a visual decision on that, to make it feel like a '60s, sort of Jim Steranko, Agent of SHIELD sort of thing, and it also fit in great with the name Spyral. So yeah, that was something we decided early on was going to be sort of a visual call-back to that. And it would also work toward his new spy power, with is the Hypnos implant that allows him to temporarily confuse or hypnotize someone. And it's sort of indicated by that great, swirly, '60s, hypno sort of lines that look so great in a comic book. It was just a great way to indicate something, and also have a very great graphic to go along with it."

King: "And I also thought of it as paying tribute to some of the greatest spy and thriller movies, sort of that Saul Bass/Hitchcock design, a call back to those vertigo lines and sort of paranoia movies of the '60s, dealing with who's a good guy and who's a bad guy and the corruption — the themes of this book. So it's great to kind of echo that."

On the use of Midnighter: Seeley: "He works for someone. He's obviously a member of Stormwatch. But we haven't seen, in the New 52, what his background is and who he works for and stuff, so we're combining some of that great old Warren Ellis stuff with some of the DC spy stuff. And I think we're coming up with a pretty cool reason to keep him around."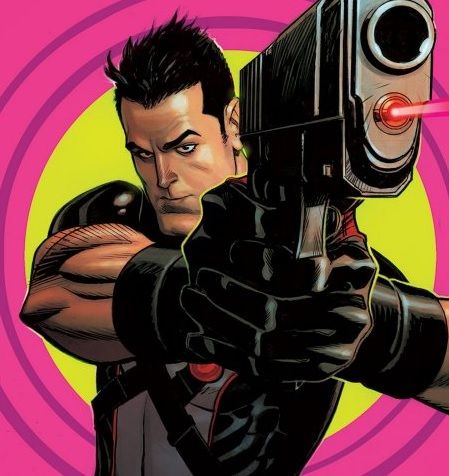 ARCHIE! Archie Andrews will die taking a bullet for his gay best friend. The comic book icon is meeting his demise in Wednesday's installment of Life with Archie when he intervenes in an assassination attempt on Kevin Keller, Archie Comics' first openly gay character. Andrews' death, which was first announced in April, will mark the conclusion of the series that focuses on grown-up renditions of Andrews and his Riverdale pals.

"The way in which Archie dies is everything that you would expect of Archie," said Jon Goldwater, Archie Comics publisher and co-CEO. "He dies heroically. He dies selflessly. He dies in the manner that epitomizes not only the best of Riverdale but the best of all of us. It's what Archie has come to represent over the past almost 75 years."

Keller's character first joined Veronica Lodge, Betty Cooper, Jughead Jones and Reggie Mantle in the Archie Comics spin-off Veronica in 2010. He later appeared in his own solo title. In "Life with Archie," Keller is a married military veteran and newly elected senator who's pushing for more gun control in Riverdale after his husband was involved in a shooting.

"We wanted to do something that was impactful that would really resonate with the world and bring home just how important Archie is to everyone," said Goldwater. "That's how we came up with the storyline of saving Kevin. He could have saved Betty. He could have saved Veronica. We get that, but metaphorically, by saving Kevin, a new Riverdale is born."

Who shot Archie? Goldwater isn't spoiling the killer, only teasing it's a stalker who wanted to take Keller down.

Archie's final moments will be detailed in Life with Archie No. 36, while issue No. 37 will jump forward a year and focus on the Riverdale gang honoring the legacy of their red-headed pal, who first appeared in comics in 1941 and went on to become a colorful icon of wholesomeness. Other incarnations of Andrews will continue to live on in Archie Comics series. "Archie is not a superhero like all the rest of the comic book characters," said Goldwater. "He's human. He's a person. When you wound him, he bleeds. He knows that. If anything, I think his death is more impactful because of that. We hope by showing how something so violent can happen to Archi





Where's the Money Coming From? Here's a cool chart that looks at sales for 2013. I wonder how this will look this year and going forward?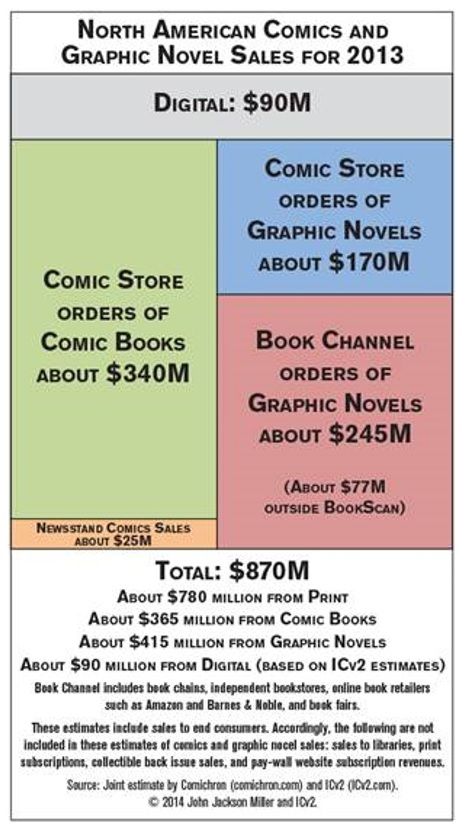 Before I say GOODBYE!
Follow me on Twitter for random bits, news RT's, and updates! Only at http://www.twitter.com/stevethegoose!

Are you a fan of 411mania on Facebook? Keep up-to-date on news and contests!

Are you following 411mania on Twitter?
http://www.twitter.com/411mania
http://www.twitter.com/411wrestling
http://www.twitter.com/411moviestv
http://www.twitter.com/411music
http://www.twitter.com/411games
http://www.twitter.com/411mma

If you have some down time and are looking for a great place for great fun, check out Tiger Flash Games!


That's all the time I have. See you next week!
comments powered by