SPOTLIGHTS
411 Fact or Fiction Movies/TV 8.01.14: Week 444
Posted by Ben Piper on 08.01.2014

Would we watch an Evil Dead TV series? Will Guardians Of The Galaxy live up to the hype? Is Joaquin Phoenix a good choice to play Doctor Strange? 411's Jeremy Thomas and Mathew Sforcina debate these topics and more!




What's happening, my friends? I don't know about you, but it's been blistering hot the past week. I know the old saying is the 'dog days of summer' or some such nonsense, but I'm starting to get an idea of what that means. This streak of 100 degree plus consecutive days is getting old.

Enough of my bellyaching. Time to move onto some Fact or Fiction action. This week we've got Jeremy Thomas and Mathew Sforcina helping us out. Let's see what they have to say…




1. Guardians Of The Galaxy will live up to the hype and be one of the best movies of the summer.

Jeremy Thomas: Fact. There are a surprisingly high amount of expectations on a space film featuring a tree and a homicidal racoon-shaped alien. The box office is in dire need of a major, major hit and the Marvel name has lumped all of pundits expectations here while fanboys have raised anticipation through the roof. And yet I haven't seen a single thing since the film was announced that has had me doubtful even for a moment about the film's quality. Early buzz is phenomenal and every promo and trailer has been great. And it has Rocket Racoon and Groot, as voiced by Bradley Cooper and Vin Deisel. If Guardians of the Galaxy ends up sucking, I'll eat my Birkenstocks. (Yes, I have Birkenstocks. I'm an Oregonian, after all.)

Mathew Sforcina: Fact. I have no idea what the heck a Birkenstock is, but I'm still just as sure Guardians will be wildly successful as JT is. I mean, I'm still not entirely sure at what point Disney became the good guys in all this, and I still have some issues with their 'WE WILL OWN ALL THE CHILDHOODS' attitude, but the thing is, if you produce good to great work, you get excused for a lot. And so far, considering the worst the Marvel Cinematic Universe has gotten is "Just OK", and that I've yet to see any negative report based in coherent reason, yeah, it'll be awesome.

Score: 1 for 1

2. Guillermo del Toro directing a smaller budgeted movie in black & white is an idea you can get behind.

Jeremy Thomas: Fact. Guillermo Del Toro directing anything is an idea I can get behind. Granted, I would rather see him tackle At the Mountains of Madness but since no one wants to let him make that I'll take what I can get. Del Toro may have a lot of fans because of his bigger studio efforts, but he also made smaller films like Cronos and The Devil's Backbone, both of which were great. I think black and white can become a gimmick if used wrong, but with Del Toro I'll give him some faith. He's earned it.

Mathew Sforcina: Fiction. At least in terms of the spirit of the question. See, Del Toro is one of those directors who I understand, but don't get. I mean, I can see why people like his work, I'll fight on the barricades against those who say he sucks, but I'll also fight on the barricades not to have to watch his stuff. I'm just not a fan. I'm more than happy to let him do what he likes, and I'm sure what he does will be high quality and be popular but chances are that I won't watch it. I eagerly await being told why I'm an idiot below.

Score: 1 for 2

3. You'd tune in to an Evil Dead TV series.

Jeremy Thomas: Fact. Man, I'm agreeable on this opening half aren't I? I would absolutely tune in, especially since Sam Raimi and Bruce Campbell are involved. Doubly so because Campbell says he's going to star. I know that the Evil Dead reboot has its detractors but I thought that under Raimi and Campbell's guidance as producers it worked well, and I would love to see what they can do with an episodic format. Of course what network it will be on is a key thing, but as long as they have the creative freedom to do what they want and not worry about being censored, they'll be fine. And let's be honest; if Walking Dead, American Horror Story and The Strain can get away with what they've done on basic cable, then Evil Dead shouldn't have much problem.

Mathew Sforcina: Fact. X10000. I'm sure this is adding fuel to the 'idiot' comments below with cries of hypocrisy, but as much as I'm not into Del Toro, I'm into Raimi and Campbell. The fact that their working together on this along with Ivan, with Bruce starring? Yeah, I'd tune in. I'd DVR every episode. And buy the DVDs. I will support this as long as they remain at the helm and get, as JT said, creative freedom. I fully support this, and I could go on about said fulsome report, but let's just move on, shall we?

Score: 2 for 3



Switch!!!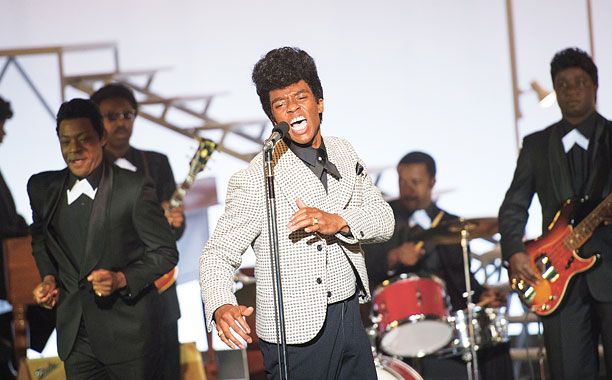 4. Get On Up will be a better than average biopic.

Mathew Sforcina: Fiction. James Brown is one of the greatest showmen of any era, and also one of the most complicated. From Vietnam through to a WCW PPV, the man has had a very long, very varied and almost impossible to tell career. And while by all accounts Chadwick Boseman is flawless in the role, I don't think a better than average biopic of James Brown can be told in a PG-13 environment. His life is just too full of demons and angels to deal with effectively without going into them. And Get On Up is very much not gritty historical realism, by all the reviews I've seen.

Jeremy Thomas: Fact. All early buzz is geared toward the idea that this is a solid film, which counts as "better than average" for me. I can definitely see Mathew's point about the PG-13 rating, but there are ways that they can get around that. I don't need to see the racier content of Brown's life as long as it's alluded to in some way. I'm not expecting this one to completely knock it out of the park, but it should be a pretty enjoyable experience.

Score: 2 for 4

5. Joaquin Phoenix would be an excellent choice to play Dr. Strange.

Mathew Sforcina: Fact. Only based on the fact that I can't honestly think of anyone else to play the role well. That's not a knock on Phoenix, when he's focused, he's as good as anyone else working today, but I just don't see anyone else really working out in the role, at least in my head. Strange is an odd duck, you can't really box him in too much, you need someone able to go pretty far out but still based on a level footing... I dunno, maybe I'm overthinking this. Phoenix isn't as slam dunk casting as Downey was for Iron Man, but he's the best choice I can give you.

Jeremy Thomas: Fact. I think that Phoenix would be a great Doctor Strange. He's not my number one choice; that goes to Jared Leto, who can portray the arrogance needed to capture Strange's egotism. But since Leto is apparently more interested in directing a film now that he's an Oscar winner, Phoenix is a really good pick. He's quirky enough to be able to take on the less conventional aspects of the character and he's got the acting chops to boot. I'm all over this one.

Score: 3 for 5

6. The trailer for Mad Max: Fury Road has you stoked to see the movie.

Mathew Sforcina: Fiction. ...

You can just hear the knives being sharpened, can't you?

As an Australian, I'm supposed to hold the Mad Max Trilogy in high regard, and as a Fallout fan, I'm supposed to enjoy a similar universe, and this should be something I'm stoked for... But I just saw another generic 'things go boom' trailer. Didn't bore me by any means, but I'm in a decidedly non-stoked state right now. The movie will be fine, I'm sure, but I'm not hanging out to see it.

Now here's hoping when this comes out I don't get mobbed by my fellow countrymen...

Jeremy Thomas: Fact. I agree that there was a lot of "things go boom" in the trailer, but that's actually what I was looking for. There's been a lot of talk about this film over the years and I've been concerned that it wouldn't properly capture the feel of the franchise. This is just the teaser trailer, which is always intended to boil the film down to the most exciting, appealing moments for mainstream moviegoers. That's what we got and I think it was effective. "Stoked" may be a bit generous bit I'm certainly interested.

Final Score: 3 for 6

And there you go. Jeremy and Mathew split the difference. Thanks to them both for helping out, and see you again next week!
-BP



TWITTER

http://www.twitter.com/411s_Ben_Piper
http://www.twitter.com/411mania
http://www.twitter.com/411wrestling
http://www.twitter.com/411moviestv
http://www.twitter.com/411music
http://www.twitter.com/411games
http://www.twitter.com/411mma




comments powered by