SPOTLIGHTS
411 Movies Interview: William Shatner
Posted by Tony Farinella on 11.01.2007

411's Tony Farinella talks to William Shatner!

If you've read my interviews with Jeffrey Combs and Sid Haig, you know that I always take my interviews in a different direction. To sum it up, I don't like to rehash old news. I like my interviews to be reflective and thoughtful. I want to know what's important to the actor. If you want to read about stuff that they've done in the past and how they feel about it, all you have to do is google their name. With all that being said, I recently had the pleasure of participating in a conference call with William Shatner to talk about the DVD release of Stalking Santa, which hits DVD on November 6th. Mr. Shatner is the narrator of the film. After watching Stalking Santa, you'll once again be a believer! For now, I hope you enjoy my interview with William Shatner.




William Shatner: Tony?

Tony Farinella: Hi. Thanks for your time. I appreciate it. I'm from Chicago.

William Shatner: Oh, good, Tony.

Tony Farinella: And my first question for you is after so many different roles on television and film, what still gets you excited? What gets your creative juices flowing after all these years?

William Shatner: Well, Tony, so many things. I'm, I think what an actor needs, or an entertainer in any of the various media, is a sort of childlike attitude of awe and wonder. And so as I move through the days and the week and the year, I find myself doing a variety of things that when they are finished and they have some success, I'm almost surprised.

I was mentioning "Exodus" as an example. It took two years to put this project together and issue the recording. I've done it myself, found a release, and it will be out there in Wal-Mart sort of thing, and it's a really good performance of a, something that's totally different, and it's got a religious overtone, or a religious-historical overtone, and yet it's entertaining.

I've got a book out there, a new book that's coming out--a Star Trek book. It's called "Collision"--"Academy--The Collision." And it's out there in the bookstores right now. A new Star Trek book dealing with the adolescents Kirk and Spock, and I started writing about a 17-year-old Jim Kirk and a 19-year-old Spock and took the Soldiers of Darfur, the tragedy that's going there, the children soldiers, made them, updated them 300 years to a scourge that was happening then, and what the plans were going to be with Kirk and Spock adolescents.

Tony Farinella: Uh-huh.

William Shatner: That entertained me to tell that story. It entertained me to get this record going, and it's entertained me to do this voice-over, this narration for "Stalking Santa." So my year goes by, and you say, "Why pick that project?" and I sort of reverse the question and say, "Why not?" If I've got the time and energy, I like to do these variable things.

Tony Farinella: And you mentioned earlier how you try to somewhat keep a low profile. How do you feel about nowadays in Hollywood, where it seems like everything you do is online? There's news shows. Do you miss the privacy sometimes?

William Shatner: Yeah. That's a big deal. But, you know, the areas I tread on usually, like this morning I wasn't working on Boston Legal. I stopped work at nine o'clock yesterday night and fell into bed, and this morning was up at seven in order to compete in a horse show as a reiner. And so prior to talking to you, I've been on about three or four horses, and the people that I'm competing against--which I've done over the years--ignore the fact that I'm on television and a familiar face and treat me as a contestant, as a person who is trying to get a blue ribbon, and so are they, and that's the basis upon which they know me.

Tony Farinella: And one final question for you. Have you ever thought about directing again, or no?

William Shatner: I like directing, and I'm working on a project that I will direct. But directing is a lot of energy and a lot of time, and so I haven't even approached the producers on Boston Legal to direct because of the expenditure of time and energy.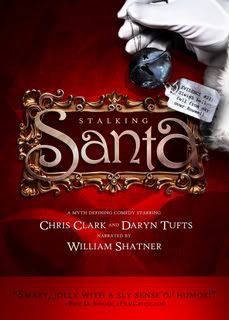 Tony Farinella: It's me again, sir. How's it going?

William Shatner: Good. Now you tell me how it's going.

Tony Farinella: I'm doing fantastic. I mean, talking to you, I couldn't be happier, you know?

William Shatner: Good.

Tony Farinella: And my question for you is you've done so many different mediums. Is there one thing that you've done that you're really proud of but it didn't really catch on with an audience, and you wish that people would maybe now give it a chance?

William Shatner: That goes for most of the things I've done. No, I mean I'm sure that's so. There's all kinds of things lying around that didn't see a lot of air. I did a recording that got really great notices called "Has Been," and that was a couple of years ago, and I wish that had sold more copies. And, you know, getting back for the moment to "Stalking Santa," let's hope that sells a lot of copies so that everybody's happy to have done it.

Tony Farinella: And what aspect of the movie industry, and I guess the entertainment industry, has changed since you first started? What do you think is the major difference from when you first started to now as far as the entertainment industry?

William Shatner: The major difference, as far as I can see, is technical. You know, HD and cameras are smaller and lights need to be less hot and all that kind of thing. The essential story-telling doesn't change from times immemorial around a campfire. People are moved and thrilled and pleasured and disgusted by the very same things we did when we were knocking things on the head and cooking them over the campfire.

Tony Farinella: And my final question for you is as you look back now on your career, has it been what you expected?

William Shatner: I had no expectation. You know, age is a--I don't know, the neutral word is interesting. You don't think you're going to get old, and then when you're old, you don't think you're old, and I don't know what old is. I don't know how I'm supposed to feel as old. And if I have a muscle aches, would it have ached if I was 25? It's just, there are no expectations. I mean, I don't know how you have expectations, because the moment you expect something, it changes about anyway.

Tony Farinella: All right. Thank you so much. I really appreciate your time.

William Shatner: My pleasure.
comments powered by