411 Movies Interview: Sharon Gless of Burn Notice
Posted by Tony Farinella on 06.25.2008

411's Tony Farinella sits down with the TV legend for an exclusive interview!

It's safe to say that Sharon Gless knows a thing or two about hit TV shows. In her career, she has worked on such shows as Cagney and Lacey, Marcus Welby, M.D, Nip/Tuck, and Queer and Folk. Even today, at age 65, she is still hard at work. Sharon is now a member of the hit show, Burn Notice, as the mother of Jeffrey Donovan. In my interview with Sharon Gless, we talked about Burn Notice, Cagney and Lacey, her TV career, and a whole lot more. I hope you enjoy my interview with Sharon Gless. Season One of Burn Notice is now out on DVD. Be sure to check out Season Two starting on July 10th.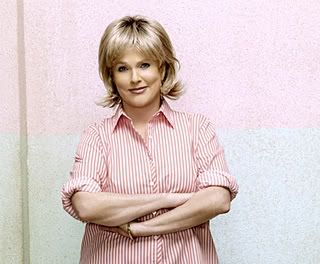 TONY: When you first read the script for Burn Notice, what were your first impressions of the show, and did you think that it would catch on with audiences?

Sharon Gless: I didn't know, to be honest with you. If I had the formula for what would work with audiences, I'd be a very wealthy woman, Tony. But I liked it. They sent me the script, and I read it, I was sitting alone when I read it, and I laughed out loud. And that's always a clue for me, that I thought it was funny. And it was a very, very interesting format that I have not seen before. But I was especially intrigued with the voice overs that he does. It could be misused, but in this particular case, it's so funny and so clever, because he's teaching the audience sort of how to be a spy. What he's saying in the voice overs is sort of the polar opposite of what he's doing. It's all done sort of tongue-in-cheek. It's still a drama, but a very funny drama.

TONY: As soon as you read about your character in the script, what kind of research did you do? Did you create a backstory?

Sharon Gless: I talked to the creator of the show Matt Nix, and he gave me some backstory just as sort of who she is. And then I sort of made up the rest myself. Not everybody needs to do that, but I enjoy having a backstory for someone, because it just makes the character richer. Even if the audience doesn't know what I'm doing, I know what I'm doing and why I'm doing it, and eventually it becomes apparent as you get to know the person hopefully throughout the years. But when you first do it, all my work was to be done in one day. There were just two scenes for my character in the pilot, so I just came in and made it what I needed to and took the information that Matt Nix gave me, and in the two scenes that I did in the pilot, the character just started to emerge. As it goes on, you learn more and more about her, and it becomes more interesting. But it said, "Chain-smoking hypochondriac." So, I thought, "Well, if she's a hypochondriac, she's obviously looking for attention. She's not very secure." So I decided that I wanted her to wear a wig, because I thought she would want to make herself look younger. I wasn't trying to hide her age; I was trying to play a woman who was trying to hide her age. So they let me use this wig that looked like Barbie, and we did that for the pilot and then the network decided we didn't need the wig anymore, so that's gone. (laughs) But it gave me a little something of my own as to what she's about.

TONY: In the past couple of years, you have played a lot of very unique mother characters. What has it been like exploring that type of character? It seems very rich and complex.

Sharon Gless: I have to tell you, that's a very interesting question, because I swore a few years ago that I never wanted to play the mother of. I had seen so many mother roles, and most of them I didn't think were very interesting, so I always said, "I'm never gonna play the mother." Well, the two mothers I've played have been very, very outrageous mothers, so it was fun. Queer as Folk was the first one that took off, my playing a mother. Debbie, I think I've said this before in print .... but I went after that role. I called Showtime and said I wanted to play that role, and Jerry Offsay said, "I like the idea. I think Sharon will bring a little class to the project." And I said, "Please tell Jerry that class is not what I had in mind." So I sort of got who she was, and obviously she became more outrageous as time went on. Now, this mother is so colorful, and she has her own baggage that she brings to the show. There's the sad stuff, there was obviously some sort of abuse in the family with the father. So there's that going on, and, also, I just thought she was so funny because she's so manipulative, trying to get into her son's life.

TONY: Are you surprised that you have been able to find so many juicy roles at this stage in your career?

Sharon Gless: Tony, I swear to you, I come from gratitude every day that these were presented to me. Queer as Folk, someone sneaked me that script; my agent did not. I was doing a play in Chicago, and while I was doing that play, I hired a coach to help me go on to do The Lion in Winter later, and he was an agent during the day. He was a drama coach at night and an agent during the day, and he had Queer as Folk, and he sneaked it to me under the table. So that's how I discovered that one. And then this one, it was offered to me. And I have been very, very grateful, because I am aware of the roles that are usually written for women my age, and they're not always as interesting, so I'm a very, very grateful actress. How did it happen? I don't know. I just have been very fortunate.

TONY: From talking to you on the phone right now, I can't help notice your passion for the industry. How do you keep that alive after all these years?

Sharon Gless: It's just something I've always wanted to do since I was a little girl, and it's just fun. How do I keep the passion alive? It's there. And when I get to play roles like this, it's just accelerated. There's lots of roles ... how do I answer this? I think it's the roles that I've been fortunate enough to play that keep my passion going.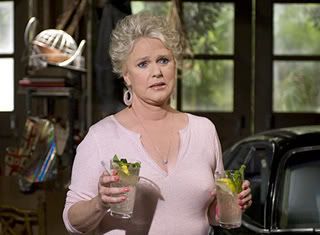 TONY: You have been around the television business for a number of years, so I have to ask you, how do you feel about the current state of television? It seems like there are so many great shows on TV right now and the market is flooded with creative programming.

Sharon Gless: Well, I think television's just getting better and better. I was very fortunate to have a show like Cagney and Lacey, and there's never been another show like that. They never tried to copy that format, which was always interesting to me. But I think it's the advent of cable that has kept it so interesting. I really think that cable is doing better work than network is now, because you have more freedom. First, it got it very, very outrageous. The cable I'm on now, this isn't pay cable, so there are certain words we can't say on this show and certain things you can't show, but the script is so rich and so wonderful. And I really think cable is what's changed television. I started doing this in the seventies, but I really think it's getting better. And there was a real dearth of roles for women until Cagney and Lacey, actually, and that's comedy, but for drama, there were not many shows. And even that's, I think, getting better. They've never done a Cagney and Lacey again, but Glenn Close has a wonderful role. Candice Bergen, I love her in Boston Legal. And now we have Weeds with Mary-Louise Parker. It's fantastic that part. And I love The Closer with Kyra Sedgwick. That's fantastic. Now, the last two I mentioned are younger, but they still write for Glenn Close and Candice Bergen. What I've noticed, for women especially, are the women my age, motion picture stars, are not working as much, and they would never touch a medium called television in their day. But, now, because there's not much work for them in motion pictures, they're coming to television. Television's become almost its own snob, and they're not hiring Emmy Award-winning actresses as much anymore, because they can get all the Motion Picture Oscar winners. And I don't know if that's good or bad. Somebody loses, somebody gains. But the material, I think, for women is very interesting.

TONY: How do you feel about Hollywood's obsession with celebrity and gossip? You have been around the business for a while, so I have to ask you, how do you feel about that?

Sharon Gless: I don't like it. Television is the most powerful medium in the world, and the wonderful thing about that is you can do wonderful things on television and you can educate and entertain, but it also has the power now to go into people's homes and their private lives. I think it's very sad and very unfortunate that these young actresses who are being as exposed as they are ... I don't know if it's television's fault. It seems like ever since Diane ...I just think it's sad. And I don't think it's that we were more careful when we were young about what was exposed to the public. I don't know, I don't remember this happening when I was young. I don't like it, and I think it's very sad. I think it's ruining these young women's careers. I think they need to be more careful than obviously we were.

TONY: Finally, is there anything in your career that you haven't done yet that you would like to do in the future?

Sharon Gless: I used to joke and say play the life of Ella Fitzgerald. The way I've always worked is that I've just always hoped that the material would be presented to me. There isn't any one thing that I feel like I haven't done, but I just hope the material keeps coming. There isn't one part that I've been longing to play, no. I feel like I limit myself when I do that. I give the writers credit to come up with wonderful characters and hope that one of them will come my way. But I don't have anything specific in mind. I just hope whenever I read a script that it's something that lights me up.
comments powered by