SPOTLIGHTS
411 Movies Interview: C.S. Lee of Dexter
Posted by Tony Farinella on 12.12.2008

411's Tony Farinella sits down with C.S. Lee of Dexter for an exclusive interview! Check out the season finale of Dexter this Sunday on Showtime!

Dexter is one of the most popular shows on television. In fact, it's so popular that people order Showtime just to watch the show. One of the most interesting characters on the show is Vince Masuka, played by the very funny C.S. Lee. With the season finale of Dexter about to hit Showtime this Sunday, I caught up with C.S. Lee to talk about a number of very personal and real topics. I hope you enjoy my interview with C.S. Lee and I hope you learn a thing or two about the man behind the character. Please credit Showtime for the photos.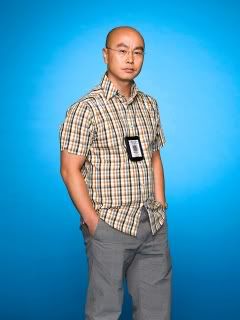 TONY: What's it like to be you right now? You're currently on the hit show Dexter, which is one of the most popular shows on television.

C.S. Lee: It's great. I've been doing this for a long time, so I spent ten, eleven years in New York struggling and not being able to pay bills and whatnot. To be able to work on a great show and get paid for it, it's nice. I'm just relieved that it's a good show. I never really had any inclinations of coming out to L.A. I had aspirations of staying in New York and becoming a real actor, but ten years of struggling, man, it sort of puts things in perspective. You get a little older, and you realize you need some financial well being to sort of ground you. At this time in my life, it's a perfect gig for me.

TONY: Another one of the great things about Dexter is the cast. What's it like going to work every day and getting to play ping pong with a great group of actors?

C.S. Lee: You asked that question, and it gets my heart going, because I can't wait to start the fourth season. We all have so much respect for each other. The majority of us are all sort of theater actors. We're all from the East Coast in terms of our training and where we actually started. All of us realize that. And we do. We have a great time with each other, and it's not all seriousness on set. We joke around and have a great time on set. It's nice to be able to work on a show where everyone is really good. There's not a rotten apple in the cast, which is a blessing. I'm very fortunate to be working with the people that I'm working with.

TONY: Your character on the show has a lot of unique characteristics and traits, so what I want to do is get inside your head a little bit and find out a little background on how you prepare for the show. Do you have a lot of input on his wardrobe?

C.S. Lee: Most of the wardrobe is the costumer, the people that come up with the wardrobe. I don't have a whole lot of say in the wardrobe, only if it's uncomfortable for me. But they do a good job of picking out a lot of colorful options as far as shirts and whatnot for my character. And beyond that, like the words that I have to say, the writers have sort of caught on to who Vince Masuka is. The first season, they didn't really know what to do with me. So I did a lot of improvising. I came up with ad libs here and there for myself, because I had to make a choice, as an actor, of who this guy was. And if no one was going to do it for me, then I was. So the first season, you saw a little bit more of what my interpretation was, and by the time the second season came around, the writers sort of got the hint and they took the ball and went running with it. Now, I pretty much stick to the script. They do a great job of coming up with the dialogue that I get to say.

TONY: You just mentioned that you stay pretty close to the script, but in terms of the sexual innuendos, do you ever come up with some of those on your own?

C.S. Lee: I have a few times on occasion. But, again, that happened a lot during the first season, but by now, the writers know exactly what I'm thinking and me, the actor, C.S. Lee. They come up with some good lines themselves. If I feel like it's not working, I'll ask them and they'll come up with something better. So I pretty much leave it up to them.

TONY: I always like to ask this question to actors who work in comedy: Do you have a barometer in terms of what's going to get a laugh and what's going to get a big reaction out of the audience?

C.S. Lee: In terms of comedy, I don't really approach it in a way like, 'Okay, what's going to be the funniest way to do this scene?' I just do the scene the way the scene is supposed to be done. And if I do the scene the way it's supposed to be done, some people may find it funny, some people may not. My gauge is really not that great. I don't really consider myself a comedic actor. This is really sort of the first time I've had a comedic role for so long. The majority of my work is actually dramatic theater. So all I know is that, with comedy, I stick to the story, I stick to what my job is as an actor and what I'm supposed to accomplish with the character. For me, that formula works. As long as I do what's in the script and what the writer intended in terms of what my character wants and what he's trying to accomplish, then whether it's funny or not, I sort of leave it up to the audience. And so far it's worked. I don't really play for laughs. I play for what the scene is about.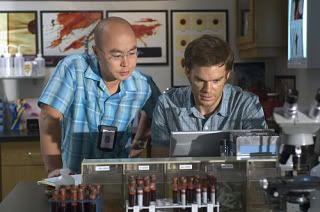 TONY: How do people on the street respond to you and your character? Is the reaction pretty polarizing?

C.S. Lee: Most times, I'll get that funny look, like they know me. Or sometimes they do know me. They know exactly who I am. First off, they love the show, and more often than not, they're like, 'Dude, I love your character. Your character is hilarious. He's so bad and so nasty.' Sometimes, it's hard to have a conversation about Vince Masuka on the street, because you're talking about such nastiness. But, for the most part, fans are great. It's really nice to run into fans on the street, because not a lot of people had Showtime when we started doing the show, but now, more and more people are getting Showtime because of the show. And it's really great to see that and to talk about a show that I personally think is good with another fan is great. And they get a kick out of the fact that here's Vince Masuka standing before you.

TONY: Actors often say that it's sometimes hard to do things as their character that they wouldn't do in real life. Even though it's a TV show, do you ever have trouble saying some of the things that you're saying and doing some of the things that you're doing on Dexter?

C.S. Lee: No, not really. You're playing a character. It's not me. I know it's not me, C.S. Lee, saying certain things. I'm playing a character. It's fun using my imagination. That's what my approach to acting is about and that's the way I was taught. It should be fun. You should approach this type of acting work in such a fun way that it doesn't matter what you do as a character. You could be shooting up heroin, you could be murdering bad people like Dexter does, but it is fun to imagine yourself as this character and be that character for a certain moment of time while you're shooting the show. There's never been an instance where I've had a tough time playing Masuka, where I had to say some nasty stuff or whatnot. It's fun for me to play this character, so I really haven't had any problems.

TONY: Even though nothing is a sure thing in Hollywood, what's it like having job security on a hit show?

C.S. Lee: Well, it's great. We know that we're coming back for two more years. I know that I didn't die this season. We have two more episodes, but I can safely say that I didn't die. The fact that we're coming back for two more years is great. This has been a great injection into my career. Before this, I had done bit parts on television, Sopranos, Spin City, just like any other actor living in New York has done. So hopefully this will sort of take me to the next level and I'll be able to get work more easily and steadily, and I won't have to struggle as much as I did the first ten years when I was pursuing this thing. Right now, I'm older and dare I say a little wiser, so I sort of take the punches as they come. In some ways, I feel like I'm ready for it and I'm ready for the challenges. I'm ready for the big challenges that are coming my way. And if they don't come my way, I'm going to go in search of it. I may write and direct my own film. That's really what I ultimately want to do and ultimately wanted to do before I started acting. So I always have that in the back of my head.

TONY: I read that you used to play football, so I have to ask you, do you have a favorite football team and do you still follow football?

C.S. Lee: Oh, absolutely. I love watching football. I grew up in the northwest, so Seattle has always been back and forth with me, because all Seattle sports teams have a tendency to sort of choke. Seahawks, I say they're my team, but they're not my team. Right now, they are definitely not my team. They are sucking. I think they need to get Holmgren out of there and get a new coach and perhaps a new quarterback. But right now, I dig the Jets. I like Favre on the Jets. I think they can go all the way with Thomas Jones going. I'm a big Jets fan. I like the Jets a lot.

TONY: You've also worked on the hit show Chuck. What was it like working on that show, and did you ever have to ask the director if you were supposed to play certain scenes straight or wink at the camera?

C.S. Lee: Oh yeah. With that role, again, I approached it straight up. Here's this man working at a Buy More, Harry Tang, and he desperately needs to be in an assistant managerial position. That was his whole world. That's what he wanted. And he'd do anything to get that. And he knows that Chuck is also applying for that position. So, from the start of that show, I played that role straight. I knew what I wanted. And the way he went to get what he wanted, he went about in a certain way. And that was key. I know Chuck is a comedy, so I have to approach it in such a way that it is going to be funny, but, also, it's going to stay true to the character. So we had such a good time. I had such a good time shooting those episodes. If Showtime would have allowed me to continue playing that role, I certainly would have. I'm serious, every scene that I had, we were cracking up, the actors, playing our scenes. The crew was cracking up. It was hilarious. I don't know what happened, but for some reason, it was the right mix of elements. It was a great, fun show to work on. I'm hoping to maybe come back on that show in the near future for a few guest spots.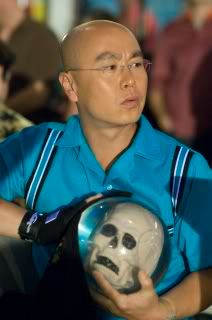 TONY: You've said in previous interviews that you have received tremendous support from your parents. How much does that help?

C.S. Lee: It means a lot. It totally means a lot. I've had friends who have talked to me about their parents sort of talking to them and nagging them about pursuing acting and how difficult it is. To have that burden on you from your parents is a lot, a lot of weight. And I was so fortunate to have parents; they were reluctant to allow me to pursue acting at first, and after a while, they sort of gave in. But then, after spending ten years in New York, they sort of went back to base one and they were like, 'Maybe you should find a different career to do with your life.' And I told them, 'No, this is what I'm going to be doing. If I don't do this, then I'll start teaching.' I have such cool parents, and they are immigrant parents. They came here without knowing a lick of English and worked their tails off so that I could go to school, so that I could go to college and pursue my dream. They made a big sacrifice, a huge sacrifice for me. It's great. I feel like it's paid off. And they're getting ready to retire pretty soon, so I told them that I'm going to take care of that, so that they don't have to worry about retirement. So I have another job to do in the next five, ten years. It's great to have that support from a family. Not to have that burden with me the whole time I was studying and going to college and pursuing acting, it was huge. It was huge.

TONY: We've talked a lot about the early years and all of the struggles that you went through, so I want to ask you, what did you learn about yourself during those lean years?

C.S. Lee: Well, through all those years, I felt like I learned the way that I knew I would succeed was to build everything from the ground up, which means I'm doing this acting thing because I want to be the best actor that I can be. Not anyone else, but me, C.S. Lee. So it was about finding a truth for myself. And, for me, that truth wasn't about being famous. It wasn't about being on TV or anything like that, it was about trying to pursue this acting thing in such a way that I can figure out a process that's going to be truthful for me. And it's still ongoing, of course. It's going to be ongoing until I die or until I stop acting. But it's a thing that I've been really interested in: What does it take for me to find success in my approach to acting, in my approach to my characters and my projects that I happen upon and audition for? And everyone has their own path, and it's about finding the truth to that. Everyone has their own sort of truth that they come upon, and, to me, I'm trying to allow that to happen more often. So far, it's worked, and I feel like it's very strong. It's a strong sort of faith and belief in that. And it's a good feeling to have.

TONY: Thank you so much for your time, C.S. It was great talking to you.

C.S. Lee: Hey, thank you, man.
comments powered by