SPOTLIGHTS
Veep Review 1.1 - 1.3
Posted by Steve Gustafson on 04.30.2012

411's Steve Gustafson takes a look at the first three episodes of HBO's VEEP starring Julia Louis-Dreyfus!

































The vice president has only two Constitutional duties: to break a tie in the Senate and to stand in for the president should he or she be unable to govern."
- Julia Louis-Dreyfus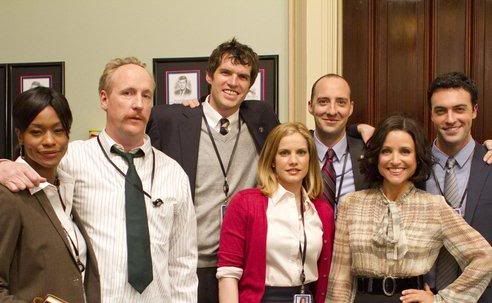 Sufe Bradshaw, Matt Walsh, Timothy C. Simons, Anna Chlumsky, Tony Hale, Julia Louis-Dreyfus, Reid Scott. Photo credit to HBO and the photographer, Bill Gray.





VEEP



In the theater of life, many consider politics a tragedy. But when it comes to the pen of Armando Iannucci, it's pure comedy. It's no secret that the political scene is ripe for comedic skewering. The challenge is to do it in a way that balances the mundane day-to-day drudgery of political life with believable scenarios that the audience will want to watch on a weekly basis. In the history of television, politically themed shows have not done well. For every West Wing you have a number of Commander in Chief-type cancellations. When it comes to political comedies, for every Spin City you have He's the Mayor.

It was with much curiosity, and apprehension, that I tuned into the first three episodes of HBO's VEEP. Right away I took notice of the cast. When it comes to ensemble work, I always look for the weak link. With names like Julia Louis-Dreyfus, Tony Hale, Anna Chlumsky, Matt Walsh, Reid Scott, Timothy C. Simons, and Sufe Bradshaw, there wasn't a dent to be found.

A top notch cast is only as good as the script they're given to work with. VEEP creator Iannucci comes with a solid background of similar themes with the film In the Loop and the series The Thick of it. He sets up an interesting world that has Louis-Dreyfus starring as Selina Meyer. She was a rising star in her political party, a charismatic leader who had unlimited potential. Then she became vice president. And nothing was like she expected. Yes, VEEP follows the daily existence of Vice President Meyer as she puts out political fires, juggles a busy public schedule, and a demanding private life. On top of that she must defend the president's interests while trying to improve her dysfunctional relationship with the chief executive.

Does it work? Yes! I've long believed that even with all the accolades she's received, Julia Louis-Dreyfus is an incredibly underrated talent. I believe she's even better when she has the "gloves off" on cable television, as anyone who has seen her tear up the scenery on Curb Your Enthusiasm can attest to. With the role of Meyer's, Julia can show her true range; going from expressing confidence in herself to awkward nervousness in a beat. She's at her best playing off the other members of her cabinet and the writing plays to her strength. In an interview she spoke about the amount of preparation that goes into the role. She says, "We had the massive benefit of extensive rehearsal for every episode, which is unheard of in doing a comedy series." It shows. The three episodes I saw were very layered. Make no mistake: This is a smartly written show in the hands of professionals. The punchlines are understated and they don't go for the easy laugh.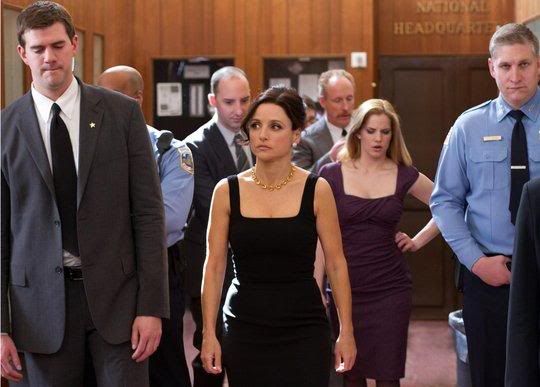 Tony Hale, Julis Louis-Dreyfus, Matt Walsh, Anna Chlumsky. Photo credit to HBO and the photographer, Bill Gray.



Tony Hale plays her right-hand man. He carries her bags and is quick to give her sanitizer after shaking hands. He's also instrumental in knowing a little something about everyone so the Vice President can have a quip ready when she meets them. Hale is perfect in this role and proves himself to be one of the best ensemble men out there. Her Chief of Staff is Anna Chlumsky. Anna plays Amy with a strong personality and is a great counterpoint to Julia's "all over the place" Meyer. Matt Walsh plays Mike, her weathered spokesperson and is sure to be recognized from his solid work in other features. Walsh provides a number of laugh-out loud moments with his speak-before-he-thinks method. I wasn't real familiar with Reid Scott before this but his Dan, the new ambitious political aide, is making me a fan. He's looking to move up and is usually the smartest guy in the room. Sufe Bradshaw plays Sue, Meyer's executive assistant, and although only on-screen in short bursts, she makes the most of it with attitude. I enjoy the "Did the president call?" "No." gag on a regular basis.

Then there is Jonah, played by Timothy C. Simons. Jonah feels like a throwback character who's purpose is to be the one everyone picks on. Simons plays Jonah with great rhythm. While he's the butt of jokes, you never feel sorry for him.

Each episode juggled a number of players and the plot raced along; making the viewer wonder how close to reality is this show? From picking out the right flavor of frozen yogurt to choosing a dog, the seemingly trivial tasks are given a much bigger stage when it involves the Vice President. The show is moves fast and many scenes take place doing the "walk and talk" method. There is always movement going on and it keeps things fluid. In the third episode, the cast really hits their groove and is a great indication of what the show is capable of. Julia shines when she is told the President suffered a heart attack and she must fill in for him. In the hands of a lesser actress it could have come off as mean but she shows fantastic range and pulls laughs from difficult place.

VEEP stays clear of any political controversy by keeping things general. No President sightings. No details bills or plans. No real-life cameos to hamper the light spirit. We get enough laughs from Congress in real life without them invading our cable shows.

The television landscape is filled with cheap laugh selections that you forget soon after the show ends. VEEP earns its laughs and is a great watch. If you passed this one up, that would be the real tragedy.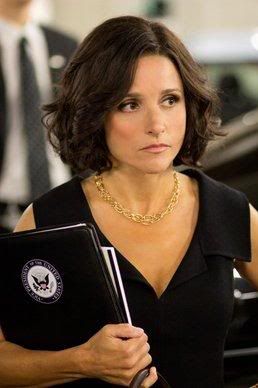 Julia Louis-Dreyfus. Photo credit to HBO and the photographer, Bill Gray.
The 411: VEEP is a strong candidate for HBO and I hope this is one that many people will "vote" for by watching it. The storylines are made even more entertaining with the incredible ensemble.

Final Score: 8.0

[ Very Good ]

legend
comments powered by