SPOTLIGHTS
Modern Family Review - 3.22 'Disneyland'
Posted by Michael Adams on 05.11.2012

The Pritchett-Dunphy-Tucker clan is off on another "vacation", and this time they're headed to the happiest place on earth...Disneyland! Phil can't keep up with Luke as they explore the park, Mitchell and Cam have Lily on a leash so they don't lose her among the masses, Jay helps Gloria walk around the park, and an old flame shows up. All this..AT DISNEYLAND, on Modern Family!



The Modern 411...

The Dunphy Family
Claire has invited her friend's son to Disneyland with them so that she can set him up with Haley. However, when they arrive in the park, the family bumps into Dylan, and Haley sets her sites on her ex, while Alex sets her sites on the older boy. While walking around the park, Claire and Haley are discussing Dylan's bad-boy nature, until they are stopped in their tracks to witness Dylan singing with the Dapper Dans, a Main Street USA quartet; Haley is furious and goes back to Ethan. That is, until, Ethan pushes Little John to the floor after finding out it's Dylan in the costume. Haley feels bad for Dylan and takes him back into her life.



Meanwhile, Phil has come to terms that he isn't as young as he used to be and is no longer the Roller Coaster King, as he can't really handle them anymore. This bums Luke out, but he's ok with his dad not being that young anymore, after all, there are tons of cool things Luke and Phil can do together in a wheelchair! Later that day, while Phil is still recovering from Thunder Mountain, Claire tells him that she thinks he may have the flu, which makes sense since all the guys at work drink from the same orange juice carton. Phil is relieved, as now he can still call himself...The Roller Coaster King!



The Tucker-Pritchetts Family
I always manage to find a video that can sum up the Cameron/Mitchell story, and this week is no different. Here's a quick video showing the difficulty of walking around one of the biggest tourist attractions in the world with an energetic toddler...

This problem is solved when Jay goes to the Bibbidi Bobbidi Boutique and gets Lily a pair of heels, which slows her down.

The Pritchett Family
Manny is working on a stock market project for school and is letting it interfere with his having fun. It takes some motherly advice from Gloria for Manny to realize that he needs to lighten up and be a kid...sometimes.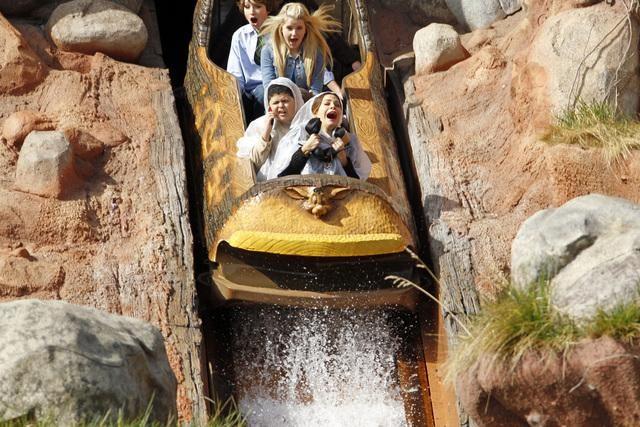 Gloria decided to go to Disneyland in 6" heels and is having a hard time navigating the park. When he sees his wife in distress, Jay buys her a pair of Minnie Mouse slippers, which eases her pain. They realize, that perhaps Gloria wouldn't be so fiery all the time, if she wore shoes that were comfortable.

Throughout the episode Jay reflects on the last time he was at Disneyland, and how the Pritchetts were supposed to go as a family, but he and Dede had a fight and he wound up taking the kids by himself. He went through the day coming to terms with his marriage and realized that he would go home and end it with Dede, but after a visit to the Abraham Lincoln exhibit, he decided he would stick it out for his kids and get out later.

This Week's Top Quotes...
Jay: Really? Those shoes? Do you know how much walking you have to do at Disneyland? Why do you think they have so many fat people on scooters?

Jay:Claire's biggest fear was running into the Evil Queen. My biggest fear, was that I married her.

Cam: I don't care what people think. If I thought it would keep my daughter safe, I would have a kangaroo pouch sewn into my midriff.
Mitchell: That's gonna work out really well for you as a single parent.

Manny: You know how many bars I had? Zip-a-dee-doo-dah.

Phil: One of my favorite things in the world is doing stupid fun stuff with you, like pogo-basketball or trying to get a swing to go all the way around.

Character of the Week...
Jay Pritchett! I loved everything Jay did this week. His chivalry towards his wife and, more importantly, the love for his children. I thought the "disnified" quotes he used in describing his relationship with Dede was great!

The 411: I love Modern Family. I love Disney. I love this episode! It's so great to see the show do things like this. I thought the Hawaiian vacation the family took at the end of season 1 was one of the best episodes over the course of the 3 seasons, however, this vacation is by far the superior one. I'm not sure if I've said it before in my reviews, but I see myself as a Phil Dunphy; he's a big kid with children, which is exactly what I am. Watching Phil run around Disneyland, trying to keep up with Luke, is something I can see myself doing a few years down the line with my son. What makes it work so well is Ty Burrell's amazing physical comedy skills. Aside from that, there were 2 standout moments to me in this episode. One was when Dylan, dressed as Little John, started talking to Haley, which is a Disney no-no. When Ethan(Sarah Hyland's real life BF) came over and knocked Dylan down, Robin Hood ran over and started miming distress for his fallen friend. Hysterical! The other standout moment, which I touched on in the body of the review, was Jay describing his doomed marriage and how President Lincoln convinced him to stay for his children. It was a beautiful part of the story this week, and one side of Jay that we rarely get to see. We often see him trying to fix his mistakes by raising Manny, but it's rare we see his affection towards Claire and Mitchell; I really loved it. This episode was a fun episode, plain and simple. To film a sitcom at a Disney park is a genius idea, and who better to do it then Modern Family? Was it one of the best of the season? Nah. But it had that Disney magic, and it's hard to find any flaws in that.

Final Score: 9.0

[ Amazing ]

legend
comments powered by