SPOTLIGHTS
Mirror Mirror DVD Review
Posted by Tony Farinella on 07.04.2012

Two Snow White films have been released so far this year, but how does Mirror Mirror hold up?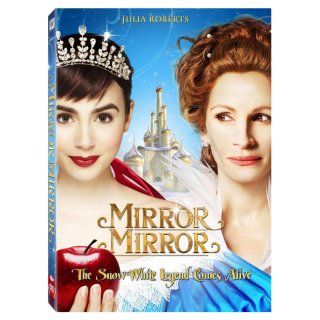 Mirror Mirror is one of two films released this year about Snow White, along with Snow White and the Huntsman. Itís unclear why, all of a sudden, there is such an interest once again in Snow White. Considering we know the story of Snow White already, the only reason a film like this exists is strictly for the performances and the scenery. The performances are enjoyable, the scenery is gorgeous, but itís all a little too familiar and unnecessary. Without a solid story or something new to say, this film is firmly for children as a time waster on a hot day indoors with air conditioning.

After the King (Sean Bean) disappears, his control freak wife played by Julia Roberts controls the kingdom and keeps his young daughter Snow White (Lily Collins) hidden from the world. She is forbidden to leave her room and when she does, she is given a strict warning from the Queen to never, ever come out again. Everyone loves Snow White, for her kind nature and sweet personality, whereas everyone is extremely unhappy about the way the Queen runs the kingdom. She is superficial, shallow, and very, very cruel. This is a classic case of good versus evil.

Things get even complicated when the Prince (Armie Hammer) shows up, and both the Queen and Snow White are battling for his attention. Snow White is then exiled to the forest with nowhere to go until a group of dwarfs take her in despite their initial misgivings and concerns. From here on out, the film has some slapstick moments, an interesting dance number, some over the top wardrobe choices, and some unique performances, especially from Julia Roberts. She commits to this role completely and itís clear that sheís having a lot of fun playing someone so evil and so completely over the top.



Lily Collins is cute and adorable as Snow White and gives a solid performance that does the character justice. Sheís the kind of Snow White that is shy but beautiful and builds into her own as the film carries on, which is the natural progression of her character. We see the beauty in her and see what is capable of, if only she can see it for herself. Armie Hammer is solid as the prince, as he gives the right amount of aura about him while also being accessible to the audience. The dwarfs are good in small doses, but the screenplay forces them to unleash such overdone quotes as, ďSay hello to my little friend.Ē

This might sound like a positive review, but in the end Mirror Mirror has earned its 50 percent rating on Rotten Tomatoes. Itís just average. The acting is fine, the film is well made, but itís completely needless and superfluous. There is nothing new to add to Snow White in this film, and Iím not sure what else can really be done with Snow White. Everything else will just fail in comparison to the Disney version. When itís all said and done, Mirror Mirror is only for kids and kids only. They will enjoy the silliness, the fun performances, and the colorful scenery. Everyone else can pass on the film.

DVD Info: Mirror Mirror is released on both a single disc DVD along with a two-disc combo pack which includes a digital copy, the DVD, and the Blu-Ray. Twentieth Century Fox has put together a great looking DVD with beautiful Dolby Digital 5.1 English sound. Subtitles are also included in English and Spanish.

Special Features:

Looking Through the Mirror: This special feature runs at just under thirteen minutes and focuses on the behind the scenes production of the film. There are lots of great nuggets of information shared here. They go into detail about putting the film together and the visual look of the film.

Prince and Puppies: This is a two minute silly special feature where the dogs talk about Armie Hammer. It is harmless fun.
The 411: This is an example of a well-made and well-acted flick that just doesnít cut it. It fails because of the story although Iím uncertain what else they could have really explored or done with Snow White. As Iíve mentioned in this review, kids will eat this up and have a blast with it. Itís perfectly acceptable entertainment for kids. Itís clear everyone involved in the project put their best foot forward. For adults, thereís nothing really there, except for Julie Roberts and her crazy performance.

Final Score: 6.0

[ Average ]

legend
comments powered by