SPOTLIGHTS
Fringe the Complete Fourth Season DVD
Posted by Michael Weyer on 09.06.2012

The penultimate season of the sci-fi drama reinvents itself yet retains its amazing quality for another stellar year of mind-bending power.

Fringe the Complete Fourth Season
Warner Bros Home Video
957 Minutes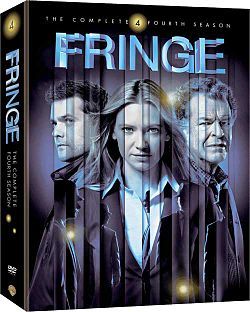 For all the talk on how FOX loves to kill good shows early, Fringe has been the exception to that supposed rule. Despite ratings that would equal axing from any other network, the series has managed to survive time and again and is about to embark on its final season, able to end on its own terms. It's more amazing considering how the show constantly challenges the viewer, changing the game every year. This fourth season is no different as the series alters its own history but the fantastic cast and effects continue to create one of the most enthralling drama on television that surpasses its label of sci-fi to be something far more entertaining.

The Series

Season three ended with a huge twist as Peter (Joshua Jackson) used a massive machine to bridge the two universes together only to vanish as the mysterious Observers noted he'd been erased from history. Thus, season four begins with a much different history than what fans know. Olivia Dunham (Anna Torv) works alone, having brought Walter Bishop (John Noble) out of his mental asylum by herself. Without an adult Peter, Walter is a shut-in, staying at the lab constantly so Olivia and Astrid (Jasika Nicole) do field work for Broyles (Lance Reddick). The alternate universe Olivia (Fauxlivia) still took her counterpart's place but never got pregnant by Peter. Also, in this new world, Olivia and her sister were raised by Nina Sharp (Blair Brown) so they're much closer. In the season premiere, agent Lincoln Lee (Seth Gabel) sees his partner killed and is soon pulled into joining the unit, thrown by all this wild stuff. Meanwhile, both Olivia and Walter are being visited by ghostly visions of Peter, confused as to who he is. Peter soon returns in person, thrown at finding himself in a world where no one remembers him and tries to get back to his own…unaware that he's already there.




Fringe has always been daring with its plots of alternate realities and such but this year may have been their biggest challenge yet. To turn the mythology of your own show so totally on its ear was a bold move but the series manages to pull it off nicely. The little turns are what make it stand out like how Walter is a shut-in and the clashes between the two Olivias along with how Olivia and Nina are so close while no one knows who the Observers are. Even for long-time fans, it feels like a new show, a creative shot in the arm that makes things more enthralling. It gets better as Peter returns, clashing with the gang over his memories and feelings, especially the powerful scenes of Walter denying his own son despite the evidence before his eyes. The series still puts out ideas no other show on television can come up with like when they track down a serial killer in one universe by bringing in his counterpart from the other, the man jarred to realize he's hunting himself and a confrontation between the two makes you think on how life can go differently for one moment or choice. There's also a terrifying bit of a town where people are going mad with memories not their own, a killer targeting love and a wild episode of a man managing to keep time flowing backward a few years to keep his wife alive, unaware of the consequences (such as how a tunnel built in that period is about to vanish during rush hour). Plus, the threat of the shape shifters from that other universe which provides the series with a powerful arc. As always, to go into detail risks ruining the big surprises that make the show so great and why it resonates with viewers.

All those twists would be nothing without the right actors and once more, the cast rises to the amazing challenge. Torv continues to work wonders with the two Olivias, one buttoned-down, the other more fun-loving but her relationship with Peter is in a new light as she wrestles with feelings for this man she doesn't know but has a connection with nonetheless. Jackson is better than ever with Peter handling this strange world and fighting to prove himself with knowledge of events no one else remembers. Yet again, Noble is stunning as Walter, the early part of the season having the man worry he's going mad (even about to give himself a self-lobotomy) over the visions of Peter, shown far less grounded without his son's presence. When they come face to face, it's even more powerful, Walter thinking Peter is a sign of his mistake that caused so much destruction, snapping that this is not his son despite Peter's attempts to help him. A great touch is that Walternate isn't quite as cold in this world as he didn't have to endure the loss of his son and Noble slides so deep into the role, you believe these are two different characters when they talk. Nicole gets a bit more this year with a fun episode of the alt-Astrid coming for a mission (funny when Astrid shrieks upon seeing her and Olivia remarks "I always wondered why nobody does that.") and brings up a nice turn in how their lives ended up so differently. Those used to Gabel as the tough Lincoln of the alt-universe in season three may be surprised by his role here as a more straight-laced agent. It does get fun when he travels to the other universe and meets his more outgoing double and we also have the nice dynamic of him attracted to Olivia but her suddenly growing memories of Peter interfere. This leads Gabel to feeling left out and another trip to the alternate universe has him questioning where he belongs while Walter accuses Peter of "infecting" Olivia with memories of their love.




The show just loves throwing out little touches like how, upon arriving in the other universe, Lincoln stares in awe at the still-standing World Trade Center Towers. There's also a fun joke about a certain super-hero not being a big deal in the alternate reality as well. A great storyline reveals that in this altered timeline, season 1 villain David Robert Jones (Jared Harris) is alive and well, Peter the only one who remembers him. He soon embarks on a twisted quest to unlock Olivia's powers, seemingly aided by Nina but of course, things aren't what they appear. Harris is fantastic as this sinister man with a twisted plan that leads to a major turn for the show's mythos. A major episode shows a future where the Observers have taken over Earth which is basically a prequel to the final year. The production remains top-notch from selling the effects of transformations to the switches between worlds and the writers manage to ground it just enough to make it seem within the realm of possibility so it doesn't seem too insane. The series builds the power more and more with a grand finale that brings back Leonard Nimoy as William Bell and pays off numerous plot lines from throughout the series' run in what could have been the series finale. With a last season coming up, you can admire this as a bold reworking of a show that actually works, even if the mid-season pacing seems a bit sluggish. But as it is, another fantastic year for a show that continues to bend the genre in new ways and shows how a little daring can go a long way.

Rating: 9.0 out of 10.0


Video

The widescreen 1.77:1 isn't as cutting-edge as the Blu-Ray but still quite good. The series rests on its visual effects and style of shooting and the picture does a great job showing that off. From the unique opening credits to the wild happenings of the cases, the series shows brightly on DVD as previous years have and lets you be pulled into the wild universes within.

Rating: 9.0 out of 10.0


Audio

Dolby Digital 5.1 SurroundSound, again not as great as the Blu-Ray but still good. Subtitles are in English, French and Chinese, which can aid with some of the wild scientific talk and no need to adjust volume for either the dialogue, effects or great music, a good package worthy of the series.

Rating: 8.5 out of 10.0


Bonus Features

I'm going to assume that the producers are busy making the final season great as that's the only reason why the usually packed Fringe season extras are more sparse this time around. The big loss is no audio commentaries, a shame as those have been a major highlight of previous seasons and no deleted scenes either.




A World Without Peter (12:25) is an overview of the season which executive producer Jeff Pinker states they went into thinking it might be the end of the series. Jackson helped come up with the "Peter is missing" idea and they liked giving the series a fresh turn in its history and Lincoln as a fresh perspective on things. Fans hated the idea of a Lincoln-Olivia romance even though Peter was back and some fun talk like Torv on how Olivia "never smiles" so she allowed her to open up thus with Peter. They discuss much of the season like the Astrid episode and tying up stuff from season one like David Robert Jones' return. It's a good look but a bit short to be really meaty.

The Observers (11:47) looks at the characters, opening with talk on creating the character as actor Michael Cervis is in makeup to prepare for it. The producers credit Cervis with making the performance work as the actor says he based much of it on his late dog, Gibson, with head cocks and such. Audrey Wong shows off the Observer outfit, noting they don't wear coats as they never get cold and his apartment, meant to look like it exists in various time periods at once. It mentions a lot of a key episode of the season and how this will play into next year.

Beyond the Comic Book (3:38) talks about a DC Comics series written by Jackson showing the time travel trip Peter undergoes between seasons three and four. Some nice bits like Jackson so used to television, he was stunned when he realized an artist could tell tons of exposition on a single page. We also get a look at the comic, Beyond the Fringe: Peter and the Machine in a preview.

Finally, a two-minute long gag reel. Not bad but seems lacking compared to previous sets.

Rating: 7.0 out of 10.0



The 411: Fringe took a gamble this year but it paid off. By altering the mythos and history of the show, the producers created more excitment and tension for fans while keeping the fantastic storytelling going. The actors rise to the challenge, enjoying playing in this altered world and the mix of sci-fi and drama makes you rewatch episodes again and again. The extras aren't as plentiful but this season clearly shows that if Fringe is going out, they're going to do it on a creative high most TV series today should only hope to match.

Final Score: 8.5

[ Very Good ]

legend
comments powered by