SPOTLIGHTS
The Hand That Rocks the Cradle (Blu-Ray) Review
Posted by Tony Farinella on 09.07.2012

Rebecca De Mornay will not rest until she gets revenge in The Hand That Rocks the Cradle, now on Blu-Ray!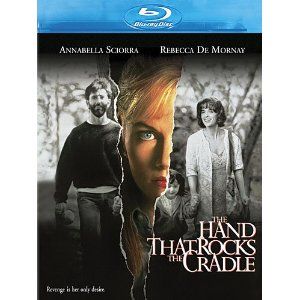 Rebecca De Mornay recently gave a stirring and deliciously twisted performance in Darren Lynn Bousmanís Motherís Day, which I liked more than I thought I would. A lot of critics compared her performance in Motherís Day to 1992ís That The Hand Rocks the Cradle directed by Curtis Hanson, who has directed some very good films in his career. Iím all for campy, silly, and over the top dramas that donít take themselves too seriously, so I figured Iíd give The Hand That Rocks the Cradle a try for some cheesy entertainment on a rainy afternoon.

Michael and Claire Bartel (Matt McCoy and Annabella Sciorra) are a happily married couple living a relatively quiet existence with their young daughter Emma (Madeline Zima). That is until Claire goes to the doctor for an exam and finds herself fondled and basically raped at the hands of this pervert. She informs her husband of this and they go to the authorities, which leads to a number of other victims coming out saying that the doctor did the same thing to them. He ends up killing himself, which ruins the life of Peyton Flander (Rebecca De Mornay) as she also loses her child in the process of her grief.

She decides to take matters into her own hands and becomes the Bartel family nanny. This is her chance to get back at them and ruin their family the same way she believes they ruined hers. Rebecca De Mornay gives a performance similar to her role in Motherís Day, and she is a lot of fun to watch, even when the material can be groan-inducing. The rest of the cast is asked to be clueless, which caused me to shake my head many times during the film as everything was so blatantly obvious.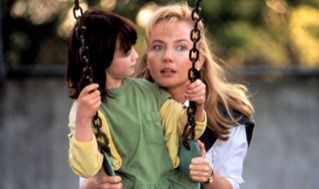 Curtis Hanson is a talented director, but a film like this is beneath him with its predictable, lazy, and most of all, stupid script. The script makes the characters act completely oblivious to what is happening for no other reason than to stretch out this thin and lifeless screenplay. Even as a B-movie, The Hand Rocks the Cradle doesnít work because itís played deadly serious at times and its intentions were to be melodramatic. Besides De Mornay, the only other performance I really responded to in the film was Ernie Hudson as the mentally-challenged repairman. He brings a warmth and sweetness to the role.

Films about obsession and stalking can be done well, but you need to either play them straight with solid performances, great cinematography, and a well-written script or you need to just play it as self-aware camp. The Hand That Rocks the Cradle is too serious and too poorly written to fall into either category. The only one who comes out smelling like roses in this one is Rebecca De Mornay who seems to understand the complete lunacy of the film and tries to save it single-handedly. Everything else is completely forgettable and unnecessary, especially the script from Amanda Silver, who wrote last year's Rise of the Planet of the Apes.

Blu-Ray Info: The Hand That Rocks the Cradle is released on a 20th anniversary Blu-Ray from Buena Vista Home Entertainment. The AVC-encoded transfer of the film really brings this twenty-year old film to life. Itís presented in 1.85:1 (1080p High Definition) widescreen and they did a terrific job with this Blu-Ray. Itís crystal clear and full of life. There are also subtitles in English and Spanish along with English 5.1 DTS-HD Master Audio and Spanish 2.0 Dolby Digital. The soundtrack, which can be overbearing at times, is intentional because of the tone of the film. So thatís understandable. Sadly, no special features whatsoever to report on this Blu-Ray release.

Special Features: None
The 411: If you are a die-hard fan of this film, I suppose itís worth owning, but be warned because there are no special features to report. Everyone else, you can pass on this disappointing film which gets a very lackluster Blu-Ray release in terms of the special features. The audio and video elements are up to par, but this is as bare bones as they come in terms of extra content. I donít know how it played twenty years ago, but in 2012, it does not hold up.

Final Score: 5.0

[ Not So Good ]

legend
comments powered by