SPOTLIGHTS
What to Expect When You're Expecting DVD Review
Posted by Tony Farinella on 09.12.2012

411's Tony Farinella lets you know what to expect when watching this film on DVD!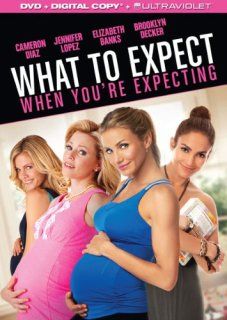 What to Expect When Youíre Expecting features two of Hollywoodís favorite formulas in the ensemble comedy and the baby movie. Hollywood loves to put a huge cast together of comedic actors and let them have interconnected stories in various ways. They also love to include pregnancies and the painful humor that can sometimes surface because of it. Yes, there is a poop joke, would you expect anything less? Itís inspired by the New York Times Best Seller of the same name. Needless to say, itís easy to see why this film was made for a big screen audience.

Alright, letís talk about the couples. We have the reality dancing star Jules (Cameron Diaz) who ends up having an oops baby with her dancing co-star Evan, played by Gleeís Matthew Morrison. Jules also hosts a Biggest Loser type show inspired to get people into shape. One of her contestants on the show is Gary (Ben Falcone), who is involved with the hard working Wendy (Elizabeth Banks). Gary takes the brunt of her pregnancy abuse, as sheís a walking time bomb. Jennifer Lopez also stars as Holly, a freelance photographer looking to adopt with her husband played by Rodrigo Santoro. Character actor extraordinaire Dennis Quaid also shows up, as the former Nascar driver with a much younger wife, played by Brooklyn Decker.

As if things couldnít get any more complicated, Quaidís character is the father of Gary, so heís ultra competitive about their respective pregnancies. Itís basically a competition to him. Anna Kendrick is also a part of this ensemble cast as a young woman that gets pregnant after a one night stand with the cocky Marco, played by Chase Crawford. Thomas Lennon, Chris Rock, Amir Talai, and Rob Huebel also show up as a group of dads who walk their babies and have their own little club, which is their own version of Fight Club, just with babies and not nearly as dangerous. There is a lot going on in What to Expect When Youíre Expecting, and at times, that is not always a good thing, as it feels over plotted and overcomplicated.



What to Expect When Youíre Expecting works better as a drama than a comedy. The film focuses on the beauty of birth and the bond that it brings to a husband, a wife, and a family. The jokes arenít really all that funny and are pretty predictable. As I mentioned, the cast is large, filled with great actors from all walks of life, but itís a little too much to handle at times. Certain characters donít get the proper screen time, and disappear for a good chunk of the movie. I wanted to spend more time with other characters, such as Anna Kendrick and less with others, such as Cameron Diaz. I feel as though they threw a bunch of stuff at the audience, hoping to keep them entertained, when a tighter and smaller cast would have been a better plan.

The first hour or so of What to Expect When Youíre Expecting is pretty run of the mill stuff with flat jokes and pedestrian storylines. Nothing that happens is really out of the ordinary or unexpected. During the last hour or so, the film does get some decent laughs and it shows us a softer side that was pretty pleasant. Overall, however, this is not the type of film Iíd recommend adding to your collection. It will work perfectly fine as a rental on a rainy afternoon. When you have a cast as loaded as this one, they are going to find their way once in a while, even if the writing is mediocre.

DVD Info: What to Expect When Youíre Expecting is released on a single disc DVD from Lions Gate Home Entertainment. The DVD comes with a digital copy, which can be added to Itunes and your Ipod. Thatís a very nice touch that you donít often get on the DVD, usually only on the Blu-Ray and DVD combo pack. The picture quality is incredibly bright, vibrant and full of life on the 16x9 widescren (2.35:1) format. The audio in 5.1. Dolby Digital with subtitles in English and Spanish is also on target with no lapses to report.

Special Features:

The Dudes Unscrewed: (12:11) On this special feature, we hear from the group of dudes that take care of their babies. They talk about working together, share their own personal stories of parenting, and some of the funny moments that occurred while making this film.

What to Expect and the Pregnancy Bible: (15:25) The book itself sold over sixteen million copies, which as explained here, is one of the main reasons the book was turned into a movie. The author Heidi Murkoff also shares some interesting stories about the book and the film coming together both in writing and on the screen.

Deleted Scenes: (05:03) Most of the scenes here include Rebel Wilson, who is downright hilarious. She is having a ton of fun here, improvising I believe, though I canít say for sure. It looked like she was just riffing for the most part.
The 411: What to Expect When Youíre Expecting, thanks to an all-star cast, is a pleasant if predictable DVD rental. I think you know before you even put the DVD in the player if this is the type of film for you or not. It could have been better if the writing was sharper, had more to say, but itís your typical Hollywood sort of ensemble comedy. Iíve seen worse and Iíve seen better. This is somewhere in the middle.

Final Score: 6.0

[ Average ]

legend
comments powered by