SPOTLIGHTS
Snow White and the Huntsman (Blu-Ray DVD Combo Pack) Review
Posted by Tony Farinella on 09.15.2012

This is the second film about Snow White that has been released this year. Is it better or worse than the previous one? Read the full review for details!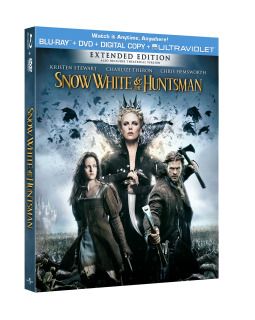 Is it possible to admire a film and the craftsmanship that went into making it but not totally like it? Thatís how I felt about Snow White and the Huntsman. There were times when I was watching the film that I was completely in awe at the visuals that were on screen. I had a lot of wow moments that honestly took my breath away. Outside of that, there wasnít a whole lot to like about the film. There were many times where I had to be ďthat guy,Ē and ask the person sitting next to me, ďWait, whatís happening?Ē Before long, I noticed it was almost ninety minutes in the film and nothing of note was really occurring.

This is of course the second Snow White film we have seen this year and to quote Richard Roeper, the team of Kristen Stewart and Charlize Theron soundly defeat the team of Lily Collins and Julia Roberts from Mirror Mirror. They are two completely different films, however, with one being aimed at children and this one being aimed at a more adult audience. Itís clear what they were trying to do with this story, make it a darker, more visually appealing Snow White for modern audiences.. You have to have a coherent storyline to add to that, and if not, the visuals will wear out their welcome before itís all said and done.

The King (Noah Huntley) marries the beautiful Ravenna (Charlize Theron) following his wifeís death. Their honeymoon does not go well when she ends up killing the King with a knife, which makes her the new ruler of the kingdom. His daughter Snow White (Kristen Stewart) is locked up while Ravenna is using her new power for evil. Before long, she is becoming power hungry and completely out of control. The only one that can stop her is Snow White, who she needs in order to be eternal. The Huntsman (Chris Hemsworth) is in the middle of all this, grieving and trying to figure it all out.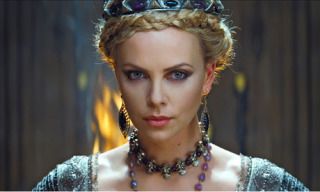 Director Rupert Sanders shows incredible attention to detail as no stone is left unturned in this film. Itís clear that the look and feel of the film was very important to him and the precision is eye opening. I would recommend the film as a rental solely based on how stunning the film looks on Blu-Ray, but I canít overlook the clear story issues that run rampant in the film. Theron is not afraid to give it her all in this film and is extremely out there, but itís never boring. When someone is that power hungry, they are not going to be played as a sane human being. Stewart looks like Snow White and understands the essence of the character. Sheís a good counterpart to Theron.

At over two hours, Snow White and the Huntsman is sometimes a chore to sit through with its slow and moody pacing that goes nowhere at times. If they would have cut the running time by twenty minutes, focused more on the acting and let the visuals be a backdrop to the story, it would have been a really good movie. As it stands, itís an average movie with one great performance, one good performance, and a lot of filler in between. As a rental, strictly on the mesmerizing images displayed on screen, itís worth watching I suppose. I just wouldnít rush out to Red Box or Blockbuster to see it anytime soon.

Blu-Ray Info: Snow White and the Huntsman is released on a two-disc Blu-Ray and DVD Combo Pack from Universal Pictures. Universal has been on a complete tear with their Blu-Ray releases and this one is no exception, thatís for sure. Iíve talked about Jaws and The Lorax recently, and this one is right up there with those Blu-Ray releases. The presentation and the picture quality, 1080p/AVC-encoded transfer, is nothing to sneeze out. While watching the film, the viewer feels fully engulfed in the story and the world that was created. The fighting sequences in particular are amazingly crystal clear and were among my favorite scenes in the film. Subtitles are included in English, Spanish, and French and the audio, English DTS-HD Master Audio 5.1/DVS2 2.0 and Dolby Digital 2.0, Spanish and French DTS Digital Surround 5.1, is pitch perfect. One of the top ten Blu-Ray releases of the year, no doubt. There is also a digital copy that can be downloaded on ITunes for your Ipod.

Special Features:

A New Legend is Born (20:53): On this special feature, they go into detail about the story, putting it together, and how it was created for the big screen. It features interviews with different talent involved in making the film.

Reinventing the Fairytale (06:07): This special feature informs the audience on how they wanted to take the story in a different direction. We learn about their reasons behind different story choices.

Citizens of the Kingdom: Four special features are included in this feature, and they include Fairest of Them All: Snow White (05:48), Deliciously Evil: Queen Ravenna (5:36) The Huntsman (05:04), Motley Crew: The Dwarves: (06:42). These are focused on the characters and how they came to life on screen.

The Magic of Snow White and the Huntsman (13:23): If you, like me, were blown away by the cinematography, this special feature is for you, as we learn all about the making of the film.

Around the Kingdom: Director Rupert Sanders introduces this special feature which takes you inside the kingdom which is quite impressive, without question.

Commentary with Director Rupert Sanders, Visual Effects Supervisor Cedric Nicolas-Troyan and Co-Editor Neil Smith: Everyone here is informative if not bland at times. I wasnít crazy about the film, and I learned so much about it with all of these special features that there wasnít a lot to be added with this commentary.

Picture-in-Picture track: This allows the viewers to access extra content while viewing the film, which, for me, was a bit of a distraction at times. For others, they might find it pretty cool.
The 411: Snow White and the Huntsman is the better of the two Snow White films released this year, but it's still not good enough to recommend it. Charlize Theron is a real treat in this one, and I wanted to see more of her in this film, because she steals every scene. As I've said many times in this review, this is a real visual treat for the eyes. Sadly, it doesn't offer much for the brain. Rent it if you are completely out of options.

Final Score: 6.0

[ Average ]

legend
comments powered by