SPOTLIGHTS
The Vampire Diaries: The Complete Third Season DVD Review
Posted by Michael Weyer on 09.16.2012

In its third year, the CW's supernatural drama just amps up the wicked drama and stories with some shocking turns for its main characters and fans.

The Vampire Diaries the Complete Third Season
Warner Bros Home Video
927 Minutes




Since its inception in 2009, The Vampire Diaries has risen from merely a Twilight rip-off to possibly the best series on the CW. Its mix of shocking twists, clever writing and amazing cast has enthralled fans for its first two seasons. For the third, the series takes stunning turns with the characters, willing to throw fans in a tizzy to keep the series fresh and exciting. They succeed as the mythology of the show deepens and yet remains more emotional and dramatic than most non-genre series out there. The series just amps it up in its third year to keep fans gasping and terrific to see a show so daring succeed so well.

The Series

We pick up from the season 2 cliffhanger as in order to save Elena (Nina Dobrev), Stefan (Paul Wesley) has agreed to follow murderous vampire Klaus (Joseph Morgan) and encouraged to return to his old ways as "the Ripper." Elena is desperate to find him, teaming with Damon (Ian Somerhalder) and Alaric (Matt Davis) as Stefan learns that he and Klaus knew each other back in the 1920's, Stefan made to forget that as well as the return of Klaus' sister, Rebekah (Claire Holt). Back in Mystic Falls, being brought back from the dead is causing Jeremy (Steven R. McQueen) to see ghosts, especially his former vampire girlfriend Anna (Malese Jow) and Matt's (Zach Roerig) sister, Vicki (Kayla Ewell). Bonnie (Kat Graham) tries to help even as she faces anger at the vampires over what they've done to her family. A major development is vampire Caroline (Candice Accola) hooking up with werewolf Tyler (Michael Trevino) only for Tyler's mother, Carol (Susan Walters) to drug Caroline and have her tortured by vampire hunter Bill (Jack Coleman)…who just happens to be Caroline's father. It's not long before Stefan and Klaus return to Mystic Falls with Klaus embarking on a quest to create a race of vampire/werewolf hybrids only to face the return of his family, the Original vampires.

From the start, the series dares to shift audience expectations with the sight of the noble Stefan turned back into the murderous killer he once was, at first fighting it but soon giving in to his instincts. A thrilling early episode has Klaus setting a time clock in the school gym so in one hour Stefan will "turn it off" against Elena. She survives but Stefan is now without conscience and Wesley does a great job showing a more wicked side as we realize Stefan is actually even more twisted than Damon. Somerhalder wisely doesn't make Damon an instant good guy, still sardonic and wicked but clearly jarred at Stefan's turn with the brilliant idea that Damon was making himself so bad so Stefan could feel better about himself. The actor grows in the part, showing the inner pain of Damon over his brother's actions and pushed to help Elena more even as he cuts a swath of bodies and broken hearts. He gets a great spotlight in an episode flashing back to Damon meeting a vampire (Cassidy Freeman) who taught him how to be the smooth ladykiller we know today. Meanwhile, Dobrev continues to show Elena fighting feelings for both brothers, jarred with the new Stefan and wanting to save him yet can't deny her attraction to Damon while handling the coming danger of Klaus. Dobrev also gets to play her evil double Katherine, still wickedly funny and stunning with how the actress makes it work. The chemistry between the three is key to the show and continues to shine in this year.




The supporting cast are helpful too, especially Accola. The story arc of being tortured by her own father is harrowing and you can see an obvious theme in him trying to "cure" his daughter before her mother stops him. Coleman continues to make appearances, his Bill intriguing in that his hate of vampires is fueled by true love for his daughter and their final scenes pack a major punch. A later episode has Caroline's birthday coming up but her annoyed as she'll always be 17, which she describes as a "filler" year. She and Tyler see their relationship tested when he's targeted by Klaus to become a hybrid, making Caroline worry about who he's really serving. The idea of Klaus intrigued by her isn't fully developed but Accola does a great job with this vampire who's still a high school queen at heart. Of course, that does showcase one of the key drawbacks of the show: After all the drama and action, it's a bit crazy these kids still go to high school amid the constant danger, even more when Rebekah becomes a student as well. Surely, the fact that half the cast are immortal should put the idea of being "normal" teens aside and having the now-killer Stefan and Elena having confrontations in a school hallway just doesn't seem right as the show has grown beyond its boundaries of the early first season.

That's added by how the plotline of the season grows and twists. Bonnie reaches out to her long-absent mother, Abbey (Persia White) only to have her get involved in Klaus' plot by bloody means which gives the young witch a major chip on the shoulder and increased power. A standout of the first half of the season is an episode where the ghosts about town are able to take physical form, with the appearance of some characters killed off in season 1, including one who tires an "intervention" on Stefan. It also has what is truly one of the most emotional scenes of the entire series with Anna's farewell. Jeremy sort of falls into the background after that and the show even acknowledges that by coming up with a unique way to write him off for several episodes. Matt has a meaty bit in one episode where he tries to kill himself in hopes the near-death experience can allow him to see sister Vicki again and having him be in the know about the supernatural gives the gang an important human ally. Also adding spice is Meredith Fell (Torrey DeVitto) a doctor who has sparks with Alaric but of course has her own secrets. Morgan is terrific as Klaus, twisted and evil but with a dry humor and you can understand why he intrigues so many people. Holt is fun as Rebekah, who takes eternal life with a laid-back attitude, who decides a prom dress by hypnotizing a dozen teens into modeling for her and seems to go out of her way to take the "It Girl" label from Caroline at school just because she can. Yet she nails dramatic moments like conflicts with Klaus and even feelings for Damon despite her dark spirit. The season kicks up with the return of the Originals as we learn the full origins of the vampire race, their relationship with werewolves and how magic mixes into it, all done very well so it doesn't feel like an exposition dump episode but rather a smooth story. A bonus is that the matriarch of the clan, Esther (Alice Evans), has a plan for her family that catches everyone by surprise.




As with previous seasons, it's hard to talk about Diaries as the series rests on its constant ability to catch you off-guard and throw the plot into unexpected directions. The final episode proves that with a flashback changing everything you know of one major relationship and a key character transformed forever in shocking fashion. The production values are top-notch from effects to the mood of the flashback scenes, the music mixing modern songs with an eerie score to pull you in. The writing also continues to be sharp with great laugh lines by Somerhalder and Accola, mixing laughs with the thrills in a fine balance. The constant plans against Klaus and why they fail are great to watch and having it on DVD allows you to rewind to meaty moments like Alaric discovering the darker side of the protective ring he wears. While the high school setting may seem a bit off now, the characters and their stories are the central part of the series and once again, Diaries proves itself above a mere genre series into one of the hottest and wickedest shows on TV today and season three just makes it oh so much better to bite into.

Rating: 8.5 out of 10.0


Video

Widescreen with a 1.78:1 aspect ratio, the picture isn't as sharp as the Blu-Ray but still quite excellent for a TV show on video. The night scenes are wonderfully moody and shot well and the daylight scenes work as well along with the variety of special effects and the unique flashbacks. The production is as top-notch as always and thus the video is clear to allow fans of the show to enjoy another fine season.

Rating: 9.0 out of 10.0


Audio

Dolby Digital 5.1 Surround Sound with subtitles in English, French and Spanish. Again, a great audio track to keep with the always fine music of the show and the subtitles can help with the accents of some characters. No need to adjust the volume as you can enjoy the sound in fine form and aid the enjoyment of the series.

Rating: 9.0 out of 10.0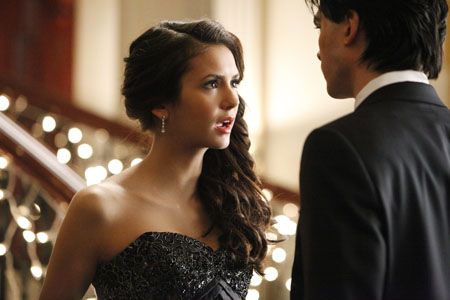 Bonus Features

Sadly, Warner Bros appears to be cutting down on special features for TV season sets as we have no audio commentaries this time around.

Stefan's Descent into Darkness (9:43) is an overall look at the season, producer Julie Plec saying that Paul Wesley wanted more of Stefan and her telling him their plans for him. They explain they went out of their way in season two to make him noble, "making him as good as possible to take it all away." Wesley and Somerhalder both loved the shifting of the Stefan/Damon relationship and everyone hails the "Reckoning" episode as a major highlight of the series. A fun bit is the talk on picking the right music, making it tense but also romantic, exactly the balance Diaries is all about.

The Original Vampires: The Beginning (21:45) goes in-depth to the origins of the vampires on the show with Dace Stroker (descendant of Bram) explaining how the vampire legend came about from the plague claiming victims in old England. We get a lot of flashbacks to the episodes explaining the Originals and the writers talking about integrating witchcraft along with charts on the bloodlines of each vampire and who they sired. While the show is magical, they try to base it in some reality and science to make it more relatable and how they liken it to a dark fairy tale. Good to sum up the sometimes confusing backstory in a good way for fans.

We get a half dozen deleted scenes spread through the discs like a great talk between Caroline and her mom and an encounter between Tyler and the sheriff. Plus, a three minute blooper reel.

Rating: 7.0 out of 10.0




The 411: While the extras this time around aren't expansive, the content for The Vampire Diaries more than makes up for it. Between the amazing stories, the wild twists and the willingness to make major changes to characters, the series shines, backed by its fantastic cast and wicked soundbites. This year is just meatier than ever, keeping you guessing what will happen all the way to the stunning finale and providing some amazing episodes in the meantime. For fans of the show, it's the best year yet while newbies will find out why it has such a following and is more than worth biting into.

Final Score: 8.0

[ Very Good ]

legend
comments powered by