SPOTLIGHTS
Magic of Belle Isle (Blu-Ray) Review
Posted by Tony Farinella on 09.20.2012

Are Virgina Madsen and Morgan Freeman a match made in movie heaven? Read the full review to find out!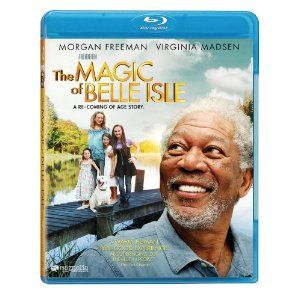 As a fan of great acting, itís hard to ignore the noticeable talents of both Virginia Madsen and Morgan Freeman. One would think that if you put the two of them in a film together, movie magic is likely to occur. However, great actors are only as powerful as the script in front of them and the lines they are reading. They can only do so much. There are times where films can succeed just because of the acting, but it is quite rate. The Magic of Belle Isle, directed by Rob Reiner, is a disappointment and the script is clearly to blame, although the cast is not entirely innocent.

Morgan Freeman stars as Monte Wildhorn, a persnickety old man who has no interest in getting to know anyone and would rather spend his days drinking beer and wallowing in self pity. Heís spending his summer at a lakeside cabin thanks to his nephew played by Kenan Thompson in Belle Isle. His only job is to take care of the dog, which heís not exactly thrilled with, to say the least. His next door neighbor is played by Virginia Madsen, a single mom with three young daughters who give her all she can handle and more.

After my brief plot description, Iím sure you can piece together the rest of the puzzle from this point forward. Needless to say, there is little originality to the film, as they are convinced that Freeman and Madsen are charming and enchanting enough to sustain the film for almost two hours. While there is no disputing the warmth they bring to the screen, it all feels a little too predictable and overly sweet without any sense of realism or authenticity to the mix. Iím all for films that make me feel good, but too much sugar and sweetness can be bad for you.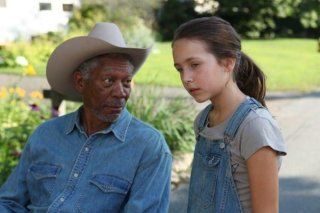 Morgan Freeman is one of our best actors, there is no disputing that, but here it almost feels like Morgan Freeman playing Morgan Freeman. Heís talking in that Morgan Freeman voice we have heard in countless documentaries before, but in a film format, it just feels like heís reading lines off the script while trying his hardest to sound wise and full of wisdom. Itís not a bad performance, but a more restrained performance would have netted much better results for the film. Madsen turns in her usual solid work and gives the best performance in the film. She knows to wear her emotions on her face rather than her sleeve and downplay it instead of making it so overt.

The Magic of Belle Isle was a big disappointment for me, as this was a film that I had been dying to see for quite some time now. I love moving dramas with sharp screenplays and top notch actors. Sadly, the screenplay is incredibly run of the mill, takes no chances and Morgan Freeman turns in a bizarre performance. Thereís no question that we need more feel good movies that appeal to older audiences, but this one was an insult to my intelligence. The grumpy old man and the beautiful middle aged wife storyline followed every cliché in the book, and Freeman and Madsen deserved better.

Blu-Ray Info: The Magic of Belle Isle is released on a single disc Blu-Ray from Magnolia Home Entertainment in 1080p high definition 16x9 (1.85:1). This is a flawless production that is quite gorgeous for an independent film. The audio, English 5.1 DTS-HD Master, is also done with great precision and execution. This is the type of film that greatly benefits from Blu-Ray, as the gorgeous scenery bursts out of the screen and enhances the viewing experience. Subtitles in English and Spanish are also included.

Special Features:

Discovering the Magic of Belle Isle (17:27): On this special feature, director Rob Reiner and select cast members talk about the film and what about it spoke to them and made them all want to be a part of it. They also share their personal stories from the set as well.

Commentary with director Rob Reiner, actors Morgan Freeman and Virginia Madsen: If only the film was as enjoyable as this commentary track, perhaps I would have recommended it. Itís easy to see that the story meant a great to deal to everyone involved as you can hear the passion in their voices. Itís great to hear all of them on this track together.

Interview with Rob Reiner: (11:02) Reiner talks about the film, how he heard about it, and why he wanted to do the film.

AXS TV: (04:59) Basically, Reiner introduces the film and then the trailer is shown.

Behind the Scenes Picture in Picture: (03:33) A scene from the birthday party is shown as it is being filmed, so this is basically a behind the scenes look of whatís happening thatís not on camera
The 411: On paper, The Magic of Belle Isle should have been a good film, but in actual execution, it's a dud. I haven't been this disappointed in a film that I've been waiting to see for quite some time. I kept waiting for the film to take off and have something to say, but this film was dead on arrival. I'd pass on this one, as much as it pains me to say that. Madsen is one of our finest actors, and I hope to see her in more worthwhile roles in the future.

Final Score: 5.5

[ Not So Good ]

legend
comments powered by