SPOTLIGHTS
Judge Dredd (Blu-Ray) Review
Posted by Tony Farinella on 09.21.2012

Before you see the new Dredd, should you see the original? Read the full review from 411's Tony Farinella!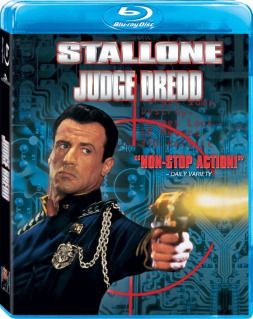 Sylvester Stallone has always been one of the most difficult actors in Hollywood to figure out in terms of his film choices. As Gene Siskel used to say, Stallone is a writer, most notably the original Rocky, so he knows a thing or two about good movies and good writing. Yet, he seems content to let his action hero persona take over on these big budget films that are full of visual eye candy but nothing else. Judge Dredd from 1995 is a major disappointment in the career of Stallone, who has made some pretty awful films in his career along with some pretty good ones.

Stallone stars as Joseph Dredd, a street judge in a world where judges do a little bit of everything when it comes to battling criminals. They are everything wrapped up into one: police officer, judge, jury, and executioner. Needless to say, they have a lot on their plates. His partner is the beautiful Diane Lane, Judge Hershey, who brings a certain warmth and kindness to an otherwise brutal film. Stallone, on the other hand, is incredibly serious, oftentimes too serious which makes the film, at times, a complete bore. Itís a hard character to root for and engage with because heís a dullard on screen.

A former judge named Rico, played by Armand Assante, is out on the loose, and heís a few cans short of a six pack. Heís a dangerous killer who is going to take over the city with Judge Dredd in jail after being falsely accused of murder. Armand Assante seems to understand the complete lunacy of the film and his character and plays it accordingly. If the rest of the film followed the same sort of over the top fun that Assante brought to his role, this film might have worked as an over the top campy flick. As it stands, itís a mess.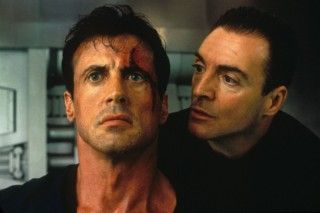 Judge Dredd is a loud, unnecessary, and incoherent catastrophe from start to finish. Itís another film in a long legacy of bad film choices from Stallone joining Stop or My Mom Will Shoot, Cobra, Rhinestone , Demolition Man, The Specialist, and Get Carter. In interviews that were conducted years after the film was released, Stallone has talked about liking the idea of the film and what it represented, and there is potential there which is shown in glimpses during the film. Iím not familiar with the comic books, but I agree with Stallone that it should have had some comedic elements to it and some fun. This film is a no fun zone.

Stallone has made some bad movies in his career, but thereís no denying that Judge Dredd is one of his all-time worst films, without question. Itís a film that doesnít know what it wants to be, really. I think Assante understood that the film is ridiculous and played it as such while Stallone is so uptight and so somber. There is going to be a new Dredd film and although I wasnít initially excited about it, Iíve been hearing strong word of mouth surrounding it. Perhaps it will be the Dredd film that should have been made in 1995. This film, however, is a waste of time for everyone involved, especially the audience. Stallone was right about this: Itís a missed opportunity.

Blu-Ray Info: Judge Dredd is released on Blu-Ray for the first time by Buena Vista Home Entertainment. The audio transfer is in 1080p, AVC-encoded and itís a significant upgrade from the DVD release. No noticeable grains were present while watching the film and itís incredibly clear. The film isnít that old, but itís an improvement and looks great. The aspect ratio is 2.35:1. The audio is English 5.1 DTS-HD Master Audio and itís a loud soundtrack, but thatís clearly understandable with a film like this. This is an action film that is heavy on action, so the booming audio is expected. Subtitles in English, French, and Spanish are also included.

Special Features:

Stalloneís Law: The Making of Judge Dredd (20:02) This is a special feature from the initial release of the film, so itís clearly dated. Itís your standard behind the scenes special feature with interviews from the cast and behind the scenes stories. It would have been interesting to see a new special feature with their thoughts on the film all these years later, but Iím sure not many of them would like to talk about it anymore.
The 411: Judge Dredd is Stallone at his absolute worst, and itís not a pretty sight. I like Stallone, I really do, but when he takes himself or his persona too seriously, itís an absolute disaster. The Blu-Ray looks great, but the film itself is not worth watching on any format, Blu-Ray, DVD, or even VHS. Iíd wait for the new Dredd film to come out and try to erase this 1995 film from your memory if you have had the unfortunate pleasure of seeing it.

Final Score: 4.0

[ Poor ]

legend
comments powered by