SPOTLIGHTS
Nikita: the Complete Second Season (DVD) Review
Posted by Michael Weyer on 10.05.2012

In its sophmore season, the CW's sexy spy hit amps up the action and drama with a great cast and wild stories for one of the coolest series on TV today.

Nikita the Complete Second Season
Warner Bros Home Video
973 Minutes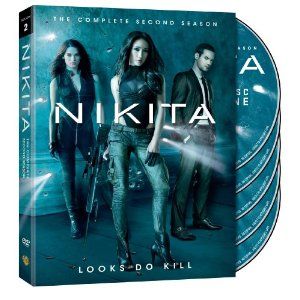 When Nikita debuted in 2010 on the CW, there were doubts it could work. The property had long life but surely enough had been done with the idea of a former assassin now targeting the agency she once worked for? However, the series soon clicked into a great groove thanks to an engaging cast, the clever set-up of Nikita having an ally within the wicked Division and some major plot twists that kept you guessing. For its second year, the series just amps up the action, drama and amazing twists with new depth for its characters and surprising revelations of back-story. Now on DVD, fans can enjoy a fantastic ride that offers more excitement than most blockbuster films and with one amazing leading lady.

The Series

The second season begins with Nikita (Maggie Q) and Michael (Shane West) on the run together from Division. Ambushed, they're saved by none other than techno-geek Birkhoff (Aaron Stanford), who's also left and using his stolen millions over the years to stay off the radar. He brings them up to speed on how Percy (Xander Berkeley) is in a glass cell in Division's basement while Amanda (Melinda Clarke) now runs Division, answering to Oversight, the higher-ups pulling the strings. Among them is U.S. Senator Madeline Pierce (Alberta Watson, who starred in the old La Femme Nikita TV show) whose son, Sean (Dillon Casey) works as a liaison to Division. Alex (Lyndsy Fonseca) is working for Amanda but soon seeks out to reclaim her heritage as the heir to a Russian magnate fortune. Nikita and Michael are soon with Birkhoff in what he terms a "bizzaro Three's Company" as they work to try to find the black boxes Percy has secreted over the world and their Guardian agents. However, it soon turns out Amanda is forging an alliance with Division's Russian rival, Gogol, whose leader Ari (Peter Outerbridge) wants Alex taken care of. And Percy is soon playing his own game to escape and regain control of Division en route to a major power play.

The series takes a bold move breaking from the formula of season one but makes it work. Having Nikita and Michael freed of their usual backups except for Birkhoff is good as the trio have a fun chemistry, Birkhoff wanting nothing to do with this at first but pulled into helping. Some plots are unique like the old "brainwashing civilians to become killers" story where Birkhoff bonds with the pretty victim/killer. Nikita's past comes up when she tries to help an old friend escape a Turkish jail and then Michael gets a major storyline when he has to help a woman he once loved escape her dictator husband. It leads to a big twist as Nikita realizes the woman's son is Michael's and while she keeps it quiet at first, eventually tells him, forcing Michael to choose between Nikita and a second chance at the family he once lost. The two actors have a wonderful chemistry that shines in both fight scenes and conversations, both haunted by the darkness of what they once did but still trying to make amends for it. Q is fantastic in both fight scenes and gorgeous dresses, totally believable as this agent and selling moments like Nikita tracking down her birth father.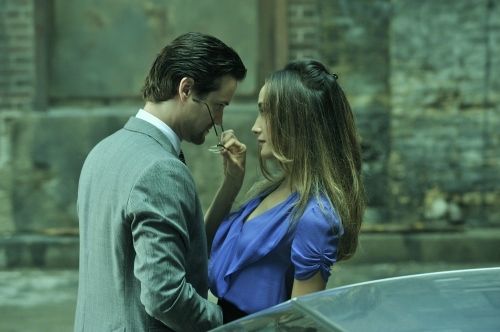 At first, the season seems a bit too predictable with Amanda and Percy trading barbs at his cell, although both actors are great there selling how each is convinced they're helping the country with their work. But just like the first season, this year makes a bold shift mid-way through. Alex finally travels to Russia and soon comes out to the public to take back her father's company. Fonseca steps up her game big-time this season, Alex coming into her own as a steely woman ready to do what it takes to gain revenge and redeem her family's name and does it with great style as she also handles a major secret of her past. Another arc has Nikita meeting the woman who helped her when she was a junkie, Carla (Erica Gimpel), who turns out to have helped form Division. She and Nikita work together but a powerful moment has Carla snapping about how they can "save" Division and Nikita is stunned to realize her mentor doesn't realize how corrupt the organization has become. This soon leads to the revelation of a connection between Amanda and Gogol and Percy escaping to work his own plan. We get the return of faces like Owen (Devon Sawa) and Ryan Fletcher (Noah Bean) who help out as the show builds to a fantastic finale.

The writers clearly know what they're doing, setting up plot lines nicely like what Percy's true game is and major twists in plots such as how it appears the head of CIA is working for Percy but not as obvious as it seems. We get fun stuff like in one episode where Nikita convinces Birkhoff to use his fortune as bait for an arms dealer. Unfortunately, the guy turns out to be the Bernie Madoff of the terrorist world and Birkhoff freaks out over losing his money (with Nikita rightly firing back that he stole it all in the first place), going on his own and getting caught. Stanford is great with the humor, including flirting with Division's new computer tech Sonya (Lyndie Greenwood) and talking of how insane Nikita's plans are but also a harrowing torture sequence. At first a bit stiff, Casey grows as the season goes on as Sean realizes how dirty Division is and jumps into helping Nikita. His flirtation with Alex is well-handled through the year just as Fletcher works well when he joins the team. Berkley is fantastic as Percy, calm and smooth, selling how he's totally in control no matter what and seeing his acts in the final episode are beautiful to watch. Seeing the double-crosses and plots unfold are terrific as you truly care for these characters and invested in the stories.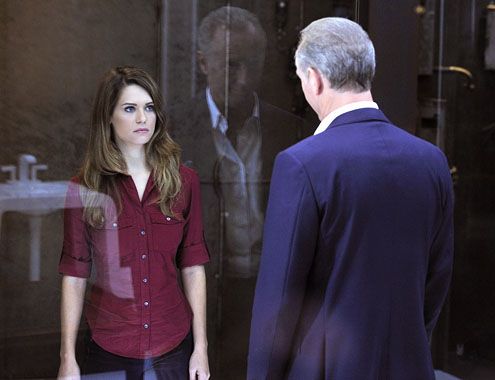 The producers do a great job using Toronto to stand in for places ranging from Moscow to Paris and the fight scenes are excellently done. The scripts are powerful but also have nice one-liners and good humor with Q showing surprising comedy skills at places. However, it's the story that pulls you in, watching this woman with such a dark slate on her past try to redeem herself and after seeing her on her own in season one, it's wonderful watching her forming a new family of sorts. There's no lull in the season, each story has great quality and fits into the overall arc of the series. Every episode packs more excitement and action than most entire TV seasons and the momentum builds more and more leading to a finale that seems an end to the show as we know it but also promises another year of surprises. Overall, season 2 more than outdoes its first year as Nikita shows how a kick-ass spy show should be done right and with style.

Rating: 9.0 out of 10.0


Video

Widescreen with 1.78:1 ratio, the picture is quite clear and crisp, needed for the fight scenes, with no problems handling both exterior and interior scenes. The show rests on visuals so much, especially its unique camera grains and mood lighting and the DVD brings that to great light allowing you to appreciate the detail that goes into things.

Rating: 9.0 out of 10.0


Audio

Dolby Digital 5.1 Surround Sound with subtitles in English, French, Portuguese, Spanish, Korean and Thai. The audio is quite good, no need to adjust the volume too much, bringing in both the good musical score, the dialogue and action sequences in fine form. The subtitles help with the complicated plots and form a great package to sell the series.

Rating: 9.0 out of 10.0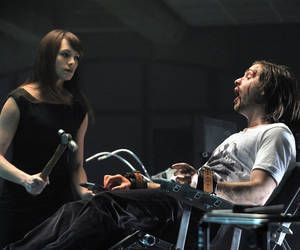 Bonus Features

We get an audio commentary for the season finale, "Homecoming" with showrunner Craig Silverstein and writer Carlos Goto. They give lots of props to the actors involved in things and how they put it together, building on the themes of the year like "Nikita trying to find a home." Naturally, hard to discuss as it gives away a lot of the finale but still shows the care and passion the creators use to make the series so good.

What If? Writing the Fate of Division (25:22) looks at the writer's room as executive producer David Levinson says he got the "What If" theme from a license plate of the late Stephen J. Cannell. Silverstein talks of how they pitch so many ideas at once, run them into the ground and start fresh the next day to help them get episodes right. We see the massive white board in the writer's room filled with story outlines and plots you might want to freeze-frame for. Albert Kim says the second season was even harder after the first and openly admits they were just making stuff up as season 1 went along but went in with a plan this time. The actors are interviewed on how their characters are all trustworthy until things are put before them they want. They also talk of how they get inspiration from everything from X-Men to G.I. Joe and pull it together. A talk is on the finale and how it sets up season three, a good insight to the show's creation.

Living the Life: Maggie Q (7:55) is a short look at the actress as we see her train and a tour of her trailer with her talking about liking hunting but "never shoot anything that lives." It's also fun to talk of her handling the unique outfits, making sure they can really work on her and not be too sexy rather than practical. Short but good look at the show's star.

There are a dozen deleted scenes adding up to about a half-hour spread through the discs. Among some fun stuff are Michael handling a disguise; Alex listening to Sean on the phone talking of his problems with Division; a longer scene between Nikita and an old friend; Birkhoff and Sonya's first meeting/cyber-battle; and Alex meeting the man who rescued her as a child but later sold into slavery, a very tense scene well acted by Fonseca.

Finally, a five minute gag reel, mostly blown stunts but funny improv lines by Berkley.

Rating: 8.0 out of 10.0



The 411: The second season of Nikita is far better than its first, not just in action and writing but also the actors clicking into their roles and taking them in new directions. The show excels at keeping you guessing with plot twists and shifting loyalties along with some amazing fight sequences and good use of its budget. The extras flesh out the care taken in the writing that makes it work and lets you appreciate a show whose following should be much larger given its amazing quality and how a spy series should work right for TV today.

Final Score: 8.5

[ Very Good ]

legend
comments powered by