SPOTLIGHTS
People Like Us (Blu-Ray Combo Pack) Review
Posted by Tony Farinella on 10.12.2012

Elizabeth Banks and Chris Pine star in People Like Us! Should people like us check it out?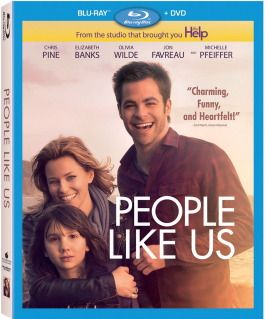 People Like Us stars Chris Pine and Elizabeth Banks as brother and sister dealing with the death of their record producer father and trying to figure out their past, present, and future. I think Chris Pine and Elizabeth Banks are fine actors, but I canít say Iím rushing out to see a movie that stars either of them. If you put them in an ensemble piece or in a supporting role, Iím all for it. However, I donít think they have enough juice to carry on a film on their own, and that is one of the major problems with People Like Us.

Sam (Chris Pine) is a cocky barterer who has seen better days and finds himself in deep water after some questionable tactics. To make matters worse, he discovers that his father has passed away and he needs to return home. He wants nothing to do with his family and tries to get out of it, but his girlfriend played by Olivia Wilde is one step ahead of him. His mother played by Michelle Pfeiffer has her own problems and issues with her deceased husband and her estranged son.

A lawyer (Phillip Baker Hall) leaves Sam a shaving kit that includes $150,000 in cash with a note inside that informs him to give the money to someone named Josh. Josh turns out to be an eleven year old boy with a mother named Frankie, played by Elizabeth Banks. She is also Samís half-sister which makes the situation even more complicated. Both of them could use the money, so it puts Sam in quite an uncompromising situation. From this point forward, the film is an exercise in patience as things that are painfully obvious to us are hidden from certain characters for the sole purpose of dragging out this paper thin plot.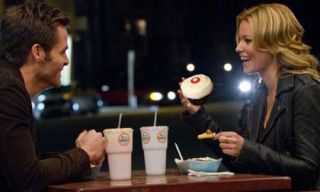 Films about secrets and lies are always exhausting to sit through because as an audience member, youíre simply waiting for the big revelation to be revealed. Once itís revealed, then everything hits the fan and we walk for the resolution in the final act. Thatís exactly the case with People Like Us, and I had the entire film figured out within fifteen minutes of watching it. Then itís simply going through the motions and extremely tedious to sit through. All of it is portrayed as ďinspired by true events,Ē which doesnít really add anything to the film.

People Like Us fails on two levels, the major one Iíve talked about is the story and how itís portrayed and relies too heavily on misunderstandings and confusion. The other level it fails on is the casting of Pine and Banks. These are two solid actors, but I donít think theyíre suited to be the leads in a studio film like this. Pine was entertaining in Unstoppable with Denzel Washington, but that film was definitely the Denzel show. Banks has proven to be a funny comedic actress, but Iím still trying to wrap my head around her as a serious actress. People Like Us is a giant misfire from start to finish.

Video Info: People Like Us is released on a two disc Blu-Ray and DVD Combo Pack on 1080p MPEG-4VC with an aspect ratio of 2.35:1. The film is a drama, so itís not like there are special effects or great visuals that need to be shown in a certain fashion. However, the transfer is crisp and looks very good on Blu-Ray. I didnít notice any grainy images or color issues. This is a good visual release for a Hollywood drama.

Audio Info: The English: DTS-HD Master Audio 5.1 soundtrack is easy to listen to and sufficient for a slow moving drama like. The film is very talky, and the dialogue with the actors was clear and I didnít have to turn it up or turn it down to understand them. It stayed consistent throughout the duration of the film.

Special Features:

Number One with a Bullet: The Story Behind People Like Us (14:28): On this special feature, the filmmakers discuss the film, the story, and what it was like putting it together on the big screen.

Audio Commentary with Writer/Director Alex Kurtzman and Actors Chris Pine and Elizabeth Banks: I didnít find this commentary track all that interesting, but thatís probably because the film didnít really do anything for me. The actors are likable, charming, and they seemed to really enjoy the film.

Taco Talk: Extended Henryís Taco Scene (4:51): This is an extended scene where Frankie and Sam talk over tacos.

Bloopers (3:54)

Select Scene Audio Commentary with Writer/Director Alex Kurtzman and Actress Michelle Pfeiffer: Eight scenes which total thirty five minutes in running time are included here with commentary by the director and the always lovely Michelle Pfeiffer.

Extended and Deleted Scenes introduced by director Alex Kurtzman: These total eighteen minutes in running time. The film is almost two hours, so these scenes are completely unnecessary.
The 411: People Like Us is a run of the mill, forgettable, and bland melodrama. It was released this past summer and quickly departed from theaters, and after watching it on Blu-Ray, I can see why. Itís just unnecessary and unneeded. Nothing that happens in this film is surprising or shocking. This film really annoyed me.

Final Score: 4.0

[ Poor ]

legend
comments powered by