SPOTLIGHTS
E.T. The Extra-Terrestial Anniversary Edition Blu-Ray Review
Posted by Michael Weyer on 10.14.2012

Steven Spielberg's classic blockbuster debuts on Blu-Ray with a presentation that makes you fall in love with it all over again.

E.T. The Extra-Terrestial Anniversary Edition Blu-Ray
Universal Pictures
115 Minutes




In the course of the history of the Academy Awards, there has been the debate over whether a blockbuster or smaller film is more worthy of Best Picture. In some cases, the Academy seems to have chosen poorly with the blockbuster (Titanic, Return of the King, Around the World in 80 Days) when there were better films that year. Other times, you can argue the blockbuster deserved it more (as with Star Wars). One of the biggest examples of this debate was in 1983 when the Academy decided to grant Best Picture and director not to that yearís biggest box office smash, E.T. the Extra-Terrestial but rather to Ghandi. The latter was a good movie to be sure but has not stood the test of time of love that E.T. has. Despite his two Oscar wins and numerous hits since, itís clear Steven Spielberg always had a special place in his heart with this film and wished it won the major accolades it deserved. Now, 30 years after its release, the film makes its long-awaited Blu-Ray debut and thus a new generation can discover the wondrous magic of Spielberg at his height and with a wonderful story to boot.

The Film

To soothe any fears, this is not the controversial 20th Anniversary edition released in 2002 with digital enhancements for E.T. and the removal of rifles in favor of walkie-talkies, a move Spielberg has stated as regretting. This is the original 1982 version as a small alien craft has to take off fast when government agents flood the area and in their haste, one alien is left behind. Making his way to a small California community, it befriends Elliott (Henry Thomas), a boy whose mother, Mary, (Dee Wallace) is handling a divorce. Elliott tells his brother Michael (Robert MacNaughton) and little sister Gertie (Drew Barrymore) about the alien, who they name E.T. They keep him quiet as they figure out a way to contact his people so he can return home as a government agent (Peter Coyote) hunts E.T. down.

From this bare-bones story unfolds sheer magic. Itís impossible to imagine anyone else directing this movie, it is quintessential Spielberg, the young buck out to make his mark on Hollywood, yet also a deeply personal touch that makes it so wonderous and still packs an impact three decades after its release. Itís a childís tale and Spielberg captures that perfectly in how the children respond to E.T., scared at first but soon falling in love with him. Thereís comedy such as when E.T. gets drunk on beer and, at school, Elliott feels the effects but also when Elliott is about to dissect a frog and feel sympathy for it thanks to his new connection to this alien. The way the film is structured and shot is a textbook for filmmakers today, showing how to build drama and suspense but also grounds it so it doesnít turn pure sci-fi but a family feel. Itís also great to see the touches, like the shadow of E.T.ís finger across Eliottís face, the mood clear through each shooting style so Spielberg keeps you enthralled. The emotional roller-coaster is something worth experiencing time and again and never lets you down.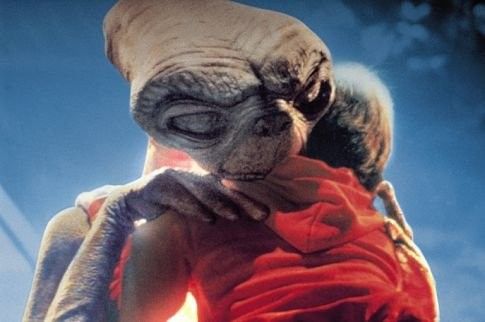 Key is E.T. himself. In the CGI-heavy era of today, this mix of puppetry and costume is more lifelike and believable than anything a computer could create. You honestly believe this is a real creature from the humor of getting smacked by a door to its long neck stretching to the famed scene of his glowing finger and itís astounding how the effect holds up three decades later. Youíd think the crisp Blu-Ray picture would expose the illusion but if anything, the detail makes it even better and lifelike. Thereís humor but also pathos, his longing to return even as he bonds with Elliott, clearly his one true friend. Itís why Iím glad thereís none of the CGI of the 2002 version on this, that was far too jarring as the original hardly needs tweaking at all. Itís a fully realized character, not a special effect but someone you truly care for and fall in love with as the film goes on and itís critical to its success that Spielberg treats it as such.

The human cast helps too. That Thomas never became a major star surprises me as the boy showed stunning talent then, a true kid who thinks this is a great thing to have a friend like this and willing to do anything to help him. Thomas is able to convey so much with just expressions, not dialogue, carrying the scenes with him and E.T. as they share a connection beyond words yet totally visible for the audience, a trick few movies are able to pull off well. In her breakout role, Barrymore is a delight, the perfect mischievous little sister yet showing her own care for the creature and while rough at first, McNaughton comes into his own as the tough older brother caring for Elliott and warning him how theyíll all get into trouble over this. Itís easy to see Mary as just the comic relief, unaware of whatís going on but she still shows love for her children. The early half of the film is wonderful to watch, magical and a child-like vibe so when the adults enter mid-way through, itís truly jarring and thatís intentional, to show the hardness of adulthood in a childís world.

The production values still stand up after all this time, especially the wonderfully detailed alien himself and the flying bikes, leading to the now famous shot of riding against the moon thatís become the Amblin trademark. Itís accompanied by John Williams score, one of his finest, perfectly matching the mood of the story from the childlike glee to darkness and that wondrous main theme. Sure, you can nitpick some things like to childlike in humor at times and some kids might be taken aback at the darker tones like the sinister edge for the adults. Plus, there are some who will see religious allegory in the tale of an outsider persecuted simply for being what he is. But overall, itís a film made with true heart and thus you canít help but love it in all its ways, truly moved at its emotional climax and the fact there was never a sequel just makes it more special. In the hands of anyone else, this simple story would have made a fair film but in Spielberg, the film becomes a landmark and a true classic that, like much of Spielbergís work, you can enjoy for the 50th time as much as the first and still get teary-eyed at the end. Out of this world? No, itís very down to earth and thatís what makes it still moving today.

Rating: 10.0 out of 10.0





Video

Fresh off the Blu-Ray debut of Jaws, Universal has given E.T. the lavish treatment with a 1080p/AVC-encoded transfer that shows no sign of filtering or grain. The colors pop, especially in the forest scenes and you can appreciate every detail of E.T. himself and the key effects sequences like never before to make the movie magical again. There can be some shading issues now and then but the overall effect is amazing, the movie looks fresh, not from the 1980's, vibrant in its stunning visuals to remind you why people loved to watch it and will wow even kids of today.

Rating: 10.0 out of 10.0


Audio

The full and boisterous DTS-HD Master Audio 7.1 surround track is the best the film has ever sounded. You get the backgrounds of forests and classrooms equally well, no need for volume adjustment and amazing how well theyíve made the thirty-year-old sound design pop as well as they have. Plus, you can enjoy Williamsí classic score with subtitles in English, French and Spanish but also enjoying E.T.ís unique speech so you can love the filmís sound like never before.

Rating: 10.0 out of 10.0


Bonus Features

Itís annoying that a man who loves filmmaking as much as Spielberg refuses to do audio commentaries and that doesnít change here. Most of these are carry-overs from the 20th Anniversary set but a few new bits for the 30th that make it more of a must-buy.

Steven Spielberg & E.T. (12:31) is a new interview with the director on the film. Much of it is familiar such as how is was inspired by his own parentís divorce but fun stuff like how the movie had no expectations so there wasnít pressure as on Jaws. A fun comment is on how the movie had a Disney feel at a time when Disney movies werenít that successful. Spielberg shares how President Regan had a private showing at the White House and how amazing that was. He also discusses how the studio naturally wanted a sequel but he could never figure out a way to make it work right and so told them no and itís a testament to the power of both Spielberg and the film that no one else has tried. While short, itís good insight by Spielberg on one of his finest works and clear itís still a movie that means a lot to him personally.

The E.T Journals (53:38) is a great new two-part documentary that brings together on-set footage from the shooting. Sans narration, itís amazing to see it all, clear how Spielberg and Henry Thomas bonded quite well on set and how the director helped the actor along in the role. They show how the E.T. suit was created and worked on set and Spielberg gets into the spirit of things by dressing as a woman for the Halloween scenes. Itís fun seeing Barrymore at such a young age and already experienced at this. Thereís challenges from bad weather but you can see Spielberg doing this as more than just a job, it truly means a lot. We also see Williams creating the score, working closely with Spielberg for it. Itís a terrific look at the making of a classic and Spielbergís skills.

A Look Back (37:43) is from the 2002 set with a look at the creation of the alien, how Spielberg wanted it to mix the eyes of Einstein, Ernest Hemmingway and Carl Sandburgh. We see the cast in 2002 talking about their experiences and Spielberg encouraging some improve reactions (Barrymore didnít know what the alien would look like before coming on set so her scream was real) and how the kids had to take classes between shooting. Ironically, the part Thomas hated was kissing a girl (a young Erika Eleniak). A funny story is that Spielberg put in an in-joke of someone dressed as Yoda passing E.T. and the two looking as if recognizing one another, George Lucas screening it at his ranch and everyone loving it. We see footage of Spielberg meeting with Universal executives to talk on where the movie would fall in the schedule and no one expecting it to break all box office records. Overall, Spielberg feels E.T was important to him as it moved him away from just blockbusters to other films and thus a turning point for his career.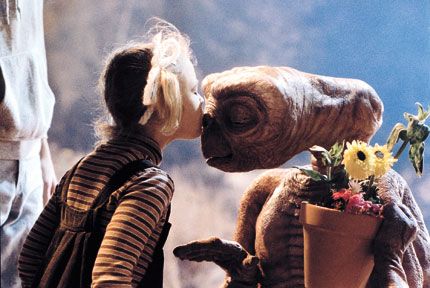 The Evolution and Creation of E.T. (50:16) covers much the same ground but some good stuff like writer Melissa Matheison talking to kids about the power theyíd want and healing was the most common. We see footage of Thomasí screen test and he nailed the part perfectly right off and got the job on the spot. The cast hung together as kids as they talk of how each shows a different reaction to E.T. to emulate the audience feelings. Carlo Rambaldi is given huge props for the suit, making it so lifelike that everyone began treating him as a real person which helped the film. The most interesting part is the look at the alterations for the 20th anniversary edition with Spielberg saying he wanted to make things better like a shot of E.T. running, smoothing the suit out and the controversial ďwalkie-talkies instead of gunsĒ bit. Seeing it makes you appreciate even more how Spielberg wanted the original cut instead for this set. We do get to see the famous deleted scene of Harrison Fordís faceless cameo as Elliotís principal. While a bit dated (the look on Barrymore), still great feature on the film.

The E.T. Reunion (17:56) brings the cast together in 2002 to discuss the film and their experiences, not to in-depth but still fun seeing how theyíve grown and still consider this the highlight of their careers.

The Music of E.T.: A Discussion with John Williams (10:04) shows how the Oscar-winner composed his classic score to fit the filmís mood and insight to his legendary work.

The 20th Anniversary Premiere (17:49) shows the filmís reissue in 2002, the highlight being Williams conducting a live orchestra

Designs, Photographs and Marketing covers 45 minutes total, showing the work designing the film, notably the late Ralph McQuarrie creating the look of E.T.ís ship and various other galleries.

We have a pair of deleted scenes, nothing too special as well as a theatrical trailer and a Special Olympics TV spot.

Rating: 9.0 out of 10.0



The 411: One would think a 1982 movie would be exposed as somewhat dated on Blu-Ray. Instead, E.T. is better than ever, the picture crisp to make the alien a true character and the story is aided by the young Spielberg's great style and heart. The extras flesh it out to make you appreciate how close everyone was in shooting and how that helped turn the movie into the near-perfection it is. Sure, it's easy to buy this for your kids but the movie reminds you of the kid in all of us and how you want to enjoy it over and over again. E.T. is still arguably Spielberg's best film and this shows it in glory like never before for a new generation to love just as the world once did.

Final Score: 10.0

[ Virtually Perfect ]

legend
comments powered by