SPOTLIGHTS
Bloodstained Memoirs DVD Review
Posted by Tony Farinella on 10.24.2012

411's Tony Farinella reviews one of the most anticipated wrestling documentaries, Bloodstained Memoirs!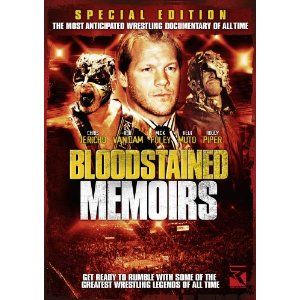 Before I started writing for 411mania.com, I was a diehard fan of the sport of professional wrestling. I would go to all of the events at the Rosemont Horizon and then the Allstate Arena for WWE as well as all of the ECW events in Villa Park. Then when I discovered independent wrestling, I went to a ton of IWA Mid-South shows in Indiana and Illinois as well as two CZW shows in Philadelphia along with Ring of Honor. I used to love wrestling and even covered it for the now defunct Chicagowrestling.com. So when I heard about this wrestling documentary, Bloodstained Memoirs, I was extremely excited to check it out.

Bloodstained Memoirs is hosted by the always entertaining and engaging Al Snow, who introduces each interview segment before it airs on the documentary. The first interview is conducted with Último Dragón, who comes off as a friendly participant in this documentary, although it is not always easy to understand exactly what heís saying. He does speak English, but I found it quite difficult to get into this interview because half the time, I didnít know what he was talking about exactly. It was a great idea to involve him in this documentary, but some subtitles would have been greatly appreciated.

The interviewer is Dean Ayass, who is a British wrestling manager and commentator, so he does have some experience in the business. However, I found his questions to be run of the mill and very ordinary. I understand that they didnít want the film to be negative, which is fine by me, but I would have liked a theme or some type of narrative instead of Ďletís just interview random wrestlers and ask them random questions.í Thereís nothing particularly special or unique about this documentary and the questions that are asked.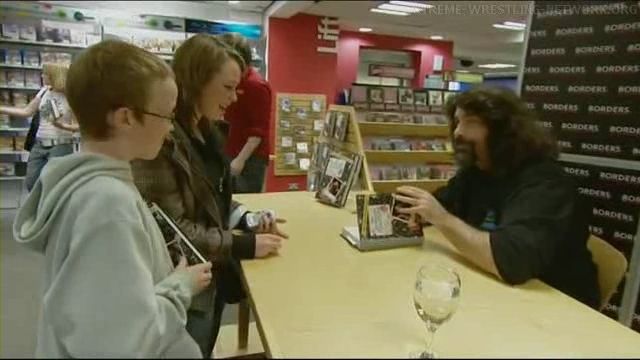 The other interview subjects include Chris Jericho, Mick Foley, who is mostly seen at an autograph signing at Borders, Molly Holly, Jimmy Snuka, Christian, Rob Van Dam, Roddy Piper, and Keiji Mutoh with subtitles. Molly Holly seems to have adjusted well to her life after wrestling, which is good for her. Piper, Iíve seen numerous shoots with him, so nothing he says here is really all that surprising or engaging. Snuka doesnít add much to the proceedings and doesnít seem to understand the purpose of the interview. Van Dam is always interesting and has a lot to say. Foley, well, itís not really an interview, mostly him interacting with fans.

Jericho, on the other hand, is mostly interested in talking about music, so thatís a bit of a letdown as well. In the end, Bloodstained Memoirs includes many big names, but itís solely lacking on substance. The questions arenít all that hard hitting or exciting and the interview subjects donít really add a whole lot to the experience. I didnít really learn anything that I didnít already know while watching this documentary. Itís clear that they are wrestling fans and love the sport very much and I admire their effort, but this documentary is a disappointment.

Video Info: Bloodstained Memoirs is released on a single disc DVD from Revolver Entertainment. The video presentation is up to par, nothing groundbreaking. Itís a documentary, and the footage looks suitable for this type of film. The DVD is clear without any grainy moments.

Sound info: I was able to hear everyone just fine, although I did have issues understanding Dragon as I stated, but that had nothing to do with the sound. Again, itís acceptable sound and video for a documentary of this nature.

Special Features:

Cactus Jack Vs. Jimmy Snuka (12:51): This is a match from the UWF that took place in Vegas.

Interview with Roddy Piper (06:55): These are some more moments from their interview with Piper.

Interview with Juventud Guerrera (07:00): This is an interview with Juventud that did not make the final cut of their documentary.

Interview with Christy Hemme (16:00): This is an interview with Christy Hemme that was not included in the documentary and talks about how she got into the business, among other topics.

Introduction by Molly Holly (Nora Greenwald) (0:30): She introduces the documentary and what itís all about and how she was comfortable speaking with them.

Band Behind Bloodstained Memoirs (04:03): This special feature focuses on the band Tigers and Monkeys, as their music is included in the documentary.

Al Snow Blooper Reel: (06:19)

Arda Ocal and Jimmy Korderas Discuss Bloodstained Memoirs (03:59): The two hosts offer praise for the documentary and go into detail about what they liked about it.

To order it off Amazon.com
The 411: Bloodstained Memoirs is all hype and no substance at the end of the day. They have a ton of big name talents in the wrestling business, but they fail to ask them anything interesting or groundbreaking. The documentary would have benefited from a narrative of some kind or some form of a story. It all feels a little too random and out of place. Itís worth a rental, but I donít think itís worth owning or revisiting.

Final Score: 5.5

[ Not So Good ]

legend
comments powered by