SPOTLIGHTS
Moonrise Kingdom (Blu-Ray Combo Pack) Review
Posted by Tony Farinella on 10.30.2012

Wes Anderson returns with Moonrise Kingdom, but is the film worth checking out on Blu-Ray?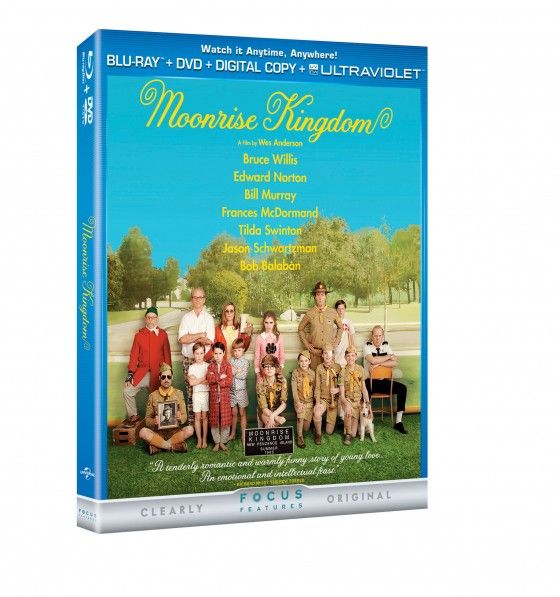 Moonrise Kingdom is yet another eccentric and unique film in the career of director Wes Anderson. When you watch a Wes Anderson film, itís clear that his distinct style is all over the film, a style that is all his own. With that being said, you either find his films charming and engaging or you find them irritating and annoying. I donít find that there is a lot of middle ground when it comes to how his films are viewed. Personally speaking, nine times out of ten, Iím enchanted with what heís putting on screen and the stories that are being told.

The film is set in the mid 60ís and follows young Sam (Jared Gilman), an orphan who runs away from summer camp to be with Suzy (Kara Hayward). They have planned this for a while as their chance to get away, be themselves, and live without rules. Suzyís parents are played by Bill Murray and Frances McDormand, which is a genius pairing by Wes Anderson. Social Services (Tilda Swinton) along with Scoutmaster Ward (Ed Norton) are out looking for Sam, as his current family is completely OK with not seeing him again. Bruce Willis also stars as Capt. Sharp, a police officer also on the lookout for the children.

The film is about young romance and the beauty and innocence that goes along with it. This is a gorgeous looking film as Wes Anderson, much like in his other films, creates a visually stunning landscape. He takes great pride in just about every detail of the production. It shows in the final product of the film. Even though I wasnít particularly taken with this film, I do respect it very much for the craftsmanship that is on display.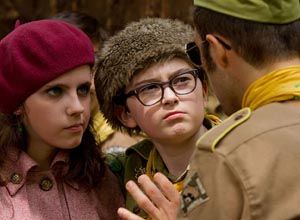 Moonrise Kingdom didnít really connect with me on an emotional level or speak to me. I enjoyed the visuals, the performances, and what they were trying to accomplish, but the experience as a whole was underwhelming. I found it a little meandering in terms of the story and sort of all over the map. The story, written by Wes Anderson and Roman Coppola, was where I had problems with the film. It felt a little too much cutesy and like it was trying a little too hard. It didnít feel as naturally charming or comical as his previous films, which I have loved, such as Fantastic Mr. Fox.

Moonrise Kingdom has received overwhelmingly positive reviews all over the map, and I can clearly see where they were coming from with how they viewed the film. Something was missing for me, however, with Moonrise Kingdom, and I consider it a misfire. You have great actors, a really good director, and they get lost in the story, which holds everything back. If you are a hardcore Wes Anderson fan, Iím pretty sure you will enjoy this film and fall in love with it. Like I said, nine times out of ten, it works for me. This time, I was fairly underwhelmed, sad to say.

Blu-Ray Info: Moonrise Kingdom is released on a two disc Blu-Ray combo back from Universal Studios Home Entertainment, which also includes the DVD and a digital copy of the film either for ITunes or Ultraviolet.

Blu-Ray Video: The presentation of the film, MPEG-4 AVC, is top of the line, and as Iíve talked about in previous reviews, Universal is the best studio at releasing Blu-Rays. They are a work of art and absolutely beautiful. This is an amazing looking Blu-Ray and the attention to detail is top of the line. Some of the scenes in the film are shown with gorgeous colors and perfect backdrops. I loved the way this film was shown on Blu-Ray.

Blu-Ray Audio: The soundtrack is also really good, as little details of the film are picked up. The dialogue is also easy to listen to and makes for an enjoyable listening experience with The English 5.1 DTS-HD Master Audio track. Subtitles are also included in English, Spanish, and French.

Special Features:

Set Tour with Bill Murray (03:09): Murray takes us on the set of Moonrise Kingdomand is his usual witty self.

A Look Inside Moonrise Kingdom (03:07): This is your standard behind the scenes special feature about making the film.

Welcome to the Island of New Penzance (06:11): This is introduced by Bob Balaban and focuses on some of the actors in the film.
The 411: Moonrise Kingdom is a film that disappointed me but not in a major way. There were parts of the film and particular scenes that I enjoyed, responded to, but as a whole, I felt very unsatisfied with the final product. The film looks great and has an all-star cast, but the story and the tone of the film left a lot to be desired. Rent it.

Final Score: 6.5

[ Average ]

legend
comments powered by