SPOTLIGHTS
It's Always Sunny in Philadelphia "Charlie's Mom Has Cancer"
Posted by Stevi Loureiro on 11.16.2012

Charlie looks for help and ends up finding himself in church after finding out his mom has lung cancer. Meanwhile, Dee and Frank are on a hunt for a buried treasure. Read all about 411's Stevi Loureiro's review!

I'm going to be honest here: after last week's episode, I was a little pessimistic about this one. I'm happy to report, though, that the amazing writers at Always Sunny restored my faith! (If you saw this episode, you'll understand that little joke I just made. If you didn't then you just missed out. That was a witty move on my part.)




The episode first opens up at Bonnie Kelly's (aka Charlie's mom's) place where Charlie and Mac are bringing her a ton of everyone's laundry to do. While Bonnie tries to express to Charlie that they never get a chance to talk anymore, Mac and him try to quickly get out before they can be tied down in conversation, leading Bonnie to blurt out that she has lung cancer. Charlie, looking shocked and baffled, asks how she got it since she never smokes. The camera pans across the room where Mac's mom is puffing away on a cigarette as she says, "Well, ya know, it's just one of those freak things." Great intro: Short. Sweet. Hilarious in a moment of near-sincerity.

At the bar, Dee is raving about a psychic she's been seeing: Psychic John. Of course, Frank doesn't buy into and tells her it's a scam. As the two bicker at each other about this (and Dee points out that Frank somehow manages to lose multiple pairs of shoes each month), Charlie and Mac walk in loudly discussing the fact that Charlie's mom has lung cancer. Being normal human beings with emotions and feelings and whatnot, Dee and Frank look stunned and sympathetic. Dennis, on the other hand, not so much. Dennis Reynolds, as well we all know, is not exactly the emotional type so it's nothing less than typical to hear him say that he's not affected by the news of Bonnie's cancer. Mac, though, seems happy to help and offers Charlie to go speak to Dr. Jinx—a man that can supposedly cure cancer for the low, low price of $4200. When Dee hears this, she mentions that old people will easily give into scams since their "brains turn to mush." While Frank argues against this, Dee slyly convinces him to give her $100 to go see the psychic he was just telling her was a waste of time. Evidently she does have a point about brains going to mush.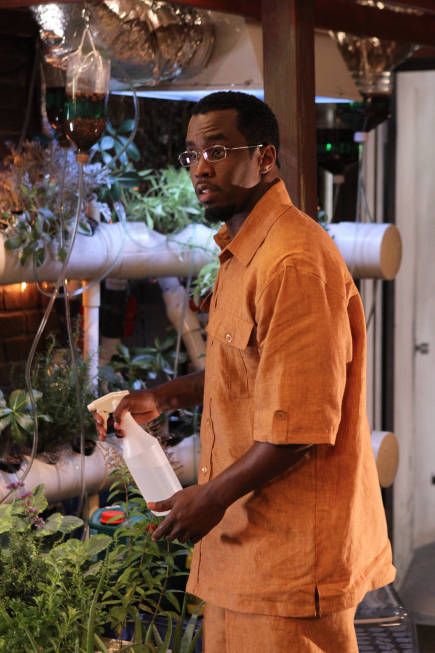 Apparently having convinced Charlie that Dr. Jinx could possibly do some good, Mac brings Charlie and Dennis with him to a sketchy-looking garage. Um, a doctor that works out of a garage? Yeah, that sounds legit, Mac. They walk in to find Dr Jinx (played by Sean Combs in a fun little surprise!) spraying house plants while listening to New Kids on the Block. Once they sit down and talk things over with him, they find out that Dr. Jinx specializes in all-natural, plant-based treatments. To prove this, he sprays Mac's inner bicep (which Mac believes to be eczema) with something from one of his many spray bottles. Dennis, evidently wanting to feel what other people feel, asks Dr. Jinx if there's any natural supplement, medicine, etc. to give him feelings. In an awkwardly entertaining moment, Dr. Jinx pulls out a guitar and starts playing to Dennis, telling him this is a way to evoke emotion; all the while keeping direct eye contact the entire time.

After leaving Dr. Jinx's place in a hurry, the guys end up going to a Catholic church for help with Bonnie's cancer. While standing in the pew, Charlie keeps complaining that the whole idea of church is a scam and it's ridiculous. Mac, having grown up in the church, is singing along and following the priest's instructions. Dennis even starts to mimic Mac and everyone else as a hope to "knock emotions loose." As Charlie gets more and more frustrated with constantly having to stand and then kneel, stand and then kneel, Mac and Dennis embrace him in a three-way hug. This was definitely one of my two favorite moments from this episode. The fact that Mac gently nuzzles Charlie's face and whispers "Peace be with you" was just too much to handle. I couldn't help but burst into laughter. After the service, Charlie is even more frustrated with the church "scam" when a priest comes up to them asking for donations to fix the statue of the Virgin Mary that someone ruined. With Charlie now in full freak-out mode, Dennis calms him down by suggesting they throw a Beef and Beer in order to raise money for Bonnie's cancer fund. Because, as everyone knows and Mac states: Beef, Beer, and Jesus is the holy trinity.




While all this is going on, Dee is meeting with Psychic John once more when Frank interrupts. Even though Psychic John can tell Frank exactly what's in his pockets at the moment (a pork chop bone and 57 cents), Frank still yells at him, "You don't know shit!" Although skeptical, Frank asks Psychic John if he can conjure up the dead because he wants to reconnect with Barbara (Dee and Dennis' mom) about his money. Psychic john ends up telling Frank and Dee that he senses she is still very much alive and living in the same city. This sends them on a hunt to find the money. They end up going to the burial site of Barbara's beloved Chihuahua, convinced there will be money in the grave. Once they dig up the box and Dee opens it, they find about $5000.

Back at Paddy's, the Beef and Beer is in full swing, complete with Dr. Jinx playing in a funk band as the entertainment for the event. The title of the event itself is pretty awesome: "Beef and Beer and Jesus." HA! They would. Anyway, in the backroom, Artemis is doing Bonnie's makeup to make her look even sicker. She's putting fake gashes in her neck and even put a bald cap on her to make it look like she's been through chemo. Leave it to Artemis to pull out all the stops! (By the way, in case you missed me saying this a few articles back: I LOVE Artemis!) A great moment in this scene that really shows the guys' ignorance is when Artemis lights a cigarette (which she clearly states is NOT tobacco) and Charlie makes her leave the room on account of Bonnie's lung cancer. His thinking, of course, is that it would only make it worse, not knowing that marijuana is often times used to help reduce the size of cancerous tumors (including those found in the lungs).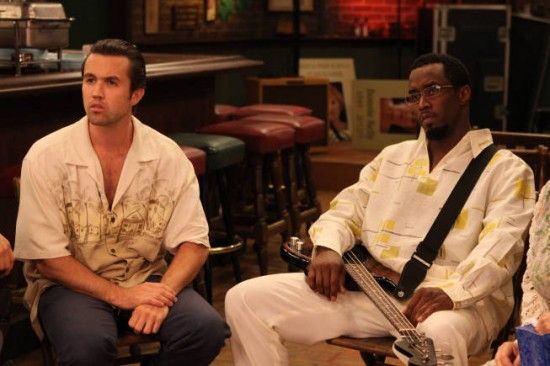 When Dennis takes center stage at the Beef and Beer and Jesus, he gives a speech that ends up turning into a very emotional and 'Hallelujah! Call to Jesus!' type of sermon. Although it seems like Dennis has finally gotten in touch with his emotions, he confesses to Mac right afterwards that he felt nothing and meant none of it. Typical Dennis. Gotta love it. After Dennis' semi-sermon, Bonnie steps up to the mic to give a speech written by Charlie and Mac about how bad her cancer is and why people should donate to her cause. Not far along into the speech she says she cannot go on with it and ends up spilling the beans that she actually doesn't have cancer. Once the crowd is gone, she tells Charlie she made up the cancer story in order to raise money to fix the Virgin Mary statue that she and Mac's mom broke. Who would've thought a woman as sweet-looking as Mrs. Kelly would be capable of scam that would normally be pulled off by her son.

In a quick little bit at the end of the episode, Dee fills Dennis in on their mother still being alive and having hidden money everywhere. The gang ends up going to her gravesite, digging up her coffin in hopes to find more money. They open the coffin and find their mom's skeleton. Yep. She was dead alright. While Dennis finally gets what he asks for and feels something, he begins to freak out uncontrollably, in my second favorite moment of the episode. He clutches on to Dee and begins simultaneously screaming and crying, "My mommy's skeleton! I'm feeling too much!" Such a great moment to see Dennis out of his ordinary confident, put-together self. Not to mention the fact that he was freaking out more than his sister—the one who usually bursts into emotional rants. Frank reveals that he planned for all of this to happen; he paid off the psychic and planted the money in the dog's grave. All of it was just to get back at Dee for saying that he was losing his mind out of old age. That being said, the episode ends with a great Frank quote: "Score one for old people! Wait a minute, what the hell happened to my shoes?!"

My random thoughts on the episode:
1- Only Frank could lose four pairs of shoes in one month.
2- The moment when Charlie freaks out in church because they have to keep kneeling was so funny! The next time I find myself in a Catholic church I'll definitely be having a little giggle-fest in my head as I replay this moment.
3- I have to say it. Why the hell didn't they give Artemis a bigger part in this episode?! I know that because I have this weird fascination wtih her that I'm biased in saying that but c'mon! They definitely need to bring her back again this season because I did not get enough of my Artemis fix.
4- Favorite quote from Dee this episode: "Oh, Goddamnit, that's a dead dog!"
5- I love it when Frank says "whore." He pronounces it "who-were" and it's freaking awesome!

The 411: This episode wasn't bad. Definitely better than last week's. It had some surprise moments that I enjoyed; it brought back a few characters I'm fond of (Artemis and Mac's mom). I was happy to see Dennis in another light at the end of the episode. Overall, I was pleased. It wasn't an instant classic, but it was still pretty good.

Final Score: 7.0

[ Good ]

legend
comments powered by