SPOTLIGHTS
The Bourne Legacy (Blu-Ray) Review [2]
Posted by Tony Farinella on 12.13.2012

Jeremy Renner takes over for Matt Damon in the Bourne Legacy, but is it a successful transition?




The Bourne Legacy was almost doomed to fail with critics and audience members because the film was without its star, Matt Damon and its director Paul Greengrass. It had sort of a bad feeling attached to it as though it was made strictly to make money and milk the franchise for all its worth. Some of my fellow 411mania.com writers have stated that if it was just a standalone film, it probably would have been received with more respect. I agree with that assessment, as we have a good but not great film here thatís entertaining if nothing else.

Instead of Jason Bourne and Matt Damon, we have Aaron Cross and Jeremy Renner, which is not a bad replacement at all. Renner has proven himself to be an action star with his roles in The Town, The Avengers, and The Hurt Locker. Heís also an established actor that can hold his own in just straight up acting scenes. They are wise to surround him with talent such as Rachel Weisz and Edward Norton, as it rounds out the cast in positive fashion. The director, Tony Gilroy has also been involved in the three previous films, so there is a familiar participant in the fourth film.

Cross is a part of Operation Outcome and is currently stuck in Alaska where heís doing his best to look like a homeless drifter with impressive facial hair. In his spare time, he also has to deal with ravenous wolves that likely came over from the Liam Neeson film, The Grey, although, Cross has better success in fending them off. Before Long, Cross becomes a target, which causes him to question everything about himself he thought he knew. He needs help, though, and he brings along Marta Shearing (Rachel Weisz) to hopefully clear up some of the confusion.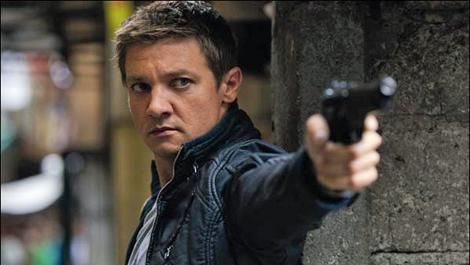 The first hour or so of The Bourne Legacy is not the most exciting, but it is necessary, as it pieces everything together for the audience in order for them to follow the rest of the story. When the action kicks off, thatís when the film really takes off, as there is great style and precision to everything thatís happening. Thatís always been one of the most entertaining parts of the franchise, and they donít fail to deliver in that aspect. Renner looks like an action bad ass, which really sells some of the more intense fighting sequences

In the end, viewing the film through the eyes of a mindless action film with solid acting and fun action, The Bourne Legacy is a fun timewaster. Itís nothing more than that, at the end of the day, but thereís nothing wrong with simply being entertained during a film without it being all that thought provoking or layered. At times, itís a little too confusing to follow and it could have benefited from being trimmed in the editing room a little bit. However, on Blu-Ray and in the right state of mind in terms of what youíre in store for, The Bourne Legacy is worth checking out.

Blu-Ray Info: The Bourne Legacy is released on a two-disc DVD and Blu-Ray combo pack from Universal Home Entertainment with a video codec of MPEG-4 AVC and on 1080p video resolution. The combo pack also includes a digital copy which can be put on your IPod.

Video Info: The video is presented on 2.40:1 widescreen, and it looks great. The snowy scenes, in particular, looked brilliant on Blu-Ray. Itís crisp, clean, and easy on the eyes. Action films like this really shine on Blu-Ray. Animated films and action films are the ones Iíve noticed the most on Blu-Ray. It enhances the experience greatly.

Audio Info: Subtitles are included in English, French, and Spanish. The audio is English: DTS-HD Master Audio 7.1, English: DTS 5.1, French: DTS 5.1, and Spanish: DTS 5.1. During the talking scenes, the film slows down and has clear and easy to hear dialogue. When the action picks up, the soundtrack follows suit, but itís done in a way that doesnít leave you with a headache.

Special Features:

Deleted Scenes (3) at (06:48): Three deleted scenes are featured here with commentary by Tony, Dan, and John Gilroy and cinematographer Robert Elswit. The scenes are mostly filler and the film functioned just fine without them.

Re-Bourne (06:11): This special feature focuses on the approach they wanted to take with the new film. Typical interviews are spliced in with the piece as well.

Enter Aaron Cross (07:11): Jeremy Renner and the character of Aaron Cross are the focal point here, as they talk about how they wanted to feature him in the franchise and his purpose.

Crossing Continents Legacy on Location (08:22): The film takes the audience to some exciting locations, and this special feature tells you all about the many locations that were shown in the film.

Man Vs. Wolf (04:36): The scene where Aaron fights the wolf is talked about here. At certain points, they used a real wolf, but they cut it together to hide Renner, who was not fighting the wolf.

Wolf Sequence Test (01:39): This shows what they were working on before they actually shot the scene.

Moving Targets: Aaron and Marta (06:11): More behind the scenes interviews and nuggets are talked about on this special feature.

Capturing Chaos: The Motorbike Chase (07:49): Thankfully for the film crew, Jeremy Renner actually knew how to ride a bike. They talk about filming the chase scene and how it all came together

Commentary Track with Tony Gilroy (director/writer), Dan Gilroy (writer), John Gilroy (editor), Robert Elswit (cinematographer), Kevin Thompson (production designer) and Dan Bradley (second unit director): This is a loaded commentary track to say the least, as lots of talented individuals offer their insight on what it was like making the film, putting it together, and the franchise as a whole.
The 411: The Bourne Legacy is great as a rental. Itís fun to watch one time, but I donít foresee it having great repeat value. As a onetime viewing experience, itís exciting, fun, and well-acted. If you can overlook its pacing issues and its sometimes overcomplicated and confusing plot, you will enjoy this film for what it is: a film that will entertain you while itís on screen but leave your brain as soon as itís over.

Final Score: 7.0

[ Good ]

legend
comments powered by