SPOTLIGHTS
Killer Joe (DVD) Review
Posted by Tony Farinella on 12.20.2012

Director William Friedkin (The Exorcist, The French Connection) is back with Killer Joe, starring Matthew McConaughey!



When you see as many movies as myself or any other 411mania.com writer, you tend to look for something that has a hook or something that reels you in as a viewer. So many films released are completely by the numbers and what unfolds is exactly what one would expect. Then a film like Killer Joe comes along and hits you in the face like a ton of bricks. These are the types of films that remind you what cinema can do when itís in the right hands and someone has a creative vision. That is certainly the case with William Friedkinís brilliant Killer Joe.

The film is written by Tracy Letts, and this is Friedkinís second collaboration with the playwright. His first was 2007ís Bug, and itís clear that the two have a great working relationship. Matthew McConaughey continues his strong 2012 year (Bernie, Magic Mike) with his twisted and hilarious turn as Joe Cooper, a cop who also has a second job as a killer for hire. When Chris (Emile Hirsch) finds himself in trouble financially, he hires Joe to kill his mother which will help him obtain the insurance money from her death because his sister Dottie (Juno Temple) is the beneficiary.

Killer Joe, however, is not an easy person to do business with as he has very strict rules and a very specific way of doing things. This causes many issues for Chris, his father (Thomas Haden Church), and his stepmother (Gina Gershon). Dottie, however, is fascinated by Joe and even asks him if heís like Magnum PI. When you have a small cast like this, you need actors who can handle long scenes of dialogue and keep it interesting. Thankfully, the cast of Killer Joe is top notch and everyone brings their A-game to the proceedings.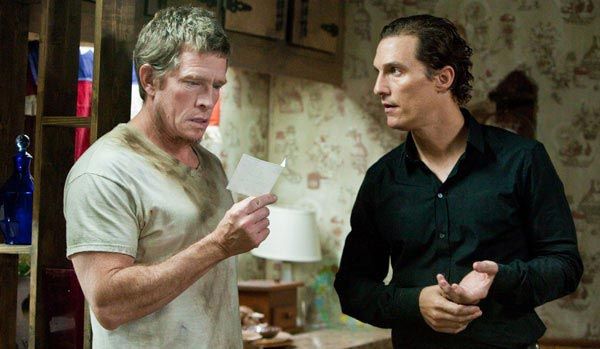 Itís all done under the watchful eye of William Friedkin, who has never been one to shy away from controversial material or subject matter with such films as Cruising, The Exorcist, and The French Connection under his belt. He gives his actors plenty of space and room to breathe and their performances really shine because of it. On the special features, they talked about how Friedkin doesnít like to do a lot of takes. The film benefits from that because everything feels organic and in-your-face. He knows when to simply observe whatís happening without mucking it up with too many stylistic touches.

From the opening few minutes of Killer Joe, you know what kind of film you are in store for: one that is brutal, uncompromising, and very, very different. Tracy Letts has written a terrific film screenplay here and its language is all its own. You have two very talented and smart individuals in Letts and Friedkin working here, and you also have a studio thatís allowing them to tell the story the way it needs to be told. If you are looking to be shocked, surprised, but most of all entertained, Killer Joe is the movie for you.

DVD Info: Killer Joe is released on a single disc DVD from Lions Gate Home Entertainment. The DVD features both the Unrated Directorís Cut and the R-rated version. The unrated version is one minute longer.

Audio Info: The DVD audio is 5.1 Dolby Digital and features subtitles in English and Spanish. A very informative, engaging, and intelligent commentary track is included with William Friedkin. I highly encourage you to listen to it, as Friedkin is one of our great directors working today and he offers tremendous insight on the making of this film.

Video Info: The DVD format is 16x9 Widescreen (2.40:1). The DVD looks very good and the films intimate and in-your-face feel is perfectly captured on the release.

Special Features:

Red Band Theatrical Trailer

SXSW Intro by William Friedkin: (03:42) Friedkin was unable to attend the event, but he did record a video introduction for the film, which is included here.

Southern Fried Hospitality: From Stage to Screen: (25:52) This special feature talks about the process of getting the film onto the big screen. We hear from many of the actors who share their thoughts on the film and the script. Friedkin talks about what he was hoping to accomplish with the film.

SXSW Q&A with Cast: (39:27) This is a Q and A with the cast, which is hosted by Harry Knowles of Ainít it Cool News.
The 411: Killer Joe is one of the best films of 2012. Itís innovative, funny, and takes no prisoners. William Friedkin, Tracy Letts, and this tremendous cast are all at the top of their game in this film. Matthew McConaughey, in particular, gives a performance that is unsettling and so complex. It took me a few days to shake this film, and I mean that in the best possible way. It left me with my jaw on the floor saying to myself, ďWhat in the hell just happened?Ē That doesnít happen to me very often. HIGHLY recommended.

Final Score: 9.0

[ Amazing ]

legend
comments powered by