SPOTLIGHTS
House at the End of the Street (Blu-Ray) Combo Pack Review
Posted by Tony Farinella on 01.16.2013

Jennifer Lawrence had a strong 2012 as an actress, but does House at the End of the Street add to her list or great films or is it a blemish?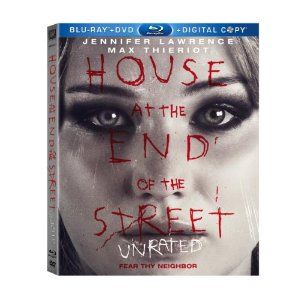 House at the End of the Street is one of those films you wonder just what the hell Jennifer Lawrence was thinking when she signed her name on the dotted line. Iím sure sheís in high demand right now after her work in The Hunger Games, Silver Linings Playbook, and Winterís Bone. Itís not like she is desperate for work or good work for that matter. Nevertheless, itís a shame to see such a talented actress wasted in a forgettable PG-13 thriller that goes nowhere and is instantly forgettable. Everything that occurs is predictable, expected, and unimaginative.

The film stars Jennifer Lawrence and Elisabeth Shue as daughter and mother who move near a house where a young girl murdered her parents years ago. The only one left in the house is her brother, played by Max Thieriot, who just screams creepy and bizarre yet Elissa (Jennifer Lawrence) decides to befriend him anyway, much to her motherís disapproval. I know they say you shouldnít judge a book by its cover, but the cover of this book is pretty obvious. They also say that a motherís instinct is always right, but still, Elissa is all full of piss and vinegar and sees young Ryan (Max Thieriot ) as sensitive and misunderstood. Yeah, right.

With so many smart films being released in Hollywood today, such as Argo and Zero Dark Thirty, Iím always insulted when a movie thinks Iím stupid and treats me accordingly. I suppose Iím not the target audience for a film like House at the End of the Street, as it is rated PG-13 and aimed at a more teenage to young adult audience. Still, I have to believe they are smarter than this movie. Thereís no mystery, no suspense, and everyone behaves in a foolish manner. The movie is dumb and the characters are idiotic for the sake of dragging out this paper thin plot.



House at the End of the Street paints every character with very broad brushes. Elisabeth Shue is the worrisome mother trying to do whatís right for her daughter with little life of her own. Jennifer Lawrence is the rebellious and naïve daughter always snapping at her mother and giving her a hard time. Max Thieriot is the sensitive and troubled young man with a dark past and scary side behind his brooding. Do you think being friends with him is a bad idea? Do you think this is a bad movie? Hell yes.

Even in a bad movie, itís always great to see Elisabeth Shue on the big screen again acting and the same can be said for Jennifer Lawrence. My only hope is that they work together again in a quality film with a good script. The film made money at the box office and it pleased its target audience I suppose, but for the rest of us, there is little to like or care about in House at the End of the Street. You can go the rest of your life without seeing it, and you will not have missed much.

Blu-Ray Info: House at the End of the Street is released on a two-disc Blu-Ray and DVD Combo Pack from Twentieth Century Home Entertainment. It also includes a digital copy as well. There is also an unrated version of the film, which doesnít really add much in terms of being unrated. Itís pretty tame.

Audio Info: The audio for the film is presented in English 5.1 DTS-HD and it was a little overwhelming for my liking. Itís very low key for most of the film and then boom, it increases to an incredibly loud tone when something terrifying is about to happen. Iím sure that was intentional to scare the audience and create some gotcha moments, but it became very annoying. Subtitles are also included in English and Spanish.

Video Info: Itís presented in widescreen 2.35:1 format with 1080p on a codec of MPEG-4 AVC. The direction of the film, I have to admit, is pretty impressive, as is the look of the film. The film fails in mood and tone, however. Still, this is a top notch Blu-Ray, as the video presentation is vivid and crisp.

Journey into Terror: Inside House at the End of the Street: (09:59): Well, at least I found out why Jennifer Lawrence wanted to do this film. She was impressed with the director. This goes into detail on what went into making the film. Itís pretty standard stuff.
The 411: Donít be fooled by Jennifer Lawrence and Elisabeth Shue being attached to this project. This film is strictly pedestrian. There was potential thanks to the impressive direction by Mark Tonderai and the two main actresses, but if you donít have a script, you donít have a movie. The script is awful and fails them in every key moment of the film. Pass on this one.

Final Score: 5.0

[ Not So Good ]

legend
comments powered by