SPOTLIGHTS
Compliance Blu-Ray Review
Posted by Tony Farinella on 01.18.2013

One of the most disturbing movies in recent memory, Compliance, is out on Blu-Ray, but is it worth investing time in?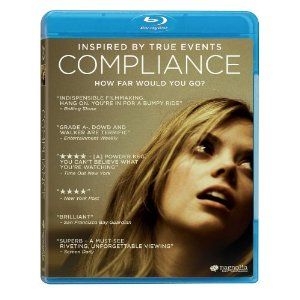 Compliance is based on true events, and thatís a good thing, because if the film was fiction, it would be hard to believe what transpires during the course of the film. At screenings, it caused shouting matches and walkouts, and itís easy to see why. The film gets under your skin, tests your patience, and makes you uncomfortable. It succeeds in that avenue, and itís always watchable but rarely pleasant viewing. I cannot say itís uninteresting or boring, however, and even as the film infuriated me, I never wanted to turn it off or stop watching.

The film stars Ann Dowd as an insecure, ultra serious fast-food manager that is preparing for Friday night, which she says is one of the busiest nights of the week. Itís already a stressful night as someone left the freezer open, which has spoiled a hefty amount of food. Things turn even more stressful for Sandra (Ann Dowd) when she receives a phone call from the police saying that Becky (Dreama Walker), one of her employees, has stolen money. The man who says he is Officer Daniels informs Sandra that she needs to help with the investigation until they can get down there.

From here on, the film enters some creepy and unpleasant territory as the man on the phone tells Sandra to perform some invasive and over the top methods to find out if Becky stole the money. Becky insists that she is innocent and that she has no idea what he is talking about. Because sheís scared, she goes along with it, even when she knows itís stupid. In Sandraís mind, sheís only doing her job and following orders. Itís amazing what people will do just because someone tells them to do it. They disregard their gut and instead perform like puppets.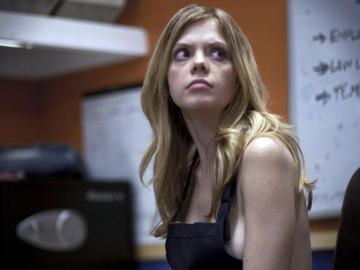 Compliance is a tough film to sit through, without question, and while watching it, itís hard not to scream at the television or feel outraged by whatís happening. At times, I felt as though director Craig Zobel was manipulating the audience and trying to create outrage, discussion, and anger. He succeeds in that department, but I canít say I like the way he directs portions of the story. Heís going for accuracy with his story and trying to depict it in a realistic way, but itís hard not to feel a little dirty or cheated while watching the film. The ending also feels pretty underwhelming and lackluster.

In the end, however, Compliance is worth seeing, but I canít say Iíd recommend a second viewing. I remember Gene Siskel and Roger Ebert arguing about Blue Velvet, a film I liked as did Siskel, but Ebert felt that the film was putting actress Isabella Rossellini through so many horrible things. Siskel responded by saying that Lynch is playing us like someone would play a piano. Ebert said ďThe next time someone wants to play me like a piano, he better get some music thatís worth listening to.Ē Thatís how I feel about Compliance during certain scenes.

Even with all of that said, I recommend it as a one-time viewing just for the fact that it causes a reaction out of the audience. I might not like the way he went about getting that reaction from the audience, but itís hard to deny the power of the film. I know many people will say and rightfully so, ĎI would never do that or act that way.í However, when you are stressed, overwhelmed, or a people pleaser and you take logic out of it, I can see why this would happen. Itís sad but true.

Blu-Ray Info: Compliance is released on a single disc Blu-Ray from Magnolia Home Entertainment. It is rated R and the running time is ninety minutes.

Video Info: Director Craig Zobel is going for an intimate and unpleasant tone and experience, and that is properly portrayed on the Blu-Ray, which its dark and moody tones. Itís presented in 1080p high definition on 16x9 (2.35:1.) The directorís vision holds up very well on Blu-Ray.

Audio Info: The audio is English 5.1 DTS-HD Master Audio with subtitles in English and Spanish. The audio was right on cue for the entire film, which was greatly appreciated. Itís a very talky film, and I was glad I didnít have to adjust the film throughout the film.

Interview with Craig Zobel (10:09): Director Craig Zobel talks about his approach to the film, his research, and what it was like directing the project. He comes off as a pretty intelligent guy.

Theatrical Trailer

AXS TV: A Look at Compliance (03:45): This includes clips of the interview with Craig in the previous special feature while also including clips from the film.

Behind the Scenes of Compliance (02:04): This is a quick behind the scenes look at the film which includes interviews with the cast as they share their thoughts on the film. Pat Healy who plays Officer Daniels reveals that he doesnít like talking on the phone, which was heavily required for this film.
The 411: A film like Compliance is quite difficult to review, because can anyone truly say they ďlikeĒ a film like this? I respected the actors and their performances, certain aspects of Zobelís direction, and I didnít hate it. However, I canít say itís the kind of film Iíd ever watch again anytime soon or one that is worth adding to your collection. As a Redbox or Netflix rental, it is worth seeing, but just be ready for what you are about to watch.

Final Score: 7.0

[ Good ]

legend
comments powered by