SPOTLIGHTS
Argo (Blu-Ray Combo Pack) Review
Posted by Tony Farinella on 02.19.2013

The critically acclaimed Argo is now out on Blu-Ray, but how does it stack up? 411's Tony Farinella checks in with his full review!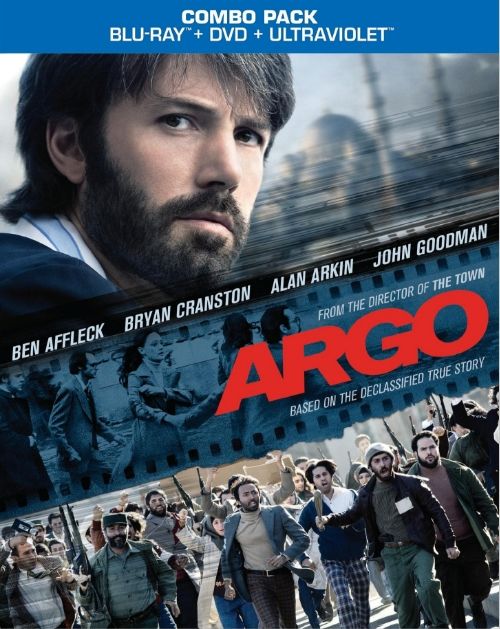 Ben Affleck has shown incredible range and versatility as a director, something that wasnít always present in a majority of his acting roles. With Gone Baby Gone, The Town, and now Argo under his belt, he has proven himself to be an A-list director. In 2010, my favorite film of the year was The Town, and now in 2012, my favorite film of the year is Argo. Affleck tackles the story with authenticity, humor, and a real keen visual eye. Heís also not bad as the main character in the film and turns in a surprisingly good performance. Itís time to take him seriously, if you havenít already.

Affleck is Tony Mendez, a hardened CIA operative, who is devoted to his job, even if it means that his family doesnít always get to see him. His job is to lead six U.S. diplomats out of Iran in 1979 during the Iran hostage crisis. There are many bad ideas in place, such as bicycles and school teachers, but Mendez comes up with the best bad idea which is to get them out under the pretense of them being involved in the movie business. He enlists the help of makeup artist John Chambers (John Goodman) and big shot producer Lester Siegel (Alan Arkin).

This is a life or death mission, so everything has to look and feel real, or things will turn out very badly for Mendez and the six diplomats. The six diplomats are played by Tate Donovan, Clea DuVall, Scoot McNairy, Rory Cochrane, Christopher Denham, and Kerry Bishé . They are staying with Canadian ambassador (Victor Garber) and they are very leery of Mendez at first and this plan. On paper, it might sound ludicrous but as they say, it might just be crazy enough to work. The film shows what can happen if everyone works together and gets on the same page, even in trying circumstances.

Even though we know exactly whatís going to unfold, the last thirty minutes of the film are incredibly tense, frightening, and exciting. That is a credit to Affleck and his frantic but patient direction, as he takes you inside the airport and behind the scenes to see how it all unfolded. As an audience member, you are right there with them the entire time. The film runs at two hours and not for a second is it boring or uninteresting. The entire cast is terrific, and they bring some much needed humor to elevate some of the tension.

Argo is filmmaking and acting at its finest. Itís smart entertainment and an extraordinarily well-made film from start to finish. These are the kinds of movies that we need more of in Hollywood: intelligent films with something to say both visually and mentally. The trio of John Goodman, Ben Affleck, and Alan Arkin is a winning one, as the three of them have great chemistry together. The success of the film both critically and financially shows that filmgoers are itching for movies like this. They want something more, and Argo provides that and then some. Argo is a must-see.

Blu-Ray Info: Argo is released on a Blu-ray Combo pack, DVD and for download from Warner Home Entertainment. The film runs at 120 minutes and is rated R for language and some violent images. There is also an UltraViolet digital copy, but it canít be used on ITunes.

Video Info: The film is presented in 1080p high definition 16x9 2.4:1. The best movie of the year looks absolutely amazing on Blu-Ray. The colors are moody and really show off the time period accurately. The picture is vibrant, sharp, and radiant. The retro look of the film is really shown properly on Blu-Ray.

Audio Info: The audio of the film is presented in DTS-HD Master Audio 5.1. The audio on this film is extraordinary and really enhances the dramatic moments of the film without banging you over the head with it. There are also subtitles in English, French and Spanish and there are also audio options in French and Spanish as well.

Picture-In-Picture Eye Witness Account: This is a really neat special feature which allows you to watch the film while listening to the actual people who survived the whole ordeal. Thereís no better way to know what it was like than to hear it straight from them.

Rescued from Tehran: We Were There (16:51): President Jimmy Carter, Tony Mendez, and the house guests talk about the real experience that is depicted in the film. Itís so fascinating and so unusual that itís easy to see why it was made into a film by Hollywood. Itís perfect for the big screen.

Argo: Absolute Authenticity (11:19): Affleck took this film very, very seriously, and he wanted to get everything right. He did his research and wanted the film to really capture what it was like. He left no stone unturned in making this film and itís a great film because of it.

Argo: The CIA and Hollywood Connection (06:05): Ben Affleck, John Goodman, and Tony Mendez all share their thoughts on this special feature in different interview segments spliced together. They talk about how this idea actually worked and came together.

Escape from Iran: The Hollywood Option (46:34): This is a great documentary which talks about how the Canadian government helped the Americans get home safely and how it all went down.

Commentary with Ben Affleck and writer Chris Terrio: This is an awesome commentary track where both men talk about their contributions to the project and their vision for the film. Both are really smart men with a lot to say and a lot of great behind the scenes information. I highly recommend that you listen to this commentary.


The 411: Argo is a perfect movie and this is a perfect Blu-Ray, as there are tons of informative and insightful special features about not only the film but the real life mission. Thereís also a great commentary track with Affleck and the screenwriter which helps shed some more light on this incredible film. Argo is the best film of 2012 and is a must to add to your Blu-Ray collection with its fantastic visuals and sound.

Final Score: 10.0

[ Virtually Perfect ]

legend
comments powered by