SPOTLIGHTS
Who Framed Roger Rabbit? (25th Anniversary Blu-Ray) Review
Posted by Michael Weyer on 03.15.2013

Disney's groundbreaking mix of animation, live action and fun noir tale comes to Blu-Ray with a good look back at a film that straddled quite a few barriers.

Who Framed Roger Rabbit 25th Anniversary
Touchstone Home Entertainment
104 Minutes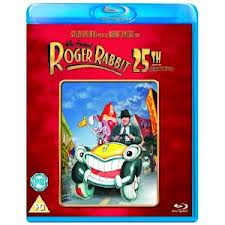 As hard as it may be to believe, a quarter of a century ago, Disney animated movies were considered box-office poison. The magic was gone, the efforts lackluster and forgettable and most thought that entire division would soon be gone. Then in 1989, The Little Mermaid arrived and became a critically acclaimed hit that sparked new life into things. A litany of successes followed: Beauty and the Beast, Aladdin, The Lion King and more, sparking a second Golden Age for animation that would give way to the current CGI era.

It's a great story but the fact is that the seeds for this revival were planted a year earlier with Who Framed Roger Rabbit The smash hit of 1988, the movie was a wonder to watch with the never-before-seen mixing of famous animated characters in a noir storyline and setting. It also was a groundbreaking achievement in special effects, pulling off the feat of mixing real actors with animated ones in a wonderfully believable fashion. At last, the film is on Blu-ray to show a younger generation a fantastic adventure that still impresses with its love of animation in all its way.

The Movie

The film's premise is simple and yet inspired: A 1947 Hollywood where animated characters are three-dimensional living creatures working alongside humans. The star of Maroon Cartoons is Roger Rabbit (voiced by Charles Fleischer), a wild rabbit who's annoying directors by not seeming into his work anymore. R.K. Maroon (Alan Tilvern) believes Roger is having trouble with his ridiculously hot wife, Jessica (voiced by Kathleen Turner) who might be stepping out with joke-item owner Marvin Acme (Stubby Kaye) and so hires private eye Eddie Valiant (Bob Hoskins) to find out the truth. Eddie and his brother were once a great private eye pair helping out toons but when a toon murdered his brother, he gained a massive hate for them as he fell into drinking. He gets photos of Jessica and Acme playing patty cake (literally) with Roger going into a rage. When Acme turns up dead, Roger is the prime suspect and goes to Eddie for help. They have to keep a step ahead of the weasels sent by Judge Doom (Christopher Lloyd), the brutal judge of Toontown whose acid-like "The Dip" is the one thing that can kill Toons. Roger and Eddie are out to clear Roger's name and find why Acme died, leading Eddie back to his hated Toontown.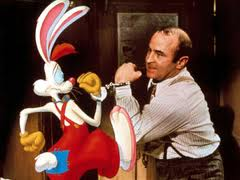 The movie's charm is retained by its wonderful mix of a noir tale worthy of Chinatown with the wild world of cartoons. It's a delight seeing Mickey Mouse and Bugs Bunny together or Donald Duck and Daffy having a great dueling pianos number as well as cameos from slews of classic characters, including Betty Boop. There's fun stuff like Roger's co-star Baby Herman (voiced by Lou Hisrch), who looks an innocent baby but a foul-mouthed, cigar-smoking loudmouth off-camera. The movie is also fun in how it handles the "rules" cartoons live by such as when Roger handcuffs himself and Eddie together, leading to various hijinks. When Eddie tries sawing them apart, Roger slips his hands out to help and when Eddie demands to know if he could have gotten out at any time, Roger replies "not at any time. Only when it was funny." There's also touches like how a single sip of alcohol causes Roger to erupt into a high-pitched wail that actually works into the plot. The way it mixes is so natural to the film that you're pulled into it well.

Hoskins is a key reason for that the actor perfectly imbuing a rough and tumble private eye of the period, lost in drink and his hate for Toons but still wanting to do the right thing. Hoskins gives the role weight, annoyed at some of the Toon antics but most importantly, selling it all as stuff that really happens so you believe it. Instead of playing up camp, Hoskins plays the role totally straight and because of that, you believe he's talking and interacting with these cartoons and so the entire movie works well, even when he breaks into a song-and-dance number as part of his strategy to get Roger and Jessica out of a jam. Joanna Cassidy is nice as Delores, a bartender and former flame of Eddie who tries to help him out of his shell as the case goes along. Doom gives Lloyd the chance to chew scenery with sinister menace that makes a lot more sense when a big twist in the last act comes. As for the voice characters, Fleischer makes Roger a buffoon but a well-meaning one who's basically trapped by his nature as a clown but managing to click well with Eddie, helping that man out of his funk. Turner is wonderful vamping it up as Jessica with the nice touch of how both she and Roger don't seem to understand why everyone finds it so strange a knockout like her is with this goofball.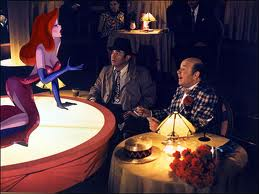 The special effects haven't aged quite as well and not as seamless as they once were. However, make no mistake, for the pre-CGI era, the way the real world characters interact with the animated ones is amazing. It's not just drawings, the toons throw around dishes and glasses, move with shadows and more. The chase sequence of Roger and Eddie in the talking cab Benny is great with multiple gags and fun watching the goofball Weasels with the great visual flair of the final battle of Doom and Eddie going at it. Robert Zemeckis' direction is top-notch with the Toons giving as much credence as the live actors to ground the story and make you believe in it while still wowing you with the imagery. The animation is gloriously old-school, perfect for the 1940's and the voicework matches (with Mel Blanc providing the voices for his old faves Bugs and Daffy among others). The story is rather clever, elements of surprising darkness and a fun payoff to it all that makes sense when you look back at the tale. The movie remains a great mix of humor and crime with the addition of cartoons aiding, not a detriment as some might expect. Even a quarter-century later, the movie wows you with its effects but more importantly, the story to match with actors that sell it all as totally real. Whether a fan of noir or classic animation, Roger Rabbit continues to entertain you and still standing up much better than most effects-pushed films of its time.

Rating: 8.5 out of 10.0

Video

Some have complained that the 1080p/AVC MPEG-4 transfer is not as top-notch as could be and it's true there are some inconsistencies with details and some grain. Also, the detail can actually hurt the film, letting you see some of the moments when the animation/live action elements don't match up as well as they did back in 1988. There is some compression as well along with a few color saturation issues. However, you do have to admire how a movie from back in 1988 looks as crisp as it does, the animated sections popping quite well and the film does look better than ever before. Yes, it could have been cleaned up more but that might have meant some revisions and tinkering that risked ruining the magic that made the film so great in the first place so perhaps better it keeps some of that rough edge to fit its time period and still a great picture for fans.

Rating: 8.0 out of 10.0

Audio

DTS-HD Master Audio 5.1 surround, a very good track that overcomes the usually jammed audio tracks of late-'80's films, especially with the dialogue. The sound effects are great, especially in the cartoon sequences and final fight scene and captures the mix of genres quite well, especially Alan Silvestri's good music that mixes cartoon humor with 1940's jazz and tones for a good track. Subtitles in English, French and Spanish go along with a good track to help the film out.

Rating: 8.5 out of 10.0




The features are a bit disappointing as they're all carried over from the 2003 DVD release. It might have been nice to have a new feature or two to note how the film's FX work inspired others and why it remains so popular but what we have is still good.

We kick off with an audio commentary by Zemeckis, producer Frank Marshall, associate producer Steve Starkey, visual effects supervisor Ken Ralston and co-writers Jeffrey Price and Peter S. Seaman. It's a truly in-depth track as they note the challenges of the film and its nearly year-long production. The beginning had to get notice with them making Roger different from Bugs Bunny with the idea of him being more a victim than a schemer. It was a major deal at the time for all these studios to let their characters be together for one film which will probably never happen again. The discussion of the story talks of how it evolved from just an excuse for cartoon cameos to a real gripping noir tale more serious than they expected. They touch on the idea of themes like toons "segregated" from humans and on Jessica's entrance, talk about the infamous story of some animators having fun by "flashing" the audience which wasn't noticed for years. Some tidbits may surprise like how Lloyd never blinks once on screen and how they shipped so much American items to England for the shoot but fun like laughing at how hairy Hoskins' back is in a scene and how they had to cut some stuff from chase scenes to let the story flow better. Overall, a great track as they are still amazed they managed to pull the whole thing off and how it stands the test of time still.

Who Made Roger Rabbit (10:55) is aimed at kids as Charles Fleischer talks about the making of the movie with lots of mugging, an appearance by Roger and various screens to jump around to show the animated/live action process. Short but ok.

Behind the Ears (36:37) is a far more detailed look at the film with some noting how "it was almost destroyed as we had too much time to tinker." We get good bits like the original test of an animated Roger talking to an actor playing Eddie to see how it could work out. Major credit is given to animator Richard Williams who created Roger and welcomed Zemeckis' wanting to break the bizarre "rule" about not moving the camera in animation. Hoskins laughs about how crazy Fleischer was as the man came on set to provide his voicework dressed in a giant Roger costume. The challenges of working in the pre-CGI era were big with making props move realistically with the animation. They were going for a mix of Disney, Warner Brothers and Tex Avery, the first two for quality and the latter for the humor. Williams himself says Roger was a mix of various famous characters like Mickey, Bugs, Daffy and others and he made his outfit resemble the American flag to win people over faster and the idea of Roger's ears showing his emotions. Zemeckis was unprepared for how "making animated movies is like making grass grow" but did his best with shadows and other elements while Silvestri wanted to capture 1940's themes of jazz and big bands for the music. The original test screening was a disaster as an audience of teenagers hated the opening animated sequence but Disney had faith in it. Overall, a great look at how such a challenging movie was made.


Before and After (3:07) is a split-screen look at how a scene was on set and then with animation added. Toon Stand-ins 3:14 is a funny bit with a scene in a bar using the original dolls on set for visual points. On Set!4:50 shows the making of the car chase sequence. A deleted scene is the famous bit where the Weasels slap a cartoon pig head on Eddie as a joke, with an introduction by the filmmakers on why it was cut and how they reworked the film around it. Finally, a trio of shorts featuring Roger made for various Disney films.


Rating: 8.0 out of 10.0

The 411: The picture could be better yet the film's magic is retained, still amazing to see how these cartoons and live actors work so well, you believe the illusion perfectly. The story is great fun with a mix of noir and over-the-top comedy yet sold in a way that it doesn't turn camp but rather a really good film of various forms. The extras do a fair job giving insight to how it was all created and you have to admire how it all came together despite the challenges. 25 years later and Roger Rabbit and his friends still entertain you for a Blu-Ray set that can bring out the kid in anyone even if it gets dark to keep with its times. Come for the groundbreaking FX but stay for one of the best Disney films ever that still keeps you laughing.

Final Score: 8.5

[ Very Good ]

legend
comments powered by