SPOTLIGHTS
Les Misérables (Blu-Ray Combo Pack) Review
Posted by Tony Farinella on 03.26.2013

One of the best reviewed films of 2012 is now out on Blu-Ray in Les Misérables! How does the film hold up on Blu-Ray and is it worth adding to your collection? Check out the full review from 411mania.com's Tony Farinella for details!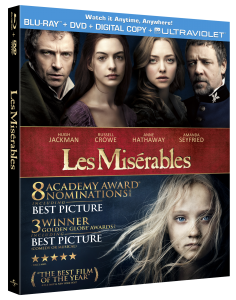 I must admit that before watching the latest film version of Les Misérables, I was completely unaware of its story. Of course I had heard of it and knew of its massive popularity, but I had never seen it in any format before. Needless to say, I was pleasantly surprised when I was able to see it on the big screen and experience it for the first time. It blew me away and it certainly packs an emotional wallop that hits like a sledgehammer. Itís all earned, however, after spending so much time with these characters over the course of the film. Authentic emotion is oftentimes hard to come by in most motion pictures. When you feel it, you just know it.

Iím assuming that most people reading this review are not like me and they know the story, but if not, the film follows Jean Valjean (Hugh Jackman), who served a prison sentence for over nineteen years and is finally free to resume his life albeit on parole. Heís always looking over his shoulder and doubting himself due to Javert (Russell Crowe), a prison guard that is just waiting for Jean to screw up and break parole. Jean is desperate for a fresh start on life and finds one when he gets the chance to look after Cosette, the daughter of Anne Hathawayís Fantine, following her death.

Director Tom Hooper made the wise decision to let his actors record their songs live and it really enhances the power of the film, especially during Anne Hathawayís Oscar winning ĎI Dreamed a Dreamí solo. You see the emotion, the pain, and the heartache of the character and the actor on screen right in front of you. Even if some of the singing during certain scenes leaves something to be desired, itís up there, warts and all, and it works. Itís real and genuine and Iím focused on the performances as opposed to noticing them lip synching poorly.



Speaking of the performances, top to bottom this is a great cast and they all bring their characters to life on screen. However, once Hathawayís character dies, a part of the film dies with it. She comes in, breaks your heart, and leaves, and itís hard to live up to that for the rest of the film. With that said, Jackman is playing the role that he was born to play. He has experience in this type of venue and he nails it all with flying colors. Iíve heard a lot of criticism toward Russell Crowe, but I think he does an admirable job of playing a tortured tough guy who sticks to his guns, no matter what. The young cast, Samantha Barks, Amanda Seyfried, and Eddie Redmayne, also shine on screen when the moment calls for it.

Les Misérables is one of the best films of 2012 and it features everything a big screen Hollywood production like this should have: big names, big emotion, and big story. Itís over two and a half hours, and it never drags, lags, or feels tedious. Anne Hathaway earned her Oscar for this film, without a shadow of a doubt. She put her all into this performance from her appearance to her singing and to her emotions. Itís mesmerizing and heartbreaking. The rest of the film canít compete with that, obviously, but itís still a great film that still holds up on Blu-Ray with a second viewing. Itís an amazing piece of filmmaking.

Blu-Ray Info: Les Misérables is released on a two disc DVD and Blu-Ray combo pack which also includes a digital copy for ITunes and UltraViolet from Universal Studios Home Entertainment.. The film runs at two hours and thirty eight minutes. It is rated PG-13 for suggestive and sexual material, violence, and thematic elements.

Video Info: Presented in 1080p, the film is visually stunning and gorgeous from start to finish. The aspect ratio is 1.85:1 widescreen. The colors are dark and moody when the film has a darker tone but when the film is uplifting and hopeful, it shines like a ray of sunshine. Universal has released a crystal clear release of this film.

Audio Info: The audio presentation is huge on a film where itís largely singing, and the English DTS-HD Master Audio 7.1 and English DTS Surround 5.1 audio is pitch perfect. You feel as though they are right in your living room singing to you as itís happening. Itís not too loud and showy, also, which is greatly appreciated. Itís right on cue.

Special Features:

Audio commentary with Director Tom Hooper: Tom Hooper gives tremendous insight on the making of this film, which was quite a daunting project to say the least. He walks the audience through different scenes and also offers some behind the scenes stories.

Les Misérables Singing Live (23:23): This special feature goes into detail about the decision that was made to have all of the actors sing live. The actors were a big fan of this, as it allowed them to have chemistry with the actors and be in the moment.

Battle At Barricade (04:44): Details about shooting the battle are included in this special feature.

Stars of Les Misérables (11:16): The cast was such a vital part of the film being successful, and we hear from many of them here.

Original Masterwork: Victor Hugoís Les Misérables (11:11): Victor Hugoís novel and its influence on the film is the subject of this special feature.

Creating the Perfect Paris (03:56): The look and period of the film was another important part of its success and they went to great lengths to make sure they got it right.

Les Misérables on Location (09:12): This takes the viewers on location to see what it was like filming certain scenes in various locations. Some of the places they shot in were just gorgeous.

West End Connection (08:23): Cameron Mackintosh, a celebrated West End producer, is introduced here. His fingerprints were all over this 2012 film.
The 411: Les Misérables is just as powerful, just as enjoyable, and just as sweet on Blu-Ray as it was on the big screen. Universal is always on the top of their game with their Blu-Ray releases and this is the type of film that lends itself perfectly to the format. There are also plenty of great special features about the making of the film and all of the hard work that went into making it a reality. If you enjoyed the film as much as I did, you owe it to yourself to buy it on Blu-Ray. Highly recommended.

Final Score: 9.0

[ Amazing ]

legend
comments powered by