SPOTLIGHTS
The Many Adventures of Winnie the Pooh (Blu-Ray Combo Pack) Review
Posted by Tony Farinella on 08.29.2013

The silly old bear and the rest of the gang are out on Blu-Ray with The Many Adventures of Winnie the Pooh! is it worth adding to your Disney collection?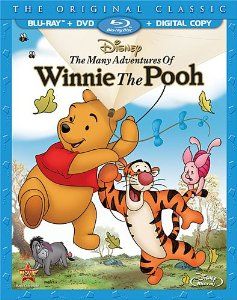 The Muppets and Winnie the Pooh have always been among my favorite Disney characters of all time. Recently, I was able to review The Muppet Movie and I was happy to report that it held up very well and was still quite humorous. Iím sad to say I canít say the same thing about The Many Adventures of Winnie the Pooh as I found the whole film quite tedious, repetitive, and lacking in charm. When I was younger, I enjoyed Winnie quite a bit and I enjoyed his new movie in 2011, but this version feels like the type of film that I think only really young children will enjoy.

The Many Adventures of Winnie the Pooh is just that: many adventures coming together to make one adventure as a complete film. Viewing this film, I couldnít help but notice many similarities between this film and the 2011 version of the film. However, this time it doesnít have the same appeal that was present in the 2011 film. It seems ordinary and incredibly simple. I understand viewers donít go to a Winnie the Pooh movie to be blown away by story or realism, but sometimes I felt like they were going a little too simple for my liking.

My favorite story of the bunch is the one where Winnie gets stuck in Rabbitís house after eating too much honey. Itís everything that Winnie the Pooh is known for: silliness, comedy, and some heart as well. Another story involves Tigger, who has never been one of my favorites, and can be a tad annoying in anything less than small doses. The one involving Eeyoreís birthday will be enjoyable for fans of the beloved Eeyore, but itís nothing to write home about or anything all that interesting.

Thatís the problem with the film as a whole: itís not terrible or awful. It just doesnít feel all that inspired or needed. Itís a childrenís film that doesnít really appeal to anyone other than children. For the rest of us, we are left checking our watches and waiting for the time to run out and the film to end. Keep in mind, Iím a Winnie the Pooh fan and I went into this film expecting to love it and fall in love with it all over again. Instead, I felt like I was watching a dated, tedious, and forgettable childrenís movie.

Keep in mind that this film is considered a classic and many children and adults both love and praise it. I donít enjoy writing this negative review, but this was the reaction I had to it and itís one I didnít expect or anticipate. For me, I need more than just these characters. I need a little something extra, some type of story, and some type of ambition. I didnít sense that with this film. However, for young children who love Winnie the Pooh, itís worth picking up and adding to their collection. For everyone else, maybe rent it and check it out again and see how you feel about the film years later.

Blu-Ray Info: The Many Adventures of Winnie the Pooh is released on a two disc Blu-Ray combo pack from Disney. It includes the Blu-Ray, DVD, and digital copies of the film. The Blu-Ray set also includes a free kite inside for young children along with a coupon for another Winnie the Pooh movies.

Video Info: The film is released on 1080p with a 1.66:1 aspect ratio. The animation and the colors are just about perfect. This is a terrific looking and colorful Blu-Ray and the film looks ten times better than it did on DVD. They made tremendous improvements to the visuals of the film.

Audio Info: The English: DTS-HD Master Audio 5.1 track is also perfect for enjoying the many catchy songs used in the film. They are all right on track and sound just right. Subtitles are also included in English, Spanish, and French.

Special Features:

Pooh Play Along: When you pause the film, you play along with Pooh and friends as they give some instructions on things to follow along with the gang. This is for little kids, I would imagine.

Five Mini Adventures of Winnie the Pooh shorts: If I Wasnít So Small, Pigletís Drawings, The Expedition, Geniuses, and The Honey Song are included. These have been seen before on other Winnie the Pooh DVDís, but they are here in case you havenít seen them before.

A Day for Eeyroe: This special feature is another short in the Winnie the Pooh series and is a must-watch for hardcore Eeyroe fans, as he gets all of the attention and focus here.

Winnie the Pooh Theme Song Music Video

The Story Behind the Masterpiece: This features interviews from many of those who performed the voices in the film and they share some great behind-the-scenes stories. This was very interesting and informative.
The 411: Iím sad to report that The Many Adventures of Winnie the Pooh didnít amuse me and put a smile on my face like it did when I was younger. It also didnít appeal to me in the same way that the 2011 film did. However, itís hard to hate Winnie the Pooh or any film involving him. Itís just disappointing. For children, they will enjoy the kite that comes with the film and the Winnie the Pooh stories both in the film and on the special features. The Blu-Ray looks magnificent, I will say that.

Final Score: 6.0

[ Average ]

legend
comments powered by