SPOTLIGHTS
The Vampire Diaries: the Complete Fourth Season (DVD) Review
Posted by Michael Weyer on 09.05.2013

The fourth season of the CW's hit drama features some spectacular character turns that make up for some storytelling shortcomings to provide another hot year in Mystic Falls.

The Vampire Diaries the Complete Fourth Season
Warner Brothers Home Video
969 Minutes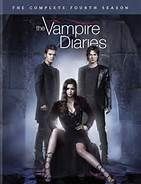 Entering its fourth season is a challenge for a show centering on young characters, especially for audiences as fickle as teenagers can be. The Vampire Diaries has a few weapons to help it out, especially the fact that it revolves around supernatural creatures who are far older than they appear yet able to appeal to viewers today with issues. Helping is that the series rests on some sharp writing and wild plot twists that take these characters in directions the audience is rarely prepared for. With season four, the series can sag a bit in its mythology but still boasts some terrific touches that lead to a fantastic finale and remind you why it's one of the most buzzed-about shows on television today.

The Series

We pick right up where season three left off as, having seemingly drowned, Elena (Nina Dobrev) has now become a vampire. It's naturally a jarring transformation for her and complicates the love triangle with Stefan (Paul Wesley) and Damon (Ian Somerhalder), especially since Elena now remembers she met Damon before Stefan and was compelled to forget it. Caroline (Candice Accola) soon figures out that boyfriend Tyler (Michael Trevino) is possessed by vampire Klaus and with help from witch Bonnie (Kat Graham) and Jeremy (Steven R. McQueen) get Klaus back into his old body (Joseph Morgan). This plays into Klaus' plans to control vampire/werewolf hybrids and one of them comes to town, Hayley (Phoebe Tonkin) who has sparks with Tyler while Klaus' sister Rebekah (Claire Holt) seems into Elena and Caroline's mutual ex, Matt (Zach Roerig). The sudden killing of a dozen people gets everyone's attention with April (Grace Phipps), whose father caused it, looking for answers as Bonnie is soon met by Atticus Shane (David Alpay) who wants to help her control her magic. Soon, the discovery of the existence of a cure for vampirism leads everyone on a mission that will end with massive changes all around as an ancient threat rises.




From the start, the push of Diaries has been human Elena caught in this supernatural world. Thus, having her transform into a vampire is a fantastic move for the storyline and drives the season onward. Naturally, Damon and Stefan have different views on how to help her with Stefan wanting her on bagged blood while Damon encourages her to go for living targets. Complicating manners more is when Damon and Elena give in to their passion but Caroline and Stefan realize that Elena is sire-bonded to Damon, meaning she basically does whatever he wants without question. At first reluctant to believe it, Damon is forced to when he realizes he did the same thing to a former progeny (Madeline Zima) who's still waiting for Damon to return to her after 60 years. Meanwhile, the arrival of a mystery man named Connor (Todd Williams) kicks the big plots off as the man is a Hunter, his body covered with tattoos with each vampire he kills. Jeremy is soon recruited to become one as well and when it's learned that the tattoos form a map for a vampire cure, we get dark bits such as Klaus turning innocent people into vampires just for Jeremy to slay them and let his tattoo grow. It's a good development for McQueen, letting him break out more as a stronger character while Bonnie's descent into darker magic is well-done too. The plotline of Tyler and Caroline is rougher as Haley isn't as well-developed a character despite Tonkin's fun performance as her.

It's true the first half of the season can be rough despite good work from Dobrev of Elena dealing with her first kill and a vampire life and it's still a bit crazy to see these guys still attending high school. Somerhalder matches her well as Damon finally gets the girl but must face the truth it's less true love and more the bond, a blow to his usually sardonic nature (the man can still get great laugh lines). But the mythology of the Hunters gets too complicated with flashbacks and exposition and after a seeming build, April basically fades into the background, as does the seeming coup Klaus pulls on the town council. However, the mid-season episodes kick things up big time with a trip to an island with a major character death that rocks the show. This then leads to the true highlight of the season as Elena turns off her emotions, becoming a complete bitch who's literally murderous in her refusal to deal with her pain. The highlight is when evil vampire doppelganger Katherine returns and we get the brilliant touch of Katherine more emotional than Elena. It also has a fun episode of the gang tracking Katherine to a small town where she's compelled everyone to like her and Rebakah points out just how pathetic this supposedly master vampire is. Meanwhile, posing as Katherine for once, Elena meets a vampire ally and laughs at how this supposedly smart man has fallen into "the Katherine trap" like every other guy on the show. Dobrev really pulls off great acting chops with all these different characters and facets and helps push the season over while Damon and Stefan try to help her in their own unique ways, each forced to face their dark pasts with the woman they love turning into a monster.




The Caroline/Klaus attraction is pushed but still good, the two having obvious chemistry and Morgan has undeniable charm as this vicious and ancient vampire who still has a streak of honor left in him. The arrival of a new threat that frightens even him is a great storyline and he shines in an episode that's a pilot for the upcoming The Originals spin-off (which also promises a major development for the otherwise underused Haley). Accola is still fun as Caroline, especially handling the colder Elena who pulls such moves as stealing the dress Caroline was going to wear to prom to enrage her ("I know you said to kill her with kindness but can't I just kill her?") and more worried about preparations for a dance than the various threats around her. Holt shows more heart to Rebekah who surprises many by wanting the cure, to finally live a normal life and a good scene where Matt tells her that if she wants to date him, she has to show she can live without vampire powers and she literally has no idea how to do it, this conniving vampire worrying like any teenage girl. Graham gets meat with Bonnie, who goes way too far in her attempts to save everyone and must deal with the consequences as well as her own heartbreak. No matter how wild the stories may be, the cast continues to ground it and make you enjoy the series.

As ever, it's hard to talk more without giving away the delicious surprises that make the show so great. There's still clever touches such as how an enemy spikes the water supply of Mystic Falls so vampires can't drink or even shower without getting burned and while it may be old-hat, the way an enemy can look like others is good to fool you at times. We get the supernatural threats as always but it's the characters that are still the heart of the show and the willingness of the producers to turn our heroine into an inhuman killer is a bold choice that pays off wonderfully. Sure, we may get a few slow eps here and there but the road to the finale is great with some old faces returning, a brilliant ending for the cure plotline and a killer cliffhanger to keep you wanting more. Rather than coasting along, Diaries continues to provide plenty of bite and keep you enthralled as ever with how easy it can be for a good heart to get black fast.

Rating: 8.0 out of 10.0


Video

Widescreen with 1.78:1 aspect ratio, the picture is as good as ever for the show. While not as crisp as the Blu-Ray, it still provides a great picture with the constant night scenes appropriately moody and adding to the show's entire tone while interior/daylight scenes are quite bright yet muted to fit the series. The unique touches of flashbacks to 1940's or 1970's New York have a good vibe to them and the FX are great for some transformations, pulling you into the storyline as needed.

Rating: 9.0 out of 10.0

Audio

Dolby Digital 5.1 Surround Sound with subtitles in English, French, Spanish, Portuguese and Thai. A top-notch audio track that allows you to not only catch dialogue well but also the various background noises of forests and parties as well as the good FX work. From a gasp of a vampire bite to a growling wolf, you get it all with no need to adjust volume and subtitles can help with tougher accents and not distract but rather embrace you into the series.

Rating: 9.0 out of 10.0




Bonus Features

Sadly, no audio commentaries this season, a shame given the great storylines that deserved attention.

Inking the Brotherhood: The Hunter's Mark (6:38) looks at Jeremy's transformation into a hunter. McQueen laughs that he had always avoided the shirtless scenes the rest of the actors got but had to buff up big time for this. For the first time, the show hired a trainer and nutritionist for McQueen to believably improve his build, leading to what producer Julie Plec calls "our accidental Incredible Hulk moment" where Jeremy rips open his shirt to show the growing Hunter's Mark. Visual effects producer John Owens and 3D artists Rik Panero and Leslie Conover talk about creating the tattoo digitally and making it work right as an effect first. While some makeup was requited, it's mostly CGI with McQueen laughing about how he has to be shot with invisible markings and how he's finally joining the FX the rest of the cast has.

Creating Silas' Island (5:43) looks at the setting for the mid-point of the season. The storywriters describe how they "start with little bad then lead to big bad," the Hunters leading to the search for the cure and then a greater threat. Location scout Danny Sconyers shows the small island they found to shoot at and the cast enjoying going on location rather than the usual sets, with the building of a crypt to keep to the island's tone.

Blood, Boys and Bad Behavior: Becoming a Vampire (5:26) is a short bit examining the behaviors of vampires on the show with folks laughing about the diet choices (Damon enjoying the "attack, bite, memory wipe" approach and most of the actors agreeing that's what they would do) and the "Team Damon vs Team Stefan" battles with who the cast would choose.

The Evolution of Elena Gilbert (8:35) examines the transformation of our heroine from the innocent girl of the pilot into the twisted vampire of this season. Plec points out how many versions of Elena that Dobrev has to play and the challenge of making sure that the darker Elena was much different than Katherine. Accola shares insight with how she had to change her portrayal of Caroline when that character became a vampire and loving how Elena, the person usually so all together, comes apart. She also gets the great insight that Elena turning off her emotions makes her "the most human we've ever seen her." It could have been longer but still a great look at how Dobrev's performance grounds the show in amazing ways.

The Ultimate Prop Master (4:38) is named after Joe Connolly who handles props for the show from weapons to effects stuff. We learn here that the idea of Elena turning and a vampire cure had been planned from the first season and Connolly shows off such things as the Hunter's weapon that leads to a map for the cure and the challenge of making this stuff look like it's been around for centuries but still able to be used.

We have about twenty minutes worth of deleted scenes, most just filler stuff cut for time but bits like Caroline hunted by a werewolf in school and more from the "Originals" episode that gives background to other characters of that show. Plus, a two-minute blooper reel and a fan video showing how the series means a lot to fans. Not bad overall but feels lacking after all the meat of this season.

Rating: 7.0 out of 10.0



The 411: The fourth season of The Vampire Diaries has a few slumps here and there, bogged down a lot in its own mythology. But the cast always helps carry it along, none better than Nina Dobrev's transformation of Elena from strong heroine to a darker vampire that's scary to watch. The others help as well, particularly a star turn from Morgan and carry the season to a great conclusion. The extras could have been better but at least the show itself still has the great bite to let you enjoy a fantastic story better than most youth-oriented shows on TV today.

Final Score: 8.0

[ Very Good ]

legend
comments powered by