SPOTLIGHTS
Spartacus: War of the Damned (Blu-Ray) Review
Posted by Michael Weyer on 09.09.2013

Starz' historical epic comes to a conclusion as wild, bloody and brilliant as the series that preceded it.

Spartacus War of the Damned
Anchor Bay Entertainment
562 Minutes




It may not have the prestige of fellow cable channels HBO or Showtime or even Netflix but Starz still provides some intriguing drama shows that use the freedom of cable to their fullest. Nowhere is that showcased more than their first original series, the show that got them major attention: Spartacus. The first season (subtitled Blood and Sand) was a sensation when it premiered in 2009, wowing viewers with its insane battle scenes, digital blood and flying limbs, constant nudity and profanity but still a strong story backed by leading man Andy Whitfield. Tragically, Whitfield developed cancer, forcing the network to do a prequel mini-series, Gods of the Arena to fill the gap. But Whitfield was unable to return and passed on in September of 2011 just as the third series, Vengeance, was about to air with Liam McIntyre meeting the challenge of filling the shoes of the lead character. Rather than try to milk it for a while, Starz has taken the daring route of ending the series with its fourth season, War of the Damned. But thankfully, it goes out with a terrific bang, managing the amazing task of mixing old characters with new ones and bringing it all to a fantastic finale that pays tribute to this great show and makes this bloody journey worthwhile.

The Series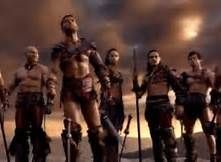 It's been roughly a year since the end of the last series and Spartacus (Liam McIntyre) has seen his army of slaves grow more and more, handling their leadership as well as providing for them all. Crixus (Manu Bennett) is still loyal to him along with his lover Naevia (Cynthia Addai-Robinson) and Agron (Dan Geurriegal) and lover Nasir (Pna Hema Taylor). Gannicus (Dustin Clare) is still around although not as true a believer in Spartacus' crusade but willing to help with his wild lover Saxa (Ellen Hollman). Spartacus pulls of a huge move by managing to take over an entire Roman city as a stronghold. Among those captive are Sibyl (Gwendoline Taylor), a slave who feels attracted to Gannicus and Laeta (Anna Hutchison), a Roman noblewoman at first hating her captors but soon realizing the darkness of her fellow Romans. Realizing the rebellion is growing stronger, the Roman senate gives command to Marcus Licinius Crassus (Simon Merrells), who handles command with his son, Tiberius (Christian Antidormi). Seeking more of an advantage, Crassus singles out a young but seasoned and arrogant soldier by the name of Julius Caesar (Todd Lasance). It all leads to a final and bloody battle that brings the legend to a close.

From the start, the series has been notable for its wild style. The green screen action is offset by a combination of cursing, nudity and bloody action that makes Game of Thrones look rated PG. There's also the incredibly elaborate language, mixing together a great way of speaking that makes everyone sound intelligent ("Break word quickly or else lose tongue") and helps the show stand out more. Yet all that style wouldn't mean anything if we didn't care about the characters and their story and we do. The long journey of Spartacus from slavery to rebel has been very well done and this is the culmination of it all. This is a man who has lost so much and ready to lash out at the world in his pain and we want to see how this journey comes to full culmination. McIntyre had the task last season of stepping into the shoes of the beloved Whitfield but now he manages to make the role more his own, intense and cunning, smart enough to know that letting his passion govern him will only lead to death for everyone so has to temper the hotheads among his group. He's totally believable slashing guys left and right with incredible skill but he can also show the softer sides of Spartacus who knows there's no happy ending for him but wants to make his mark upon the world before his time is done.




Helping is that, at last, Spartacus has a truly worthy adversary. Crassus is a terrific character, a politician but capable soldier who doesn't make the mistake of underestimating Spartacus as a savage. A great early bit is ordering his trainer (veteran martial artist Richard Norton) to go all out in fighting him, offering the man his freedom if he wins, all so Crassus can test himself better. Merrells is terrific in the role, keeping cool most of the time so when he does lose control, it's better to make him a hard foe. At first, it seems odd he refuses to let Caesar clean himself up properly until it turns out to be his plan to insert Caesar into Spartacus' camp to seed sows of dissension from within. On that, Lasance is an inspired choice for the young Caesar, incredibly arrogant and more akin to womanizing than the politics of the army but still a great fighter in his own right who carries himself quite well with his actions. In the middle is Tiberius who starts in the shadow of his father, nervous of battle. A telling moment is when he impulsively leads an attack that goes badly and is ordered to take part in a "Decimation" where a tenth of the soldiers are brutally punished, including one of Tiberius' friends. It hardens the young man as he lashes out at Kore (Jenna Lind), Crassus' slave lover and a brutal act on Caesar that humbles the usually brash man. As always, it's fascinating to see the duplicity of the "civilized" Romans while the slaves are more honest and how hardened war can make people as when Tiberius dryly remarks to his father "I am what you made me." It's the battle between Crassus and Spartacus that dominates, the two never actually coming truly face to face until the finale and it thus shines wonderfully, two brilliant warriors respecting each other even if they're out to kill one another.

But the older characters still get their due big time. Bennett continues to amaze as Crixus, loyal to Spartacus but still dictated too much by his emotions with he and Naevia a good couple, bonded together as they seek their revenge with Caesar playing on Crixus' ego to cause problems. This includes a dark sequence of the slaves taking revenge on Roman civilians to remind you how savage they truly are at heart. Once again, the Agron and Nasir relationship is great, the show not pushing the idea of two men together but seeing it as natural as any other pairing on the show. They face troubles as well with Castus (Blessing Mokgohloa), a pirate who falls into the group and is attracted to Nasir, causing worry for Agron that divides the two. Gannicus remains a fun character, not as believing in Spartacus' cause but loving a good fight, more inclined to drink and whore around but as capable a fighter as his fellows. He's matched well by Hollman as the wild Saxa, whose joy in a fight is infectious but the idea of Gannicus tempted by the more sedate Sibyl is well done, you feel for him still wanting to find his way. Hutchinson also shows depth as Laeta, at first a spoiled Roman wife but shows actual understanding and even sympathy for the slaves under her. Her experiences with Spartacus' band soon open her eyes, made better by a savage event and spark her turn to a different life which includes a spark with Spartacus where she insists she doesn't want love, just to help. Yes, all the women show off in numerous nude scenes but their acting makes you feel for them as real characters, not caricatures and thus enhance, rather than distract, from the story.

Having only ten episodes aids the season, the flow works well from the back and forth battles of Crassus and Spartacus and their losses. It includes such daring ideas as killing one of the show's biggest characters in the eight episode and how it rocks everyone and you can forgive the show for being a bit over the top as it backs up the action with storytelling well. The fight scenes are well done as the slow-motion and camera turns add to the excitement with the digital blood leaping about and showing just how brutal combat of the time was with touches like two men grasping arms after a battle with blood mixing together. But the characters are what makes the show shine and we care of their final fates. The music is a fantastic mix of choral and rock to get your blood pumping as it sprays across the screen. The effects crews do wonders with the CGI carnage and making it appear that there truly are thousands of soldiers going at it. It all comes to a finale that brings the entire saga to a wonderful close that makes perfect sense, painful to see your favorites fall as history dictated but yet realizing they earned a victory in their own way. The final bit is brilliant, the end credits featuring every character from the show's run, ending with a fitting tribute to Whitfield. For long-time fans, it's a fine way to end a favorite show, harsh to history and yet reminding you of how one should never give up despite the odds. And for beating the odds so many times in its airing, Spartacus truly deserves to be remembered as well as its historical namesake.

Rating: 8.5 out of 10.0





Video

1.78:1 ratio, the 1080p presentation is as fantastic as the rest of the show has been. It can enhance the green screen bits but those are lessened this season than in previous years so it's not as distracting. Colors are vibrant and you can enjoy the details of the armor and skin textures with no shading issues. It also showcases the wild CGI battle scenes and I'm sure many will enjoy the way nude scenes are vibrant but overall, this is the best picture you can imagine to aid an already fantastic series.

Rating: 10.0 out of 10.0


Audio

Dolby TrueHD 5.1, the track is as terrific as the picture. Subtitles in English and Spanish are available and help with the accents of several characters in places. It captures every clash of swords, crackle of flame and drop of blood falling as well as the backgrounds of winds across desert and town scenes. No need to adjust your volume as this is a truly wonderful audio track deserving of the show.

Rating: 10.0 out of 10.0


Bonus Features

The three-disc set comes in a nice cardboard case featuring great images of the cast. The push of the Blu-Ray is that every episode is extended by a few minutes of bits too raw even for cable. Better yet, each one also boasts an audio commentary:

*"Enemies of Rome" with executive Producer Rob Tapert, Director Mark Beesley, and Producer Chloe Smith
*"Wolves at the Gate" with writer/Creator/Executive Producer Stephen S. DeKnight and Actors Manu Bennett, Liam McIntyre, and Simon Merrells
*"Men of Honor" with DeKnight and Actors Dustin Clare, Anna Hutchinson, and Todd Lasance
*"Decimation" with DeKnight, Producer Rick Jacobson, and Actors Christian Antidormi and Simon Merrells
*"Blood Brothers" with DeKnight, Director TJ Scott, Bennett and Dan Feuerriegel
* "Spoils of War" with Tapert, Director Mark Beesley, and Visual Effects Art Director Peter Baustaedter
*"Mors Indcepta" with Tapert, Director Jesse Warn, and Executive Visual Effects Supervisor Charlie McClellan
*"Separate Paths" with DeKnight, Jacobson, and Bennett and Liam McIntyre
*"The Dead and the Dying" with DeKnight and Actors Cynthia Addai-Robinson, Hutchinson and Lasance
*"Victory" with DeKnight, Tapert, Jacobson and McIntyre for "Victory."

The commentaries are terrific with the recurring talk of how they had to stick to history as much as they could in the fates of characters and such. Originally, they had the idea of a season of Spartacus fighting a pair of Roman generals but decided they didn't want to drag the series out too long so basically, the first episode is the "finale" of this "lost season." They note the difficulties of things like using horses on soundstages and how much of a map to show in places. They have a sense of humor on things such as the constant talk of grain and the use of a certain sword and McIntyre laughing at how a disguised Spartacus is supposed to break out a fighting outfit out of nothing. They laugh as well on how Crassus is "the geekiest warrior general you'll ever find" and "you can't go wrong with fireballs streaking through the air at night." For new cast members like Hutchinson, it was a tough thing jumping into the show with Merrells cracking about not realizing how out of shape he was until he had to do a nude scene. It's fun how they note that so many times, a stray comment causes a domino effect that leads to major consequences. It brings up bits like how Crassus also had humble beginnings and thus respects Spartacus more for rising as he did. There's the challenges of writing a scene where 17 principal characters share the same stage and making sure of things like having the Roman army move as the real army did. It's said there are over 13,000 FX shots for this season alone and how they had ideas like Spartacus wiping out an entire legion by lighting up a field of oil but couldn't make it work logistically. There's naturally a major discussion on the series finale, wanting to make it work right for the fans and overall, everyone involved is proud of how it all ended and happy that they ended it on a high note.




Spartacus: The Legend Retold (9:32) is a promo bit from Starz that looks at the history of the series from start to finish with cast members talking about their favorite moments and how happy they were to be part of a fun series.

The Price of Being a Gladiator (3:45) The actors discuss how utterly brutal and painful the training for the show is, Lasance saying that when you do it "you just want to run and vomit." We see them going through a routine that would make Marines wince and Hollman states that "it's not a matter if you get scathed, it's how you get scathed" with Bennett admitting to having broken his ribs for three weeks while Geurriegal had a real black eye that had to be written into the script. Everyone says Bennett is the best fighter who would have made a great real gladiator and all respecting what real stunt people go through all the time because of it.

A Bloody Farewell (2:50) "Everyone was a pure snot machine today," Geurriegal says on the final day of shooting as the cast discusses how it feels to end their runs on the show and what they'll miss the most (most saying the great stunt team). Rob Tapert says he'll just miss the great cast while Lasance is honored to have been part of all this. They do admit they won't miss the early mornings and a few laughing over how they're eager to finally have junk food again but still feel a bond of brotherhood to match their characters.

The Spoils of War Revealed: Visual Effects (5:21) looks at the FX of the show with looks at the last two episodes in particular. Charlie McClellan, the FX supervisor, talks about the challenges using the 360 camera and how they're the first on a set to see how they can shoot it properly. We get good bits of a split-screen comparison between how a scene is shot and the final product as this season was the most challenging yet due to the complexity of the story. For the first time, they used the Massive software (the program created for the Lord of the Rings movies) to create the huge armies clashing and how they needed a core group of directors to make it all work right.

Adorning the Damned (4:04) takes a look at the show's costumes with the actors saying it's evolved over the show. Barbara Darragh is the designer who usually does 360 costumes each season and makes each character's costume look like it's been worn a while with additions to cover some tears and challenges such as a sequence in a winter storm. McIntyre wanted to bring back the snake motif to Spartacus' costume and the aptly named Wildman is the leather designer who makes sure these can work on screen for the stunts. The Romans naturally had more complex outfits with Caesar choosing a wolf motif for his outfit and the pirates just all over the place with love of beasts. Short but nice look at how the costumes are part of each character.

The Mind Behind Spartacus (7:15) has Kristin Adams interviewing Stephen DeKnight on the finale, noting various scenes of the series and how he wanted to sell this as a grand finale. He wants to create complex villains that viewers can still root for and loves the new blood of the Romans brought in. He used history in unique ways such as how Spartacus crossed a ditch in a winter wall and how challenging it was to get the finale right but happy to pull it off.

Rating: 9.0 out of 10.0


The 411: In its final season, Spartacus goes out in amazing style, the storyline better than ever as the warrior faces a worthy opponent and intriguing new characters mixed with old favorites. It may get crazy but still worth watching as you care for them even amid the bloody battles and nudity. The extras are better, offering a great look at how this series came together and how it ends on its own terms. Like its main character, the end just intensifies its legacy as a truly fun show and deserving to be remembered for quite a while.

Final Score: 9.0

[ Amazing ]

legend
comments powered by