SPOTLIGHTS
The Big Bang Theory: Season Six (Blu-Ray) Review
Posted by Tony Farinella on 09.19.2013

Raj, Sheldon, Leonard, Penny, and Howard are all back in season six of The Big Bang Theory! Are the laughs still coming in or has the show started to lose its luster? 411's Tony Farinella checks in with his full review!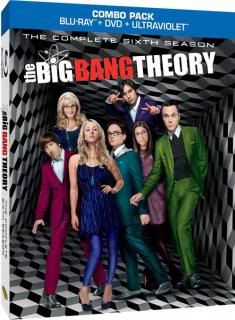 The Big Bang Theory is one of the most popular sitcoms on television with its likable cast, relatable characters, and its understanding of the geek world. One thing I enjoy about the show and what I would imagine is a big part of its appeal is the fact that itís laughing with its characters and not at them. If the show was just a mean spirited slap in the face to that world, it wouldnít be amusing and it would come off poorly. In fact, most of the time, the characters are aware of how silly they can sound and how over-the-top they can be about a particular comic book or movie.

Season Six of The Big Bang Theory is relationship heavy as Penny and Leonard are figuring out what they are and what they want to be, specifically how Penny feels about him and how serious that truly is. Sheldon and Amy are in their ďrelationshipĒ and I use that term loosely as itís mostly Amy fawning over Sheldon and hoping and praying it turns into something more while Sheldon only loves himself. Bernadette and Howard are still married and enjoying married life as best they can as when the season starts, Howard is in space. Lastly, poor old Raj is having a difficult time finding love and canít seem to find or a keep a woman although there is a prospect this season.

The season starts out a little rough as Penny and Leonardís back and forth relationship gets a little irritating and one wishes they would just figure out what the hell they are and stick with it. The whole Howard in space storyline really falls flat and tries way too hard to be funny. Itís mostly just stupid and a waste of time. However, after the first five or six episodes, it starts to pick up after Howard returns home and Penny and Leonard become serious about each other. The show really finds its stride and has some hilarious episodes and moments. The actors have been playing these characters now for six years and know them inside and out, so if you give them good writing and good story lines, they really run with it.

One of the great things about season six is the growth and maturity that the characters are starting to show while still sticking to the essence of who they are and what makes them funny. Thereís a very tender episode where Howard finds a letter from his father and struggles with how he should handle it and if he should even read it. Itís one of the better episodes of the season. Amy also starts to lose her patience and really wants to know if her and Sheldonís relationship is going to go anywhere or if she is just wasting her time. Raj is struggling with being lonely and having many painful thoughts of why no one loves him and if heís unlovable. Thereís a lot here and they balance being sweet and mature while also having the typical funny moments between the gang.

One of the most humorous episodes of the season, however, is when they go to Comic Con and Sheldon hijacks Leonardís GPS. Seeing them all dressed up as Star Trek characters and trying to get a table at a restaurant is priceless and hilarious. It also allows the girls some time to find out why they are so obsessed with comic books and before long, they start to argue and fight over the little details of Thor. Adding relationships to a popular sitcom can sometimes be death to a show as it becomes too serious and the characters lose who they are. With The Big Bang Theory, adding women to their lives and putting them in relationships has also increased the comedy and the heart of a really good show. This is a really well-written, well-acted, and funny season.

Blu-Ray Info: The Big Bang Theory Season Six is released on a Blu-Ray, DVD, and Ultraviolet set, which means it, comes with two Blu-Rays containing all twenty-four episodes and three DVDís containing all 24 episodes. Of course, you can also upload this via Ultraviolet to your Flixster account to stream them whenever youíd like. Basically, you have three ways to watch this season, which is pretty cool.

Video Info: The 1080p High Definition 16x9 video of this season looks really bright, vivid, and colorful. It really enhances the color and the brightness of the show compared to the DVD. Thereís a small difference, but a difference nonetheless and it makes it worth owning on Blu-Ray if you like your picture quality a certain way. Itís crisper.

Audio Info: The DTS-HD Master Audio track also provides solid audio that allows you to listen to everything clearly and without those moments where you have to say to yourself, ďWhat did they say?Ē Sheldon, especially, can speak fast and you can understand him completely. Subtitles are also included in English, French, and Spanish.

Special Features:

Gag Reel (09:16): The gag reel on most comedy shows I like always cracks me up and this one is no exception, especially Raj trying to get through a line about Indiana Jones without cracking up and failing miserably over and over again.

Electromagnetism: The Best Relationship Moments of Season Six (30:26): This features the three couples on the show and includes some of the sweeter moments of them throughout the season. Raj is also included, although his relationship moments arenít nearly as memorable as the rest of the gang for obvious reasons.

The Big Bang Theory at PaleyFest 2013 (28:11): This is a Q&A with the cast and creators of the show and features a ton of great stories and tidbits about the show. Itís great to see all of them out of character and hear their different perspectives.

Houston, We Have a Sit-com (09:52): This special feature shows the cast having a Skype chat with astronaut Joe Acaba.

The Final Comedy Frontier (11:11): Astronauts Buzz Aldrin and Mike Massimino talk about Howardís time in space and the highs and lows of that experience.

The 411: The Big Bang Theory doesnít show any signs of slowing down with its sixth season and itís still as funny as ever but now thereís the added bonus of some heart to go along with that comedy. It makes it a smarter, more thoughtful, and more interesting sitcom. Overall, The Big Bang Theory Season Six starts out a little slow and hits some bad notes with Howard in space. However, once he returns and the show gets back to normal, itís right on track and there are a lot of funny moments in this season.

Final Score: 8.0

[ Very Good ]

legend
comments powered by