SPOTLIGHTS
Arrow: the Complete First Season (DVD) Review
Posted by Michael Weyer on 09.20.2013

The CW hits the bulls-eye with a fantastic adaptation of the DC comic that shows how do to a crime-fighter story right.

Arrow the Complete First Season
Warner Bros Home Video
972 Minutes




We all know that Marvel Comics has the edge when it comes to creating fantastic blockbuster movies right now. Their films have been smashes that have wowed comic book fans while DC efforts like Man of Steel divide more. But in television, DC has long been dominant. The 1960's Batman TV show may have been campy but still brought the character to fame and the 1970's Wonder Woman series remains the best live representation of the heroine yet. There have been duds like Birds of Prey but the WB and CW found massive success with Smallville, mixing in various aspects of DC mythology around a young Clark Kent. Now, the network has done the same with Green Arrow and the results have been one of the biggest hits of the 2012 season, a series that starts good and gets better as it goes along. The series makes great improvements to weave a complex storyline but thanks to its fine leading man, it all adds up to a terrific ride that can thrill DC fans and newbies alike.

The Series

Five years ago, Oliver Queen (Stephen Amell) vanished while on a yacht with his billionaire father, Robert and believed dead. However, a Chinese fishing boat finds him on a small island, bearded and his body containing huge scars yet still in great shape. He has a unique homecoming to Starling City as his mother, Moria (Susanna Thompson) has married his father's old business partner Walter Steele (Colin Salmon). Oliver's younger sister Thea (Wila Holland), who he nicknames "Speedy" is glad to have him back although it's clear in his absence she's fallen into a hard party lifestyle. His best friend Tommy Merlyn (Colin Donnell) is happy to have him back as well and encouraging Oliver to get back to his old wild life. Less happy is Oliver's ex-girlfriend Dinah "Laurel" Lance (Katie Cassidy), a lawyer whose rage stems from the fact that Oliver was cheating on her with her own sister, Sara, who died on the boat. That anger is shared by Laurel's father Quentin (Paul Blackthorne), a detective.

Oliver appears to be getting back into his old partying lifestyle but in truth he carries more than just physical scars. What he doesn't tell people is that he, his father and another man survived the sinking into a life raft. Robert, however, moaned over how he had done so much damage to Starling City and there was no way he could fix it but Oliver deserved a chance. So, he shot the other man, then himself, leaving Oliver to get to the island alone. Now returned, Oliver is running down a notebook his father gave him containing a list of names of men who are engaged in massive illegal activities that run Starling City into the ground. Acting the playboy in public, Oliver takes to the streets in a hooded costume with bow and arrow, which he is an expert at, to become the vigilante known as the Hood. He has to avoid the mobs and the cops as Quentin is obsessed with Arrow's capture. What Oliver doesn't know is that his mother may have been more involved in things than expected as she reports to Tommy's father, Malcolm (John Barrowman) who has a sinister plot for the city.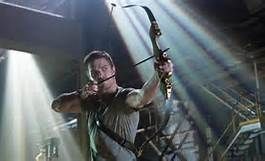 Some have obviously compared this to Smallville but in truth, its mood is far closer to Christopher Nolan's Batman films. Oliver can be brutal in his fights, even killing if he has to, not truly a hero's code. His arrows are mostly straight-up with a few exceptions, such as one that links to a computer to drain a corrupt billionaire's accounts and send the money to people he ripped off. Amell carries the lead in a fantastic way, believable as Oliver cocky while partying yet intense in his crime-fighting ways. A good moment is when he's pushed to take up the reins of Queen Industries but at a groundbreaking ceremony, he does a big speech on how he's not his father and never will be, willing to let people think him a gadabout if he can continue his mission. He's tough and athletic (the show obviously letting him show off his abs for the female fans) but also the inner pain, the guilt over his father and Sara's deaths hanging over him as well as the damage done to the city by his family. A moving scene has him talking to his father's grave on how he never understood his dad and is sorry for the time they could have had together but wasted. He then has the past put behind by having the grave made for himself taken out and his father's grave made larger. Oliver is dedicated to this mission above all else, even if it costs him those he loves, such as Laurel, who turns out to have been dating Tommy. His shifts from party man to hunter (setting up a nightclub as a cover for his constantly out all night) are stunning to watch as the series rises on its lead to dominate the gripping mood of the show.

The series gives some fun twists in only its first few episodes. After a few of Oliver's vanishing acts, Moria hires John Diggle (David Ramsey), a former Marine as his bodyguard. Oliver pulls a few disappearances on the guy but when Oliver faces the assassin Deadshot, Diggle is injured and Oliver lets him in on his secret, asking Diggle to help. At first, Diggle refuses, snapping that Oliver has no idea what war is and is going to get himself killed but soon persuaded to join. Diggle is a great character with his tough air and professionalism and also wants to help Oliver in more than one way with smart stuff such as stating how in all the years of preparing on the island, Oliver never planned for people to ask questions about him or the damage of his actions and it's jarring Oliver more than he lets on. Their bond carries the show along as they work together and clash on their different views of how to wage this crusade with Diggle humanized by looking after the wife of his later brother and the investigation into his murder shows his own obsessive streak that Oliver has to stop.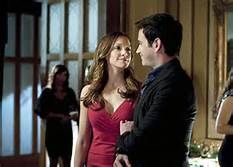 After years of playing bitchy characters, Cassidy is great as the nicer Laurel, who clearly hates Oliver for his cheating yet still can't help feeling for him when he apologizes for leading Sara to her death. She suspects his secret such as when a drunken Thea blurts about the affair with Tommy and Oliver already knows. She's tough with her cases, willing to stand up to her father, whose anger with Oliver is clear and has driven him to drink and become obsessed with catching the Hood. Oliver warns her that to be around him is dangerous, talking of how he can't eat or sleep properly and Laurel, while clearly knowing he's hiding a lot, agrees it's best they're not together. Holland is fun as Thea, a party girl who keeps reminding Oliver he was as bad in his youth but still loves him and also begins to suspect something wrong. Thompson manages the delicate balancing act of Moria concerned for her son with no idea of his activities but also involved in the dark plot. We soon realize she's a woman trying to do the right thing but way over her head, leading to some great scenes late in the season that force her to make a choice.

Each episode contains flashbacks to the island, which are layering their own mysteries. It turns out Oliver wasn't that alone as he was taken in by a hooded figure (Byron Mann) who pushes him on his transformation. Amell is amazing here with the more flippant Oliver thrust as far out of his comfort zone as possible, a tense scene where he has to take a life for the first time by killing a rabbit for dinner. The first half of the season is a bit rough, too much laid in the background of the List Oliver is hunting and such and the island flashbacks can drag a bit. It does liven up with the introduction of Jessica De Gouw as Helena Bertinelli, daughter of a mob boss whose fight against her father leads to her learning Oliver's secret. The two soon become partners (in more ways than one) as Helena becomes the crossbow-wielding Huntress but her bloodlust scares even Oliver. The show does lay in bits of DC lore like Kelly Hu as drug dealer China White and the DA being Kate Spencer (better known to comic fans as Manhunter). Yet, it seems to be lacking a bit in polish and drive with stuff like Oliver having a cop girlfriend and a bit of Alex Kingston as Laurel's mother who returns to town convinced Sara is still alive, plots that feel more filler than important to the overall arc. And of course, there is the obvious bit that nobody recognizes Oliver in just a hood and shading over his eyes.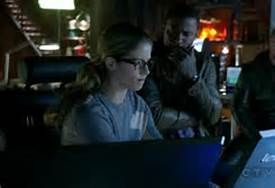 That's when the second half of the season kicks in and the show really begins to get awesome. First, there's Felicity Smoak (Emily Bett Rickards), an IT technician at Queen Industries who Oliver turns to for some tech help. At first a one-shot character, the actress instantly stands out with her quirky attitude and fun banter with Oliver. So the show runners make the wise move to bump her to regular as a badly wounded Oliver goes to Felicity for help. She fits in perfectly with her computer skills and smarts (proven by her relating how she'd pretty much figured out Oliver's secret beforehand) and a much-needed dose of sensibility and humor to the more intense Oliver and Diggle. Rickards is wonderful in the role as a nerdy girl so at home in the computer lair that you're as awed as Oliver when she glams up for a party and even puts herself into an undercover job, eager to help and curb Oliver's bloodlust. Also, instead of being a distraction, the island flashbacks become just as compelling as Oliver finds himself meeting black ops soldier Slade Wilson (Manu Bennett of Spartacus), a terrific bad-ass who starts training Oliver to become the warrior he's destined to be as they tangle with a ruthless gang using the island as a base. The plots of the List and a mysterious Dark Archer shaking up Oliver are good turns to the arc. And Thea gets more of a spotlight as she meets Roy Harper (Colton Haynes), a street thief who she feels an instant attraction for. We get some strong plots that use DC lore in unique ways such as "The Count" who sells the drug Vertigo around, Oliver compelled to hunt him down when Thea is arrested for possession and the judge threatens a harsh sentence. There are also unique plotlines like Diggle swaying Oliver to take down a pack of bank robbers Oliver thinks isn't as vital a case and Diggle getting personal hunting an old enemy. Better is that Quentin is allowed to become more than just a one-note character as he soon begins to understand that the Hood is needed for a hard city and it pays off in the finale.

The Oliver/Tommy/Laurel triangle is good to watch as Donnell gets a good arc when he stands up to his father's demands to dump Laurel and Malcolm retaliates by cutting Tommy off, forcing him to live without his wealth. It makes him more relatable with fun stuff like complaining about his lack of funds to Oliver only to realize this is the last person to groan to about being with nothing and how Laurel tries to tell him it doesn't matter. The romantic tension is done well leading to big developments which also play into Malcolm's ultimate plot. Barrowman is great in the role, dry and sinister and yet the classic example of a villain who thinks he's doing a good thing and totally justified in his actions. The production values are excellent with fantastic fight scenes and special effects that enhance the street action rather than distract from it. You can even see it as a parody of its own network at times with how Oliver acts up the self-entitled rich kid as a cover for his actions and it's a testament to how believable Oliver's journey from obsessive revenge to standing up for what's right feels so natural. It all comes together in one of the best season finales of last year that weaves all the plotlines into an incredible piece that literally shakes up the show. For proof of how a good show can become even better, Arrow is one of the best adaptations of a comic book ever and proves you don't need big-screen action to see a super-hero come to life.

Rating: 8.5 out of 10.0


Video

As usual, the CW provides a great picture, 1.77:1 ratio, the digital layering brings the gritty show to life. With much of the action taking place at night and in shadows, the picture showcases those aspects well from the fight scenes to the daytime in vivid color and fine detail to notice costumes and such. Daytime scenes are brighter but not overly saturated and the island scenes have a terrific vibe all their own. Overall, a fantastic showcase for one of the network's best shows.

Rating: 9.0 out of 10.0


Audio

Dolby Digital 5.1 SurroundSound with subtitles in English, French and Spanish. The audio is quite excellent with little need to adjust volume, capturing the FX of the fights to pull you in with each punch and gasp as well as the sounds of arrows and backgrounds of dripping water in alleyways. It handles club scenes too with the music balanced with the dialogue and can catch ambient noises of the background on the island as well as softer scenes of the music soundtrack. Another fine audio track from a network known for putting out good ones.

Rating: 9.0 out of 10.0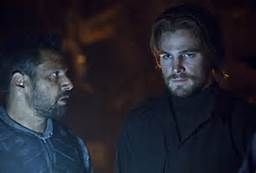 Sadly, no audio commentaries but we do get some pretty good stuff here.

Arrow Comes Alive! (29:33) is a terrific feature on the making of the series. Executive producer Marc Guggenheim says the original origin of Oliver Queen was just a few panels in the 1950's but a 2006 mini-series by Andy Diggle and Jock made him realize such an idea could work for a long-running TV show. Producer Andrew Kreisberg states they didn't want to reshape the Green Arrow canon but just try and make it their own. Producer Greg Berlanti openly admits they were inspired by Nolan's Batman movies and they wanted to show from the start how dangerous Oliver is with killing men in the pilot. They conceived Starling City as a "nameless place where it's always raining" but production Designer Richard Hudolin says he wanted to make it feel like a real city, not a comic book one to enhance the feel of things. They move to characters, saying the overall arc of the show is "who is Oliver Queen?" and how each episode is planned with how it affects his emotional journey, not the action. Co-producer Wendy Mericle points out how Diggle is needed as he's seen people go where Oliver has and thus serves as a balance. They point out the first season was all about introducing characters and that their dream is that the last flashback of the series finale will be Oliver seeing the boat about to rescue him. Amell is given big props for getting into the role as they point out how his shirtless scenes aren't just for the ladies, they show the massive scars (most of which we haven't seen him get yet) to remind us of the agony he's gone through. They insist that there are no special effects, it's all Amell doing the stunts and he laughs over how great this is as a workout. The writers laugh that the fun of each episode is writing themselves into a corner and figuring how to get out of it. Each actor is interviewed with their takes on the roles and how they enjoy seeing them grow sharper, especially Rickard whose Felicity was just supposed to be a minor character but took off well. There's big discussions on the finale and what it means and sums up how this opening season lays the groundwork for how season two will see Oliver turning from vigilante to hero and everyone looking forward to how the story continues in the second year.

Arrow: Fight School/Stunt School (18:52) focuses on the stunt work of the series. We open with stunt coordinator JJ Makaro preparing a scene of Oliver leaping about rooftops and Simon Burnett, the double for Amell at times. The team uses panels from Green Arrow comics as inspiration for moves, trying to capture the look of Oliver leaping off a car firing arrows or such. Fight coordinator James Bamford shares how he used to watch martial arts movies wondering why various guys would just stand to the side while the hero fought one guy at a time. Thus, he wanted to show Oliver taking on multiple guys at once, always moving about to take them down, mixing a real-world fight feel with comic book style action. They pre-visualize each fight scene with stunt actors doing dialogue and thus able to see how it will flow for the episode, always mindful that Amell has to do most of the work himself so the audience believes it. The bow is showcased with how it can be used as a weapon on its own and how all the arrows are CGI. The stunt team is allowed input such as the suggestion that one stuntwoman play a club girl hit by a car so it would feel more real for the audience. A great look at one of the best aspects of the show coming together.

We also have footage of the cast at the 2013 Paley Fest (27:24) which the producers joke is "the upscale Comic Con." They discuss a lot of the series and its inspiration from the story "The Longbow Hunters" that stripped Green Arrow of most of the overtly super-hero trappings. Be warned that this mentions major plot points from episodes that had aired just as the talk came about so spoilers are plentiful.

There's about a half hour worth of deleted scenes spread through the discs. Most are obviously filler but some good bits like Oliver standing up for Diggle after ditching him and Diggle impressed when he realizes Oliver has vaults full of cash but doesn't consider money all that important anymore. Also, Alex Kingston gets a great scene opposite Blackthorne on how the Lances broke apart. Also, several scenes from the finale that showcase more of the goings-on in events.

Finally, a short blooper reel, maybe not huge in extras but still good insight to the show from those involved.

Rating: 8.0 out of 10.0

The 411: Arrow is what a freshman TV show should be: A series that starts strong and gets better and better as it goes along. The action is great but it's sold by fine acting by Amell in the lead role as a troubled man fighting for revenge but then realizing justice is more worthwhile. The writing is good and improves along the way with the addition of new characters that freshen things up and the island flashbacks showing even more depth. The finale is a fantastic capper to it all and the extras show the care that went into the series itself. Truly one of the best comic book adaptations ever and proof of how even a dark hero tale can shine brightly.

Final Score: 8.5

[ Very Good ]

legend
comments powered by