SPOTLIGHTS
Glee: The Complete 4th Season (DVD) Review
Posted by Michael Weyer on 10.05.2013

A bittersweet year for the Fox hit is marred by too many sour notes to dilute the usual fun times.

Glee the Complete Fourth Season
20th Century Fox Home Entertainment
965 Minutes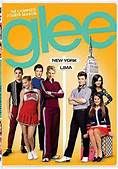 Before July 13th, 2013, the fourth season of Glee was seen as a rough transitional year as the Fox hit tried the always-tricky move of sending out old cast members while welcoming new ones. It didn't connect as well as it could have although there were bright spots pointing to a possibly better fifth season. But the sudden, shocking death of Cory Monteith, who had been one of the key figures on the show as dim-witted but good-hearted member Finn, has cast the entire season in a new light. It's a bit harder to watch now and know it's the last time we'll see the actor on screen in his signature role as it takes an already up-and-down season and imbues it with a melancholy touch that remidns you how fleeting youth can be.

The Series

We pick up with a new fall year for McKinley High as New Directions are in high spirits after their victory at Nationals. Will (Matthew Morrison) is set to start a new year but a bit worried how Artie (Kevin McHale), Blaine (Darren Criss), Tina (Jenna Ushkowitz), Brittany (Heather Morris) and Sam (Chord Overstreet) are being a bit too cocky as champs at the school. He starts recruiting some new members such Wade "Unique" Adams (Alex Newell), the cross-dressing diva from last season; Jake (Jacob Artist), a tough punk who's the half-brother of Puck (Mark Salling); Marley Rose (Melissa Benoist), a transfer student who puts up with mocking over her obese mother being the cafeteria lady; Ryder Lynn (Blake Jenner), a football player; and Kitty Wilde (Becca Tobin), a bitchy Cheerio who dislikes Marley. Meanwhile, in New York, Rachel (Lea Michele) is studying under Cassandra July (Kate Hudson), a former Broadway diva who fell hard into a boozing teacher who dislikes Rachel. Rachel is also attracted to fellow dancer Brody (Dean Geyer) but jarred when Finn (Monteith) returns after being kicked out of the army following an accidental self-shooting. Rachel soon rooms with Kurt (Chris Colfer) as he pursues an internship at Vogue under editor Isabelle Wright (Sarah Jessica Parker). Will prepares for his nuptials with Emma (Jayma Mays) as Sue (Jane Lynch) continues her quest to ruin the Glee club.

There's no denying that this season is a major letdown creatively. The showrunners face the classic problem of a high school set series, in their reluctance to really let go of past stars, as proven by the return of many faces like Mercedes (Amber Reily), Mike (Harry Shum Jr.) and Quinn (Dianna Agron), who keep dropping by McKinley High despite their supposedly new lives in college and elsewhere (although the part of Quinn needling Kitty on who's the better bitch is fun). They overshadow the attempts to bring in the newbies which isn't helped by how too often, they don't get enough of a chance to shine. Benoist is a great talent with a wonderful singing voice and has a good chemistry with Jake but is marred by a plotline of being convinced to turn to bulimia and a weak personality. Kitty comes off far too bitchy and manipulative, the bit of her a Christian played for dumb laughs and her sudden shift to a nicer persona comes out of nowhere given all we've seen. There's also the decisions for such things as writing Will off for a time by going to Washington (needed as Morrison was doing a Broadway show) and so, despite his complete lack of qualifications, Finn is put in charge of the club. To be fair, they do play with how he's totally over his head a lot but the fact he lacks leadership hurts the plotline a lot. It's still hard seeing Monteith as the actor still has a grasp of the role of this young man trying to succeed over his shortcomings and to know that he'd be taken from us so soon hurts. Whatever his personal failings, the man was a good actor who loved this role and you have to feel that with his performance.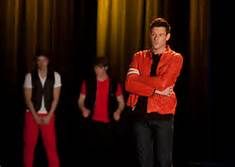 There are some better bits like how Unique fights for his own style in school, hating when teachers insist he stop wearing dresses (with a funny bit of a meeting with dim-witted principal Figgins (Iqbal Theba) who's under the impression Unique really is a girl) and doing his best to fit in. Morris gets a fun episode as Brittany seems to lose control like her long-time idol Britney Spears, ready to shave her head and attacking a guy with an umbrella but turns out to be part of an overall scheme. In New York, Hudson is a bit too shrill and flat for her role despite some killer dance routines like a competition with Rachel on "All That Jazz." There are bright spots like an episode with major heartache for Kurt and Blaine that the actors sell wonderfully and while much of the Christmas episode is a muddle, there is a great scene of Puck and Jake getting their moms to stop hating each other over a man who never gave a damn about any of them. But the conflicts of Rachel and Kurt come off too annoying at times despite the actors' great talents. The episode of Will and Emma's wedding is a major shift for several relationships as well as home to some fun musical numbers. Another good move is having Santana (Naya Rivera) move to New York and become Rachel and Kurt's reluctant roommate, her sardonic attitude and biting wit exactly what's needed to deflate their egos (like a sing-off to decide who gets their apartment). And Sue continues to steal scenes quite well such as when she gets into a conflict with Blaine that involves her and cheerleader Becky (Lauren Potter) doing Nicki Minaj impressions. But there's still so much bad like a conflict with Will and Finn over Emma, the ridiculous way New Directions gets back into Regionals after losing and the school shooting episode that comes off far more humorous than dramatic. For all the amazing talent on screen, the lack of clear writing mars the show badly.

Whatever else, the musical numbers are still spectacular. The episode of the kids as super-heroes is silly but boasts Marley and Kitty doing a terrific duet of "I Need a Hero"; Santana does numbers of "Cold-Hearted Snake" and "Girl on Fire"; Rachel is stunning as ever in fantastic solos while Parker even breaks out a bit with "Kiki." Even the goofy stuff like mash-ups of '80's movie songs shine although a few low ones like when they do "guilty pleasure" songs (their version of the Spice Girls' "Wannabe" is fun as hell) and Jake gets a talking to from the girls on his like of Chris Brown. But these good bits are too far between a bunch of bad ones from Ryan being the victim of a "Catfish" lover to the Rachel/Finn struggles. Even guest stars like the return of Idina Menzel as Rachel's mother or Katy Segal as Artie's mom can't help it out too much. It's a shame to see the show going through all these rough patches given how good it can be when it tries and one would have hoped Monteith could have had better material to go out on. It's sad how that has given the season of the show more prominence than anything else as there are moments that make you remember what makes Glee special but far too much to silence his voice.

Rating: 6.5 out of 10.0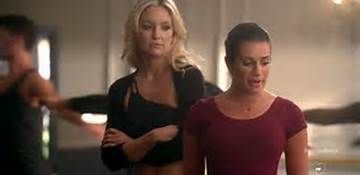 Video

Widescreen with 1.78:1 ratio, the picture is much like previous sets, a good job showcasing the numbers. The New York scenes have a unique vibe to them, far more real than the Lima sequences, balancing out good lighting and clarity for a crisp picture. The musical scenes are fantastic to watch with little grain or shading to help elevate the show a bit more.

Rating: 8.0 out of 10.0


Audio

English Dolby Digital 5.1 with subtitles in English, Spanish and French. As always, the soundtrack is fantastic as the music is the key to the series and you can enjoy without the need to adjust the volume. Whatever else, the show knows how to deliver fantastic music in sensational ways and the soundtrack shows off the major strength in a fine way.

Rating: 9.0 out of 10.0


Bonus Features

As usual, each disc contains the Glee Jukebox which allows you to watch the musical numbers of each episode, either separately or in a group.




Movin' On Up: Glee in NYC (10:03) looks at the shooting of the show in Manhattan. Lea Michele loved coming back to the city she grew up in and found fame on Broadway and using that experience for Rachel achieving her dream. Director Ian Brennan faced challenges such as how shooting in public faces could spoil storylines and wanting to give these a special feel. They hint that the next season will showcase Rachel on Broadway, following her dream as she seems ready to embrace the city.

Jarley (8:54) focuses on the new cast members as we see auditions where Melissa Benoist had Marley down pat and jokes that the only other person who got their audition great was Becca Tobin. We see her and Jacob Artist having a "Chemistry test" that shows a good bond early on as well as their early performance auditions. A nice bit is how they address some of the fan complaints on "The new Rachel/new Quinn" and such but wanting to make it different, such as how Marley has never dreamed of Broadway like Rachel and doesn't let that dream dominate her as much. While some may not be fans of the newbies, the actors come off likeable and loving being part of this show.

Building New York (6:30) shows the building of some sets in Hollywood to use for the show. Production designer Mark Hutman studied real NYC places to get a feel for them and wanting to show a much different vibe than the Lima interiors. He based the dance studio on real ones in New York, complete with aging the place to fit. They also wanted to give the loft Rachel and Kurt live in a nice open feel with Rachel's room much like her own back in Ohio, with little touches that make it like her personality just as any real New Yorker would do.

Glee On Film (11:57) showcases the "Boys (and Girls) On Film" episode. Vanessa Lengies (Sugar) says she didn't understand the title as "we didn't have Duran Duran in Canada." A funny bit is on Will using "In Your Eyes" to win back Emma, the director impressed by the tears in his eyes only to find out it wasn't acting, it was the reaction to the fake snow used. The cast jokes that "Footloose was fun...the first two times we did it" as they ended up getting scores of bruises from accidentally kicking each other. Morrison talks about his doing a number dancing on a ceiling with "It took Fred Astaire two months to plan this. We learned it in six hours." The big part was that the episode featured the 500th musical number for the series with cast members wearing t-shirts for an on-set party to commemorate it and everyone proud to be part of such an achievement.

The Road to 500 (3:55) is a short promo piece by Fox on cast members reflecting on the show and its musical legacy.

Blaine's Time Capsule (8:46) is basically Blaine leaving a video behind for future McKinley students that recaps the entire season.

Glee Premiere Party! (3:42) just shows the cast for the season 4 party in September of 2012, all having a good time and it does hurt a bit seeing Monteith there having a blast as well.

There are a few deleted scenes spread through the discs, some quite good like Sue doing a musical number to mock Will and Finn and Will arguing over the team, plus a fantastic scene between Kitty and Marley that clears the air between them well.

Rating: 7.5 out of 10.0




The 411: The passing of a major star gives the fourth season of Glee a bit more gravitas. However, the good is overshadowed by too much poor storytelling, dumb plots and rough characters. The new ones don't get a chance to shine as too much emphasis is placed on the older characters who don't get much to play with. The musical numbers are still a wonder to watch unfold, brilliant in their showcasing the obvious talent these actors have and some (Michele, Rivera, Morris) are able to overcome the problems to stand out. But this year is marred by too many mistakes for a show usually a fun romp to come off really off-key.

Final Score: 7.0

[ Good ]

legend
comments powered by