SPOTLIGHTS
The Hangover Part 3 (Blu-Ray Combo Pack) Review
Posted by Tony Farinella on 10.08.2013

The Wolfpack is back, but have they worn out their welcome in the Hangover Part 3?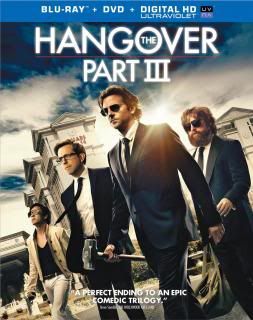 When it comes to the Hangover franchise, I must admit that I donít really understand its popularity or why it keeps making tons of dough. Iíve always found the films mildly amusing and they provide a few chuckles, but they donít make me laugh out loud or feature a ton of classic moments. The first one made a ton of money and I know the sequels did pretty well, so there is a market I suppose for these films. The third film, however, is by far the worst in the series and it takes the film in a completely different direction that just doesnít work.

Alan (Zach Galifianakis) has not grown up and probably wonít anytime soon and thatís just fine by him, even if that means wild animals lose their heads thanks to his carelessness. Finally, enough is enough after his father (Jeffrey Tambor) has a heart attack thanks to the stress that his son has put him under. They decide it is time for an intervention so Alan can get the help that he so desperately needs as he is refusing to take his medication and it is showing. Alan agrees to it because his buddies in the Wolfpack (Ed Helms, Bradley Cooper, and Justin Bartha) agree to drive him to the facility.

Because it involves Alan, it doesnít take long for things to become complicated, messy, and quite dangerous. It also gives director Todd Phillips another excuse to bring back Chow (Ken Jeong) who is currently engaged in a messy feud with Marshall (John Goodman). Does any of this sound funny or even like it is supposed to be a comedy? I didnít think so. The film is more of a thriller/mystery with some action thrown in the mix and very little actual comedy. Quite frankly, it is kind of a mess and all over the place.

At this point in the franchise, it is clear they are only interested in making money and not actually trying to make a film that is worth seeing. I canít imagine many fans of the franchise enjoying this film or having a good time with it. I admire the fact that they tried to do something somewhat different here, but it fails and not even in an interesting or watchable way. It is mean spirited, ugly, and worst of all, boring. The film inspires shrugs from the audience and not gut busting laughs or even mild interest. Even the cast looks to be going through the motions and bored by the whole thing.

This is advertised as the final chapter in the Hangover franchise and Iím quite thankful for that. One of the most overrated franchises in movie history ends with a whimper not with a bang. It is always disheartening and disappointing to see a movie where you know the only reason it was made is because of the almighty dollar. It is a business, of course, but it doesnít mean that you canít take a little bit of pride in your work. This is the definition of a cash-in sequel and I would highly recommend that you avoid it at all costs.

Blu-Ray Info: The Hangover Part 3 is released on a two disc Blu-Ray, DVD and Digital HD Ultraviolet combo pack from Warner Home Entertainment. It is rated R for pervasive language including sexual references, some violence and drug content, and brief graphic nudity.

Video Info: The 1080p high definition 16x9 2.4:1 video transfer looks sleek and crystal clear. It comes off great and is really strong in presentation. Visually, it looks really good and the colors are just right.

Audio Info: The DTS-HD Master Audio track is pitch perfect and doesnít go overboard during the louder scenes of the film. It stays on track and consistent throughout the film, so I was able to stick to one audio number and not have to go up and down depending on what was going on. Subtitles are also included in English, Spanish, and French.

Special Features:

Replacing Zach: The Secret Auditions (06:09): This special feature shows audition footage of actors trying to replace Zach after he had become too much for director Todd Phillips to handle. This is obviously meant as parody.

Inside Focus: The Real Chow (05:24): This is also meant as parody and begs the question of if there is much of a difference between Chow and Ken Jeong.

Pushing the Limits (03:36): Here, the actors talk about working with children and animals and share some stories about that process.

The Wolfpackís Wildest Stunts (05:10): Here they talk about how physical the shoot was and how they filmed some of the crazier stunts in the movie.

Action Mash Up (01:09): This special feature shows many of the action scenes in the film all in one.

Extended Scenes (02:03)

Outtakes (07:51)

Zach Galifinakis in His Own Words (3:00): This is random and he sort of rambles, but that is what you expect from Zach at this point.
The 411: The Hangover Part 3 has some unique special features for the Blu-Ray release and they seemed to try more on the special features than they did in the actual movie. The actual movie is below average and shows zero inspiration from the cast and crew. The one positive is that this is the last film in the series. I donít think even hardcore fans of the franchise will be amused by this forgettable affair. Iíd pass on this one if I were you.

Final Score: 3.0

[ Bad ]

legend
comments powered by