SPOTLIGHTS
Nikita: The Complete Third Season (DVD) Review
Posted by Michael Weyer on 10.26.2013

The penultimate year of the CW's spy hit changes its game big-time with some great plot turns amid the usual sexy action and great leads.

Nikita the Complete Third Season
Warner Bros Home Video
926 Minutes




It's always interesting when a TV show writes what could have been a series finale only to get another year. Such a case was with the second season ender for the CW's Nikita as the title heroine managed to defeat arch-foe Percy and led the U.S. military in attacking the headquarters of renegade spy agency Division only to be offered the chance to run it. With a renewal for a third series and an upcoming six-episode final year, the show has a chance to take a bold new direction and does pretty well with it, its usual mix of sexy action and a great female lead with some interesting twists to keep you compelled.

The Series

We open as Nikita (Maggie Q) and Michael (Shane West) are now running the elite spy agency Division, promising each other it's only a few jobs until they can shut it down. They're aided by Ryan Fletcher (Noah Bean) who reports to President Kathleen Spencer (Michelle Nolden) who makes it clear to him that just one screw-up and she will cleanse Division and everyone involved from the face of the Earth. The premiere has Michael captured and Nikita turning to Alex (Lyndsy Fonseca) to help rescue him, with Michael proposing to her afterward. Division continues along with Sean Pierce (Dillon Casey) who Alex is attracted to as well as former "Cleaner" Own (Devon Sawa). Birkhoff (Aaron Stanford) is also working with them while having an on-off relationship with fellow hacker Sonya (Lyndie Greenwood). The key problem is Amanda (Melinda Clarke) is still out there, working with Gogol leader Ari (Peter Outerbridge) and enlisting "the Dirty Thirty," a team of former Division operatives for her own personal missions.

The series takes a daring move this season as, after going to such lengths to shut Division down, Nikita and company suddenly find themselves in charge of it. At first, Nikita is certain just a few months and they can close shop but soon sees how some dangers need only Division to stop them. It's quite intriguing as when they pull off a secret assassination only to find the White House offering them five more to do and Nikita worries she's repeating history by taking the exact sort of dirty jobs that caused Division to go rotten in the first place. There's also interesting bits of this new dynamic such as when a terrorist demands a huge ransom for some information, Nikita and Michael ready to pay him, thinking it's chump change. Ryan has to break it to them that the reason Division was flush with cash before was their illegal activities but now they're on a government budget that leaves them barely enough to keep the lights on. The show also showcases the cost this is taking on the Division recruits, tired of being given the line of "just a bit longer" and such with intriguing elements like an agent tracking down his ex-wife who thinks he's dead, which can blow the cover of the place. One of the best bits that showcase the difficult position of Nikita now is when she needs the help of a famous doctor but learns his price is children to experiment on, putting her in the position of her principles or saving someone she loves. It's very timely to touch on this dark agency trying to do what is right for the world but with methods most would feel very wrong.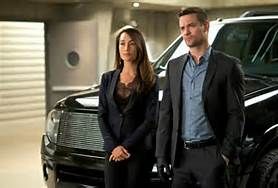 As before, the cast is key to it making it all work. Maggie Q is a fantastic presence in fights and killer (literally) outfits but this season does a good job carrying the emotional burden of a woman so close to getting free but unable to fully break out of the life she's used to. The moment in the premiere where Michael announces he has to save her engagement ring while in the middle of a gunfight is great as Nikita just stands amid the fighting with a goofy smile, a sense of normalcy to her crazy life that sadly doesn't last long. West has a great arc as Michael suffers a major injury that carries through the season, wrestling with his fears of not being worthy of his love and going to some dangerous routes to win her back that could lead to further pain. Fonscea has a fun dynamic of acting the rich girl in public while still a kick-ass agent but a torture session at Amanda's hands turns her on a mission that leads to some major changes. She has a good energy with Casey who finds himself in a dangerous position and leads to a huge plotline midway through the season. Stanford continues to show the humor of Birkhoff, always ready with a sardonic remark but also driven by the need to protect people close to him, nice growth for the character. Bean may be a bit one-note at times as Fletcher but shows some depth as he makes it clear he has to handle major political considerations the rest don't and handle the hard people against Division. As always, Clarke is fantastic, wicked and evil, always scheming and we get a brilliant episode revealing just how Amanda turned out this way along with a terrific twist that reveals how brilliantly she plays everyone. One of these reveals the truth of Owen's past and Sawa is great here with a wicked new drive that turns all you knew about him on its ear, a showcase of how great the show works.

The production is still top-notch with great stuntwork and clever plots along the year. We get good guest turns like Isaiah Mustafa as an arms dealer who joins up with the team and a huge shift regarding the fate of Division with several long-running plots that all pay off nicely as well as a major character death. It's hard to discuss more as the key to the show is how it can pull off true surprise twists that go against what you think is coming. It all culminates in a terrific finale that sets up the final year while closing a huge chapter of the show well. As it closes out its run, the spy series still boasts one of the best ass-kicking female leads on television and a show that never fails to surprise you and it's worth checking out before it makes its final exit.

Rating: 8.5 out of 10.0





Video

Widescreen with 1.78:1 ratio, the picture is excellent, clear and crisp and emulating the unique shading for the show with camera grains in flashbacks and mood lighting. The fight scenes pop nicely and it handles dramatic stuff as well while also entertaining with the fun fashions used. Maybe not as seamless as the Blu-Ray version but still wonderfully bringing this great action show to life.

Rating: 9.0 out of 10.0


Audio

Dolby Digital 5.1 Surround Sound with subtitles in English, French and Spanish. The audio is excellent, no need for volume adjustment, showcasing the great action scenes and the dialogue equally well, along with the fun musical score, a good mix to match its great show.

Rating: 9.0 out of 10.0





Bonus Features

Sadly, given the great stuff on previous sets, this season is a major disappointment. We only get various deleted scenes spread through the discs, not much to them aside from an Owen interrogation, just filler well cut. Also a brief gag reel, which is fun to see the cast laughing for a change. One would have hoped for more with this show but not much this time around.

Rating: 2.0 out of 10.0




The 411: While the bonus features could be more, the third season set for Nikita still boasts one of the best-plotted shows on TV. Taking on the formerly dark Division, the lead heroine handles more pressues and romance as she attempts to save the world yet again. The show is well produced with great action but also smart writing and turns to keep you always entertained. Before it enters its last year, it's worth seeing a full season of this ass-kicking lady and how fun the spy world can be when it looks this good.

Final Score: 8.0

[ Very Good ]

legend
comments powered by