SPOTLIGHTS
All The Boys Love Mandy Lane (Blu-Ray) Review
Posted by Tony Farinella on 12.04.2013

After years of floating around, All the Boys Love Mandy Lane is finally released! Was it worth the wait?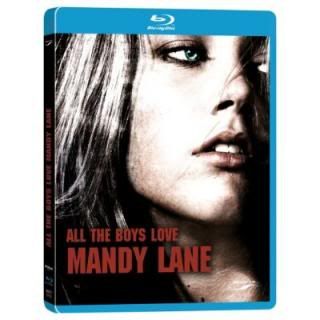 Finally, after much anticipation, All the Boys Love Mandy is finally released for the public to see. A film festival sensation back in 2006, it sat on the shelf for a number of various distribution reasons. It was always talked about and had a great word of mouth attached to it, but it never reached the mainstream public. With director Jonathan Levineís recent projects being successful (50/50, Warm Bodies), I imagine it opened the door for this film to finally be seen, better late than never. Now, everyone can see what all that buzz was about back in 2006.

Amber Heard stars as Mandy Lane, and as the title of the film suggests, everyone, indeed, does love her. She is a virgin, although if her classmates had anything to say about it, that wouldnít be the case. She mostly keeps to herself although she has one loyal friend named Emmet, played by Michael Welch. Other than that, she tries to avoid getting in anyoneís way or attracting too much attention towards herself. However, considering the way she looks and the fact that her high school is populated by horny teenagers, this turn outs to be much easier said than done.

After much persuading, she finally agrees to attend a weekend getaway at a secluded ranch with a host of her classmates. The girls are jealous of her because they think that she is prettier than them while all of the boys are interested in being the one that finally has sex with her. Before long, some of the party goers end up missing. Strange gun shots are also heard at the ranch and something just doesnít seem right. It all started out as a fun party, but before long, it turns into the dead teenager genre as the late, great Roger Ebert used to call it.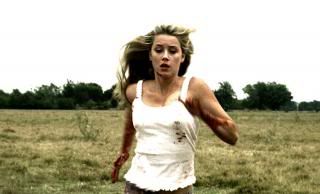 All the Boys Love Mandy is a film that really had me all over in the place in terms of how I felt about it and what was happening on screen. It would be impossible to ignore the beautiful scenery and the low budget look and feel of the film which adds to the proceedings. Many have compared it to a Tobe Hooper or Terrence Malick style, and the cinematography is gorgeous, no question. The twist can be seen coming from a mile away, although a second twist is rather interesting and gave the film a jolt in the final act.

The performances from the cast are solid, including Anson Mount, as the ranch hand and Whitney Able. Amber Heard is beautiful to look at and portrays the object of everyoneís affection extremely well. The direction is top notch and it is one of the better looking horror films Iíve seen in quite some time. The script from writer Jacob Forman is hit or miss, but when it was all said and done, the pros (cinematography, performances, final twist, and music) outweigh the cons (predictable twist before the final act twist, dead teenager clichés, and pacing). I would give it a slight recommendation as a rental due to the skill involved here by the filmmaker and his cast.

Blu-Ray Info: All the Boys Love Mandy is released on a single disc Blu-Ray from Anchor Bay Entertainment. It runs at 90 minutes and is rated R.

Video Info: Released on 1080p (2.39:1) high definition, All the Boys Love Mandy is a gorgeous film that truly is enhanced by Blu-Ray. It is always easy on the eyes and it really takes its time in showing all of the gorgeous scenery and the beautiful greens. It is an outdoor picture and the beauty of the outdoors and the ranch are perfectly captured here.

Audio Info: The 5.1 DTS HD-MA audio track is also a real treat, especially with the unique song choices that are in the film. Itís haunting, moody, and really sets the tone for the film. It lets you know something bad is about to happen at any time without being overly obvious about it.

Feature commentary with Director Jonathon Levine: It is great to hear from Jonathon on this commentary track as he really takes the audience inside his head as to his thought process behind shooting the film. There are a ton of great stories and he isnít shy about opening up about the filmmaking process. It is a fascinating commentary track to listen to and he comes off as a very intelligent guy who loves film and has a great appreciation for it.
The 411: All the Boys Love Mandy is not perfect, and I was hoping it would be a better overall film. My expectations, however, might have too high due to the long wait to see it and it is possible that it influenced my review in some way. Hype aside, it is a good film but not a great one. I can see why it had trouble getting released, as I donít know if a mainstream audience would have responded to it. Still, it is worth seeing at least once and a good film that is flawed. Iíd give it a rental and see how you feel it.

Final Score: 7.0

[ Good ]

legend
comments powered by