SPOTLIGHTS
Prisoners (Blu-Ray) Combo Pack Review
Posted by Tony Farinella on 12.17.2013

The critically acclaimed Prisoners is out on Blu-Ray and DVD! Does it live up to its hype?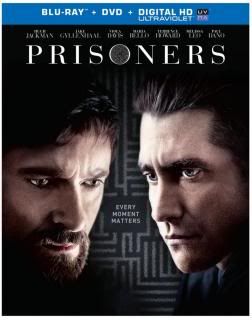 The great Roger Ebert once said that no good movie is too long and no bad movie is short enough. While I tend to agree with him somewhat, I must admit that sometimes even good movies can run a little long and leave me feeling restless. Iím from the school of less is more. However, with a film like Prisoners, which is the best film of 2013 so far, time was not an issue and I never even noticed its length. From the opening frame of the movie, I was hooked and they held my attention for the entire duration of the film. There wasnít a dull moment and everything meant something.

Prisoners starts off by showing two relatively normal families on Thanksgiving, enjoying some football and a good meal. Family number one consists of Hugh Jackman, Mario Bello, Dylan Minnette, and Erin Gerasimovich. Keller Dover (Jackman) is wound up pretty tightly and always believes in planning for the future and the unknown. You can never be too prepared in his eyes. The other family consists of Terrence Howard, Viola Davis, and Kyla Drew Simmons. For the most part, everything seems fine and dandy with their family. It is just supposed to be a normal Thanksgiving until their daughters end up missing.

Kellerís son Ralph (Minnette) says he caught them hanging around an RV earlier, driven by Alex Jones, played brilliantly by Paul Dano. It doesnít take long for Detective Loki (Jake Gyllenhaal) to track him down and bring him in for questioning. However, something seems a little off about this guy and he is not sure he is the one who has kidnapped them. His aunt (Melissa Leo) says the boy has never done anything wrong in his life. If he didnít do it, then who did? The longer it takes for the cops to figure it out, the more enraged Keller is becoming. He just might do something heíll regret.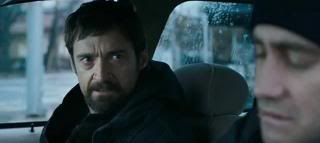 The cast in this film is simply incredible and there isnít a bad egg to be found in the bunch. Everyone turns in tremendous performances that really make this an emotional and powerful film from start to finish. The standout, however, is Jake Gyllenhaal, who has really come into his own as an actor. Iíve always respected his work and his choices as an actor, but lately, he is really hitting home runs. Everything about this performance is brilliant from his blinking to his mannerisms. Everything serves a purpose and means something with this character.

This is a nail biting thriller that had me on the edge of my seat, guessing, wondering, and anxious. Director Denis Villeneuve really allows his actors plenty of room to breathe and heís a patient filmmaker that has a keen visual eye that really makes this film a moody, tense, and sometimes sad experience. I mean that in a good way, however, because it comes off as authentic and organic. Every step of the way, this film had me guessing and it was an experience that left me thinking about it for days after it was over. It stuck with me. This is the best film of 2013 so far.

Blu-Ray Info: Prisoners is released on a two-disc Blu-Ray, DVD, and Digital HD Ultraviolet digital copy combo pack from Warner Home Entertainment. The film runs at 153 minutes and is rated R for disturbing violent content including torture and language throughout.

Video Info: Released on 1080p high definition 16x9 1.85:1, Prisoners looks out of this world on Blu-Ray. It is a moody, tense, and quite gloomy looking Blu-Ray and I mean that in the best possible way. It really sets the mood just right and the film has so many gorgeous outdoor shots. This is one of the best looking Blu-Rayís of the year.

Audio Info: The DTS-HD Master Audio: English 5.1 audio track is also a solid audio track that stays consistent throughout the whole movie. There is a lot of screaming and yelling in the film, but it doesnít become so loud that you need to lower the volume. It is just right. Subtitles are also included in English, Spanish, and French.

Special Features:

Prisoners-Every Moment Matters (03:05): This special feature focuses on the relationship in the film between Loki and Keller. It also includes interviews with both Jackman and Gyllenhaal. You can tell they really enjoyed working together.

Prisoners-Powerful Performances (09:24): Here, we learn all about this tremendous cast and they share details about their characters as well.
The 411: This is the best film of 2013 so far and it gets an epic Blu-Ray release that is sure to satisfy those who enjoyed the film. The special features are a bit on the light side, but honestly, the less you know about this film, the better. It makes it much more interesting and exciting. This is a film that you should add to your collection as it has great repeat value thanks to the performances in the film. This film just blew me away and Iím confident it will have the same impact on many viewers.

Final Score: 10.0

[ Virtually Perfect ]

legend
comments powered by